NASA is exploring the idea of using robotic bees on Mars to help collect data and samples from the surface, widening the scope of what the space agency could explore. The idea, called Marsbee (get it?), is one of 25 winners of the NASA Innovative Advanced Concepts award — which comes with $125,000 over nine months for scientists to test the feasibility of the idea.
While it's easy to assume that Elon Musk and SpaceX have cornered the space exploration market, NASA has had some skin in the game for quite awhile — such as sending robots and to Mars.. NASA sent its first rover, Pathfinder, to Mars which landed in 1997. It is planning to launch InSight, a rover that will explore beneath Mars' surface, later this month. And at Jet Propulsion Laboratory, the Mars 2020 rover is currently in construction, which will look at, in part, whether there is the possibility of hosting life on the planet.

Graphic depiction of Marsbee - Swarm of Flapping Wing Flyers for Enhanced Mars ExplorationC. Kang
Marsbees are almost what the name suggests: robotic insects the size of bumblebees with wings that would flap. Kitted with sensors, the miniature robots would be able to communicate with a rover that would act much like a queen bee. The flying robots could recharge from the rover, or base, and also send data to it as information is collected.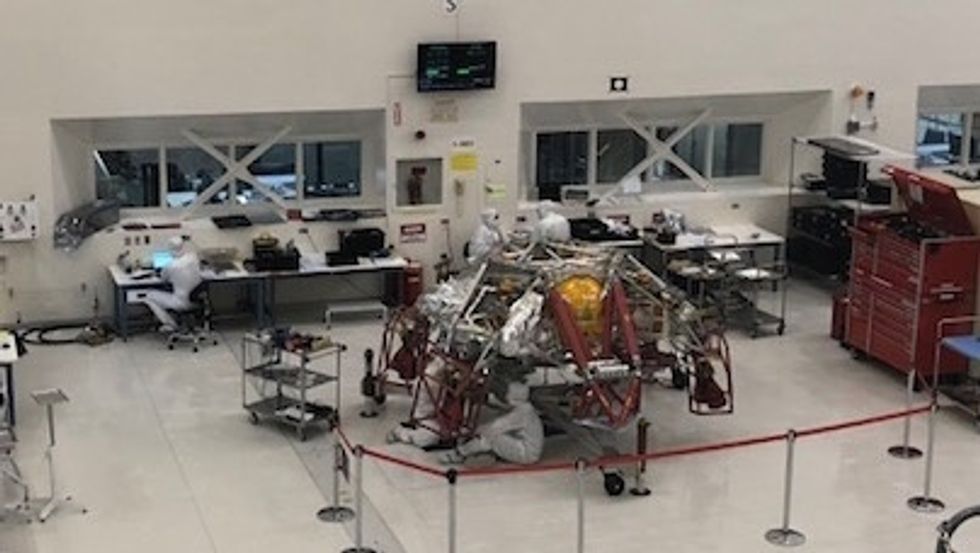 Work is being done on the Mars2020 rover, (pictured above) at Jet Propulsion LaboratoryLauren Barack
The design itself is one of the Marsbee's selling points, notes Chang-kwon Kang, the scientists behind the proposal and an assistant professor with the University of Alabama, Huntsville. Because of its small size — much tinier, say, than the original Space Shuttle orbiters, the Marsbee can be "validated in a variety of accessible testing facilities," says Kang.
He also believes that the design — "with a cicada wing," he writes — will be enough to give the robots lift even in Mars' atmosphere.