The Mars rover Perseverance is touching down in hours, at approximately 3:55 pm ET Thursday, to start a Mars year-long mission.
While not the United States' first trip to Mars with a rover (that would be Pathfinder, which landed in 1997), the mission is key for what NASA has tasked this rover to do — search for signs of past life on the planet at the microbial level, while also testing technologies that could help to support human life on Mars.
Perseverance started its journey through space on July 30, 2020, when the rover launched on the back of an Atlas V-541 rocket from Cape Canaveral Air Force Station in Florida. It actually took off from Complex 41, where Voyager also launched as well as well as the New Horizons mission to Pluto.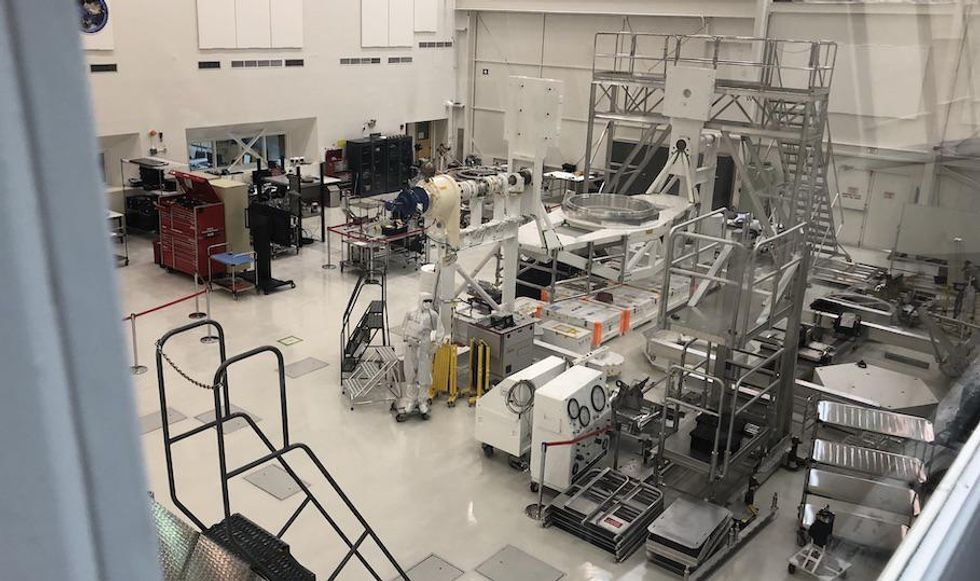 Workers completed the rover in this cavernous clean room at JPL in CaliforniaLauren Barack
But even before starting its journey to Mars, Perseverance was carefully constructed at Jet Propulsion Laboratory (JPL) in La Cañada Flintridge, California, where workers in clean suits constructed the rover in a cavernous room to protect every part, every instrument, and every piece of technology. These images are from April 2018 where the rover was being constructed — still more than two years from rocketing off Earth — and already looking quite similarly as it does today.

And this rover is studded with technology. There is a weather station on board, zoomable panoramic cameras, an ultraviolet and an X-ray spectrometer among other instruments. One piece of tech will be also be used to test whether oxygen can be created from the atmosphere on the planet.
Many are also eyeing the hopeful flight of the Mars Helicopter, Ingenuity, that if successful will be what NASA has called the "first powered flight on the Red Planet."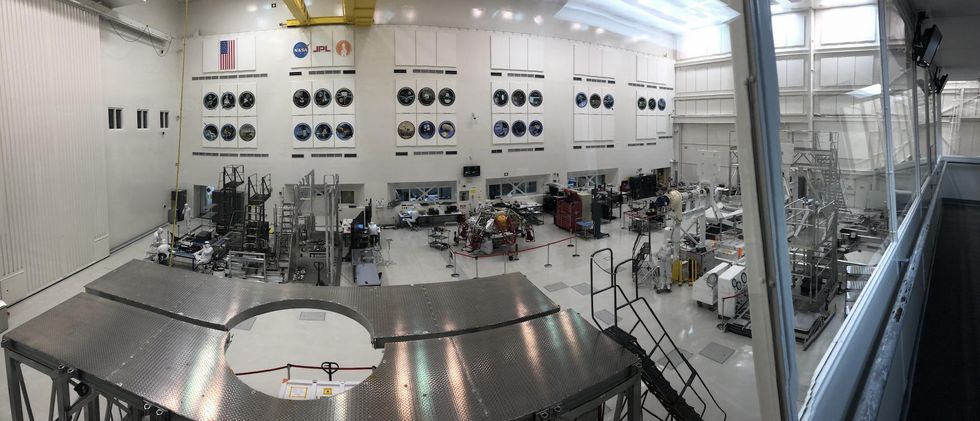 The rover, top center, will be tasked with looking for signs of past life on Mars, as part of its missionLauren Barack
How to watch Perseverance land

Because of the distance between Mars and Earth, live transmission isn't actually possible. There is in fact an 11-minute delay between what NASA — and you — can see, and what Perseverance is actually doing at that moment. The landing itself will be a 7-minute process, and so this specific set of actions to get the rover on to the planet's surface has been referred to as the "7 minutes of terror," which means NASA will have to wait that period of time before it can hear back from Perseverance and know it has landed safely.
But for anyone eager to follow Perseverance on its path to Mars, and has the stomach for the stress, NASA has a live YouTube stream that will capture all the details around the landing throughout the entire day. You can also follow the progress from NASA's own Twitter feed as well. And over at NASA's web site, there will be ways to watch the landing, and also link in to other streams, including NASA TV.
And if you're someone who just wants to listen to mission control chatter all day, without any kind of explanation to what you're hearing but a way to feel you're more inside the room, there will be what NASA calls its "clean" feed over on NASA TV's media channel as well as the JPLraw YouTube Channel.
All of this will let you watch a small piece of human technology touchdown on Mars, and in minutes bring a world nearly 127 million miles away into view.