Like GearBrain on Facebook
Apple has finally replaced the aging MacBook Air with a new model, equipped with a high-resolution Retina display and a new design, revealed during a New York event today.
Sitting alongside the MacBook and MacBook Pro, the Air was a much-loved member of the Mac family, but had earned just one update since May 2015, with a display that fell short of its siblings.
The new model has Apple's trademark all-aluminum body, but adds in a new Retina display and the same black back-lit keyboard as used by the rest of the MacBook family. Apple says every element of the Air has been updated from its predecessor.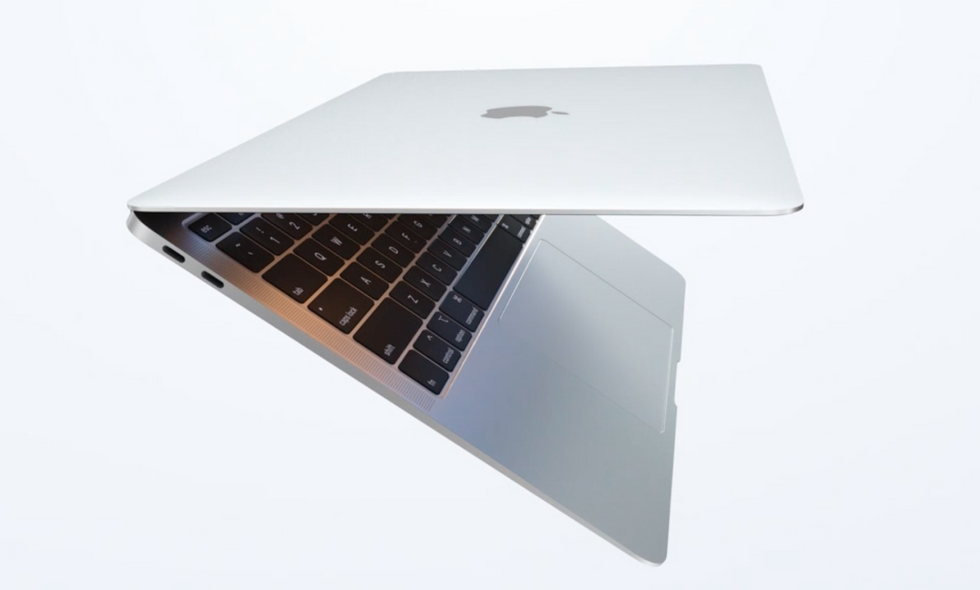 Apple
The new Air now has a 13.3-inch display with four times the resolution of the outgoing Air, boasting some four million pixels and 48 percent more color. The screen stretches closer to the edges of the Air's lid than before, as the bezel is now made from black glass instead of aluminum.
Touch ID is now part of the MacBook Air, located in the top-right corner of the keyboard, so users can unlock their laptop or buy something online though Apple Pay with their fingerprint. Unlike some versions of the MacBook Pro, the new Air does not have a touch display in place of the function keys.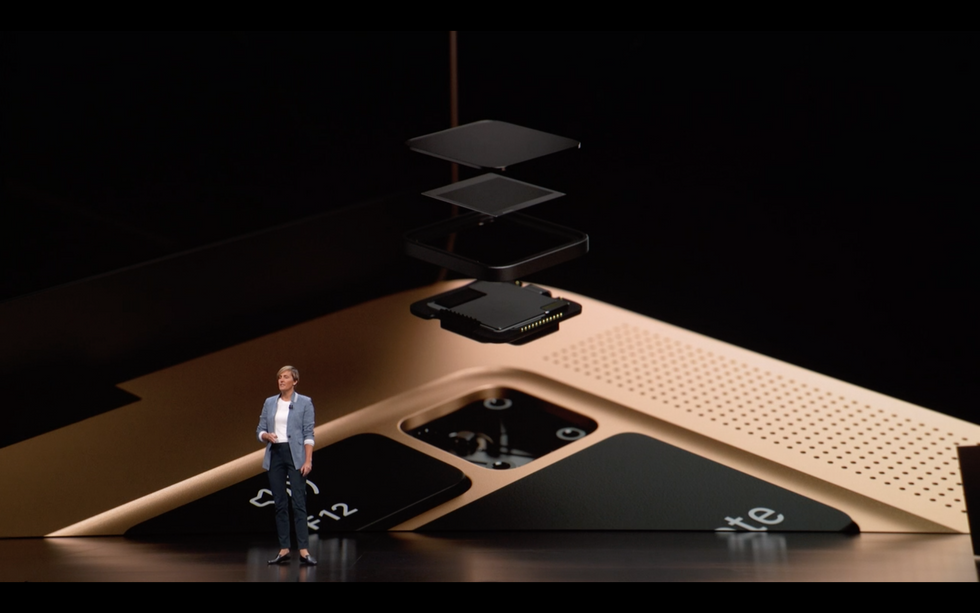 Apple
The trackpad is also new, and is 20 percent larger than before, featuring the same pressure-sensitive design and haptic feedback as the trackpad of the MacBook Pro. Each key on the keyboard is backlit by LEDs, with speakers behind them that are 20 percent louder than the old Air.

Apple says the new MacBook Air has the most secure storage of any notebook currently on sale, in part thanks to the Touch ID fingerprint reader and its T2 security chip.
As for connections, the new Air has two Thunderbolt 3.0 ports, which can handle data transfer, peripheral devices, monitors, external graphical processors, and the power cable.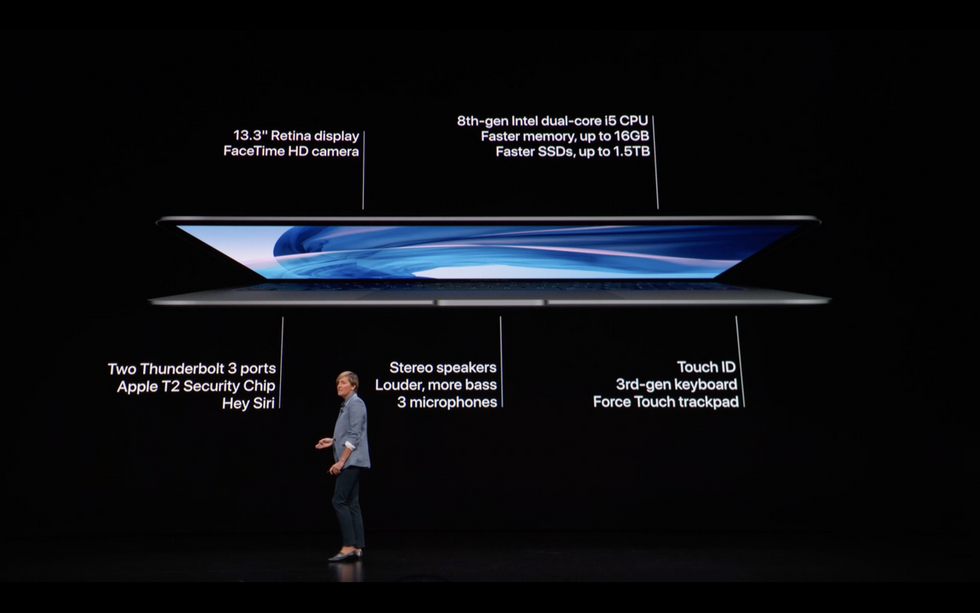 Apple
Powered by an Intel i5 processor, the Air supports up to 16GB of RAM, with solid storage up to 1.5TB in capacity. The device is 60 percent faster than the previous model, and Apple claims the battery will last for 12 hours of wireless web browsing, or up to 13 hours of iTunes movie playback.
As for portability — always the calling card of the Air — there is 17 percent less volume than its predecessor, but the laptop manages to pack three microphones for making video calls and for speaking to Siri. At 15.6mm thick, the size is a 10 percent reduction on the previous Air, and it weighs in at 2.75 pounds, 0.25 pounds lighter than its predecessor.

Apple also revealed that every new MacBook Air is made from 100 percent recycled aluminum.
The entry-level model has 8GB of RAM, 128GB of storage and starts at $1,199. Pre-orders are open now, with in-store availability starting from November 7. The laptop is available in three finishes, silver, space gray, and gold.
Finally...a new Mac Mini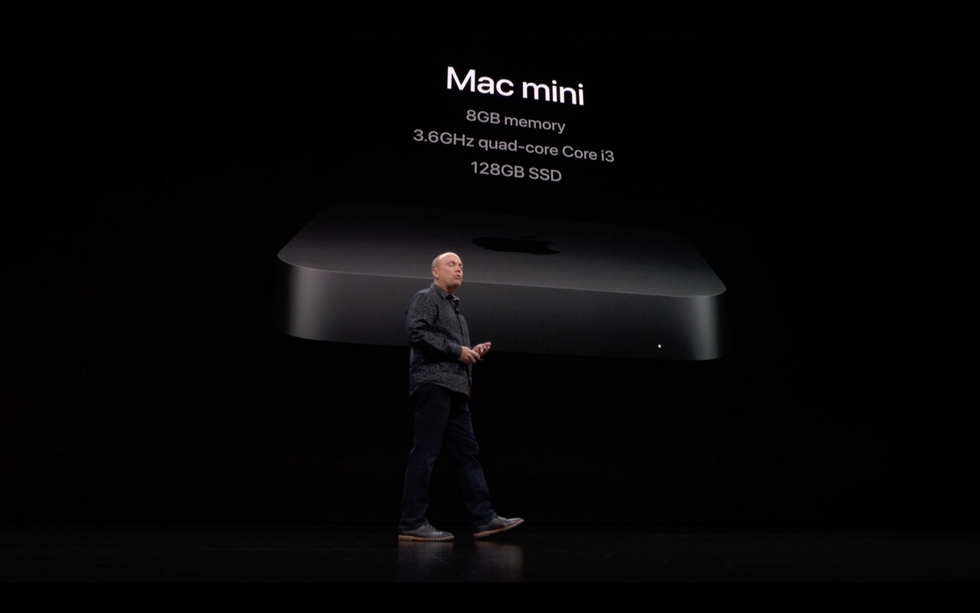 Apple
Apple also used its New York event to reveal a new Mac Mini, marking the first update for the company's smallest and most affordable Mac in over four years. The update for 2018 was described by Apple as "the biggest ever."
The new Mac Mini is finished in space gray and is powered by a more powerful quad-core processor, with an option six-core processor available as an upgrade. Apple claims the new model has 60 percent faster graphics, and overall speed improvements of 5X, which makes using Photoshop, an experience that's three percent faster, Apple says.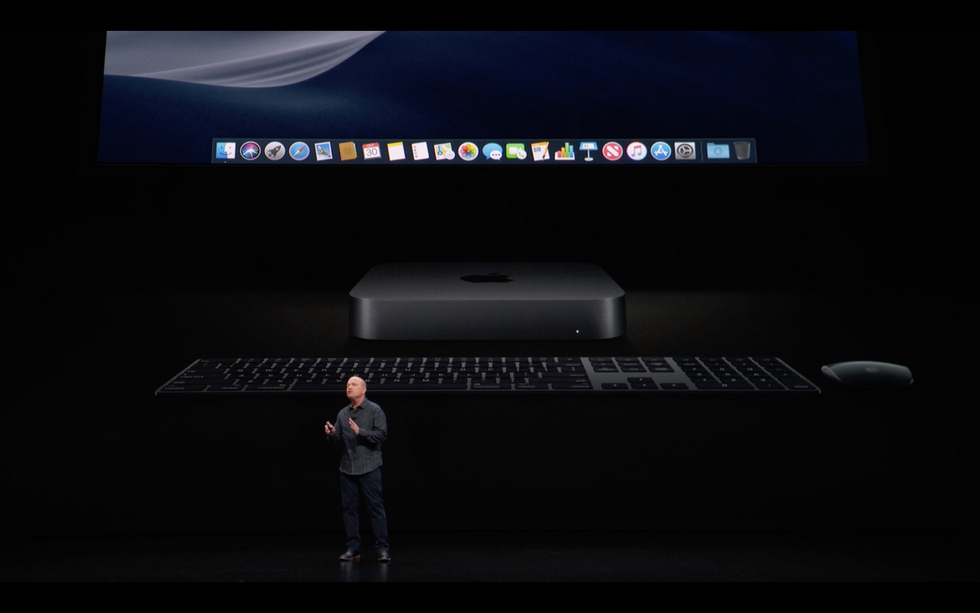 Apple
Apple upped the maximum RAM to 64GB, elevating the small computer into a new league compared to its aging predecessor. As for storage, every version of Mini has flash storage which is up to four times faster, and capacity is up to 2TB.

There are four Thunderbolt three ports, plus Ethernet, HDMI out, and two regular USB-A ports for your keyboard and mouse.
The entry-level Mac Mini starts at $799, and for that buyers get 8GB of RAM, a 3.6GHz quad-core i3 processor, and 128GB of storage. Pre-orders open today and it will be available in-store from November 7.
As with the new Air, the Mac Mini's aluminum enclosure is 100 percent recycled.
Like GearBrain on Facebook