Like GearBrain on Facebook
A new way to capture and then correct images in outer space has returned pictures of the planet Neptune that experts say are sharper than those scientists get from the NASA/ESA Hubble Space Telescope.
The MUSE instrument used this new technique called laser tomography, which corrects images for atmospheric turbulence that are taken from the Earth of our Solar System the Milky Way, as well as stars beyond them. The Earth's atmosphere has a blurring effect on images taken from the surface and it's called astronomical seeing — it's what makes stars twinkle when we look at them at night with our eye.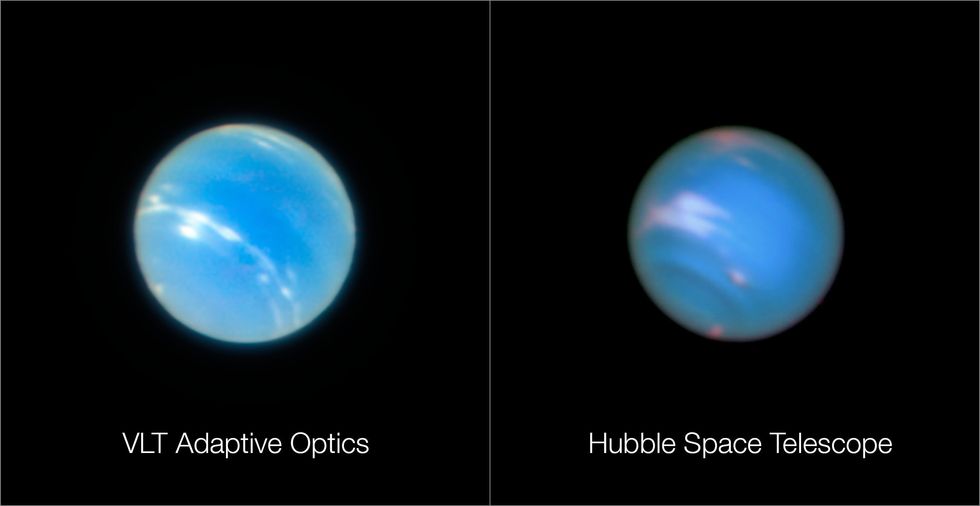 A new technique brings sharper images to images taken of outer space from EarthESO
The new images of Neptune used this new technique which sends lasers into the atmosphere and creates, essentially, guides. Comparing images between Hubble and those taken using the new technique, differences are very clear, predominantly in clarity and focus. The images were taken at different times so they don't show the same surface features, but the image using the laser tomography technique sharpens the difference between the planet and space surrounding it.
These new images of our 8th planet from our sun, were captured with the European Southern Observatory's (ESO) Very Large Telescope, which is located on the Cerro Paranal mountain in northern Chile — and you can watch live. The Very Large Telescope is actually made up of four telescopes and each can see objects four billion times fainter than what can be seen with just our eyes.

The new images have proven so exciting that scientists believe they may be able to used to study supernovae, black holes and globular clusters, a group of stars that orbit a center core. The technique will also be used with ESO's Extremely Large Telescope, in construction in Chile as well with a 39-meter primary lens and is nicknamed "the world's biggest eye the sky," and is expected to start capturing its first light in 2024.
Like GearBrain on Facebook