Like GearBrain on Facebook
I own an 82-pound Labrador Retriever, Jasper, who is fond of his couch. When a puppy, he got himself into quite a bit of mischief. A part of my kitchen wall carried a wound to this day. But as a four-year-old, the worst damage he does is creating an indelible indentation in my couch. So when Petcube offered us a chance to test its device, I thought perhaps I could get my pooch on to other pursuits then his daily naps.

Opening just Petcube's box may have been the biggest struggle. It took two of us, one pulling up then one pulling down to just get the device out. Inside is the PetCube device, a small black cube, its charger, and instruction manual.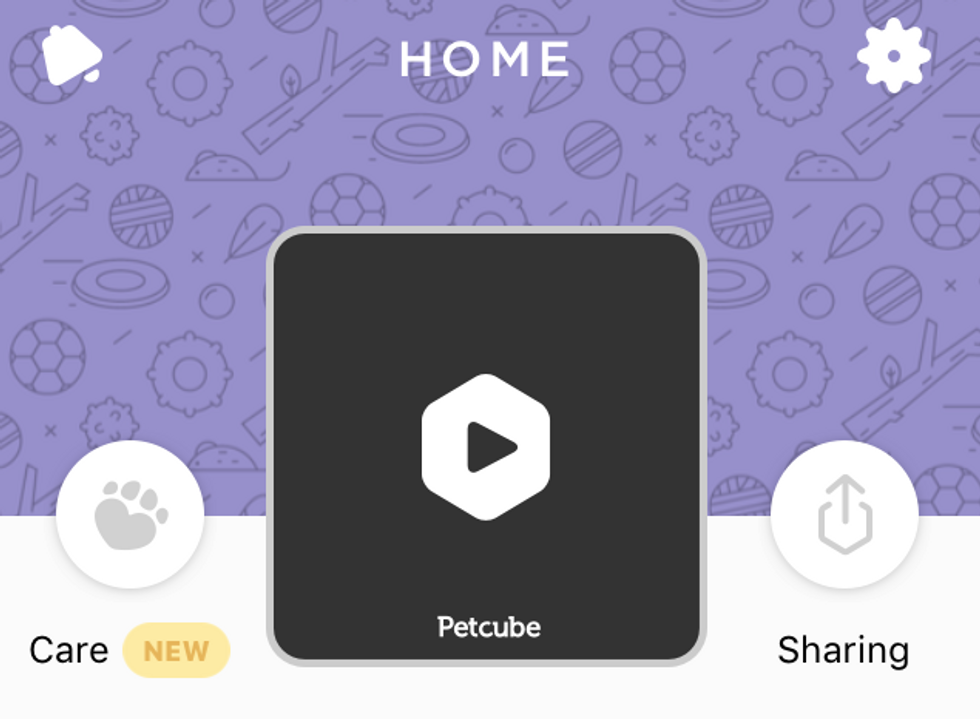 Home screen for Petcube's app
Play time
I immediately downloaded the app—which works with both iOS and Android devices. You need to plug in the Petcube cube and then connect the device to the app via Bluetooth. It asks for the standard information: your name and your pet's name, breed, weight, and the app wants you to give access to your photo stream, and your birthdate.
One important note when setting up your password. You're going to want to make this extremely strong. Why? Because Petcube is going need access to your home Wi-Fi account to work. We've written about how one weak link (i.e. your password) can ruin the party. Because if a smart device is linked to your home Wi-Fi, and that device is hacked, then suddenly everything connected to your Wi-Fi might be hacked as well. So note: don't make your password for Petcube your pet's name.
Once connected to Petcube, we were ready to launch the device in honestly a minute. The angle of the lens is very wide, able to see almost an entire arc of a 12-foot room. The Petcube's main selling point is a laser which is controlled by what Petcube calls its game screen. Your smartphone screen turns into a visual shot of what Petcube sees. Live. You can't turn the screen vertical: it only shows horizontally. That's a better view, yes, but limiting as you really need to use two hands to control a smartphone this way.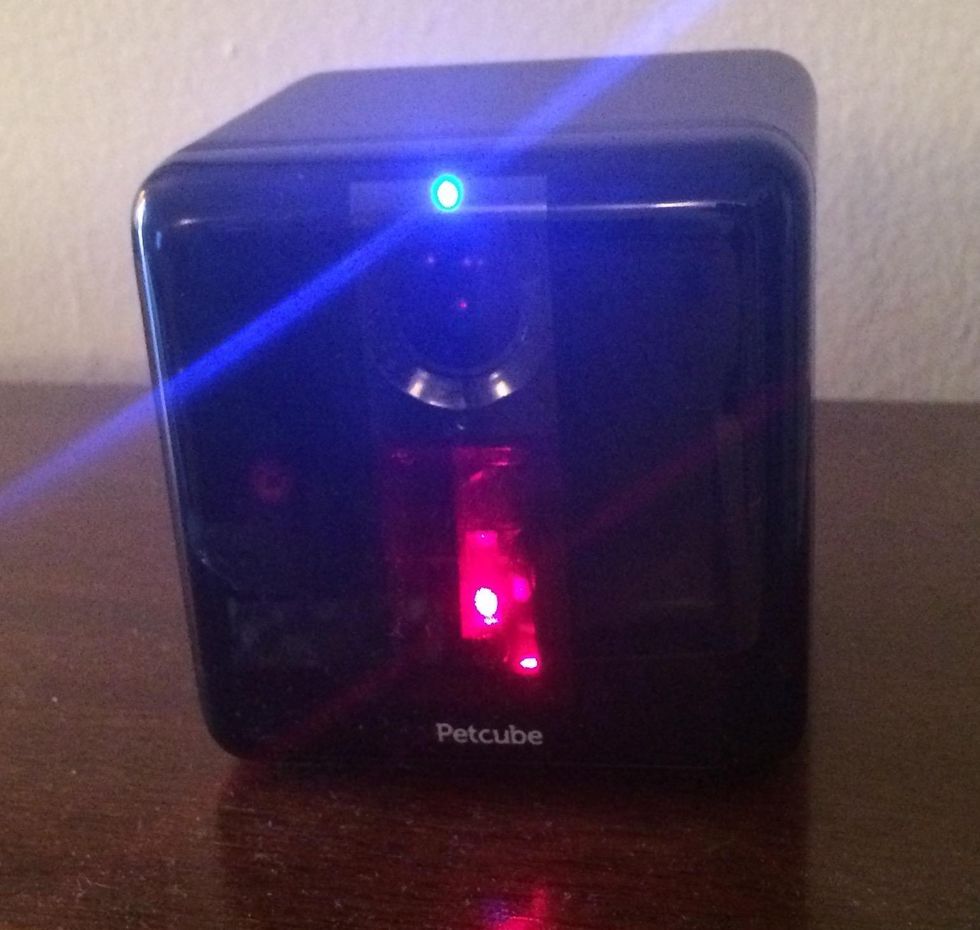 Don't look at the laser beam coming out of Petcube.
Laser pointer
Some notes about the laser: Petcube suggests you don't look at the laser shooting out of the camera. It's fairly decent advice to never look a laser in the eye. That said, with Petcube about three feet above the ground, it's not too low from your head—in other words, once someone tells you not to do something, you do it. I didn't. And I warned family members not to look either. But just a heads up: the geek in me was tempted.
Once the app is launched, and the screen activated, you can turn on the sound or the laser by just touching the symbols on the screen. The sound is then broadcast through the Petcube through your smartphone's speaker. I tested this at home first. The sound is broken a bit—I would call it pixelated, but that's really a visual description. Still, it's not super clear, and it's electronic sounding.
Once I had my dog Jasper near the device I turned on the laser. You can control where the red laser is going by moving your finger across the game screen. I got Jasper interested in the laser moving it across the floor quickly, around him. He definitely followed the red spot, tried to put his paw on it, swiveled his body and even tried to eat it. Phew. A lot of fun that lasted about 33 seconds. And then he was bored. Let's be honest. I have a four-year-old Labrador Retriever. His excitement level goes to 11 only when there is food involved. That's not Petcube's forté.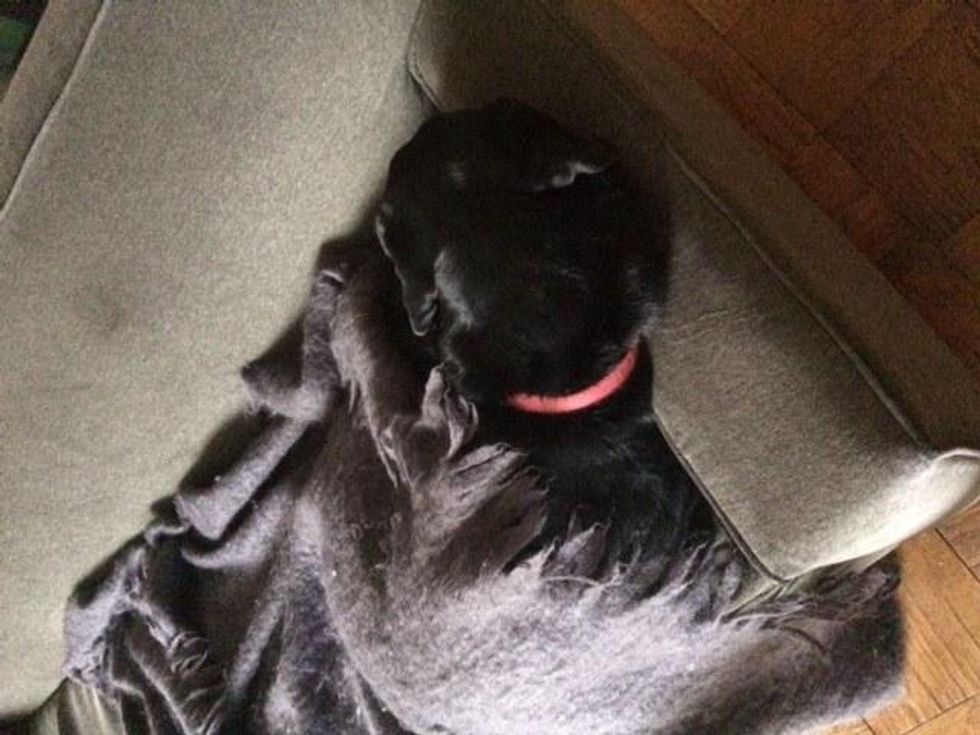 Jasper curled in his favorite spot. On the couch.
Next up—a true test. While at the office, I opened the PetCube app and started talking to my dog, calling his name. I saw his head lying on our couch, just four feet from PetCube. Hearing my voice, his head picked up, a good sign. But no matter how many times I called to him he wouldn't move, not respond to the laser beam. I got inventive, playing a doorbell sound through my smartphone, picked up by PetCube's app. That got Jasper barking, quite a bit. But did he move no. So for me, Petcube didn't really provide the engagement that I wanted.
[18ZZDE1492164202]
From Your Site Articles
Related Articles Around the Web
Like GearBrain on Facebook