Having a dog is a cavalcade of responsibilities: for every wonderful moment with your pet there are the late night walks, trips to the vet — and of course the need to feed this creature, usually twice a day. As smart devices pop up, there are inevitably some that are focused on taking care of pets. The Petnet SmartFeeder is one such gadget — a connected automatic feeder that links to Amazon, sending updates to your smartphone on when you animal got dinner or breakfast — and places orders, ideally, when food runs low.

I spent a couple of weeks with the Petnet SmartFeeder, handing over the feeding of my 85-pound Labrador Retriever. It's not really a major chore to scoop chow into his bowl twice a day. But would it be easier, perhaps a bit more fun, to use a smart feeder to take on this daily task? We decided to test the gadget.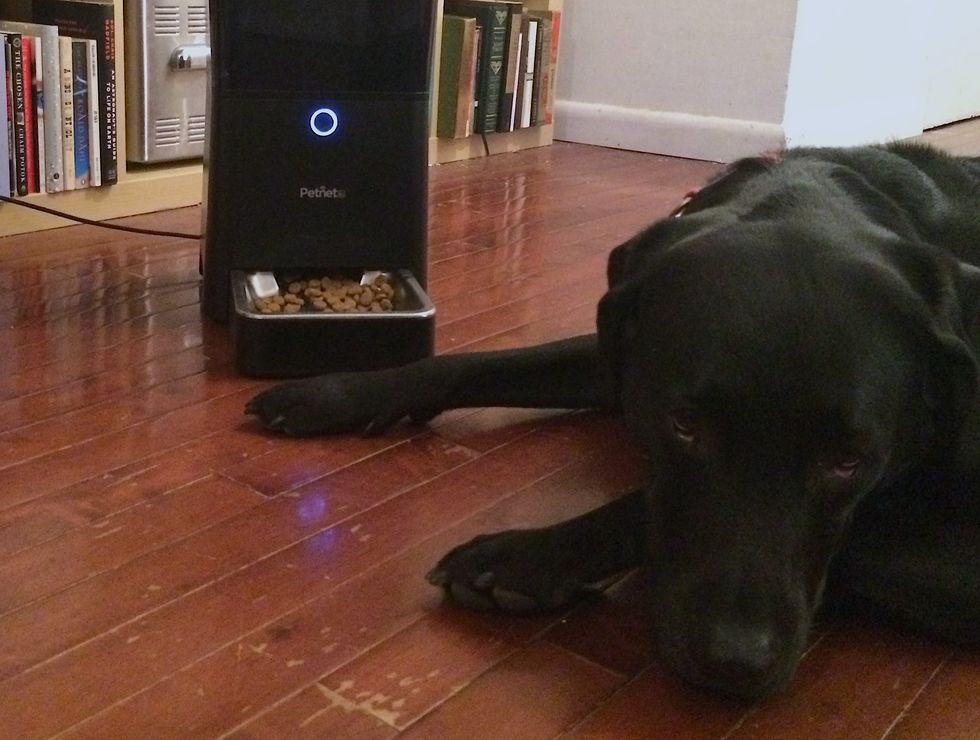 Our 85-pound Labrador Retriever never warmed to Petnet Smart Feeder.GearBrain
Set-up
Petnet is extremely simplistic to set-up: download the app, plug in the device, connect it to your Wi-Fi and fill the feeder, which holds about seven pounds of kibble. The app is really the mind of the device, where you run everything and customize your pet's needs.
Petnet is not small — you're going to have to keep it on the floor, clearly, because that's where your pet eats. But the profile is quite tall with a cord running from the device to an outlet. If you feed your pet outside — this device is likely not going to work for you.
If you have multiple pets, you might need more than one feeder as you're calibrating the amount of food per animal. For those with cats, you may be able to get away with just one. You're also going to need to set the feeder up where you have an outlet, and if there isn't one near where you currently feed your pet, you may need to retrain your dog or cat.
You can set up how much you want to feed your dog and cat everyday, plus how many calories are in each feeding based on the kind of food you're using.
The app keeps track of each scheduled feeding, and if you want to give your pet an extra bit of food — let's say they had a giant run at the park that day — you can push another feeding through the app, or manually send another round of chow by pushing the round circle on the front of the feeder.
I set my feeder to one cup, twice a day — and found I added another extra feeding every day. The app worked perfectly — alerting me each time food dropped for my dog. Until it didn't.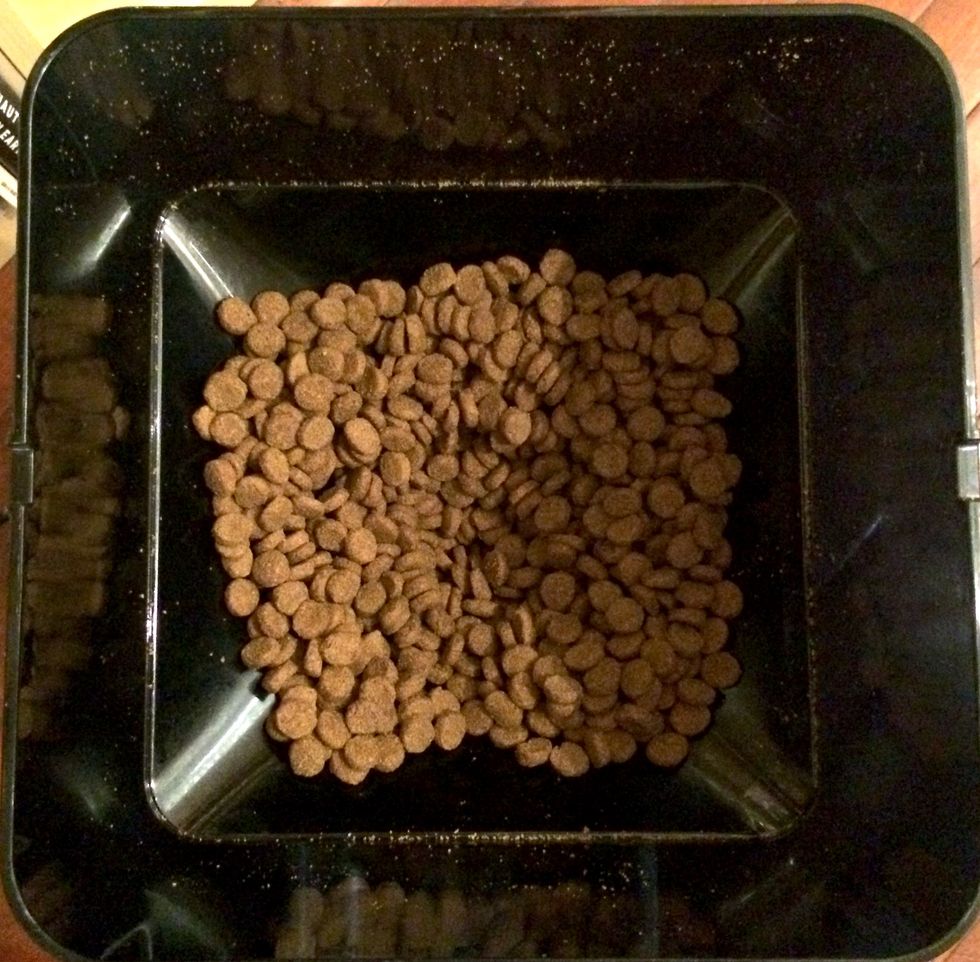 The hopper for Petnet SmartFeeder holds up to 7 pounds of chow or kibble.GearBrain
At work

There were times the food didn't travel easily down the chute. And about a week or so in, the SmartFeeder jammed. My dog's food stopped flowing and we had to put our hands — and yes, this made us nervous – to coax the chow into the bowl.
Petnet sent us an extra piece — a SmartFeeder Ramp, a slanted platform so the food would slide more easily. This helped. But we didn't start using the ramp until after we had a jam in the feeder. Not wanting to stick our hands down the chute again, we had to dump all the food out of the feeder, clear the chute, then refill it again.
This wasn't a big deal, as we were home when the jam happen and we knew we could feed our pup. But if we hadn't been home, that alert may have left us nervous. Dog owners don't leave their pets alone for too long. So if the feeder jams you're likely going to be home long before they start ripping through the trash looking for dinner. (Retriever owners know what I'm talking about.) Cat owners, though, are known to leave their felines alone for a day or so and an automatic feeder that jams? Not ideal.
The great thing, though, was Petnet sent me an notification when the jam happened — and so we could have come home or sent someone to check in on our pet.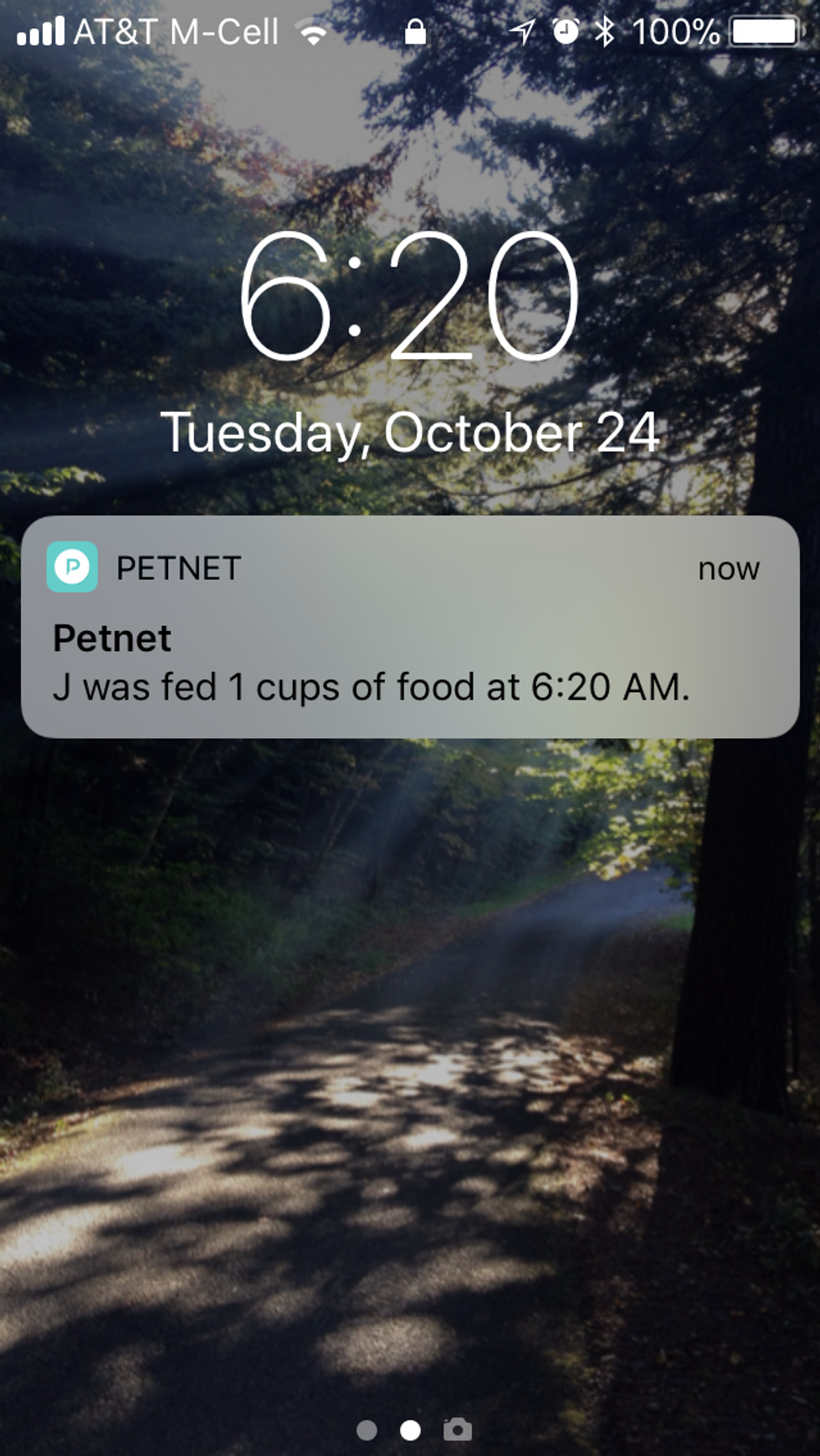 Petnet will send alerts to your phone through the apps when your pet is fed — along with notes if the SmartFeeder jams.GearBrain
Connected
As we add more gadgets in to our home, we want them to work with each other. Petnet integrates with Alexa, allowing you to speak through your Alexa-enabled device, such as an Echo Dot, to run Petnet. The device also links to Nest products, taking a photo of your pet while they're eating.
Another perk: Petnet will order your dog or cat food for you. At least in theory. We couldn't find our chow on the list of brands, and we couldn't order the food either.
Currently, Petnet is running a promo: $30 off the $149 price, with the SmartFeeder Ramp throw in for free. If you're not ready to start with the full feeder, Petnet sells a $49 Petnet Smart Bowl — currently on sale for $39.99 — which can be programmed through the app to light up when the correct amount of cat or dog kibble has been poured. It holds up to 2 and ½ cups — more than enough for a large dog.

But do we need a pet feeder? That's a good question. Certainly, making sure you pet is fed on time is key to their well-being. For a cat — where owners can leave for longer stretches, knowing they have a litter box to take care of other needs — an automated feeder is a nice option.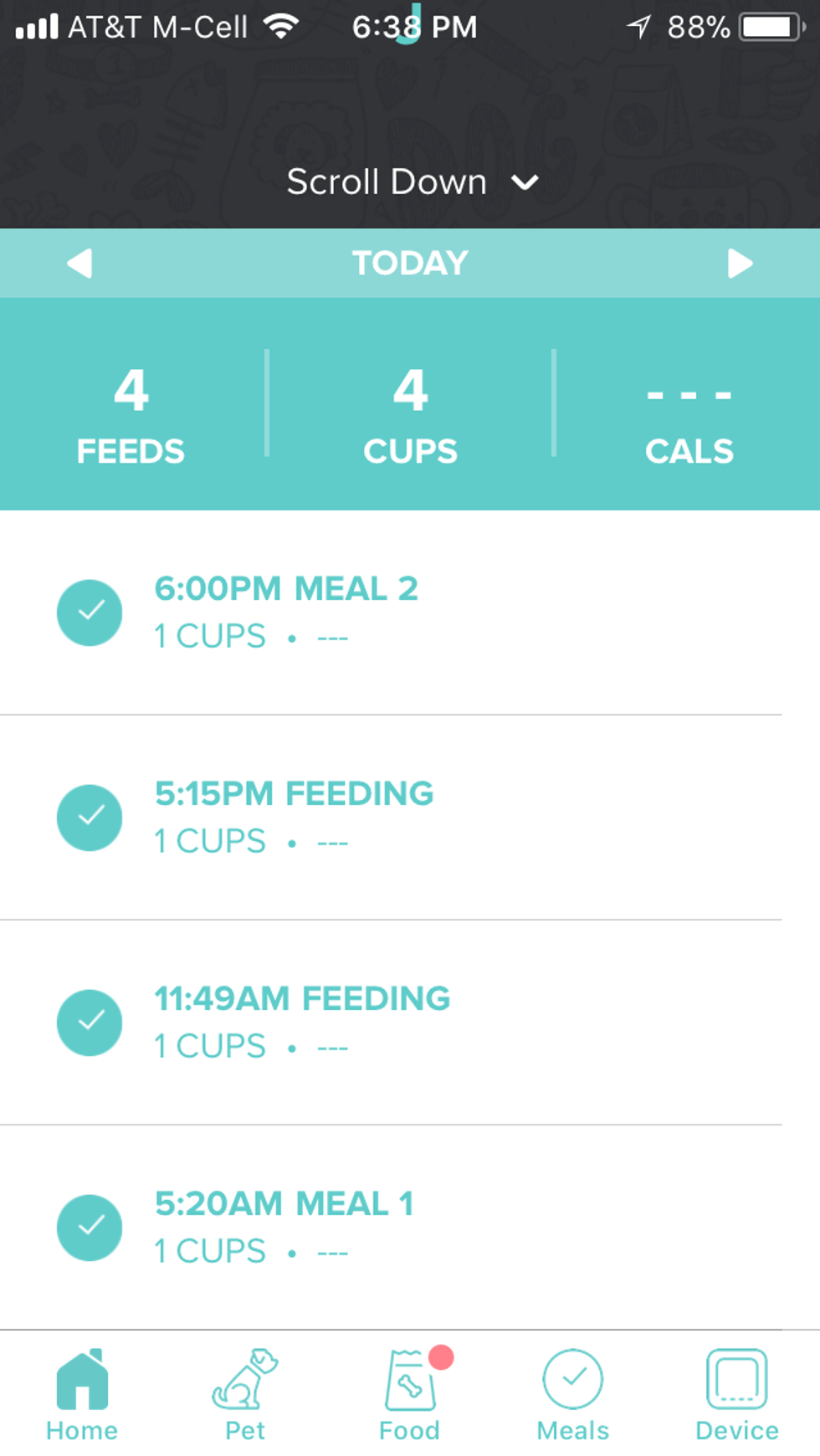 You can keep track of each feeding in the Petnet app — those that have been scheduled as well as some you push out manually.GearBrain
For dog owners, knowing their pet needs to be taken outside more frequently, Petnet really only buys a limited amount of peace of mind. Also — our dog was not enthralled with Petnet. The first few days he refused to eat from the gadget, likely because his routine had been changed. But after about a week, as he heard the motorized sound start and the chow slide into his bowl, he'd get up off the couch, walk to the device and start eating. But honestly — he never completely warmed up to Petnet, often eyeing it often sadly, if not with outright suspicion.
Helper or not?
If we could have automatically ordered his food, that would have been an extra perk. Then again, there are plenty of online pet sites where you can create subscriptions for anything from chow to treats. What's unique to Petnet is the ability to order when you're actually running out, so you don't end up with extra bags lying around.
As far as having an smart pet feeder for a cat or dog, Petnet is a sound option, particularly for those looking to build a connected home. You need to stay on top of it for potential jams in the feeder — but anyone who owns a pet can't be inattentive. The ultimate decision should be made around whether a device like Petnet really takes a task off your hands, or is just another gadget to maintain.
Pros: App is easy to use, alerts you when your pet is fed and self-orders food when the feeder is running low.
Cons: Not all food is available for order on Amazon, is quite big and prone to jams.