Like GearBrain on Facebook
Self-healing smartphones are not new, but where the LG G Flex 2 could only heal scratches to its body, researchers now claim they have created a new glass which can be repaired by pressing cracks together with your hands.
The remarkable discovery was made by Japanese researchers at the University of Tokyo and is possible thanks to a polymer called polyether-thioureas, which enables broken pieces of glass to be pressed back together at room temperature.
What's more remarkable, is that the polymer was discovered by accident. Graduate student Yu Yanagisawa was originally developing the material as a glue, but found that when its surface was cut its edges adhered to each other. He found that pressing them together for just 30 seconds at 21 degrees centigrade closed the cut and repaired the damage.
If this miracle material can be made a commercial success, it will be a dream come true for smartphone owners the world over. Data released by Motorola in 2015 claimed 50 percent of smartphone owners worldwide has experienced at least one cracked screen in their lifetime. Meanwhile, the iPhone X created headlines after Apple said a cracked screen costs $279 to repair.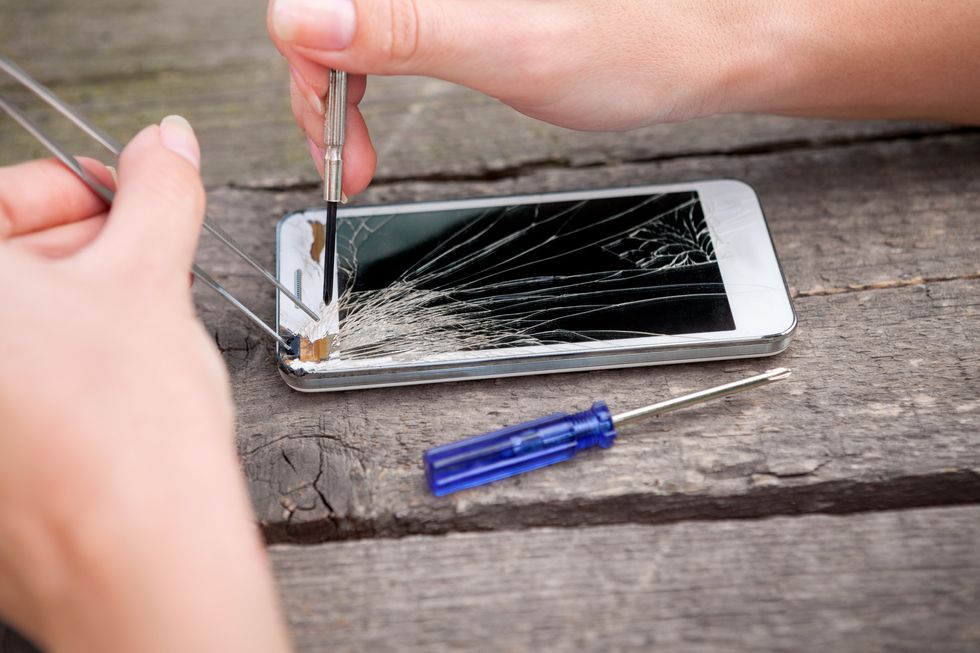 No need to reach for the repair tools with self-healing glassiStock
In a paper published by Science magazine, the researchers wrote: "High mechanical robustness and healing ability tend to be mutually exclusive...in most cases, heating to high temperatures, on the order of 120 degrees centigrade or more, to reorganize their cross-linked networks, is necessary for the fractured portions to repair." Yet, they describe the newly discovered material as one which is "highly robust mechanically yet can be readily repaired by compression at fractured surfaces."
Yanagisawa told Japanese site NHK that he only half-trusted himself when he first discovered the material's repair properties, but that after many repeat experiments he was able to believe his own results.
Experiments with the material show how cracks are completely removed when compressed at room temperature for a short time, and that it regains its original strength within a couple of hours - ready to be clumsily dropped again.
Like GearBrain on Facebook