Like GearBrain on Facebook
Pros: easy to set up, cost, scheduling, adjusting scent intensity, eco-friendly, hypo-allergenic

Cons: noisy at high intensity, doesn't smell like scented candles, can't overlap schedules, humming noise
New connected air fresheners are coming to the market, changing the way we make our offices, cars and homes smell the way we want them to smell. Now one of the world's leaders in fragrance is stepping into the space with Aera, made by Prolitec, a company that specializes in creating scents for your space.
Prolietc has helped create beautiful fragrance experiences in public places: hotels, stores, malls, commercial buildings, airports, train stations, and theaters worldwide. Now it's wearving this fragrance experience with the latest in smartphone technology to offer Aera For Home. This device is the first time the company has used their technology to build a high performance scent delivery system for someone's house or apartment and GearBrain was able to test the device. (Note: the company sent us a free unit to test.)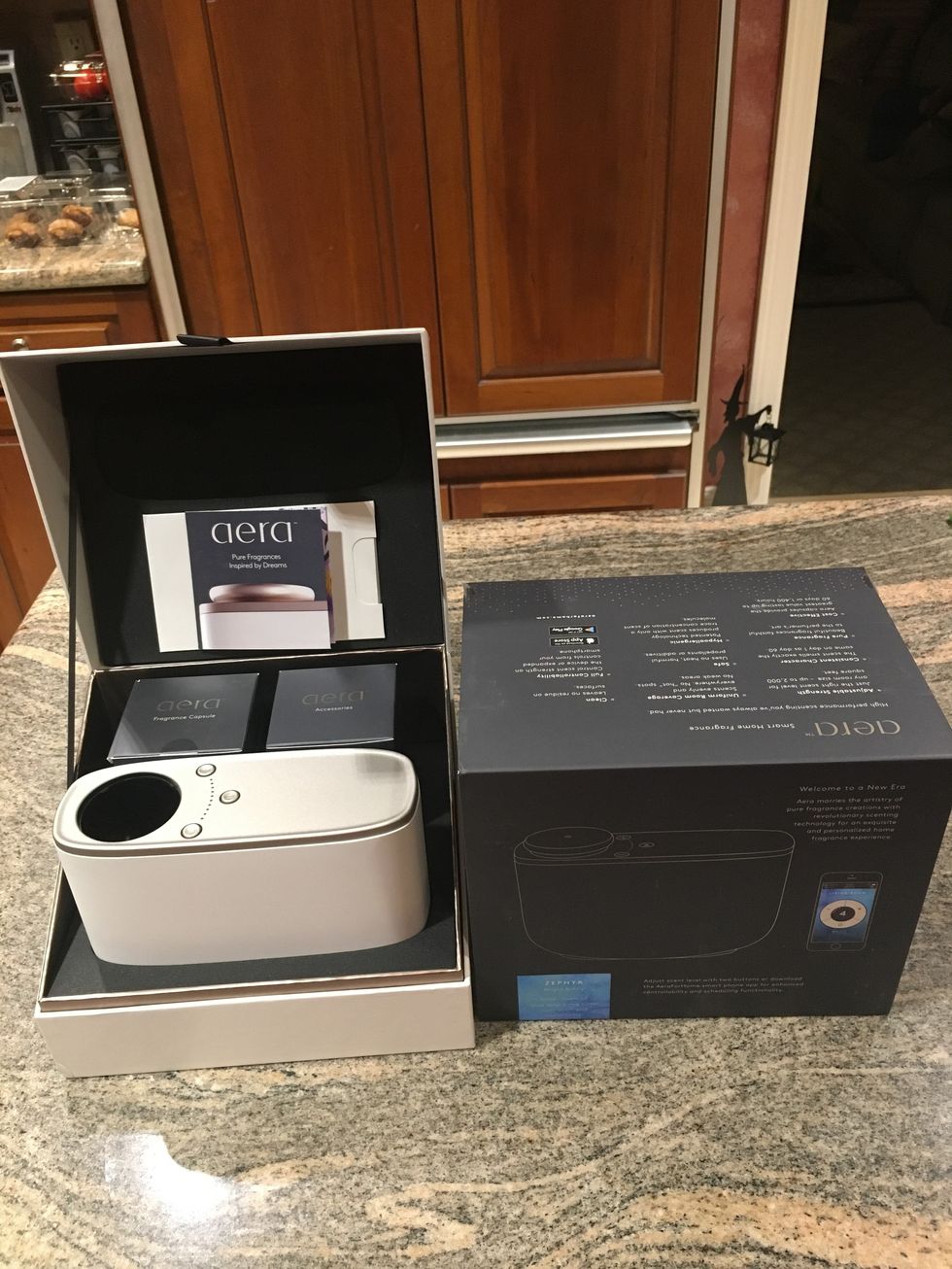 The Setup

My daughter Maggie and I set up Aera For Home together, as she and and my wife are big candle burners, and prospective buyers of Aera. We found the set up instructions to be very easy, including putting the canister into the device. Then we both started to download the app.
From the start, my daughter had an issue downloading the app and pairing to the device. We went to Aera's help section in the app, following the instructions for "My Aera app is not responding." We deleted the app, reinstalled it, and still had an issue. Finally, we went to the troubleshooting section for iOS app, " I can't find my Aera xxxxx." in my Wi-Fi settings. There we discovered you only have 10 minutes to connect to Aera Wi-Fi once you plug the device in to the wall. If you don't, you need to reboot the system.
We followed the onscreen instructions for rebooting the system and we were able to get things to work. Our advice is if you experience any issues with setting up your device, you should refer to the Help Section in the app or online. Its very informative and will assist you in getting your device working correctly.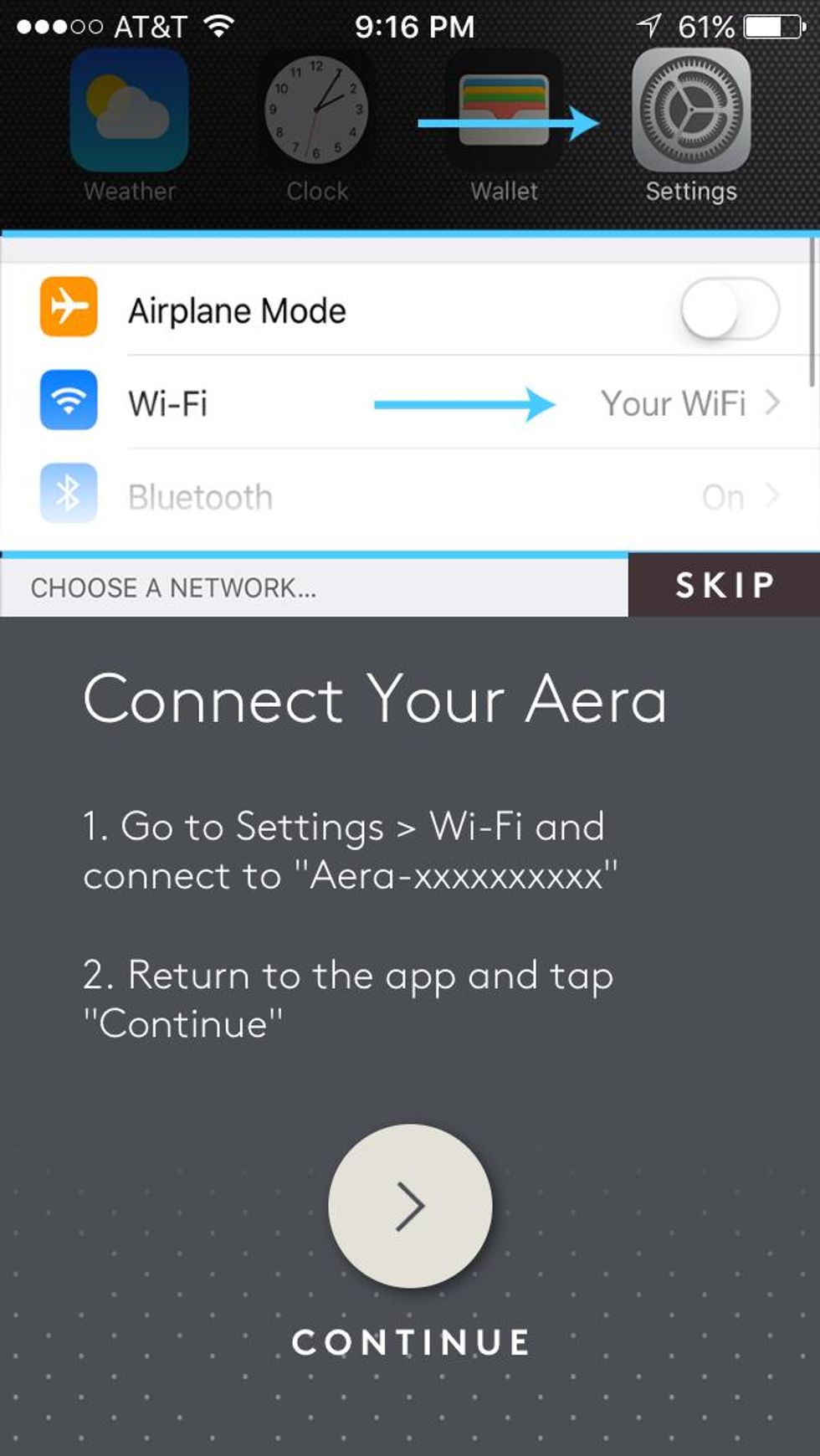 Scheduling

Now that we had the device and our app linked, we scheduled when we wanted to freshen up things. Aera offers you up to 20 different home scenting schedules that can be set to run automatically. You can also set up schedules for multiple devices if you want to put a number of Aera's around your home.
The app made scheduling very easy In the app. First you select the days, then choose the start and end time. Last, you need to select the intensity of the scent you want in your home, and then confirm everything. You can also set up multiple schedules. But note that when doing this you can only run schedules that are not at different times on the same day. For instance you can have a schedule run every day from 7-10am and another one run from 6-10PM every day. But you can't run a third schedule that will run every day from 5-9PM because it overlaps with another schedule. We found this out when we set up our schedules.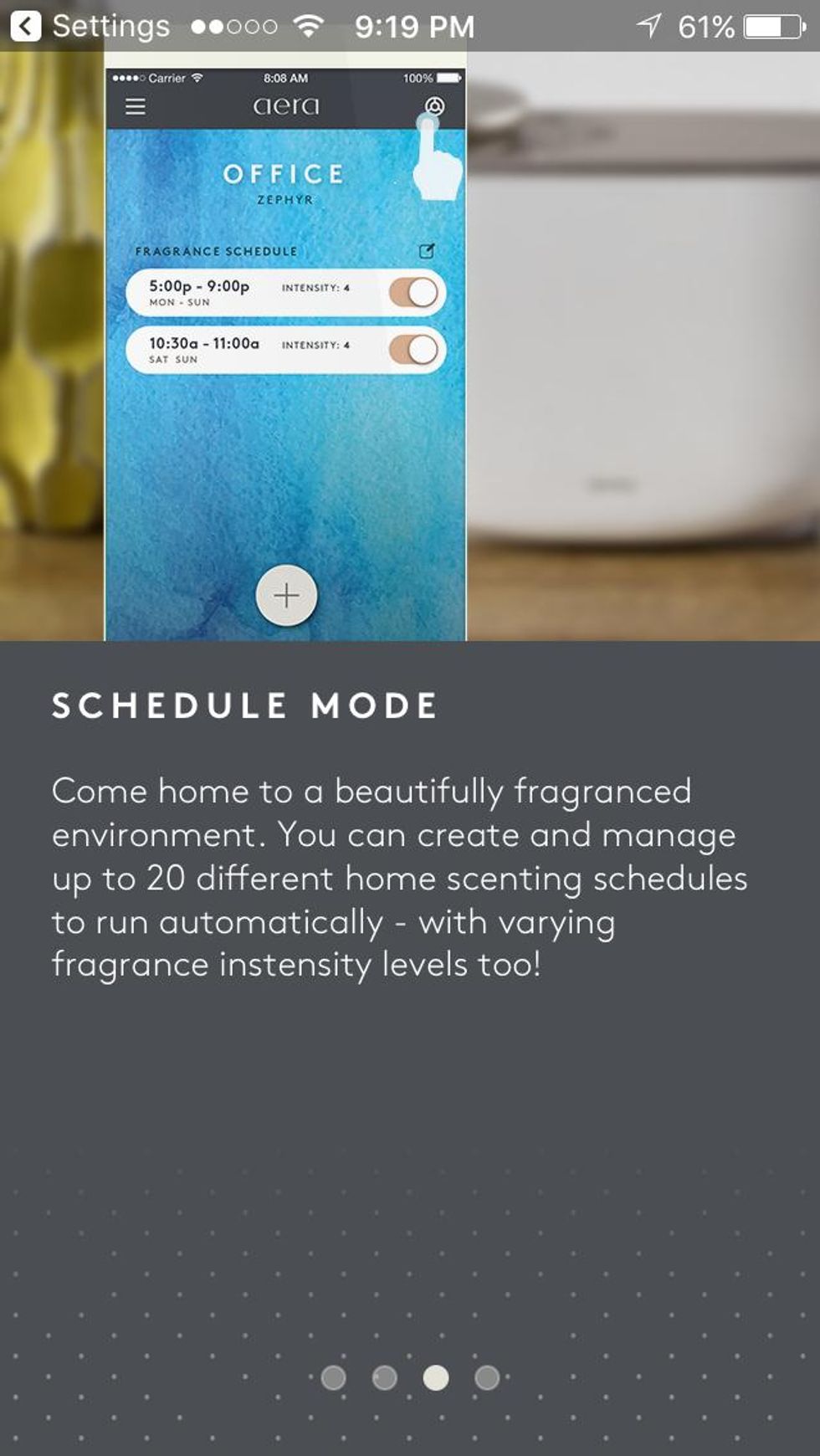 Once we completed the scheduling, we turned on our device to see how the device works. A first, we found the scent to be very strong but luckily, as we mentioned, you can adjust the intensity. We also found the scent to be a lot different than what you get from a scented candle. My wife likes to burn scented candles and felt Aera's scent came on too strong at first and then lingered. After a few days of testing, we found the right intensity level for our house was around a level six. Also note that Aera can service up to 2,000 square feet, with eight different scents:

Celebrations
Curiosity
Moondance
Odyssey
Poetry
Snowfall
Vibrance
Zephyr
After testing the device, we started to wonder how long a capsule lasts. According to Aera, in a room that is 500 square feet, one fragrance capsule will last up to 60 days on an average setting of five, and running 12 hours a day.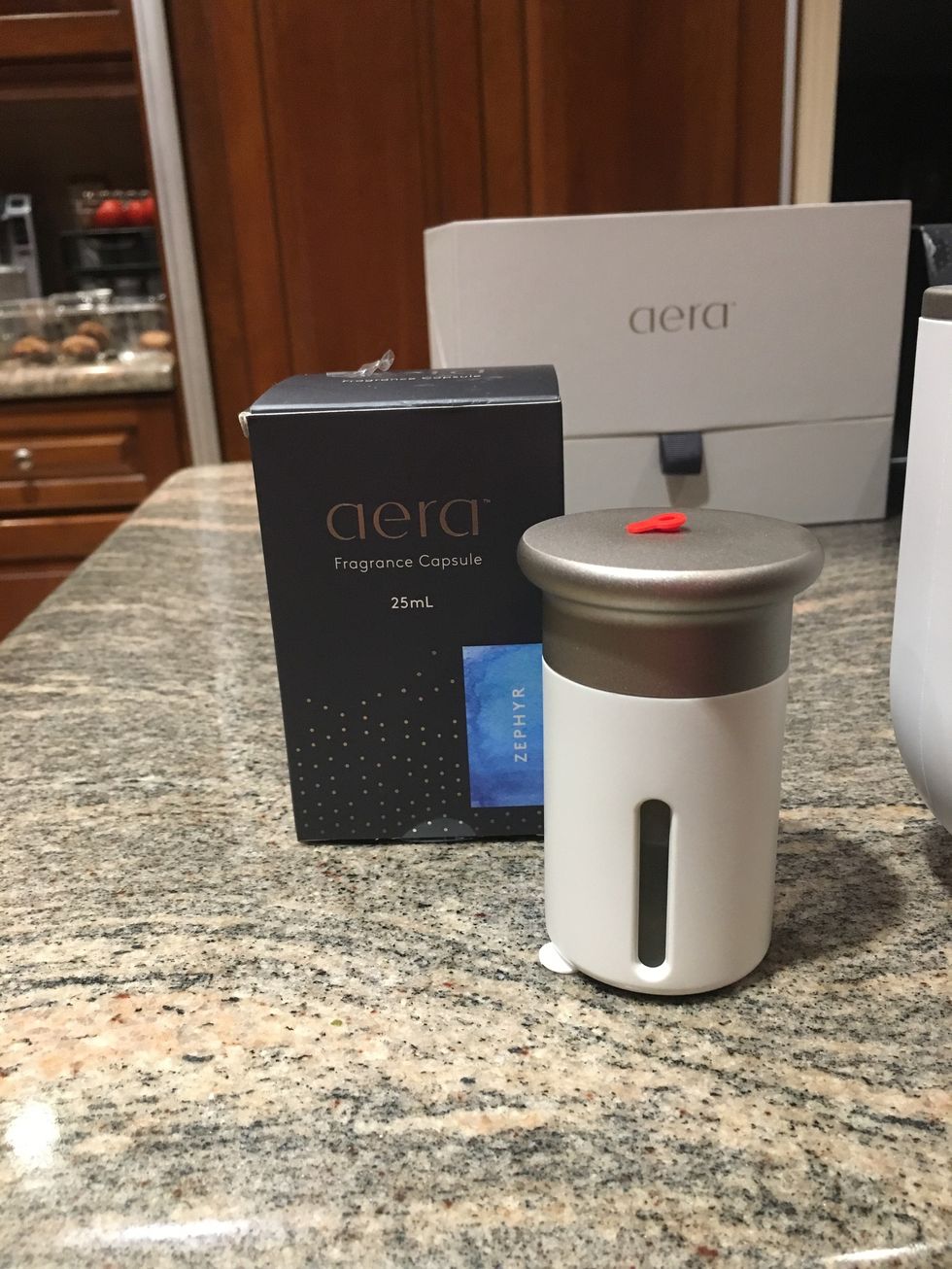 Summary

Aera is a home fragrance system that combines fragrances with technology to bring the scent that you want in your smart home. Their fragrance system is designed to infuse your home with the right scent evenly and can be controlled (fragrance intensity) right from your smartphone. It costs $189 and each fragrance capsule costs $47. You can buy it on its website,
Though Aera is easy to use and can provide you with the right scent throughout your smart home, my wife and daughter found a few flaws. First, the unit is rather big to display no matter where we placed Aera in our home. We displayed the unit on our kitchen counter during testing, and a number of friends and family would come in and ask, 'What is that thing?' When we told them it was a connected air fresher device, they said the device looked a little too big to have on a counter. We tried to hide Aera behind some decorative plates, but the unit could still be seen.
Second, we found when you turn up the intensity on the device, there is a low but noticeable humming noise when the fragrance is being dispersed.
Third, while my wife and daughter like the scent from burning candles, they feel the scent from candles is more soothing and less intrusive than an air freshener. When we played around with the intensity of the scent, both of them felt the candles smell was something they preferred.
However, when we looked at the cost for a fragrance capsule ($47) and compared it to the retail cost of scented candles (around $22), we noticed a big savings with Aera. My wife burns a candle for four hours a day, seven days a week. Based on this amount of burning, a scented candle lasts about three weeks.
When we looked at the lifetime of one Aera fragrance capsule (30 days at the average setting for four hours a day) compared to the life time of scented candles, we found we would need 8.5 candles to equal the amount of usage of an Aera fragrance capsule. My wife mentioned to me she rarely pays full retail price for a scented candle, spending, on average, $11 per candle. At $88 for either candles vs. $47 per fragrance capsule, Aera fragrance capsule is 47 percent cheaper than candles—excluding the main unit. Something to consider if buying Aera.
Overall, if you like scented candles, this might not be the device for you. However, if you are someone who likes a fragrant smelling home which you can control, while monitoring delivery of your favorite scent from your fingertips, then Aera is a connected air freshener you should consider for your smart home. And if you have pets and want to get rid of that pet smell quick and easily, Aera is a connected air freshener you definitely should consider.
Like GearBrain on Facebook