Like GearBrain on Facebook
As Snapchat floods our phones with augmented reality (AR) filters, other apps are struggling to catch up — with even Facebook and Instagram releasing some preliminary face filters and graphics to add to your selfies. Next up? Apps that can work outside of social sites — including Holo, created by 8i, which puts animated holograms of people and animals into your pictures as you take them.
Diving in
When you first open the app, a very aesthetically appealing start screen appears — the graphic design is actually spot on unlike many other AR apps we've reviewed. In the background, a woman plays a ukulele next to a monkey doing the same — a taste of what's to come.
After asking for a bunch of permissions, Holo will then lead you to the camera screen, with some suggested "holograms." I saw such characters as "dog walking," "wink" and "my chance" which looked like Spiderman.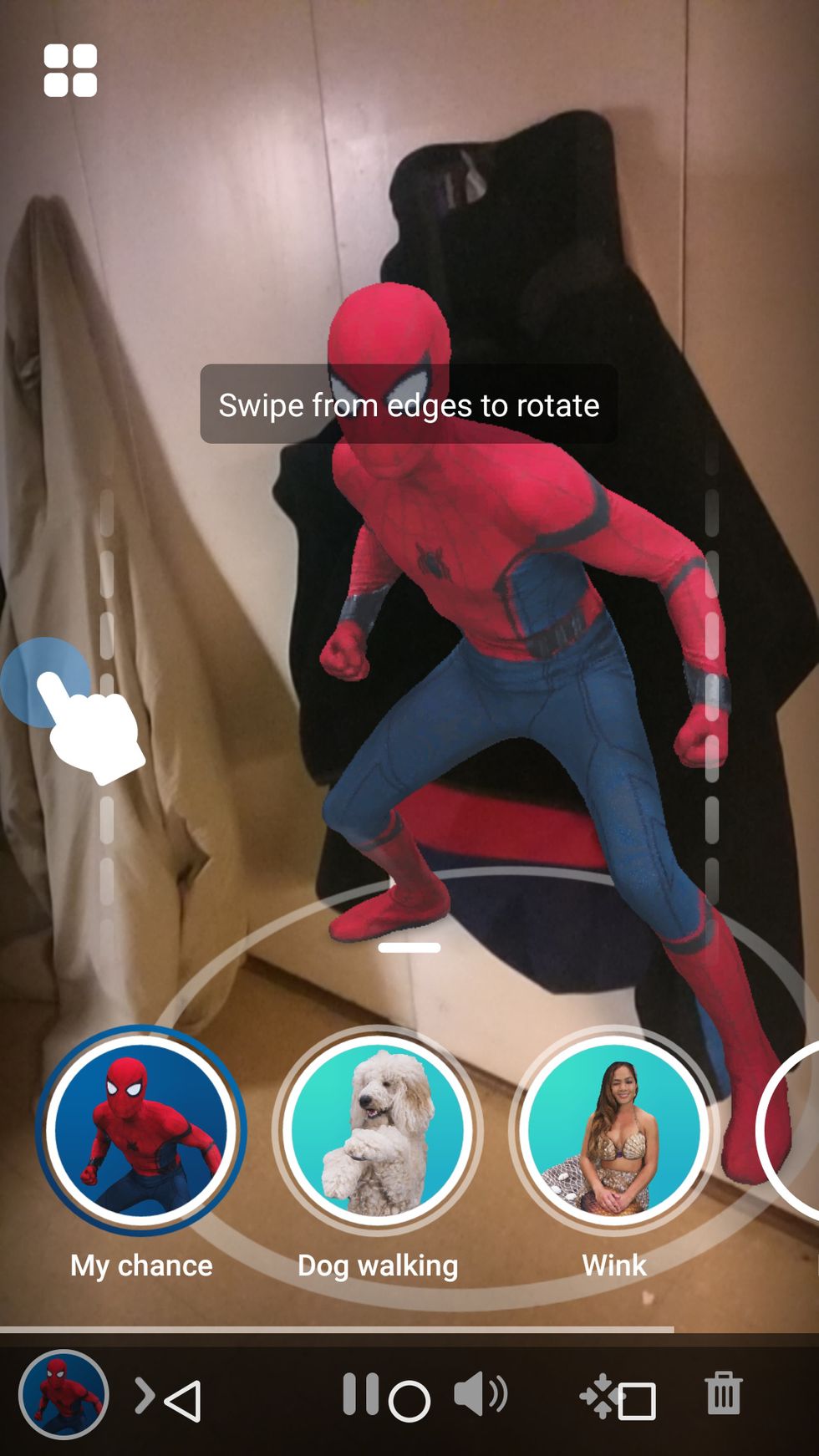 Holo lets you place, and position augmented reality figures in your space using your smartphone camera.GearBrain
I first put Spiderman in my room — you can rotate the figure by swiping from edge-to-edge and resize by pinching your fingers on screen. Unlike other apps, Holo seemingly cannot tell what your surroundings are — or if the app can, it does so rather badly. Characters are merely plopped down, almost life-size, for you to then adjust.
My next test was a dog — I made a white puppy dance on my microwave. And here's where the technology fails. When I move my camera from left to right, the hologram tends to move a little bit with it. Not a lot, but enough to make the puppy move off of my microwave and into mid-air — and thus less realistic.
With my next test, I picked the headless horseman, and there hit a wrinkle. I found that the holograms don't react to your actions — they're independent, and not picking up on what's happening in the screen nor with you. So to make a cool video, you're going to have to anticipate or note how one of the virtual images moves — in this case the headless horseman waved — and then plan your actions accordingly.
I also put a tiger — named Lola — on my laptop. She was so cute and when you tap on her icon, you can find that "Lola" has a variety of different holograms.
There are in fact more than 300 holograms to choose from in the Holo library — enough to find something fun to add to a snap or a video. The app lets you search popular holos, new holos, featured holos and different characters such as German footballer Jerome Boateng and singer Jhene Aiko. Plus there are the standard zombies, tigers (as we mentioned), dancing girls and more. Holo says it adds new content every week.
For those who like playing with AR — and don't have an AR device of their own — Holo is a pretty good choice. The app works with both iOS and Android devices — and its free to download. No, you're not going to get into film school with one of these finished flicks. But you'll certainly entertain yourself for an hour or so — and maybe your friends as well.
Pros: New and innovative concept, great augmented reality and clean graphics.
Cons: Limited interaction, overwhelming choices and a huge app size — seriously, 129 MB in the app store.
Like GearBrain on Facebook