Like GearBrain on Facebook
Halloween is right around the corner and you probably want to come up with some plans soon. While you're waiting for that party to start, why not play a fun game with your friends: SpecTrek.
SpecTrek is a ghost hunting AR game for Android devices similar to the likes of Pokémon GO — but without all the intricacies. The app allows you to walk around and catch ghosts while recording them — and you can even earn awards and titles.
When you first download SpecTrek, there'll be a disclaimer — don't play this game on a bike or in a car. I feel like if you have common sense — or if you play Pokémon GO — you should already know this.
Then, the app will take you to the title screen. Wow, where do I begin? The title screen kind of looks like one of my fifth grade graphic design projects. A smoggy forest covers the background with a white sheet ghost floating near the tree. A random analog clock is to the right — strangely opaque to the rest of the background.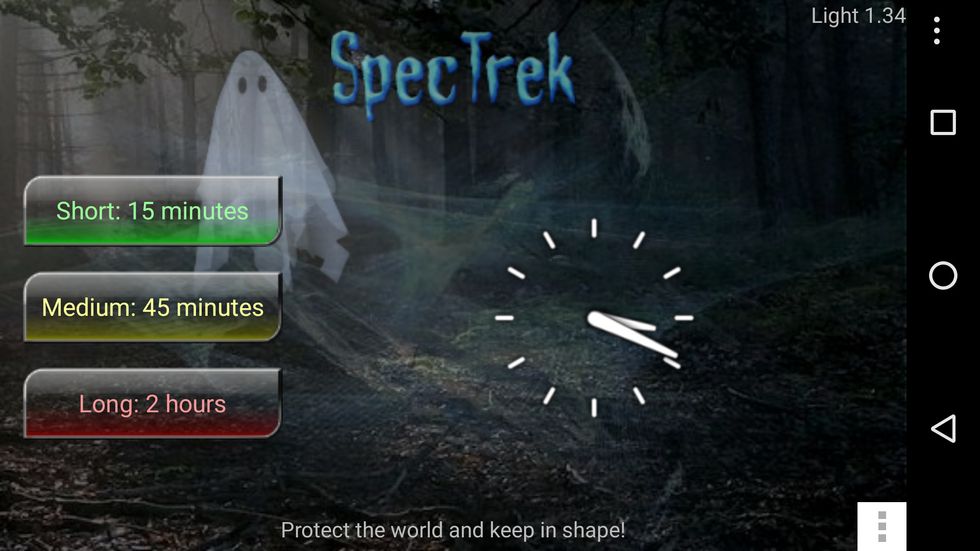 You can choose how long you want for your ghost hunting trekAmber Wang
Under the "SpecTrek" banner — written in a supposedly scary font — clear tabs let you choose how long you want to play the game. You can either hunt for a short, medium or long time — 15 minutes, 45 minutes, or two hours.
I clicked on fifteen minutes which brought me to the GPS loading screen. Now, this part challenged my patience a bit — the GPS took forever to load. And from the app reviews, some people never got their game to load at all. The app costs $2.49 — so while not a huge investment, when a game you've paid for doesn't work, that's irritating.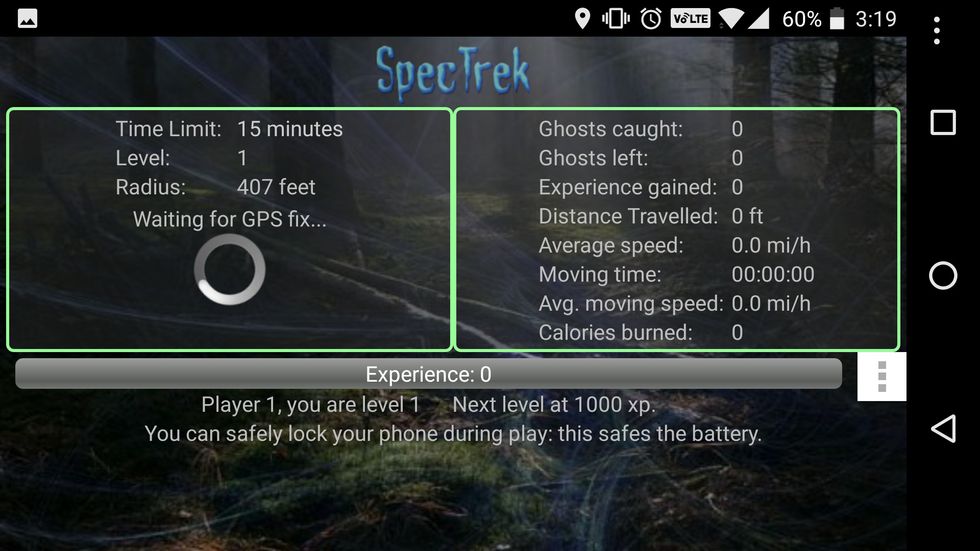 SpecTrek is brimming with stats and data.Amber Wang
When the GPS finally worked, the app took me to a location map. There I could see my surroundings — and where I could find ghosts. To catch one, simply point the green target at the ghost and tap the net button. The target also tells you how far away the ghost is so you can gauge the distance for yourself.
You can level up and save your stats if you're that invested. I think this game would be good for a competitive group of friends. Or some exercise enthusiasts that want to have fun on their workout.
Pros: The ability to save stats, funny graphics and simple controls.
Cons: Faulty GPS, funny graphics and location glitches.
-Amber Wang last wrote about The Walking Dead augmented reality app, soon to be released from AMC.
Like GearBrain on Facebook