Review: Kodak Photo Mini Printer is clever, but has some quirks
Few of us print actual photographs anymore. Why would we? We walk around with what is essentially, a portable digital frame in our pocket with access to every photo we've ever captured (a boon and a bane.) But there is still something to be said about a physical photograph. Anyone who has ever professionally shot and printed knows that what we see on a digital screen is not the same as what shows up on photo paper. The colors may not be as brilliant, but there's something lovely about a printed photo. When Kodak offered us a chance to spend some time with its Kodak Photo Mini Printer, we agreed.
Unboxing the printer
The Kodak Photo Mini Printer retails for $129.99 and is pretty small, about 3 x 6 x 1 inches — and would have to be as you're told you can bring it along with you wherever you go. Inside you find the printer itself, a changer and an instruction manual. We charged up the device, made sure the initial print cartridge was installed (which gets you started with eight print.) Extra print cartridges come in packs of 20, 30 and 50 and contain both the paper and the ink. There's also a sticker pack of 20 you can buy.
After updating the firmware, we needed to pair the smartphone to the printer. We tested the Kodak Photo Mini Printer with an iPhone X. The Kodak Printer Mini app downloaded quickly from the App Store, and we were able to pair our phone to the printer quickly. Printing photos was another matter.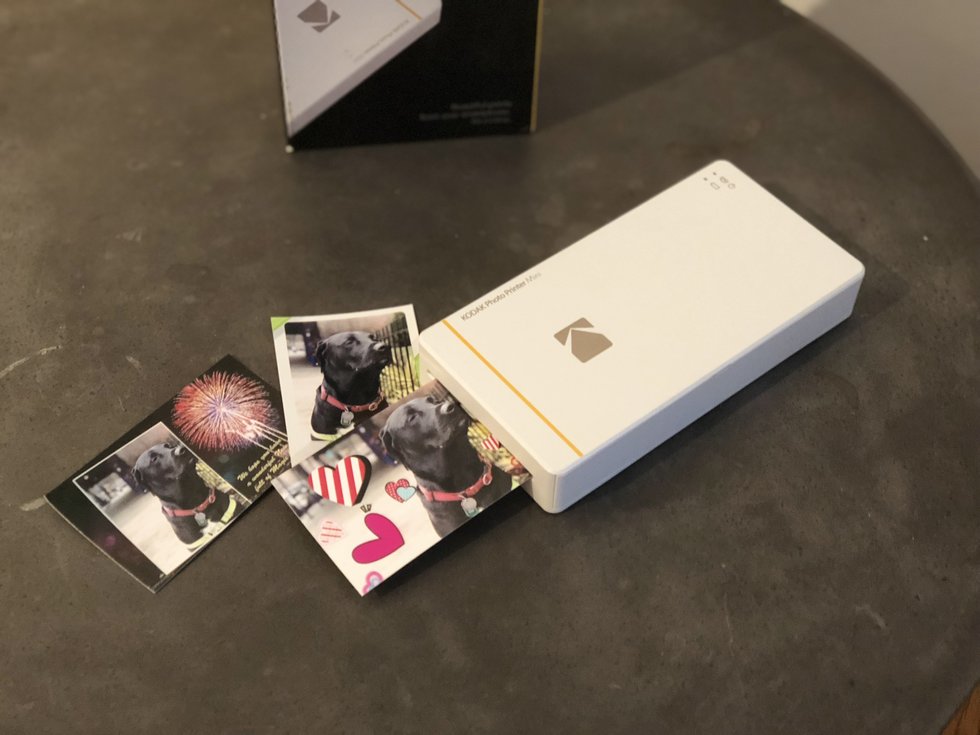 GearBrain
Let's print
The app itself was not as easy to manage as the Kodak Photo Printer app designed for the Kodak Photo Printer Dock printer, even though they looked the same. We found every time we tried to launch the camera feature — and shoot through the app as opposed to the iPhone's camera — it would crash the app.
Every time we snapped an image, the app started to spin and then close. That seemed to defeat the purpose of the device — which would be to take photos on the fly and shoot. We never could make that feature work. It wasn't a huge deal breaker as the iPhone X camera is a fantastic feature. But just something to note.
We then tested the printer by shooting photos on our phone, then finding them in the app's gallery to print. The problem? This was not seamless.
To print any photo, not only does the printer need to be on, your smartphone app has to be linked to the printer's Wi-Fi. The problem? The printer shuts itself off after a few minutes, or it did for us. And then it disconnects itself from the phone.
This means if you're scrolling though the gallery for your photos, you may find when you're ready to print you have to turn the printer back on, and reconnect again to its Wi-Fi on your phone. This also happened while I spent a couple of minutes decorating an image with digital stickers in the app. The printer shit down, I had to reconnect to Wi-Fi and wait before I could print. This isn't difficult. But it sure is annoying.
And if you don't catch that, and try to print, you'll find yourself in a loop, with the app spinning as it waits to find the printer. Which it won't. That meant I had to cancel out of the print job, go back into setting, reconnect to Wi-Fi, go back into the Kodak app, have it search for the printer, load up the image and try to print again.
Finding the images was also not simple. There are four settings in the Gallery part of the app. To find new images, I needed to click "D" for date, which would put the newest shots at the top of queue.
And the images are small — you're using your smartphone after all. It's natural to want to open the thumbnails to get a bigger view of a photograph, maybe to see if someone's eyes were open. But opening a photo, then going back to the Gallery, also caused the app to pause before allowing you to scroll through your pictures.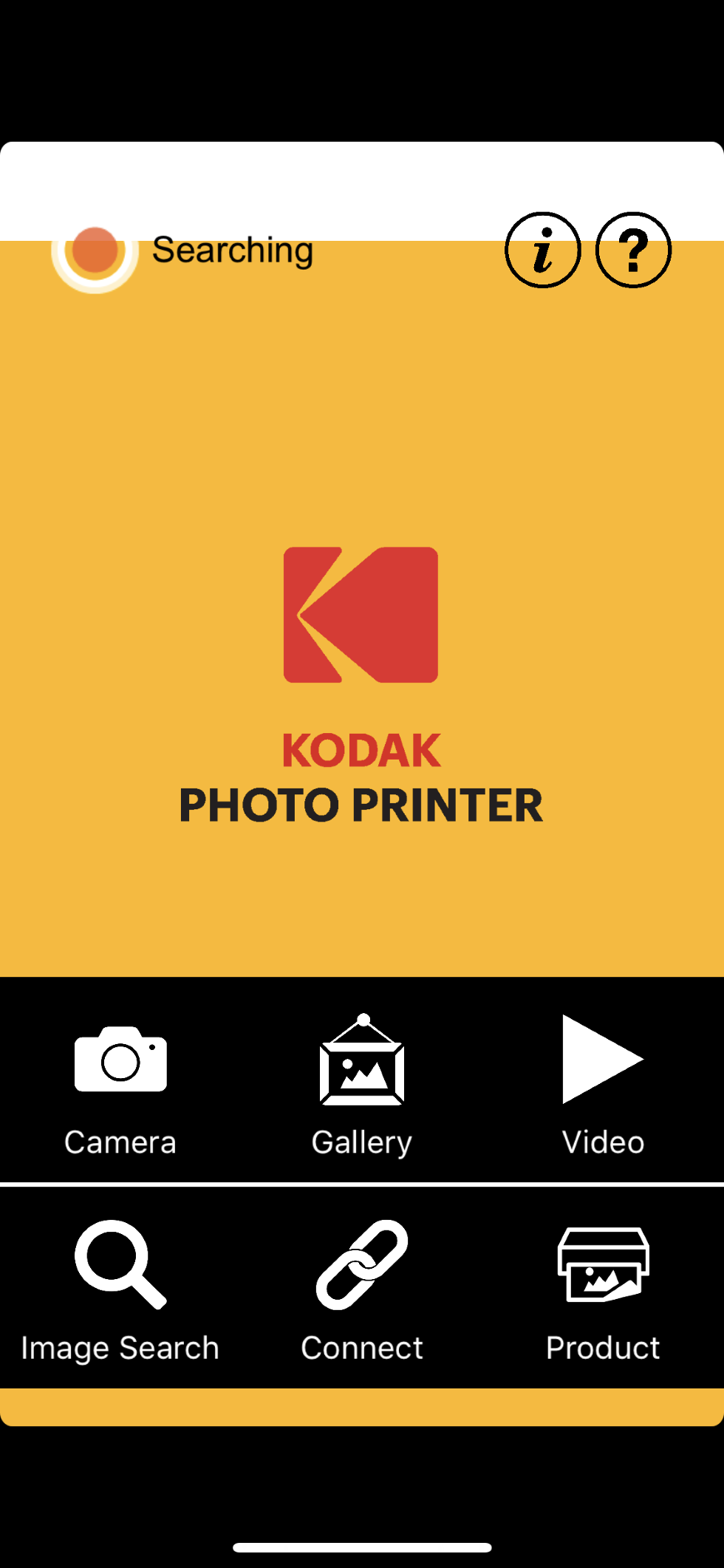 GearBrain
Print quality
One we started printing, we definitely had some fun. The images themselves are cute, a bit like the old Polaroid sticker film cameras (and there is an option to frame the photo to look like an old-fashioned Polaroid.) The prints coming from the Kodak Photo Mini Printer are a bit larger — business card sized at 2.1 x 3.4 inches. And in fact there are business card and ID card templates you can choose, and print.
Printing itself took only about a minute. And it was definitely fun to watch the three color process. The photo passes through the printer four times to print off the yellow, cyan and red inks and then a coating. The photo was dry almost immediately after coming out.
One thing to note: the battery seemed to drain about 5 percent each time a photo printed. Given each pack prints 20 image, you may be able to get an entire pack printed while using the device. But don't plan on more than that.
For the crafty sort, the option to print up Christmas, birthday and New Year's Cards was excellent. It lent some fun to the entire experience. You couldn't make your own templates, but that was fine. And we could see the printer as a fun device for crafters, and even helpful for businesses who want to print up ID cards or visitor passes on the fly.
But the connectivity delays for the Kodak Photo Mini Printer are considerable, and should be weighed and understood when buying the device. Pricing starts at $99.99, and print packs varying in price, some as low as $15.99 for a pack of 20
Pros:
Fun templates
Works with Android and iOS
Printing happens quickly
Cons:
Connectivity issues
Camera feature undependable
Battery drains rapidly
AlertMe