The iPhone X goes on sale this Friday, November 3, and the first round of reviews have just gone live. Some publications — and YouTubers — have had their iPhones for over week, while other had just 24 hours with the $999 handset before Apple lifted the review embargo.
This gives a somewhat mixed view, with some complete reviews appearing alongside first impressions, a 'first first impression' and a bunch of reviews which are being updated live and as the phone are used.
iPhone X review roundup: Face ID - does it actually work?
Let us jump straight into the iPhone X's biggest new feature. While the screen is gorgeous and the design is a first for Apple, the new face-scanning security feature is the biggest talking point. It replaced Touch ID, the fingerprint scanner we had all just got used to, and throws it (along with the iPhone's iconic home button) in the bin.
Reviews of Face ID have so far been mixed. The Verge says setting up the system is "ridiculously simple - much simpler than setting up Touch ID on previous iPhone," but getting the system to work requires some re-learning. After having issues with it unlocking when removed from their pocket, The Verge was told by Apple that Face ID works best at a distance of 10 to 20 inches, closer than most people would hold a smartphone they had just taken from their pocket.

The iPhone X costs from $999 and is available for pre-order nowApple
"I had to actively think about holding the iPhone X closer to my face than every other phone I've ever used. 'You're holding it wrong' is a joke until it isn't, and you can definitely hold the iPhone X wrong," reviewer Nilay Patel says, adding that Face ID "definitely had issues recognizing my face consistently while I was moving until I went into shade or brought the phone much closer to my face than usual."
Buzzfeed and reviewer Nicole Njuyen had a different story to tell — that Face ID works well, even when the user's face changes over time. Njuyen explains how she was stung on the face by a mosquito, causing a large swelling. She set up Face ID with the swelling, but as it disappeared over the next five days the iPhone X continued to recognize her without Face ID needing to rescan her face.
"Simply put: Face ID is really f*****g impressive," she says. "But that's because it's invisible."

Njuyen adds: "You pick up your phone, swipe up, and you're in. You open your password manager, a little orb swirls, and you're in...Face ID worked as promised: with sunglasses, without sunglasses, with my hair up, with it down, at night in the dark, or during the day."
But she claims using Face ID to pay with Apple Pay is "more awkward" than it is with Touch ID on other iPhones. "Instead of just laying your phone directly on a card reader while holding your thumb down for Touch ID, you need to double click the side button, authenticate with your face, and then hold the phone to the terminal."
David Phelan, who claims to have had the iPhone X for longer than anyone else, says in Forbes that Face ID has "a very high level of accuracy." But, found that one-in-a-hundred failure "annoying." He says that not all sunglasses worked with Face ID and believes that if users have repeated failures "nobody will use Face ID," he says.
David Pierce at Wired adds: "One neat Face ID thing: when you first pick up your phone, it hides the content of your notifications until it's verified you're the one looking. Once it senses your face, it expands to show you the full text inside the notification."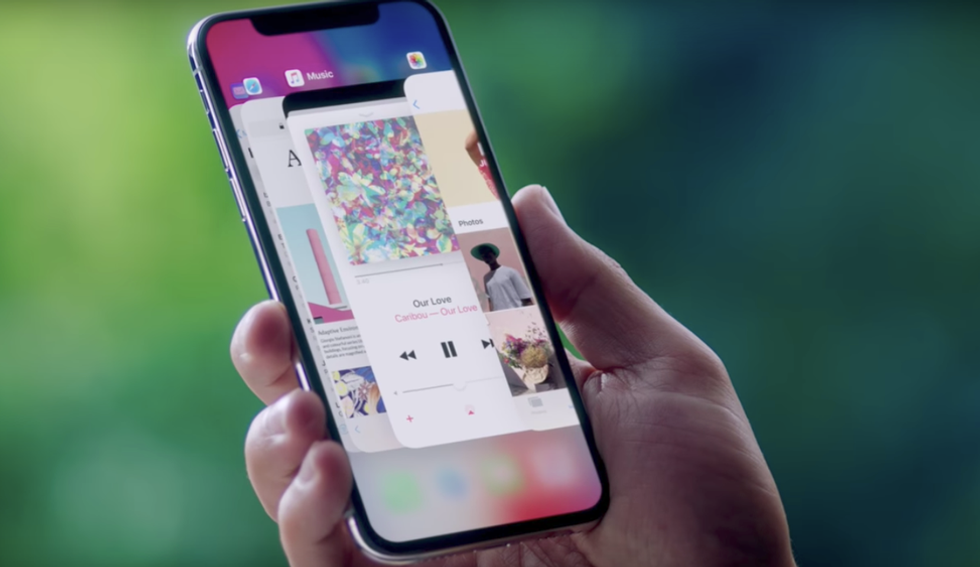 The co-called 'notch' sits permanently at the top of the displayApple
iPhone X review roundup: Design and the home button's removal

Another major change for the iPhone X is its lack of home button, which has been replaced by a series of on-screen gestures unique to the X.
Steven Levy, also of Wired, writes: "[The home button's] sudden removal is one of those jarring deletions that Apple is famous for, and it requires some relearning...Apple now requires us to swipe upwards to get to the home screen."
"That was easy enough," Levy adds. "A little trickier is the swipe-and-stop required to get to the carousel of open apps; it took me awhile to get the hang of pressing down on one of the little cards representing an app in order to evoke a minus sign that allowed me to close it."
Stewart Miles of Pocket-lint also expressed difficulties getting used to the new gestures.:"It's a change to adapt to and one that we've already found ourselves forgetting, pressing the screen as our memory recall jolts into action, only to be disappointed."
By losing the home button, some claim the iPhone X has lost part of its identity. And this is true, in that when views from the front (and when locked or switched off), a buttonless iPhone looks a lot like every other smartphone. To counter this, the X has 'the notch', a cut-out at the top of the display for the front-facing camera and Face ID sensors. The screen wraps around either side of it, and while that works for Apple's own apps, third-party developers are playing catchup.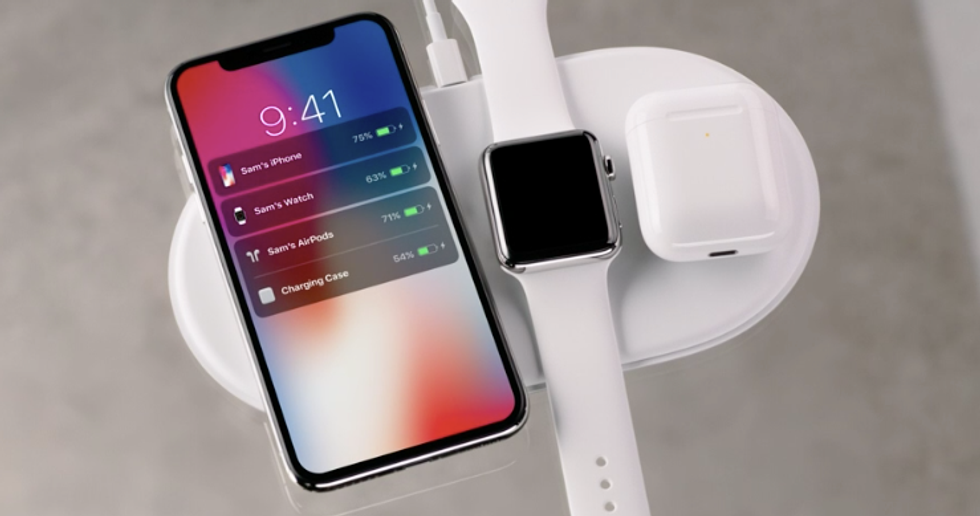 The X has wireless charging, but Apple's own charger doesn't go on sale until 2018Apple
Chris Velazco from Engadget says: "The notch seemed like a clumsy design compromise at first, but after a few hours of using the phone, I naturally stopped paying attention to it. After all, most of the important stuff - especially in videos - tends to happen toward the middle of the screen."
Lance Ulanoff at Mashable also has issues with the notch, but reckons - as does The Verge - that X owners will get used to it and eventually forget it is even there: "I guarantee that some people will hate the notch and rail against it...The complaints will, I suspect, mostly be from people who do not own or use an iPhone X."
iPhone X review roundup: Early conclusions
There is still a lot more to say about the iPhone X, but with most in-depth reviews yet to be written, here is how some reviewers sum up their first few hours and days with Apple's latest handset.
TechCrunch: "The notch isn't for everyone, and the screen does have some color issues at extreme viewing angles. But overall Apple bet enormously big on a bunch of technologies all at once on the iPhone X and it delivered almost across the board."
The Verge: "Face ID seems like it's off to a good start, but it's definitely inconsistent in certain lighting conditions. And until your favorite apps are updated, you won't be able to make use of that entire beautiful display."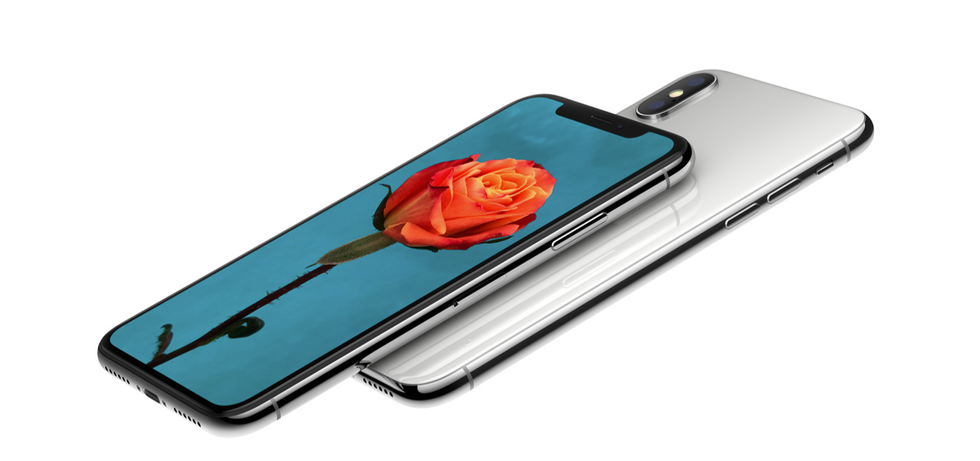 The X runs the same iOS 11 software as other iPhonesApple
Mashable: "Face ID and gestures are better, more convenient ways unlock and do basic tasks on the phone. That's progress. Even if you say, "No thanks," to the iPhone X, this is the future, so just get ready for it."
Engadget: "So far, what's been most notable about the iPhone X isn't how different it is from the models that came before it, but how soon all of the changes start to feel totally normal."
Wired: "Those who shell out the cash for this device will enjoy their screen and battery life today. But the real payoff of the iPhone X might come when we figure out what it can do tomorrow."