Like GearBrain on Facebook
Pros: Pinch & zoom, video resolution, 1080p, Z-Wave compatible, 140-degree wide angle field of view.

Cons: Monthly cost, needs a hub to connect camera to Wi-Fi, no microphone or speaker.
When buying security cameras for your smart home, there are a few questions to ask to make sure you purchase the right device that meets your needs and provides protection for your space. One question is: what is the camera's field of view (FOV)? Another is, how important is the camera's resolution? (Check out GearBrain's 5 Best Questions Around Smart Security Cameras for more information on the key questions to know before buying a security camera.)
GearBrain believes one of the most important questions to ask is what devices a security camera can connect to in your home: Does it work with open systems such as Wi-Fi or closed systems like Z-Wave? Is the security camera able to operate on its own? There is nothing worst then worse than buying a connected device, bringing it home, and discovering the gadget doesn't work with your current system or devices.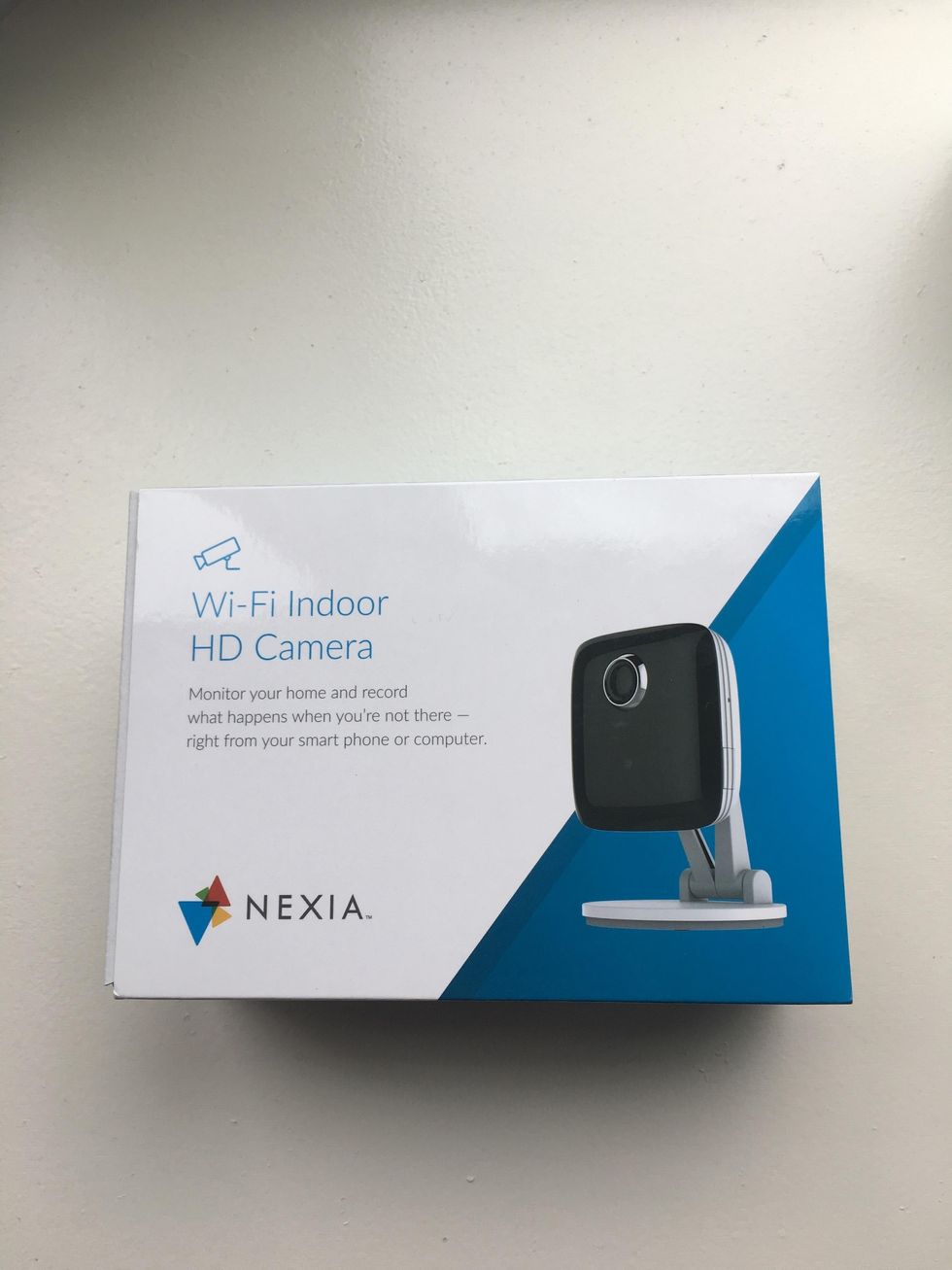 If you have a Z-Wave system, or compatible devices, and are in the market for good outside security camera, we have a security camera for you to consider: Nexia Wi-Fi Indoor HD Camera, which the company sent us to test.

The Nexia HD Wi-Fi Wide Angle Indoor Camera is the company's newest indoor security camera that works within the Nexia's smart home system, which is based on Z-Wave wireless protocols. It's a HD security camera with 1080p resolution (1920x1080) and a wide-angle lens with a 140-degree field of view (FOV). The camera also comes with a 4 megapixel sensor, offers live video viewing, recording and storage for up to 16GB of videos, connects to your Nexia Bridge (hub) wirelessly and has night vision with infrared technology. You will need to get a monthly subscription from Nexia to use the security camera, which is controlled by using the Nexia app.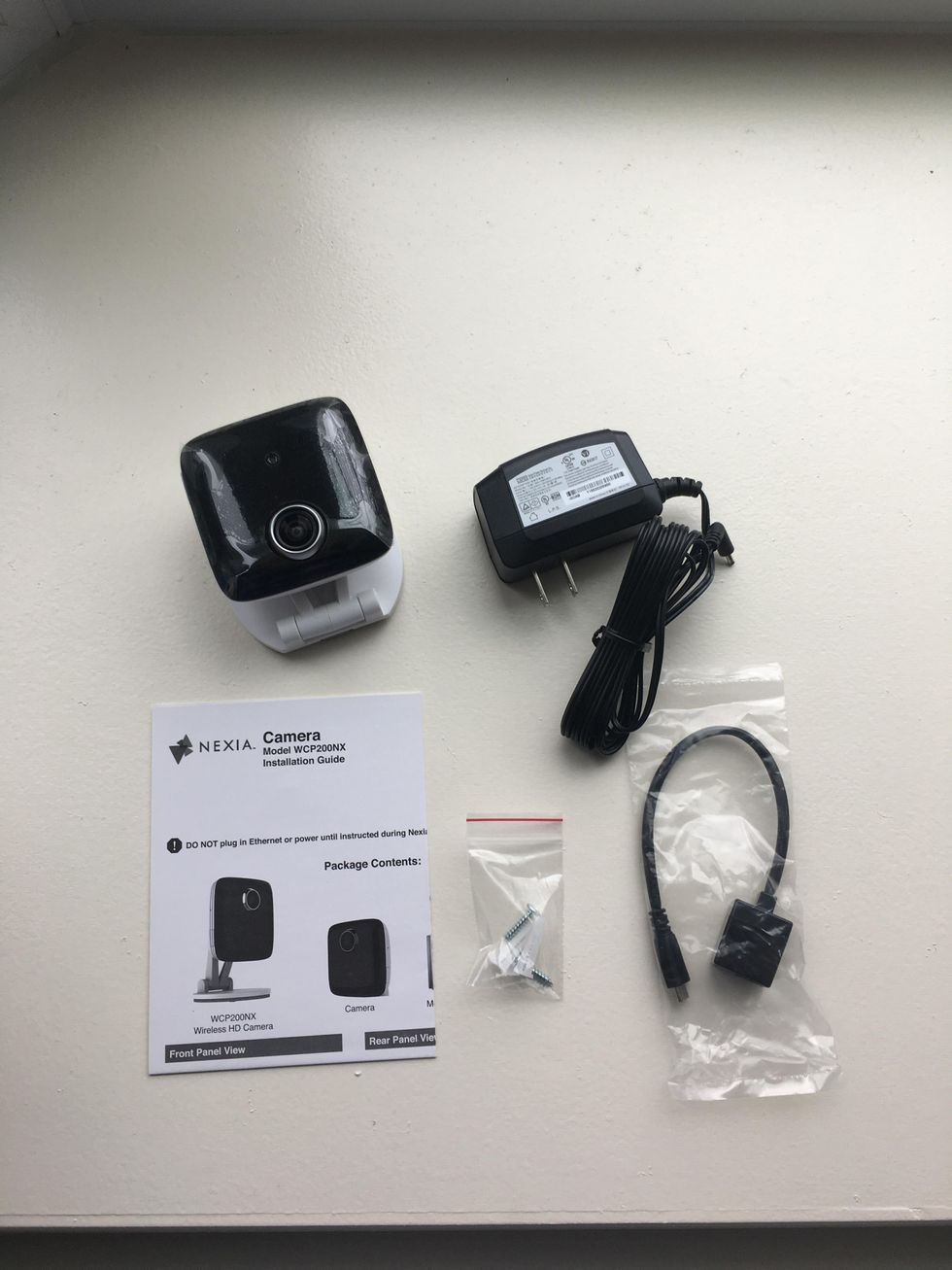 Installation is easy but the instructions were not intuitive as we've found with other security camera's quick set up guides.(I.E. in-app interactive installation guidelines.) You will need to connect your camera to your home Wi-Fi router during installation but only do it when told by Nexia. Once the paring is done, you can then relocate your Nexia Security camera to its permanent destination.

If you currently own a Nexia smart home system, just open the Nexia app, click on Connect New Device and choose Nexia camera. You will be asked to input the MAC address for your Nexia camera which is the 10-digit number on the back. Then your device will pair with the Nexia Bridge (hub) and you will be ready to go. Note that you might need to update your camera's firmware. If asked to update, we recommend doing it. Your Nexia camera will work more effectively.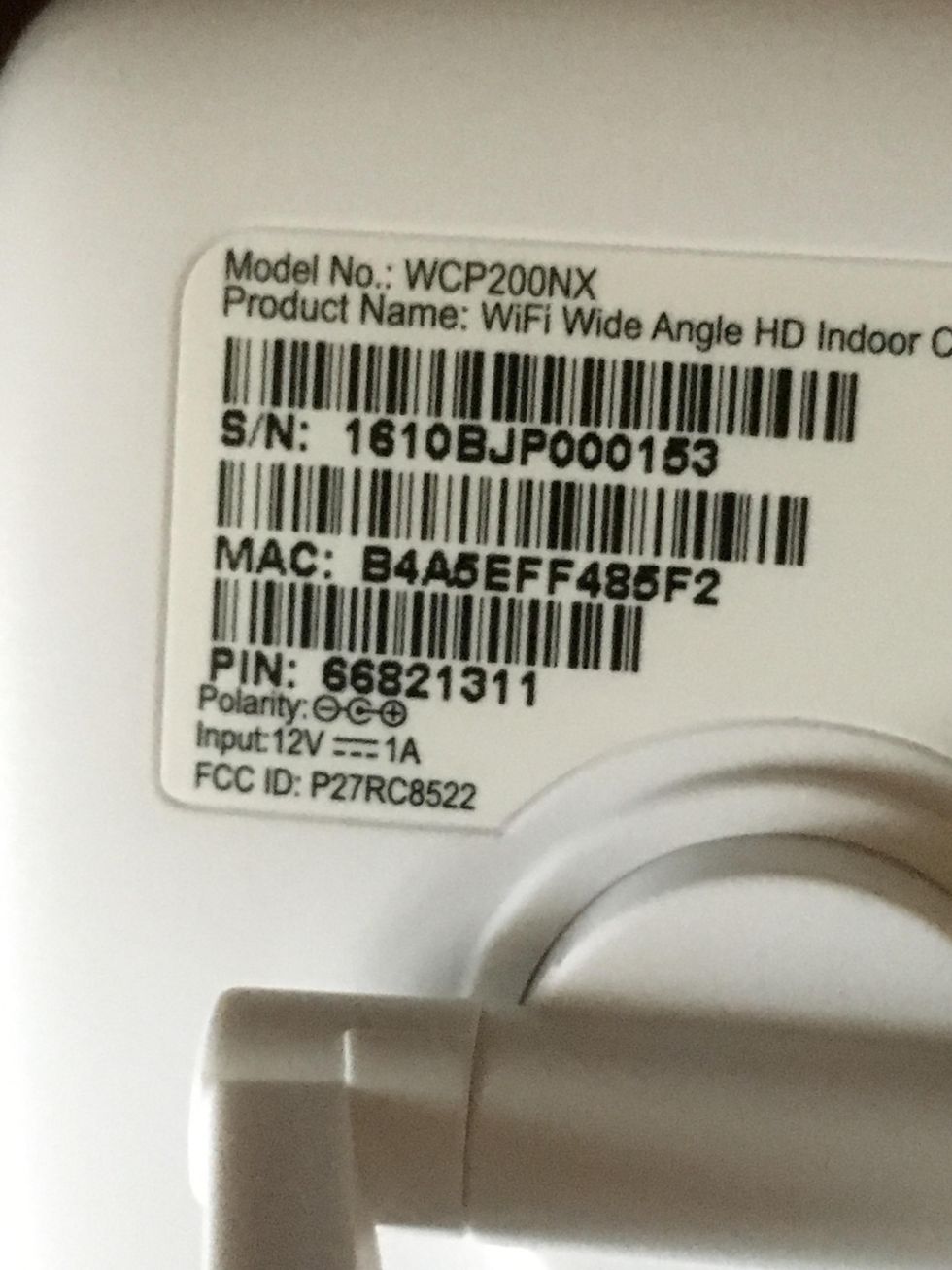 MAC address on back of Nexia cameras
How does this new camera differ from the previous Nexia HD Indoor Security Camera? A lot when it comes to video resolution and storage. The HD Indoor Security Camera has only 720p HD resolution versus 1080p for the new Nexia camera. Both cameras have night vision with built-in Infrared LED, however the new Nexia Indoor camera does offer infrared illumination for 0 Lux imaging. Also, the FOV is much wider with the new Nexia HD Wi-Fi Wide Angle Indoor Camera.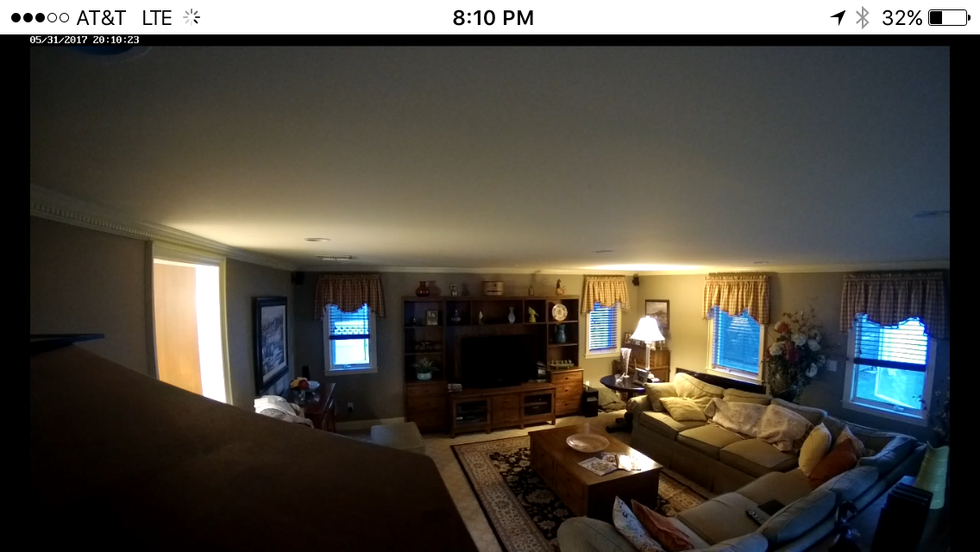 Example of video from Nexia HD WiFi Wide Angle Indoor Camera
Another key differentiator of the Nexia HD Wi-Fi Wide Angle Indoor Camera from the Nexia HD Indoor Security camera is the pinch and zoon functionality. The feature allows you to pinch and zoom in on an object or person in the video to get a closer look. When testing this feature, we were impressed with the quality of the picture as many times the picture can get distorted. With the Nexia camera, the image was still sharp and we could see clearly.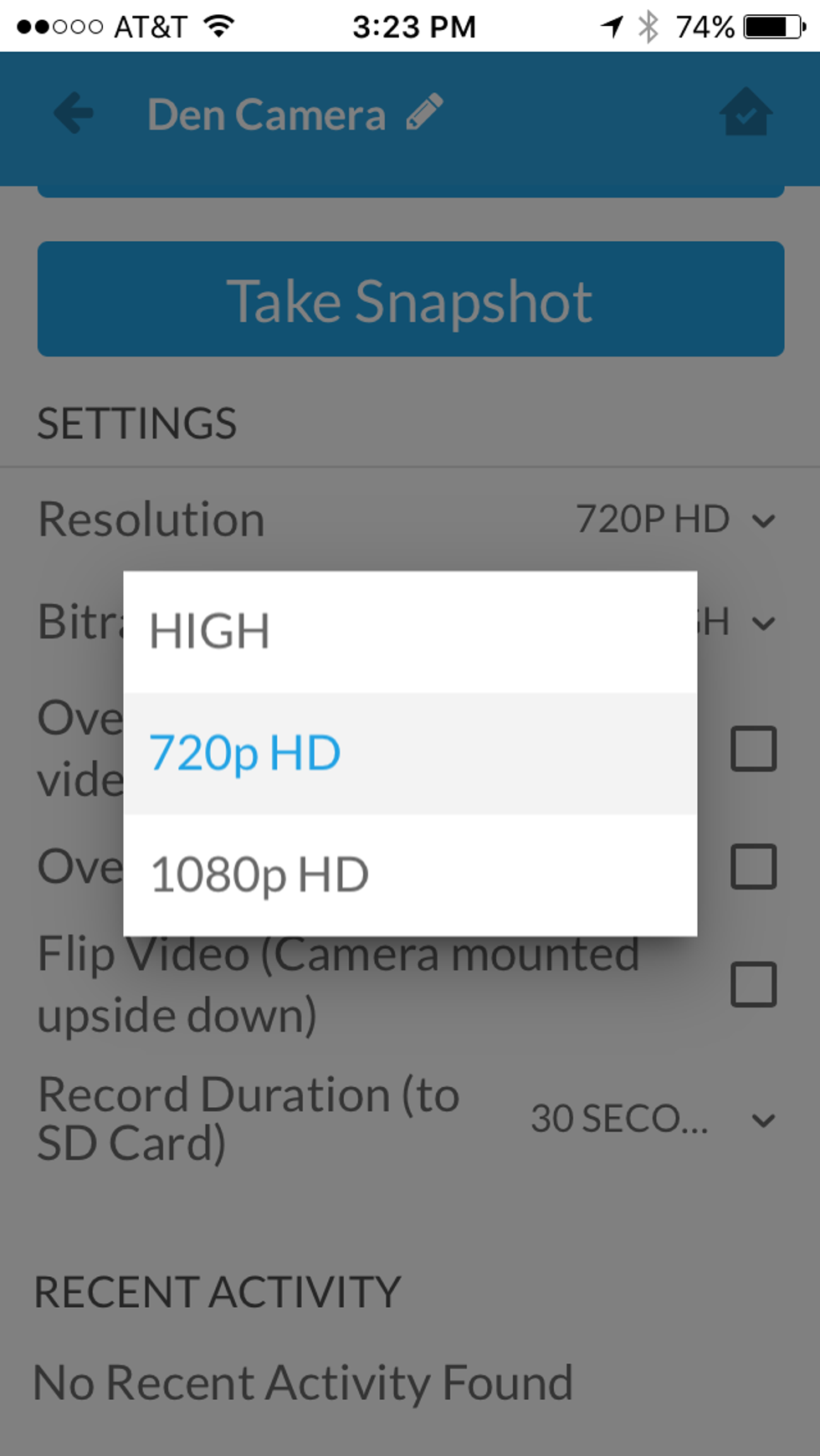 Nexia app video resoltuion
With all Nexia security cameras, you will need to purchase a subscription plan to store your videos. The standard Nexia subscription allows you to connect up to 230 Z-wave devices to one Nexia Bridge (Hub), with unlimited cameras and Wi-Fi controlled devices. You will get 4GB of cloud storage for your video recordings and live streaming is included. The cost for this plan is $9.99 per month.

Nexia does have a free HVAC subscription plan which includes up to four professionally installed thermostats, one lighting control per thermostat and unlimited cameras. You will be able to see live streaming in your security cameras but will not be able to store any video recordings in the cloud. If 4GB of storage is not enough, Nexia does offer a supplemental video storage plan of 12 GB if added to either the free HVAC or Standard Nexia subscription. The cost for the supplemental plan is only $1.99 per month on top of your free or standard plan's monthly cost.
The cost of the Nexia HD Wi-Fi Wide Angle Security camera is $189 and can be purchased on Nexia's Site, Nexia Direct or on Amazon for $183.
Summary

The Nexia HD Indoor Wi-Fi Wide Angle Security Camera has several new features compared to Nexia's HD Indoor Security Camera. The new Nexia Security Camera offers High, 720p and 1080p HD quality video recording, live streaming, ability to overlay camera name on video as well as flip the video in case you need to install the camera upside down. You can set the video recording duration on the camera through the app to 15 seconds, 30 seconds and one minute. It also has the ability for you to zoom in on objects in the videos (whether it be a video recording or live streaming) to get a better look at the image or person, although we were a little disappointed with the five second delay we had getting the camera to load live streaming video. You can also control the new security camera through the Nexia app and it's Z-wave compatible.
Our recommendation is if you have a good Wi-Fi connection, robust internet connection in your home and want to add a security camera to your Nexia Bridge, this is a good security camera to consider. If you are just starting out and need a good Wi-Fi wide-angle HD security camera, first decide if you want your security system to work independently—or be incorporated into a smart home system. If you want one to be incorporated into a smart home system that is Z-Wave compatible, then look at Nexia and its full line of smart home devices.
Like GearBrain on Facebook