Security cameras, able to help you see what's happening outside or inside your home, work by detecting motion around them. But companies are starting to let people hone in on details they want their cameras to detect, such as people moving or even a specific area within the frame. That's just one of the features of the new Blue by ADT Indoor Camera, which also combines facial recognition and expanded night vision with customizable motion detection. Here's how it worked under our tests.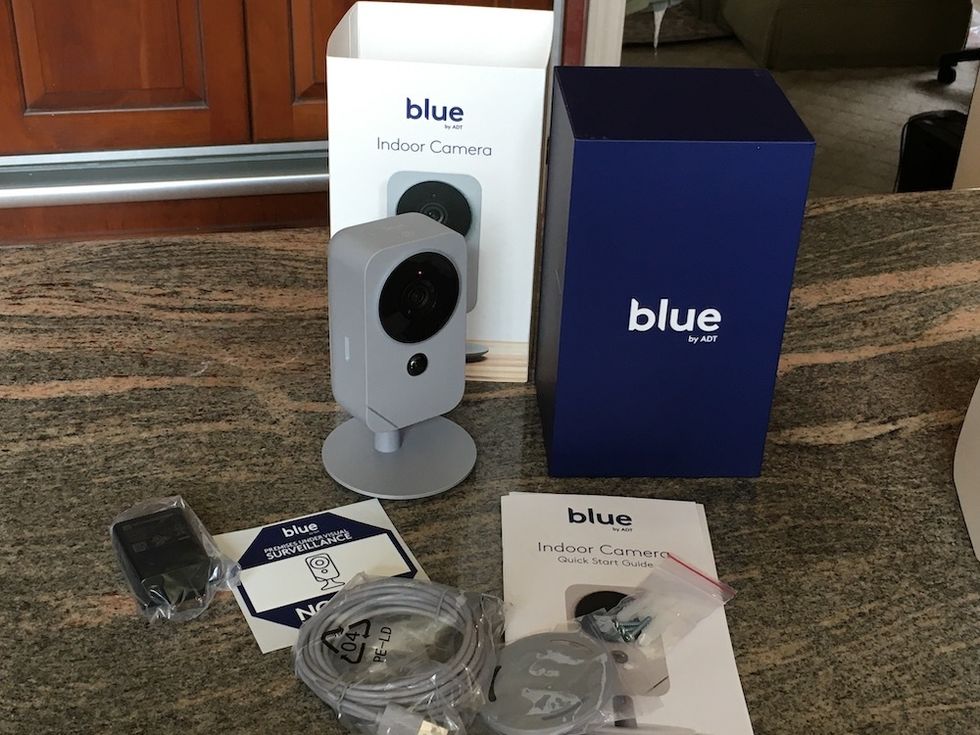 blue by ADT Indoor Camera unboxed.GearBrain
What is Blue Indoor Camera?
Blue by ADT's new indoor security camera is a high-definition camera with full 1080p HD video resolution and a LED privacy indicator. This camera comes with 130 degree field of view (FOV), night vision, a fire and carbon monoxide (CO) siren detector, two-way communication, a battery backup and also an SD card slot for local storage. But what makes this camera unique from other indoor security cameras is its facial recognition and custom motion detection zones which are setup in the Blue by ADT app. Motion can be detected up to 16.4 feet or 5 meters.
This is an HD security camera that's easy to setup, and that also works with Blue to ADT, as well as the former Lifeshield home security systems. You can also use this camera even if you don't have either of these systems, by just downloading the Blue by ADT app and follow the setup instructions. Once you pair your new camera in the app, you can start to see video.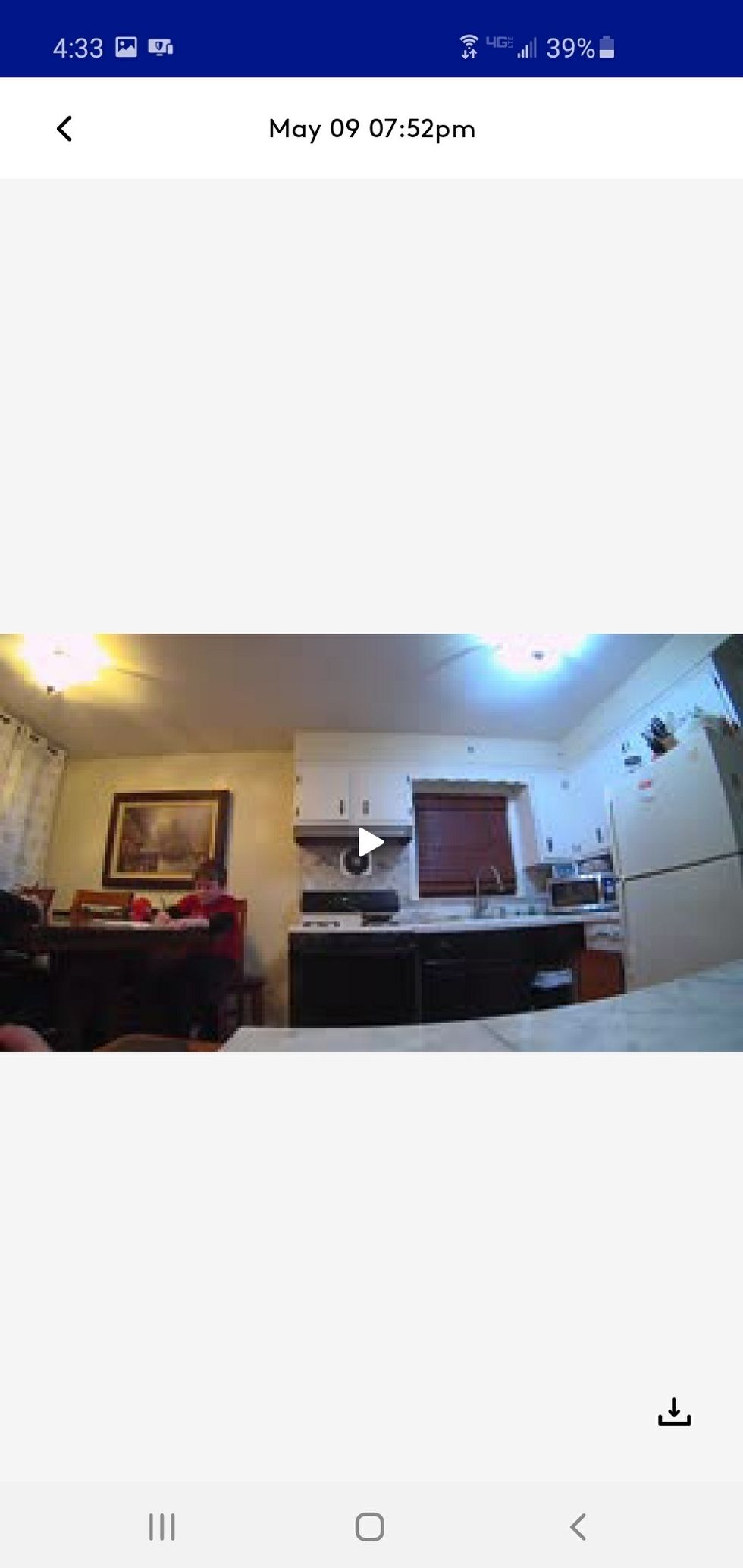 Video appears immediately in blue by ADT app once paired with camera.GearBrain
Many security cameras today come with two-way talk capabilities and so does this camera. It's slightly delayed because of its connection to the cloud, but the clarity is good. The dual Fire/CO siren detection, which picks up on the sound of an alarm, is also a unique feature. Do note, though, that you need to have this not only plugged in, but connected to your home Wi-Fi for it to work.

We think a solid selling point is Blue by ADT's flexibility. You don't have to have a long term contract, or sign up for a plan, to use the camera — those are optional. Instead the camera comes with free, 24-hour cloud video storage, or the option to store videos on your camera using an SD card. You can also upgrade to Blue by ADT's 24/7 professional monitoring plan which comes with central station monitoring, emergency dispatch, one day of video storage and three layers of protection: Wi-Fi, cellular signal and cellular text. Note that all new buyers also get 30 days of free monitoring service with their purchase. After the 30-day trial period, you will be charged $19.99 (plus tax) each month if you don't cancel prior to the end of the trial. But again, professional monitoring plans are not required. You can use the security camera on its own, and have access to 24 hours of video storage.
Smart Home Integrations

ADT integrates with a number of smart devices and systems, including Nest thermostats, Lutron switches and Sonos smart speakers, as well as its own ADT home security system. Blue by ADT as a whole, also works with smart speaker assistants, including Google Assistant and Amazon Alexa, along with products working on Z-Wave Plus and IFTTT. However, Blue by ADT's security cameras only work with Amazon Alexa today. Once paired with your Amazon Alexa-enabled devices, you will be able to use voice commands to see video on your Echo Show or start recording from your camera.
The company is working on integrations for the security cameras to work with Apple HomeKit and Google Assistant-enabled devices soon. We did look for IFTTT applets which you can create for your Blue by ADT cameras but didn't see many. Most of the IFTTT applets were for Blue by ADT and ADT home security systems.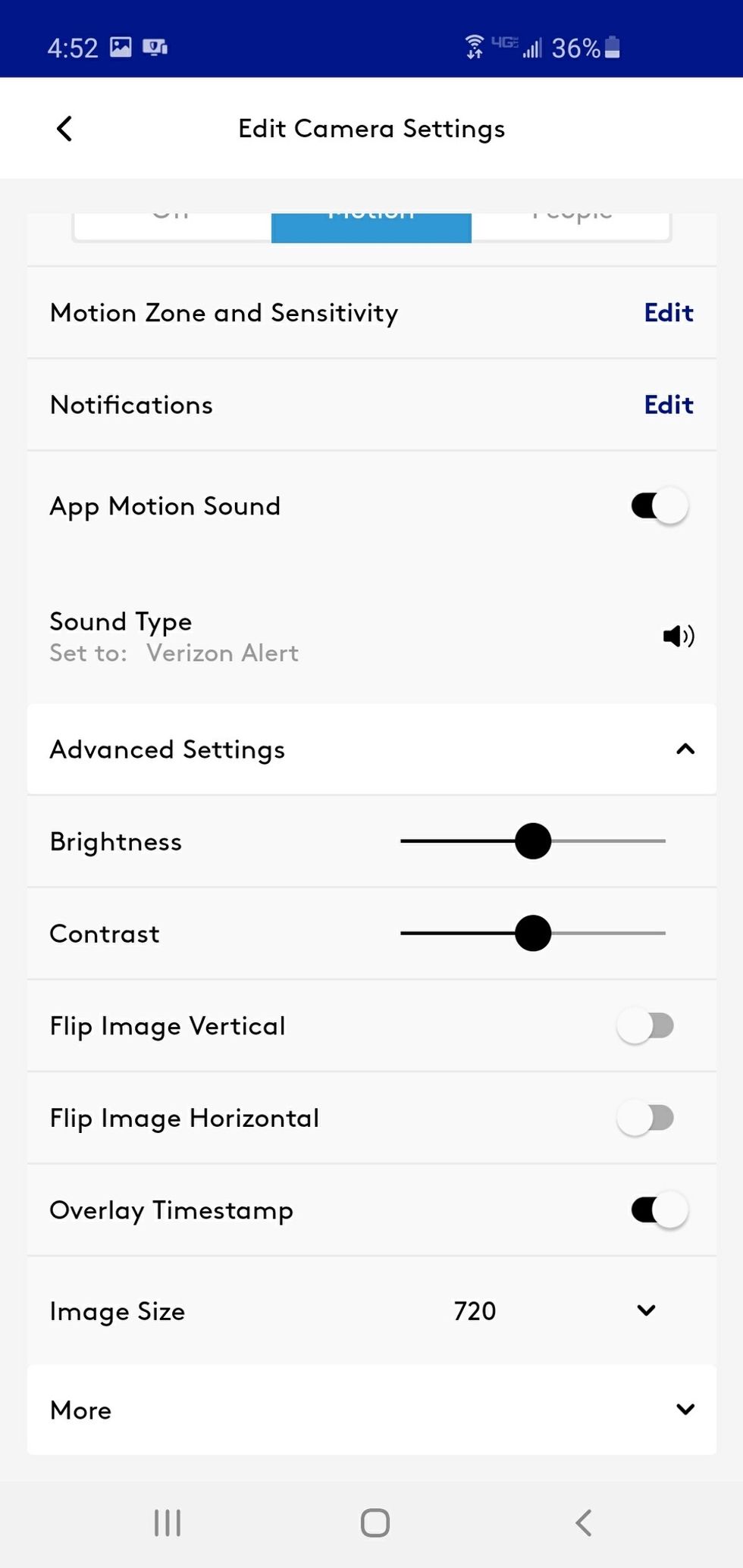 Edit camera settings in blue by ADT app. Set motion sensitivity, sound, video resolution and more.GearBrain
Performance of Blue Indoor Camera
As we do with all of our product reviews, we test them under the normal connectivity you expect to find in a home. The Blue by ADT Indoor Camera performed as we would expect a HD 1080p Wi-Fi indoor security camera. The sensor worked, video quality was good and communication was clear but slightly delayed. The camera comes with a nice mount which we liked and the camera itself is solid and well-built. It's one of the sturdier indoor cameras we have tested.
The facial recognition worked well for us too — and did prevent false alerts or notifications, especially as kids came into the house.
One thing we didn't like was the cord. Because the security is not battery-powered, the camera needs to be plugged in to work. This limits where you can position the camera inside the home because you need an outlet. Certainly a battery-powered camera requires a battery change every few weeks, but the flexibility on where you can place it is the trade.
We also tested the custom motion zones. Using the app, you can select a specific area in the camera's field of view, and then set the motion detection sensitivity. We are starting to see this feature in more smart security cameras. Blue by ADT has two settings you can choose for the camera to detect: motion and people. But you can only select sensitivity for just one area of the screen — we would have liked to be able choose more areas.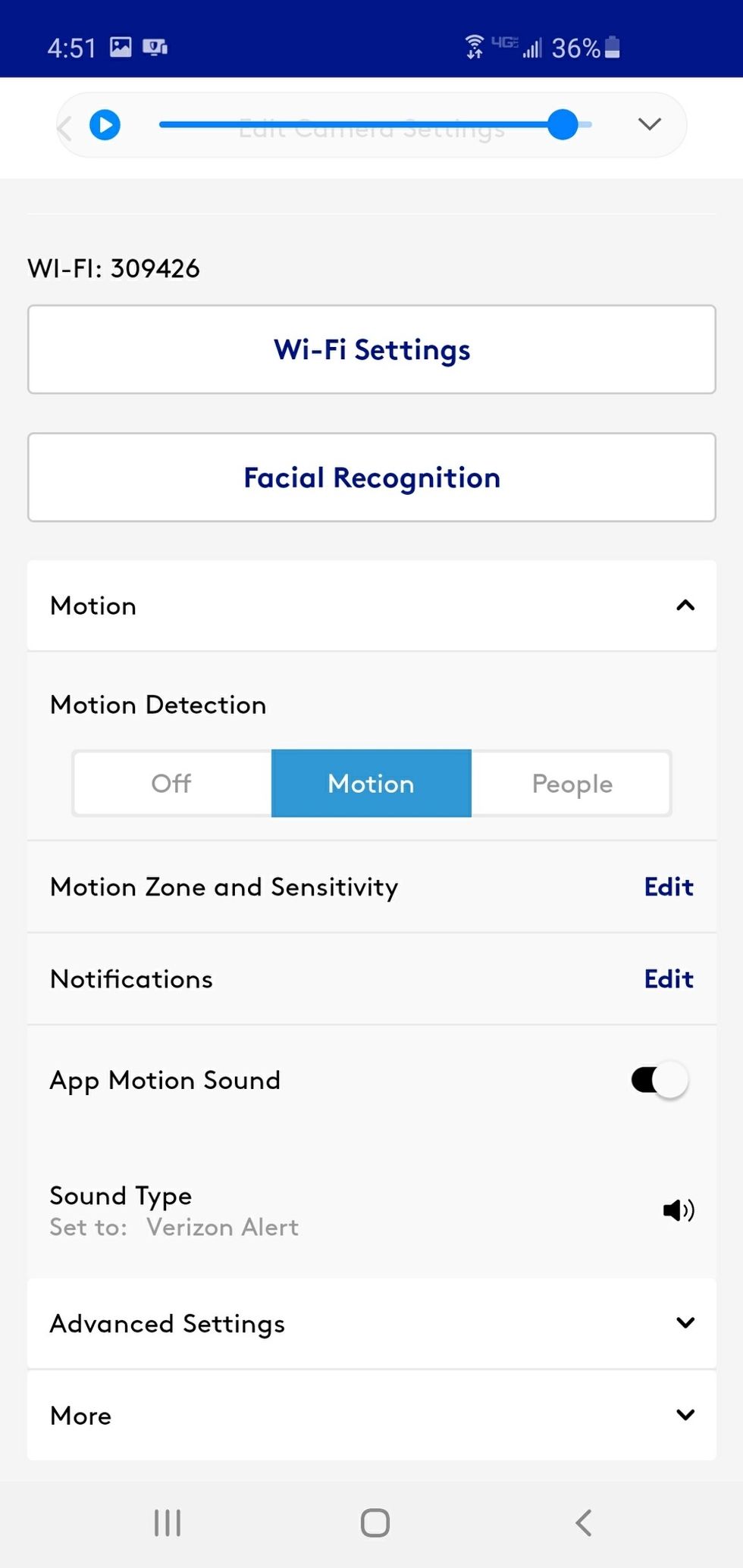 Set up facial recognition using blue by adt app.GearBrain
Price
The Blue by ADT Indoor Security camera is $199.99, and you can pick one up on the company's website and Amazon.
Who is this camera made for today?

We think the Blue by ADT Indoor Security camera works well for both homeowners and renters. The camera doesn't require a permanent set-up, making it easy to take with you when you move. This camera can also function as a baby monitor, as you can set up alerts when someone else is in the room when your baby is sleeping. We found the camera also easy to install, a good entry level camera as you start building your own DIY smart home security system as well.
The cost of the camera is rather steep though. Most smart home security cameras with similar features — 1080p HD video resolution, night vision, Wi-Fi and facial recognition — are priced between $100 to 150, some of these we have tested. Blue by ADT's Indoor Camera is a sturdier camera than many of those cameras though, and can also be integrated easily into a full DIY home security system. These are things to consider if you're looking to eventually expand into a full service DIY smart home security system.
Overall, you can't go wrong with Blue by ADT's Indoor Camera. It's a solid indoor security camera with good video resolution, facial recognition, a built-in fire/CO siren detector, 24 hours of video storage and night vision. We also like the fact you aren't bound by contracts, but you can add this to a professional monitoring program if you eventually decide to go that route.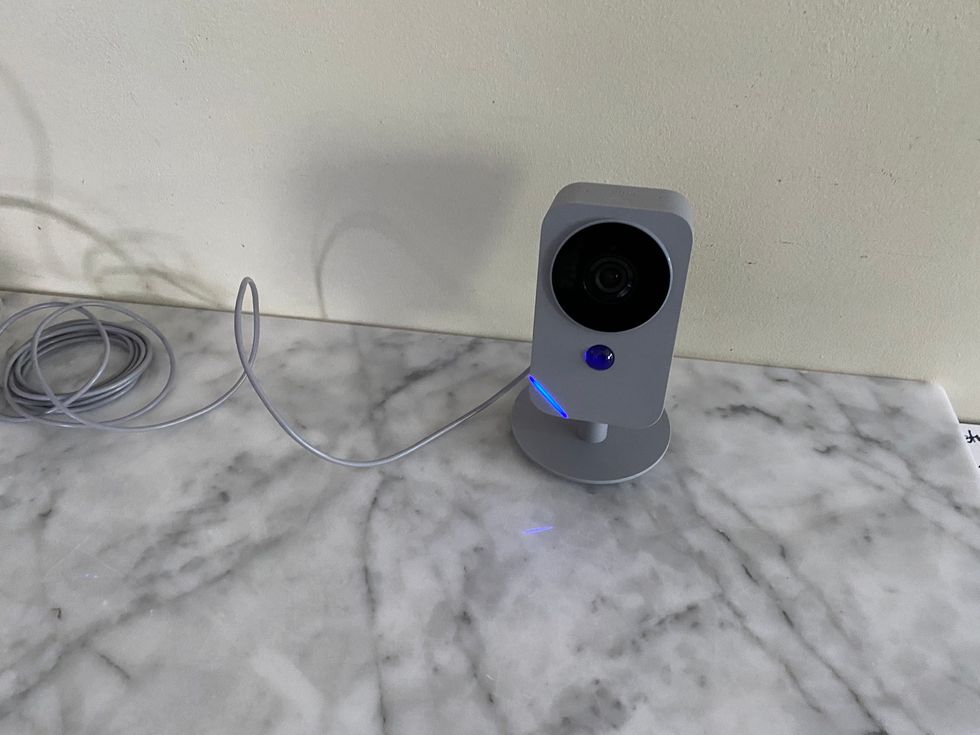 Easily pair your blue by adt indoor camera with your home Wi-Fi network.GearBrain
Pros:

Facial-recognition
Dual Fire/Carbon Monoxide siren detection
Doesn't require a contract
Cons:
Price
Has a cord, isn't battery-powered
Can only select one zone for motion sensitivity