Like GearBrain on Facebook
Pros: Easy to set up, links via Bluetooth, stores data locally for later download, small and lightweight.

Cons: Pricing, can't access data remotely.
The biggest problem city dwellers with big dogs face is getting enough exercise for their pooch. High-rise apartments are likely not the optimum environment for your four-legged friend. Most owners have to schedule dog walks to make sure their pal is staying heart healthy.
But how do you know that walk is doing the trick—or even happening? Meet Poof, a fitness tracker for your pet that collects data on how often they move around and sleep, as well as the calories they're burning.
Poof is a small plastic device that comes in two shapes: a round option called Pea for $39.99, which runs for about six months on a battery, and a pill-shaped option called Bean for $49.99 that's rechargeable. Both come in a variety of colors, and both are waterproof, key particularly for dogs. They are meant to be worn on cats and dogs—although one could presumably put the device on any pet that wears a collar.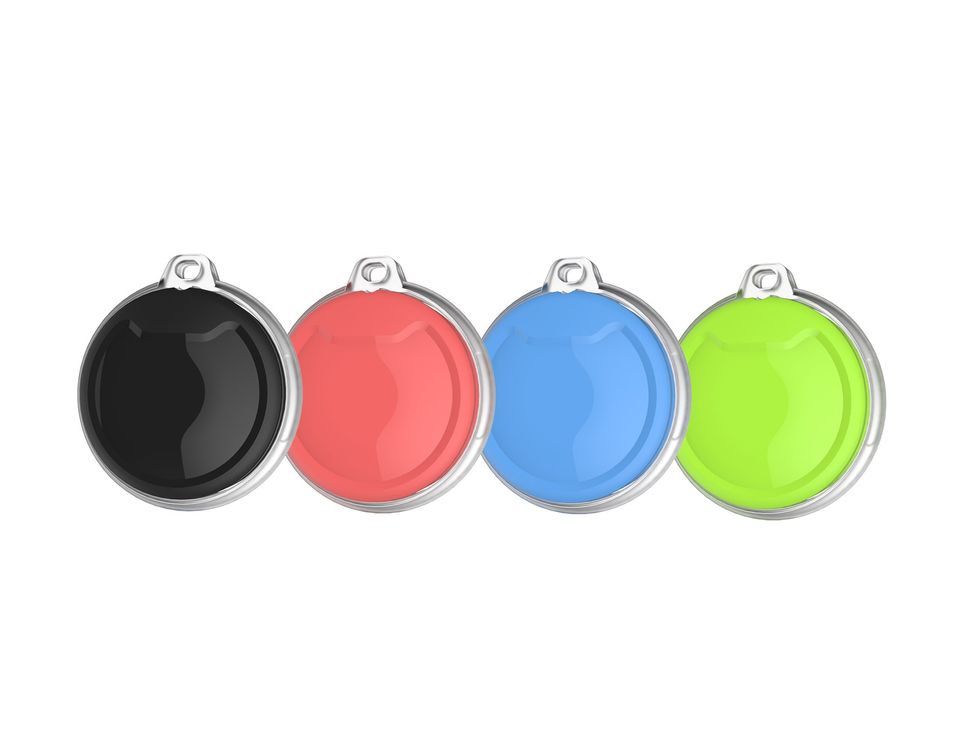 Installing the device is simple: After opening the box, and popping out the gadget, you install the battery on the Pea (or charge if it's the Bean), pop that into the round holder, and attach to a collar. Download the Poof app from either the Google Play store or App store for iOS, which walks you through a few questions including your pet's age, breed and name. The first two questions are key in determining how much exercise is needed, and calories burned.
Poof collects this data to feed you a daily score which the company says is based on the level of activity your pet gets a day, its breed, age and weight. Optimum is a score of 55-75, which goes up the more active your pet is during their day.
I received Bean from Poof to test on my 82-pound, 4-year-old Labrador Retriever, Jasper. He's young, active, a bit of a complainer if he doesn't get out enough, dislikes his picture being taken and prefers to take his naps on the couch. I suspect if he could talk he would grumble about his bed, and say the couch is better for his back.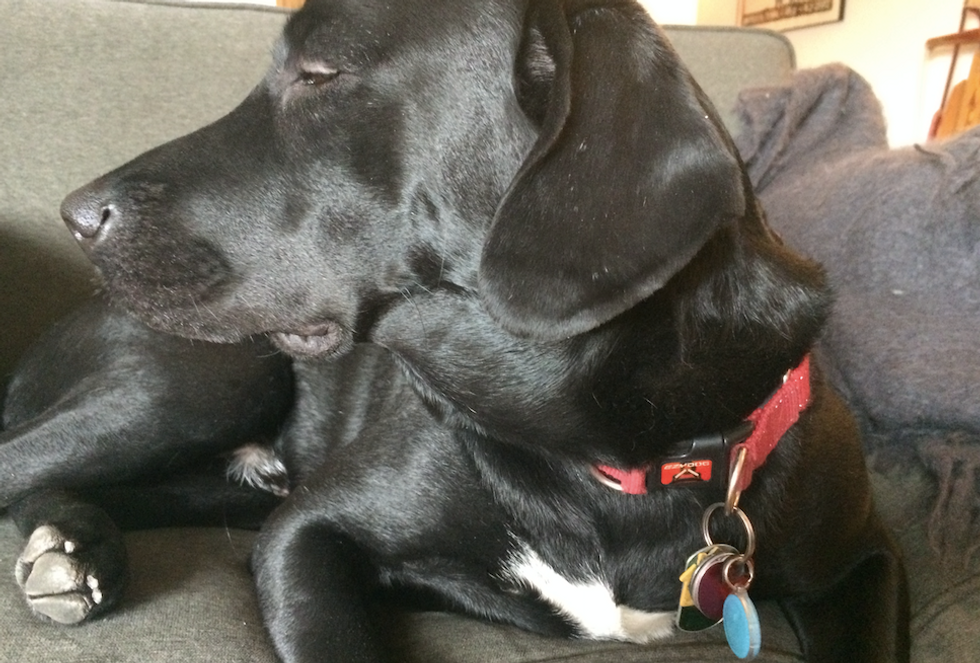 Jasper, bored, on "his" couch.
Although he is taken on walks multiple times a day—preferably to the dog store for a daily treat—an 82 pound Lab needs exercise, and a lot of it. Our family struggles to get him out and about during our own day. And when we're away, or feel guilt enough, we send him off with a dog walker who is, honestly, Jasper's favorite person in the world. We knew this. But now we have proof with Poof.
The gadget collects data as long as it's on your pet. You're not around? Not a problem. Even if you forget to check in, the data is stored on the device. Users move the data to the app by holding their smartphone next to Poof. The download takes about 10 seconds, and the app tells you how much longer it needs. Once downloaded, it pulls up information that's extremely detailed from the hours of overall exercise and sleep, to the actual hour of the day these things happened. Activity is one screen, and is categorized from high to medium to low. By swiping the app, you can also pull up data on your pet's Rest which is noted as deep, light and wake.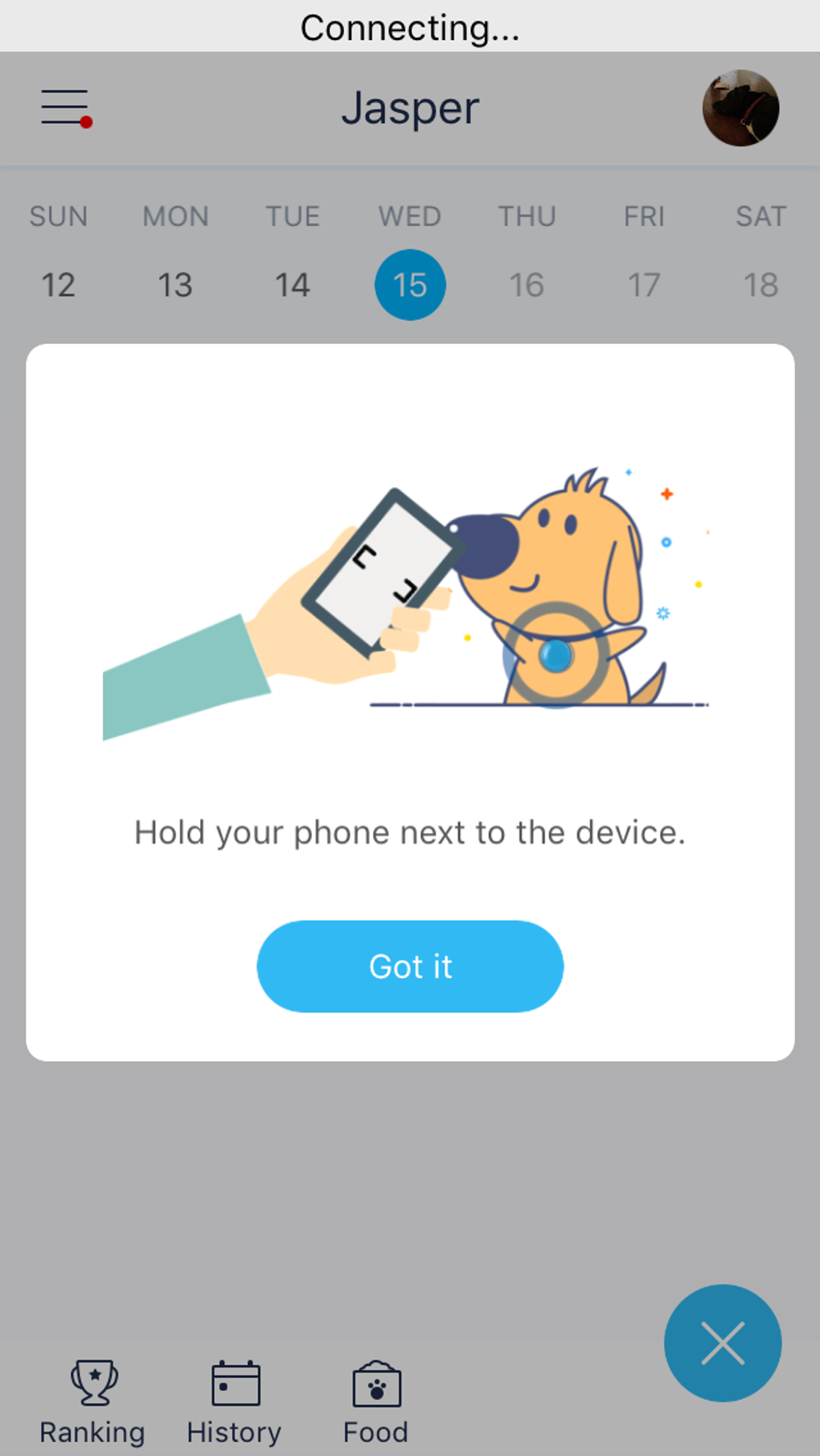 Like any fitness tracker, there is a history graph, showing if your dog is getting more or less sleep or activity during the week, month or year, as well as calories burned. You can also fine-tune the calorie gauge by inputting exactly which brand your pet consumes daily, and how much. There are honestly dozens of brands to choose from well known kibble to more obscure wet food options. And Poof also breaks down the nutritional content of these brands inside the app including protein, fat and fiber percentages. Once you select the food, the app actually suggests your pet's daily serving.
I found the suggestion for my pet—of just under 5 cups of dry kibble a day—a bit high for his activity. But then again, I tested the device while Jasper spent a few days with his dog walker. And here's how we realized how much he loves his second human pal.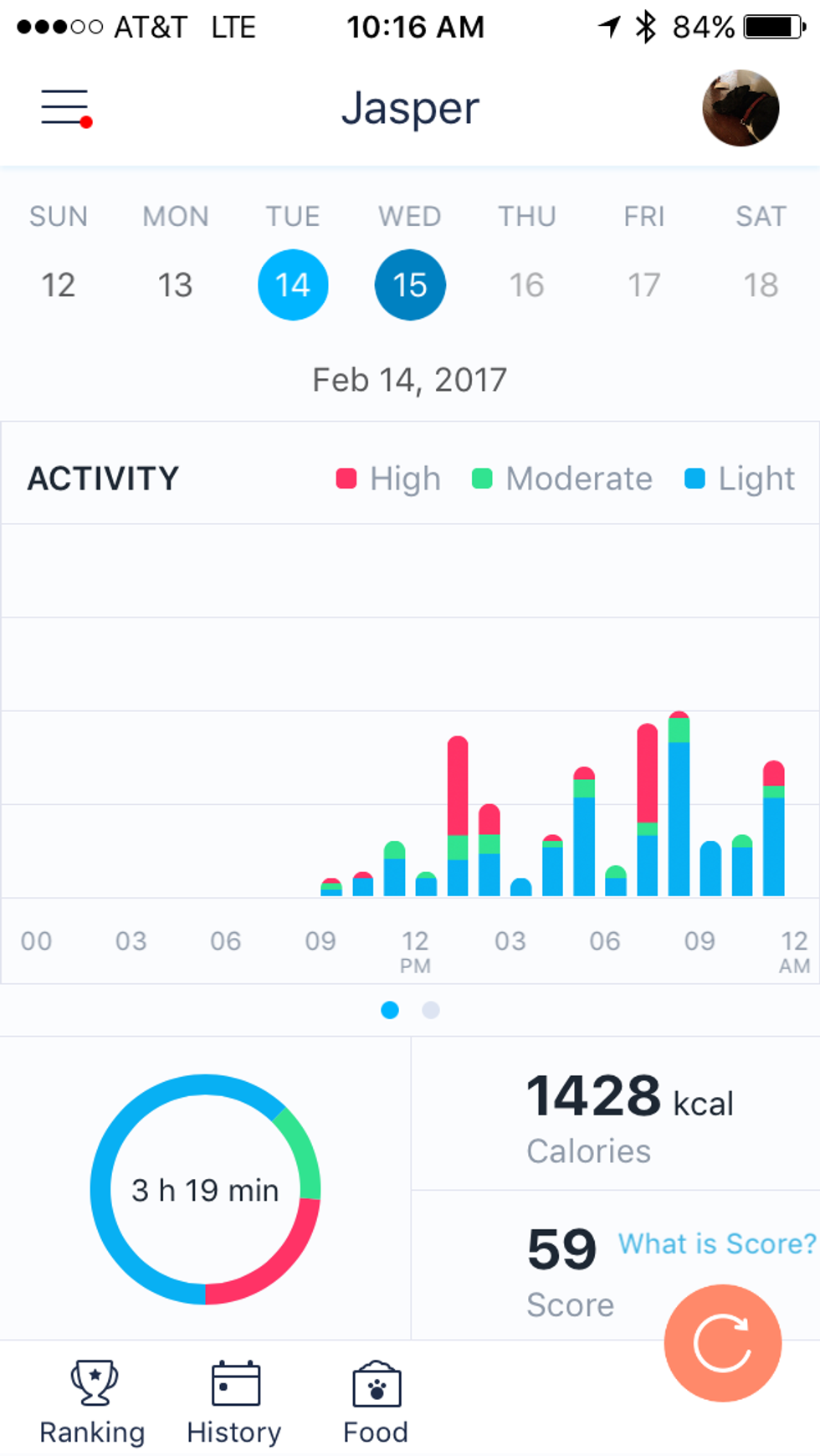 On days Jasper spent with us, he averaged a score of about 59—fully respectable. He got enough exercise to maintain a healthy life. Yes, he slept a lot (on our couch) but clearly Poof feels we were doing our job. (Thank you Poof.) On the days he spent with his dog walker? We saw scores of 118 and 96. He was active all day long. Even during the midnight hours his chart spiked with red marks indicating he's either sleep-walking while away, or playing with a dog friend who was being watched by the dog walker at the same time.
We know our dog loves us. But he's clearly having a joyful camp-like experience when away—and Poof helped us see this. Not bad for a small gadget we can attach and forget about most days. While our family felt a bit guilty that we couldn't offer Jasper the same level of daily exercise his dog walker can, I loved that I could check and see he actually was getting exercise.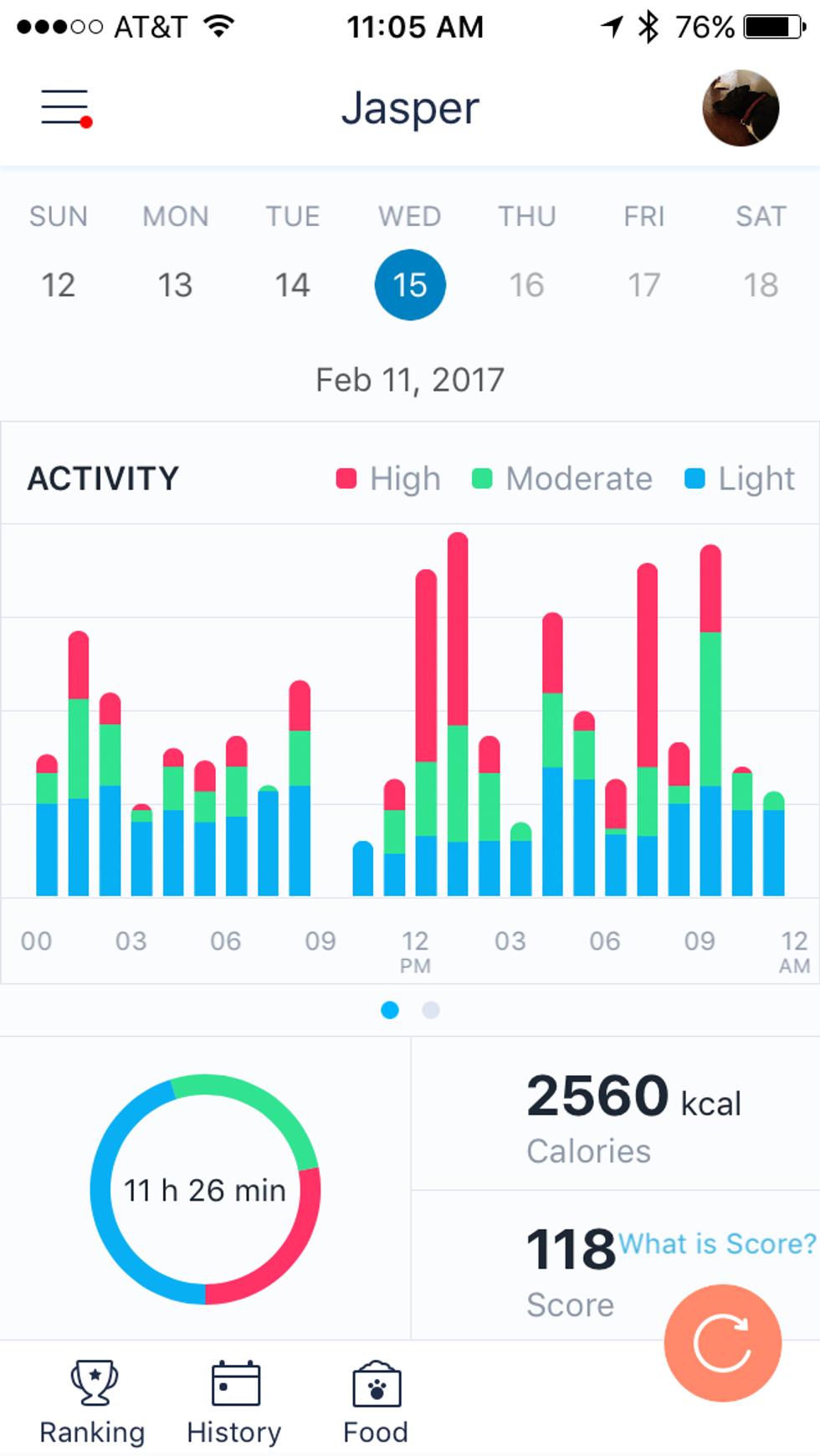 The price is a bit high. We all spend a ton on our pets. (Yes, you know you do.) But adding another $40 to $50 to the mix might be something to give owners a pause. Poof is having a 20 percent sale right now online (key word: heartmonth) plus they offer free shipping and a 30-day money back guarantee. (I wish his dog toys offered that.)
For those with animals who might be getting older, and are left alone, Poof could be helpful in seeing if the pet is getting around and active and healthy. For those who rely on dog walkers, Poof is a tracker that can tell you if you pet really did get some quality time outside.
For me, this is a device that's worth using—if only to keep me on my own toes to make sure Jasper gets the exercise he needs, and gives my couch a decent break.
Like GearBrain on Facebook