Amazon-owned Ring has confirmed that it works with hundreds of US police departments.
The tie-up was first reported in July and at the time it was claimed some 200 US police departments were working with Ring. The partnership gives police the ability to request Ring camera owners show them footage captured by the device. Without a warrant, owners can decline this request.
Read More:
That number was a low estimate, however, as Ring has revealed it actually offers this service to 405 agencies across the US. The Amazon company this week published an interactive map to show the location of each and every police force involved with the partnership.
Ring says the map will be kept updated, so that its users can see if their local law enforcement agency has partnered with the company. The map can be searched by zip code, address, or by manually navigating to a certain region or city.

Ring operates a system called Neighbors Portal, which is an extension of the customer-facing Neighbors app. The company said in a blog post that the portal "allows law enforcement to engage with their local community - from posting important information about crime and safety events in their neighborhoods to viewing and commenting on public posts as a verified law enforcement officer to asking for help on active investigations by submitting requests for video recordings."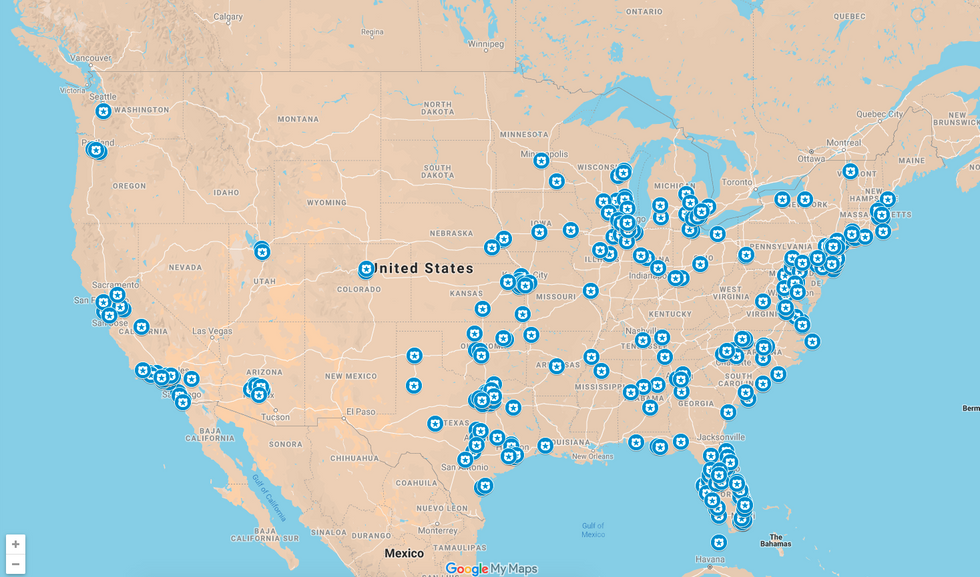 Interactive maps shows which police agencies work with RingRing
It is that last point which caused concern when it was first reported in July. Police officers do not need a warrant to ask Ring for the location of its camera in a certain area (where a crime has been committed, for example).

Officers can then use Ring's portal to request access to video recordings from the owner of one of the company's cameras. It is up to the owner whether they grant access or not. This raised questions about how the system works, and how close a relationship Ring has with law enforcement.
Ring says it wants to be transparent about which police agencies are involved with this system. The company said: "We share updates when new law enforcement agencies join Neighbors through the app, social media and local press, but our users have asked for an additional way to search this information."
As such, the interactive map lets users discover which agencies can learn the location of Ring cameras and use the company's portal to request access to the owner's recorded footage.

With regard to maintaining user trust and respect their privacy, Ring added: "Every member of a community plays a vital role in making neighborhoods safer, and we're proud that our users can decide how exactly they want to contribute to those conversations. We've also been thoughtful about designing how law enforcement engages with the Neighbors app to ensure users always stay in control of the information they share, and that their privacy is protected."
Ring said in a further statement: "We want to set the record straight—customers, not law enforcement, are in control of their videos. Videos are shared through the Neighbors program only if: 1) a customer chooses to post it publicly on the Neighbors app; 2) explicit consent is provided by the customer.
"Law enforcement agencies who participate in the Neighbors app must go through the Ring team when making a video request to customers. Customers can choose to opt out or decline any request, and law enforcement agencies have no visibility into which customers have received a request and which have opted out or declined. You can learn more on our blog."
Smart Video Doorbell Buying Guide - GearBrain www.youtube.com