Like GearBrain on Facebook
After monthly of speculation - but, interestingly, very few leaks - Samsung has confirmed that it will show off its first folding smartphone later this year.
The device is expected to make use of new display technologies which allow the screen to bend and fold without causing damage or affecting the image it produces.
Read more:
Such a phone will be seen as a much-needed shot in the arm for a market which is becoming stagnated with devices which all look similar and are beginning to receive only minor annual updates. With smartphone sales slowing - Samsung's were down 20 percent in the second quarter - an all-new form factor is hoped to revitalize consumer interest and have them reaching for their wallets going into 2019.

Now, Samsung chief executive DJ Koh has confirmed that such a device is almost ready to launch, telling CNBC the new phone will be revealed before the end of 2019. A launch date being considered by Samsung, Koh said, is the company's developer conference, which takes place in San Francisco for two days from November 7. This is also where the company has said it will reveal more about its upcoming Bixby-powered smart speaker, the Galaxy Home.
It was previously reported that Samsung was planning to show off the new phone in early 2019, potentially at Mobile World Congress, the technology trade show in late-February. This time frame will mark the 10th anniversary of the company's flagship Galaxy S phone range, with the S10 (or Galaxy X) name a likely candidate for the folding phone.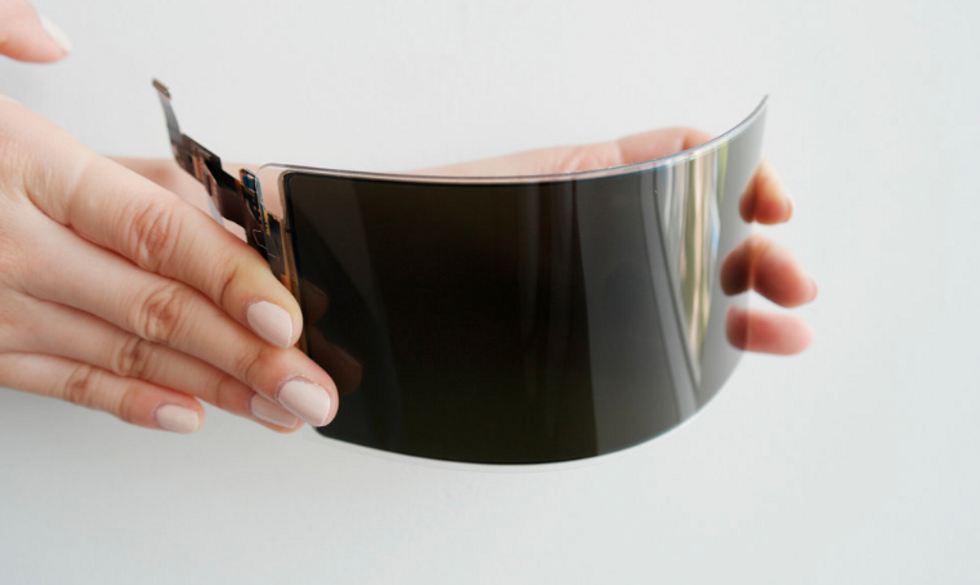 This flexible display is claimed by Samsung to be unbreakableSamsung
Speaking at the IFA technology show in Berlin, Koh said it is "time to deliver" on a folding smartphone, after market research conducted by Samsung confirmed there is demand for such a device. Koh explained how many functions can be completed with the device folded shut, but "when you need to browse or see something, then you may need to unfold it." This suggests the phone has a display on its outside and inside, the former making it work as a smartphone, then the latter coming to life when folded open.
In July, Samsung showed off a new flexible display it had created which is claimed to be unbreakable.

The Samsung boss added: "But even unfolded, what kind of benefit does that give compared to the tablet? If the unfolded experience is the same as the tablet, why would they [consumers] buy it? So every device, every feature, every innovation should have a meaningful message to our end consumer."
Koh's stating the device is "nearly concluded" suggests it isn't quite ready to go on sale just yet. Samsung might be hoping to reveal it in an almost-finished state before it leaks through the FCC and other regulatory bodies. This is the strategy Apple took with the first iPhone back in 2007, revealing the device before it appeared in regulatory filings, then putting it on sale six months later.
Being first to market will be important to Samsung, as rivals including Huawei, LG and Motorola and all believed to be working on folding smartphones on their own.
Like GearBrain on Facebook