Like GearBrain on Facebook
As Samsung, LG and Huawei all work to build a new generation of folding phones, Lenovo-owned Motorola has also entered the fray, a newly published patent reveals.
Applied for in May 2017 and published by the US patent & Trademark Office on August 21 this year, the patent belongs to Motorola Mobility and describes an "electronic device with hinge and corresponding systems and methods".
Read More:
While this could be used to describe a laptop, the accompanying sketches clearly show a smartphone with a touchscreen and user interface on the front, plus a camera on the back.

The patent, first spotted by Mobielkopen, was applied for by Roger Harmon, a senior mechanical engineer who has worked at Motorola Mobility since 1995, according to his LinkedIn profile.
A key detail of these drawings is how the display is a single piece, while the chassis of the phone folds in half. This would suggest the screen can bend between the phone's opened and closed positions. Flexible displays already exist - they are used to make the curved edges of smartphones like those from Samsung - but devices with screens which bend fully in half are not yet on sale.
This is set to change in 2019, as Samsung is widely rumored to be releasing a device dubbed the Galaxy X. Expected to arrive in February, the phone is said to have a folding display and will celebrate 10 years of the Galaxy S smartphone range.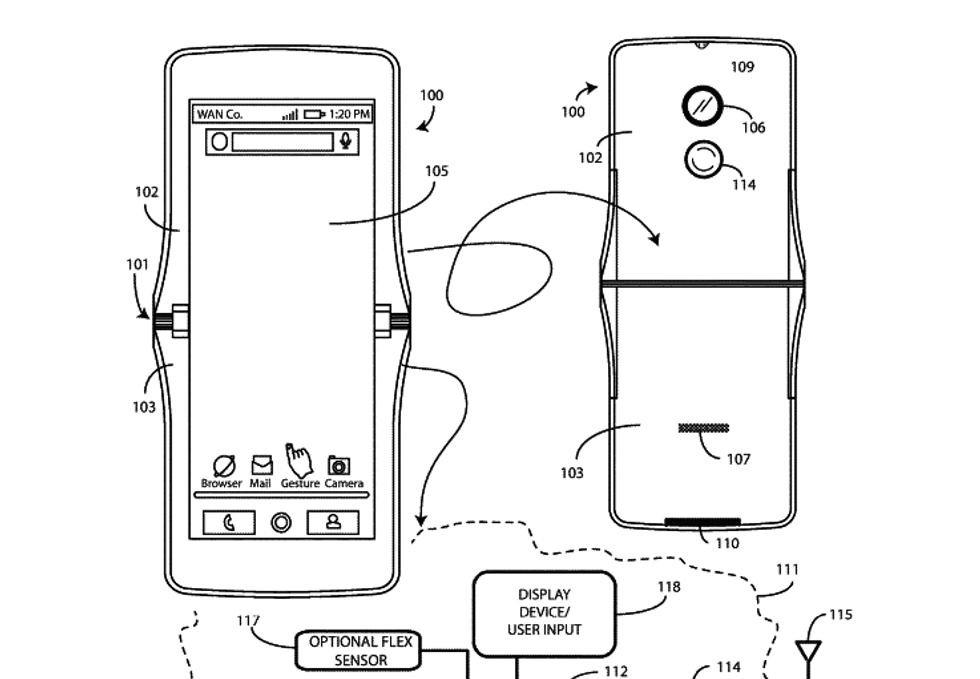 Patent sketches show what a folding Motorola could look likeUSPTO / Motorola Mobility
Huawei, the world's second-largest smartphone maker (behind Samsung) said earlier this summer that it has set itself the goal of beating Samsung to market with a folding phone of its own. But rather than aiming for mass-market success, Huawei wants to be first with a device that could be limited to just 20,000 to 30,000 units, then leverage the ensuing publicity to further promote its brand.
All this folding phone news comes soon after Samsung received US certification for a smartphone display it says is "unbreakable". According to Samsung, the flexible screen, which is covered in a form of plastic instead of glass, was dropped 26 times from four feet and showed no signs of damage.
Speaking of damage, durability could be an issue for folding smartphones. It is claimed that Americans check their phones an average of 80 times every day, or almost 30,000 times each year. A $1,000+ folding smartphone will need to survive at least a year of such regular use.

Another major hurdle for folding smartphones to overcome will be their software, which will need major changes to accommodate the new form factor. These devices may sound like a gimmick for now, or little more than a fruitless competition between Samsung, Huawei and now Motorola. But they could also offer respite for an industry which currently produces dozens of different smartphones which all look exactly the same.
As always, we should explain that technology companies regularly patent designs for future devices which never see the light of day. Motorola might never make a folding smartphone, but this patent at least proves it is investigating the feasibility of such a product.
Below is a fan-made render of what a new, smarter Motorola Razr could look like:
Like GearBrain on Facebook