Like GearBrain on Facebook
It looks like Google isn't the only company preparing to launch a rival to the Apple Watch this year, as now there are mounting reports of Samsung joining the party.
In this article, we have gathered up everything we know so far about the upcoming Samsung wearable. The article will be updated as more information about Samsung's next smartwatch comes to light.
Read More:
Samsung Galaxy Watch rumors and leaks: Release date
Samsung is no stranger to smartwatches, having launched several under its Gear brand since 2013. Its latest addition, the Gear Sport, launched in October 2017, but there hasn't been a 'regular' smartwatch from Samsung since the Gear S3 of August 2016, which came a year after the Gear S2.

Everyone expected to see the Gear S4 around August 2017, but it failed to arrive. Instead, Samsung went down to the fitness route with the Gear Sport.
Now though, there is mounting speculation that the Gear S4 (or an equivalent called the Galaxy Watch) will arrive soon. Samsung is holding a media event in New York on August 9 for the launch of the Galaxy Note 9 smartphone, but it is more likely that a new watch will debut at IFA, the annual technology show which kicks off in Berlin on August 31.
Samsung often has a huge presence at IFA and has launched many devices at the show in previous years, often at one of its Unpacked events the evening before IFA itself opens. This means August 30 is a likely date for Samsung to reveal its new smartwatch, before showing it off at IFA the following day.
Samsung Galaxy Watch rumors and leaks: The name

Logic suggests the new wearable will be called the Samsung Gear S4, given its follows the S, S2 and S3. But Samsung may be about to change tact, as on June 20 the company submitted the name 'Galaxy Watch' to the Korean Intellectual Property Office, as spotted by Galaxy Club.

This reportedly is the logo of Samsung's next smartwatchGalaxyClub
This could just be a case of Samsung protecting itself from other companies making a watch with its iconic Galaxy name, but it is an interesting move nonetheless.
It is understandable that Samsung may want to step away from the Gear name, as it has been applied to a wide range of unrelated products over recent years. Samsung's virtual reality headset is called the Gear VR, but this is unrelated to the Gear smartwatch range, which is turn has nothing to do with the Gear IconX wireless earphones. As a family of products, Gear feels confused compared to Samsung's Galaxy smartphones and tablets.
Samsung Galaxy Watch rumors and leaks: Operating system
Samsung's first smartwatch, the Galaxy Gear, ran Google's Android Wear (now called Wear OS) when it launched in 2013, but every model since has run Samsung's own Tizen operating system.
It would be a big move for Samsung to swap out its own software for Google's, especially when in many areas the two companies are rivals. But the name change helps make this make sense - after all, Galaxy smartphones all run Android, so logic suggests a Galaxy Watch would run Android (or Wear OS), too.

About Gear S4 (probably called Galaxy Watch) Based on Android Wear, 470mAh battery, PLP package, it is expected to have new UX interaction and blood pressure measurement.
— Ice universe (@UniverseIce) July 6, 2018
Helping cement this is a tweet from regular technology tipster Ice Universe, who said on July 6 that the Samsung watch will be "based on Android Wear". They also said the device will "probably" be called the Galaxy Watch, and that it will have a new user interface and a blood pressure monitor - something none of its rivals currently offer.
An earlier tweet by the often-accurate Evan Blass backed up the Wear OS claims, stating: "Seen on the wrists of Samsung employees: Gear watches running not Tizen, but Wear OS."
Samsung Galaxy Watch rumors and leaks: Display and design
According to SamMobile, which has a good track record for Samsung news, Samsung is working on two different "versions or sizes" of the new watch. This could mean an approach like Apple's, which sells 38mm and 42mm versions of the Watch; or, it could be a nod towards what Samsung did with the Gear S3, where it launches a traditional-looking model called the Classic and a larger, chunkier version called Frontier.
Samsung Galaxy Watch rumors and leaks: Features

SamMobile also claims the new Samsung smartwatch is known internally as Galileo, and will be offered with LTE so it can connect to the internet without keeping your smartphone nearby. The LTE version is said to be coming to Verizon, AT&T and T-Mobile in the US.
It is also claimed the device will be more fitness-focused than Samsung's previous wearables, and that it will offer more in-depth sleep tracking. This could mean the watch will get a larger battery, to help it survive several full day of notifications with full nights of sleep tracking in-between. Reports claim it will have a 470mAh battery, which is noticeably bigger than the 380mAh offering of the Gear S3.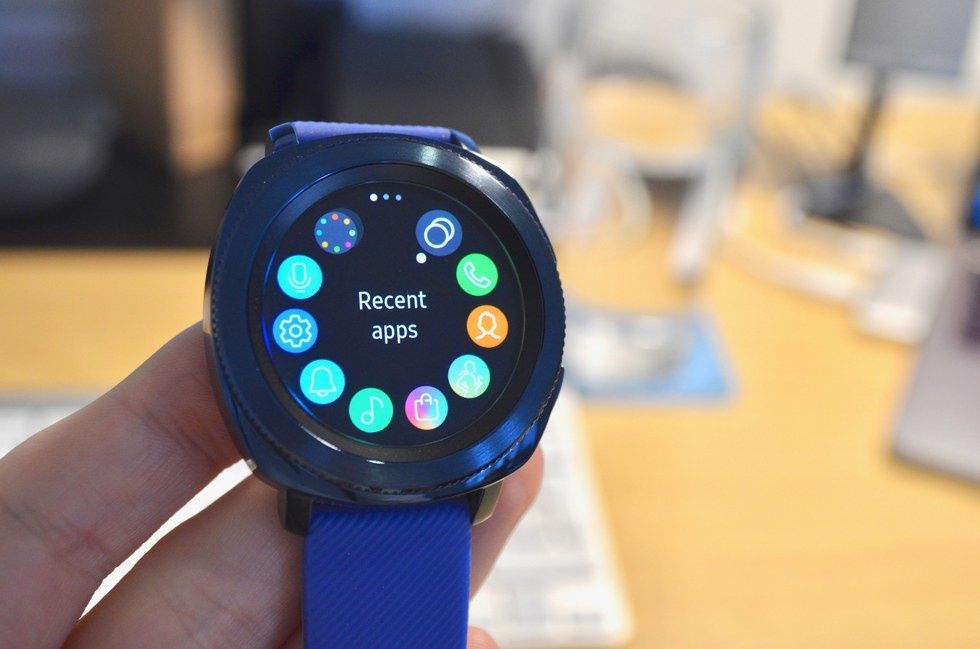 Application icons of the Samsung Gear SportGearBrain
Samsung Galaxy Watch rumors and leaks: Bixby

A report out this week, again by SamMobile, claims the Galaxy Watch will include Bixby, Samsung's voice-activated personal assistant and rival to Siri and Alexa. This would be the first time Samsung has fitted Bixby to a wearable, and sounds like a logical move.
However, we aren't sure how Google would react to Samsung putting its own voice assistant on Wear OS, instead of using the baked-in Google Assistant. Using Google's Ai instead of Bixby would be seen as a major blow for Samsung, so it will be interesting to see how this situation pans out.
Samsung Galaxy Watch rumors and leaks: How much will it cost?
The Gear S3 arrived with a retail price of $349, while last year's Gear Sport started its life at $299. We expect to see the new model have a similar price, putting it roughly on par with the Apple Watch, which starts at $329.
From Your Site Articles
Related Articles Around the Web
Like GearBrain on Facebook