Like GearBrain on Facebook
The Gear Sport is Samsung's latest attempt at overthrowing Apple in the maturing smartwatch market. In particular, its rubber strap and focus on fitness sees the new Samsung pose a direct threat to the Apple Watch Nike+.

At $299, the Samsung is marginally cheaper than the $329 Apple — but they are clearly going after the same gym-going, run-tracking, waterproof-requiring audience.
Samsung Gear Sport review: Design and hardware
With its rubber strap and chunky design, the Gear Sport looks more at home in the gym or on the tennis court than in an office meeting room. That isn't to say you can't wear the Samsung every day, with every outfit, but the blue shades of our review unit might look odd poking out from beneath a suit.
We were asked to choose what color of Gear Sport we'd like to review, and opted for blue over black because we fancied something different. This was a mistake. Blue — dark metallic on the case, much lighter and paler on the strap — makes the watch look cheap. With no Samsung or Gear branding to declare itself the Gear Sport looks some way short of $300. We'd go as far as to say it looks quite childish.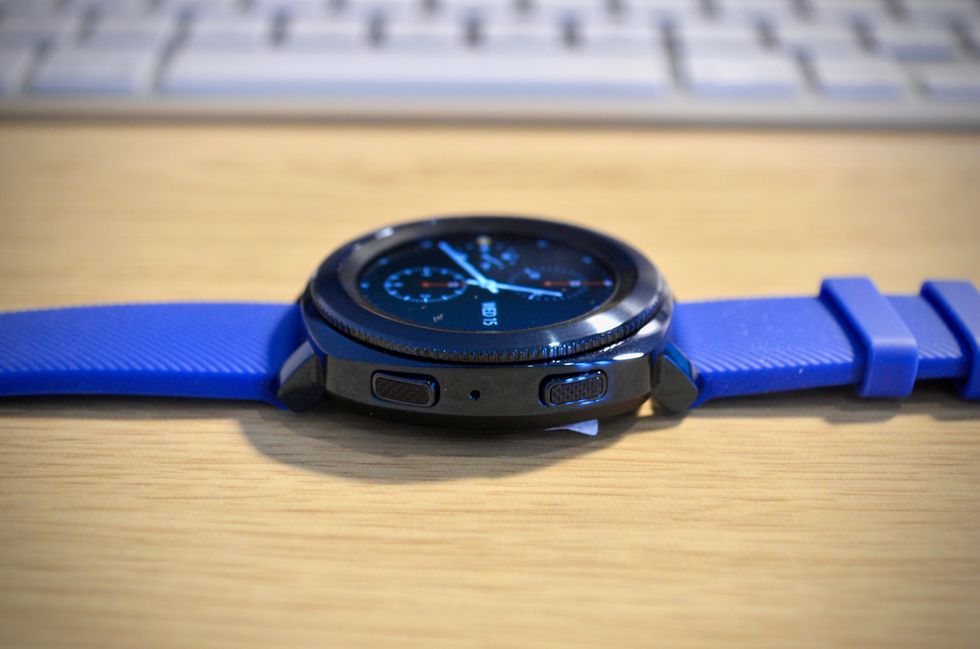 The Gear Sport has a cheaper-looking design than the Apple WatchGearBrain
That's a real shame, because Samsung has clearly done a good job with the rest of the Gear Sport's hardware. The watch is water resistant to 50 meters, and unlike most rivals that includes salt water — you can swim in the sea without worrying about it. What's also convenient is how the Gear Sport is compatible with regular 20mm watch straps, so you can easily replace Samsung's mediocre efforts with something more premium if you so wish.
Another highlight is, as on other Samsung smartwatches, the rotating bezel. We'd like a slightly firmer clicking action with each degree of rotation, but turning it is still an intuitive and satisfying way to navigate the watch's Tizen operating system — and it saves you from covering the screen is greasy smears and fingerprints.
At 67g (including the 17g strap) the Gear Sport will likely feel lighter than the regular watch of anyone who is new to smartwatches. However, the size of the case might be an issue for some, as is common with most smartwatches. The Samsung has a diameter of 44.6mm and is 11.6mm thick — about on par with the 42mm men's watch we usually wear, but this might be prohibitive for some.
The Gear Sport is charged via a magnetic wireless dock, which is included in the box and is powered via a USB mini cable — not, oddly, a USB C, as is the case with Samsung's equally new IconX earphones.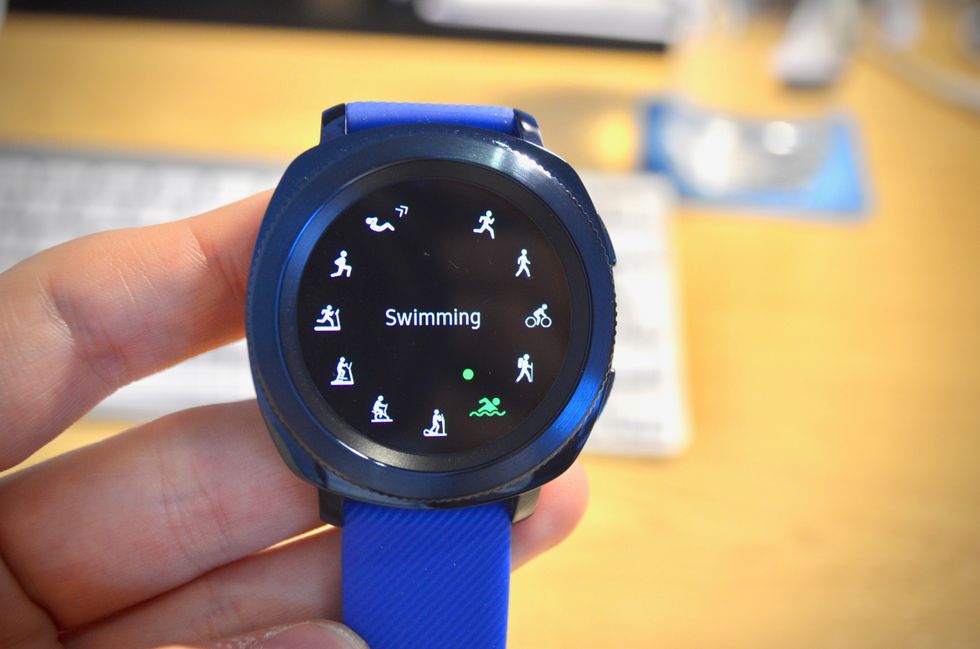 The Gear Sport can record no fewer than 16 different types of exerciseGearBrain
Samsung Gear Sport review: Display
The circular display measures 1.2 inches across and has a resolution of 360 x 360 and 424 pixels per inch. This makes the watch beautifully sharp, clear and easy to read. Being AMOLED, the display panel produces deep blacks and vibrant colors — perfect for showing the time and notifications clearly at a glance.
Unlike the Apple Watch, the Samsung has an always-on option — and not only does it constantly show the time when this mode is selected, but unlike some Android Wear watches it always remains in full color. Always-on mode shows the time quite dimly unless you raise your wrist or press a button, but being able to see the time at a glance is a must-have for smartwatches so we're glad it's here.
Samsung Gear Sport review: Software and performance
As we mentioned earlier — and like other Samsung watches — the Gear Sport runs the Tizen operating system. This is navigated by tapping the display and rotating the bezel, which is intuitive and easier to learn than the many swipes of watchOS on the Apple Watch.
The watch face acts as the home screen. Turn the bezel clockwise for the watch's app-based widgets, or anticlockwise to view recent notifications. What widgets appear, and in what order, is customizable, but this is by-and-large where most of our interaction with the watch took place. There's a widget for an estimate of daily calories burned, steps taken and floors climbed (the latter we found to be inaccurate). Then there is your heart rate, taken at regular intervals throughout the day, and constantly while exercising.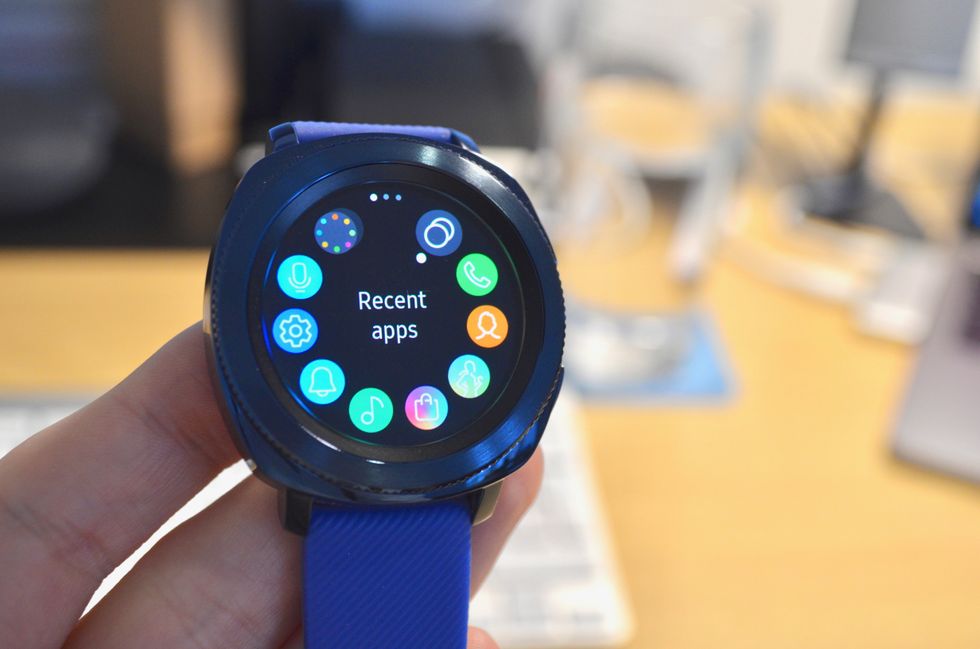 Thankfully, the included apps will cover most user's needsGearBrain
Next is a graphic to show how many minutes of exercise you have completed each day this week, followed by shortcuts to tell the watch to start recording a run, walk, swim or bike ride. Other widgets which can be added include one for Spotify playback, one for upcoming calendar events, and one to show your current altitude and the ambient air pressure.
A yellow dot at 9 o'clock on the watch face alerts you to unread notifications — along with a vibration when that alert arrives. Notifications can be switched on or off in the Samsung Gear smartphone app, but they cannot be further customized. For example, you can't adjust the vibration pattern to tell notifications apart by feel, or tell Twitter to alert you to direct messages but not mentions. You also can't set Gmail to only buzz the watch with emails from a certain inbox. It's all or nothing.
That being said, the real power in smartwatches is being able to see notifications at a glance and without reaching for your phone. It's an added layer of convenience which, once you halt notifications for Instagram and other frivolities, is genuinely useful.
A swipe down on the home screen gives access to settings like airplane mode and screen brightness plus remaining battery life. A long press of the watch face lets you customize it and swap in others, which can also be downloaded via the Gear smartphone app.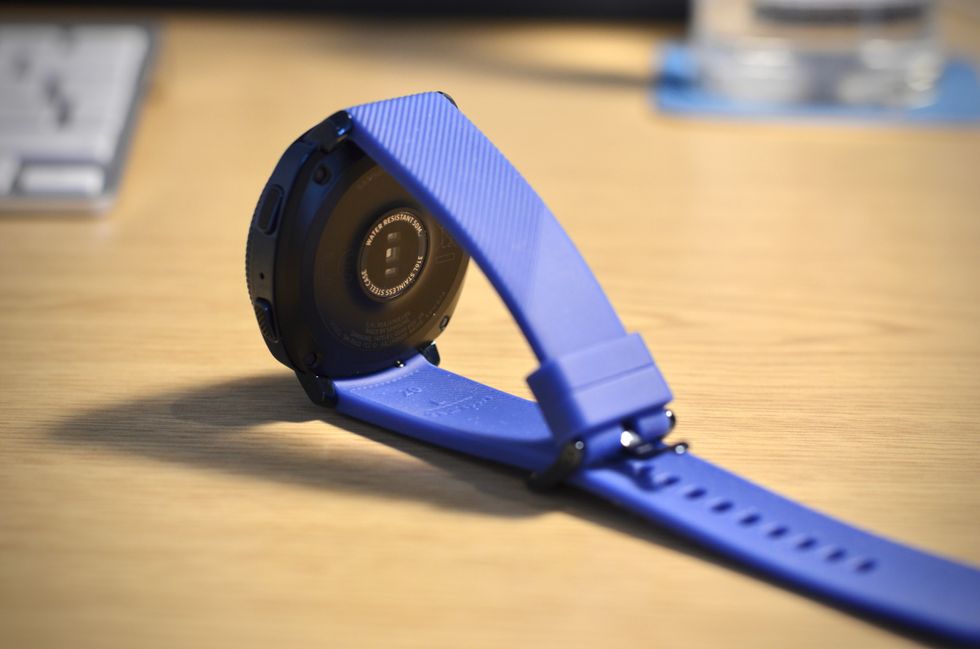 The Gear Sport can be used in salt water as well as swimming poolsGearBrain
Samsung Gear Sport review: Apps
Samsung has included a good number of apps with the Gear Sport. These include apps for messaging, playing music, recording a wide range of fitness activities, reading the news, checking the weather and more. For 90 percent of our time with the watch, these apps were all we needed.
And that's just as well, because the selection of apps to download from the Gear store is woeful. Browsing the lackluster collection reminds us of wading through the Google Play Store several years ago, which at the time couldn't hold a candle to Apple's iOS App Store. An 'Editor's Picks' section is full of apps already installed on the watch by default; in-between those there is Spotify (it works, but the current average score is two stars), an unofficial Google Maps app (1.5 stars), a dozen identical apps which claim to be torches by turning the screen white, and an app which does nothing but beep hourly (and charges you for the privilege).
It gets worse. The most popular free app at the time of writing, on the entire Gear store, is Samsung's own weather app which comes pre-installed. A section called 'The best apps for travellers' contained just two apps, both from the same developer, both for a fee, and neither of which we had heard of before.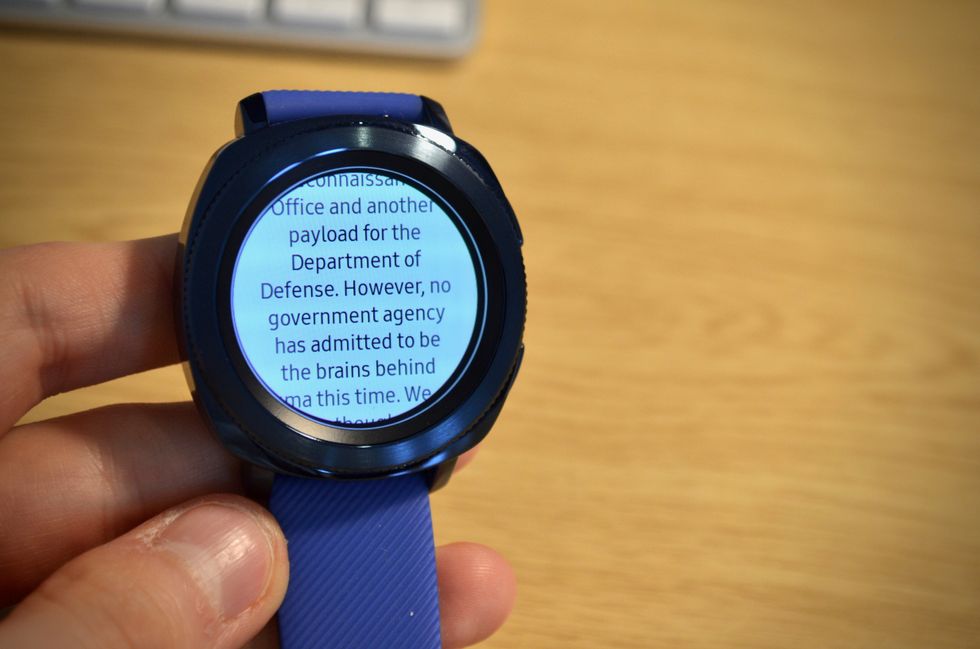 Some apps, like news service Flipboard, feel unnecessary on such a small displayGearBrain
In better news, Samsung has struck a deal with sports clothing company Under Armour meaning Gear Sport buyers get a year's free premium access to the fitness company's exercise-tracking apps. Another bonus is how the Gear Sport lets you download Spotify playlists to its 4GB internal storage. Great for storing gym playlists locally and means you can leave your phone safely in the locker room.
A quick word on watch faces for the Gear Sport: The watch itself provides a varied selection to pick from and customize in a way Android Wear and Apple Watch users will be familiar with, and then there are dozens - perhaps even hundreds - more on the store. However, many of these cost a couple of dollar each, and several look to be trademark violations in the making. We found one with the Tag Heuer logo, minus the writing, and another called 007 and with the name 'Omeca' in place of Omega. One, called Ferreri 'Panerai Inspired' uses an icon similar to that of Ferrari's prancing horse, while another just straight up uses the Emporio Armani logo, albeit slightly lop-sided.
Samsung Gear Sport review: Battery life
Gone are the days where smartwatches struggle to see you through a single day. The Gear Sport regularly survived a full day with 60 percent charge remaining, sometimes more. Even after a busy few hours of installing apps, streaming music and using the watch extensively to write this review and take photos, we had 70 percent remaining by the early evening.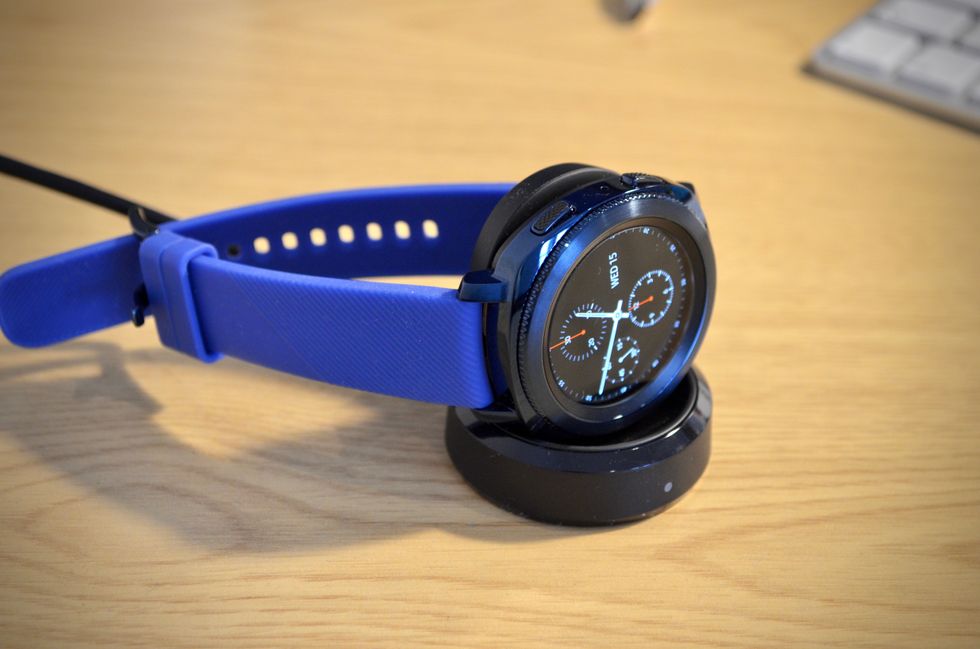 Charging is done via a magnetic, wireless charging dockGearBrain
Conclusion
The Gear's Sports design initially left us underwhelmed. But once using the watch for its intended purpose — a fitness tracker, music streamer and gym buddy — it began to make perfect sense. If you want to record your exercise, chances are the Gear Sport will have you covered. Free premium access to Under Armour apps for a year is a nice bonus, but even the included app suite will be sufficient for many users.
And that's a good job, because the selection of third-party apps for the Gear Sport is very poor indeed. Our advice would be to stick to what the Gear offers out of the box, add Spotify and the Under Armour selection, and you'll be fine. You don't really need to order an Uber from your watch anyway, do you?
The Samsung Gear Sport is a fine fitness tracker with excellent battery life, waterproofing and operating system, but let down by cheap-looking design and a lack of quality applications to download.
Pros: Great display and battery life, good selection of included fitness apps and an intuitive operating system
Cons: Cheap-looking design (especially in this color), with a very poor selection of downloadable apps
Check out The GearBrain, our smart home compatibility find engine to find other smart devices and compatible products that work with Samsung SmartThings enabled devices. You can also ask questions and troubleshoot any problems.
Related Articles Around the Web
Like GearBrain on Facebook