For CES 2018 Samsung will show off a new speaker technology which isolates sound and sends it to a single person, without using earphones.
Called Sound-Ray (or S-Ray for short), the technology could be used to play music to a small group of friends in a park, for example, without disturbing others nearby. Or, Samsung suggests, it would deliver information about a painting in an art gallery, but in a way where only the people stood right in front of the artwork can hear what's being said.
The technology to deliver sound in a precise way like this already exists, but Samsung says its approach is different because it can offer directional sound with smaller, lighter and more portable speakers. An animated video produced by Samsung suggests a small clip-on speaker could be worn while walking or running, surrounding the wearer with music only they can hear, yet still allowing them to hear noises like sirens and traffic.
Samsung says on its blog: "While existing directional speakers are primarily stationary due to their size and price, S-Ray is a directional speaker that is made much smaller, lighter and portable with its unique system module while maintaining the advantages of conventional directional speakers and/or earphones."
The company suggests the technology would come in handy when wearing earphones for extended periods of time becomes uncomfortable, but in environments where a traditional speaker would annoy or distract other people.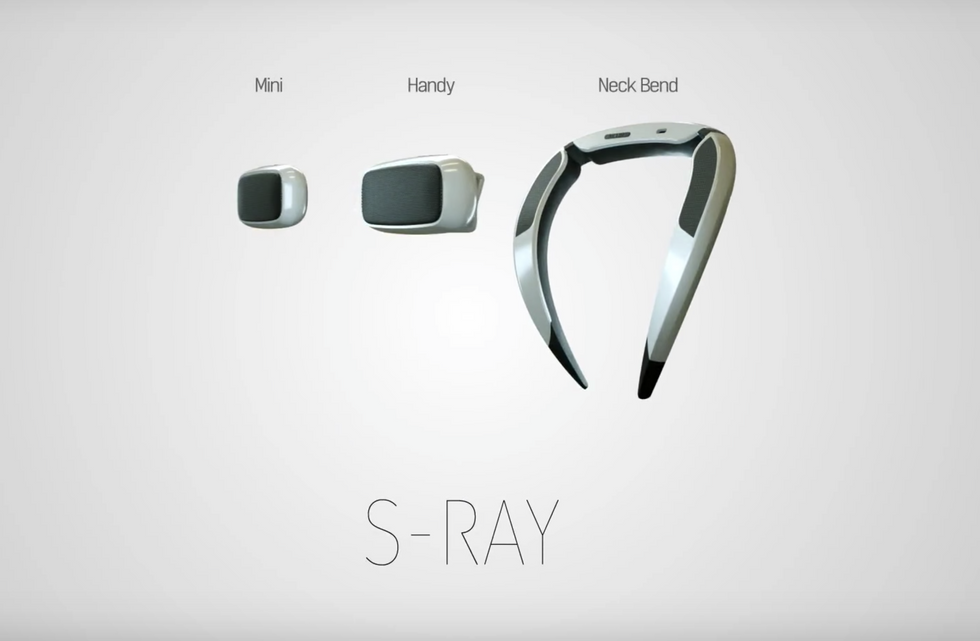 Three S-Ray devices will be shown off at CESSamsung
Developed by Samsung's C-Lab, the S-Ray technology will be demonstrated at the CES technology show, which kicks off in Las Vegas later this week. The company will demonstrate S-Ray on a small clip-on speaker called the Mini, a larger speaker called Handy and a neckband which rests on the user's shoulders, similar to the Bose SoundWear.
Check out The GearBrain, our
smart home compatibility checker
to see the other compatible products that
work with Samsung SmartThings
.