Like GearBrain on Facebook
Pros: Easy to launch, light-weight, waterproof container

Cons: Expensive, highly-specialized, needs permissions to work with camera and photos
We spent some time with Seek Thermal's newer device, the Compact Pro—a smartphone peripheral that gives you thermal readings, and visuals, just with a simple attachment. Priced at $499, this is not going to be snapped up quickly by consumers, even though the images are extremely cool.
For small business owners (think plumbers, electricians), and outdoors people, though, the device is certainly one to note. I might even add in filmmakers. Who doesn't remember those alien-POV shots in Predator? Pretty great. Of course your smartphone needs to be able to shoot very high-res shots (and even then, this isn't going to be professional quality) but as far as effects go, we gave this a thumbs up.
Thermal devices priced and made for consumers, are certainly a growing market. As prices for these specialized sensors drop, companies are able to offer them to regular customers at more affordable sticker prices. We recently reviewed Walabot, a stud-finder that uses thermal readings—and we will be reviewing more thermal devices in months to come.
So when Seek Thermal leant us the device—along with the waterproof case that comes with the attachment—we were intrigued. While it's not something we're going to use daily, we think as a specialty item Compact Pro is worth considering.

Seek Thermal is a small attachment that fits into the base of your smartphone.
Point and read
Launching the Compact Pro couldn't have been simpler. The attachment fits neatly into the charging port for iPhones (5 and up) and Androids. The company has two different versions, and you specify which one you need online before you place the order.
The device is about the thickness of a finger, with a tiny lens on the back. You plug the device in so it faces away from you, download the Seek Thermal app and register the device. Mine then started up almost immediately with a series of tiny clicks. This is the camera taking instant readings—which you can see on your smartphone screen—and is called Spot Mode.
A cross hatch appeared in the center of my screen where the temperature reading takes place. I found it fascinating, in the middle of winter, how warm my apartment read. Even more interesting? How extremely warm my devices are. A TV? 104°F. My laptop keyboard? 99°F. A lightbulb? 156°F. My dog? A cool 88°F.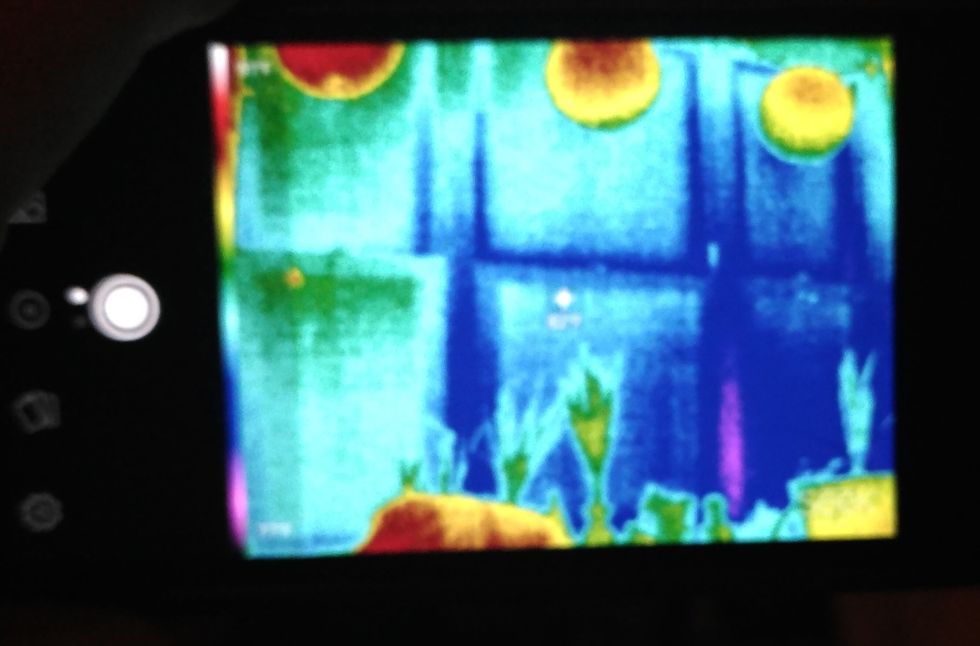 A cool blue color appeared from the reading of the windows.
If you want to snap an image of the item you're reading, the button in the lower bottom of the screen lets you do that, and then stores it in your Media Gallery, found on the home page in the app. You can also adjust the lens focus, just with a simple twist of the button, for up to six inches to 1800 feet away. The images are high-resolution: The camera on the device has a 320 x 240 high-resolution thermal sensor.

I'm not one for intro videos. But in this case, the five minute video was worth watching. You can actually change the palette of the colors you see when reading temperatures. (That's fun.)
And there are multiple views, one that also allows you to simultaneously see both the visible and thermal image at the same time.
The device can read temperatures from -40°F to about 660°F according to the company. That range is highly unlikely to be found in your everyday home. But again, for professionals, it's solid.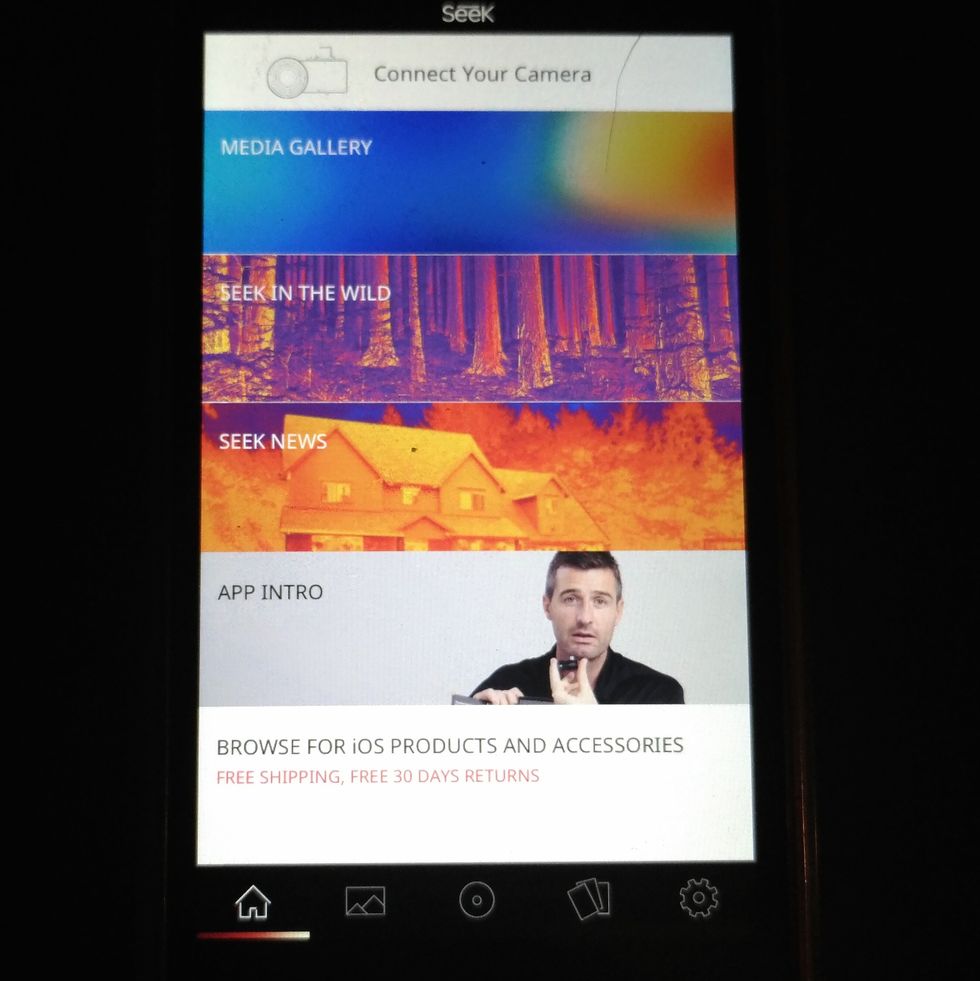 The introductory video loads when you first plug the device into your smartphone.
Night readings
Because you can shoot images and videos with the device, the camera can be put to use for other than obvious reasons. You do need to give permission for the device to access both you photos and your camera to take advantage of these.
Thermal Seek does work at night. It's a thermal device, after all, which means it's picking up on heat through its sensor, and not light. And we tested this during some dog walks, finding the app and camera interesting as a potential security device.
While juggling an 82-pound Labrador Retriever and a smartphone aimed ahead of you is not an easy feat, we did like Seek Thermal's ability to spot people around us. Living in an area where corners and pockets of the street are not always well lit, Seek Thermal did a solid job of spying movement—and heat—as we walked along the street. I think this could be a potential use of the device for people living in remote areas, walking in the evening—and not being pulled by a rambunctious dog. At $499, though, I see this as add-on use rather than a primary reason to buy the peripheral.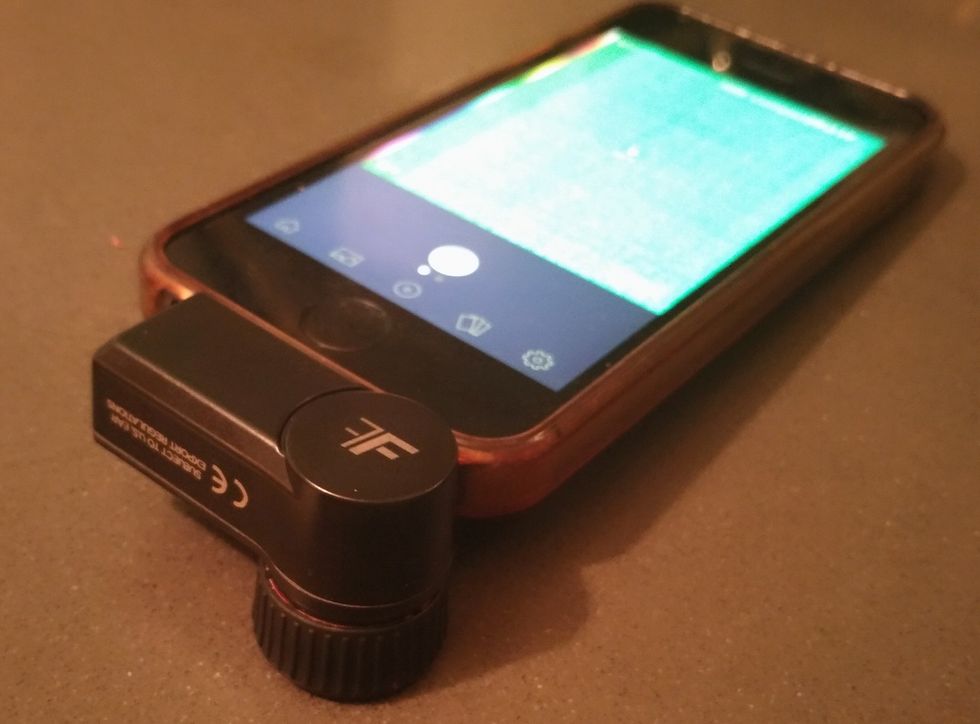 Even at that price, Seek Thermal initially sold out of the device for iPhone users, noting that new orders would start being fulfilled last month. There are two less expensive versions of their thermal camera, the $249 Compact, with a 206 x 156 thermal sensor which can read 1,000 feet away, and the $299 CompactXR with the same thermal sensor but can read 1,800 feet away.
For consumers that are comfortable with handling many of their own repairs, or are looking to install some of the more complicated smart home devices in their house, the ability to detect what's behind the walls is going to be necessary. Seek Thermal's line is definitely an easy to install option, with a wide enough range of products that could appeal to be both the DIY home owner and the professional as well.
Like GearBrain on Facebook