Like GearBrain on Facebook
Finding a spot to park the car is not always a simple task. Luckily, apps, devices and smart tech are making parking cars, finding parking and paying for parking, much easier. Plus, in the near future, cars are on track to almost completely park themselves.

"Everybody hates parking and they hate paying too much for parking even more," says Christina Martinez, head of marketing and operations at Parkopedia, a web wiki of parking information with parking prices reservations, maps and apps. (Parkopedia also supplies parking data to automakers such as BMW, Ford, GM, Jaguar, Land Rover, Toyota and Volvo.)
On the road
Spending time circling for a spot is even more annoying. Parkopedia gets that, which is why when you plan a trip, you should also plan your parking, says Martinez.
Parkopedia partners with select U.S. parking facilities, and some in Europe too, that allows drivers to pre-book to pay for parking in advance and drive right into a spot.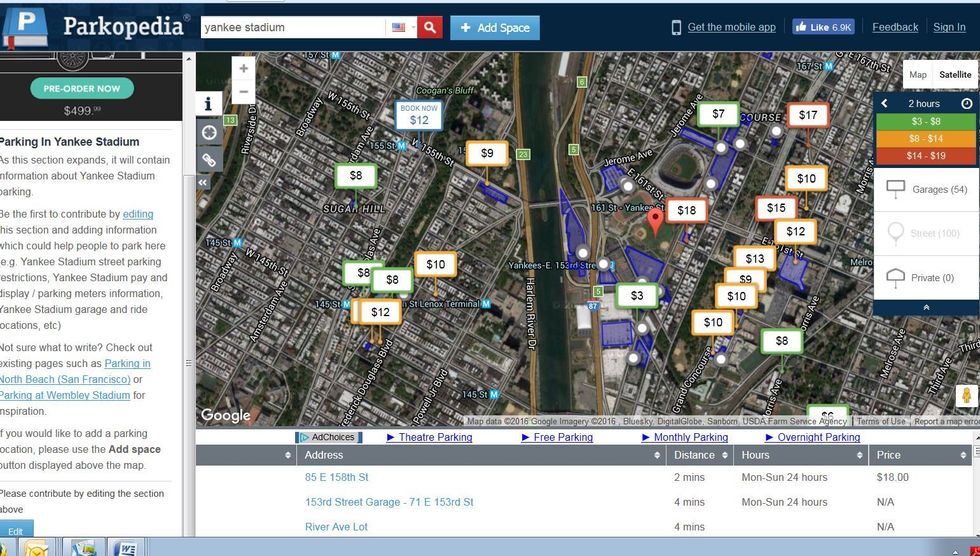 Parkopedia lets drivers pre-pay for parking before they leave for vacation.Photo courtesy of Parkopedia
Martinez, who helped the city of Youngstown, Ohio with parking marketing, also believes business districts should consider adding parking information as part of their marketing as parking problems can deter customers.Youngstown, Ohio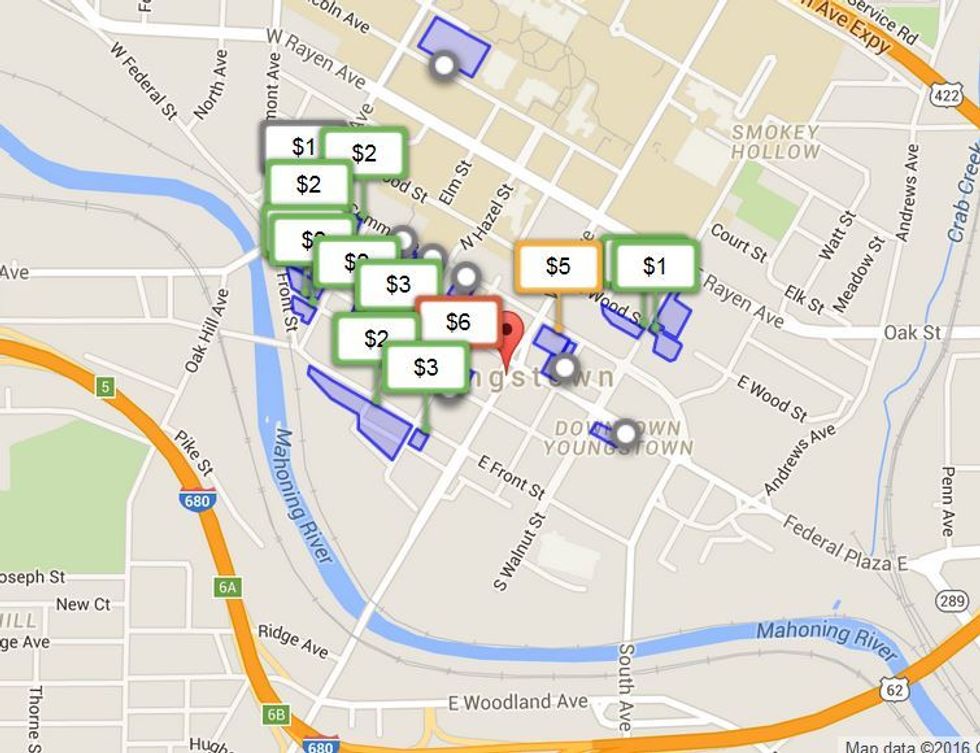 Parking in Youngstown, Ohio is much simpler with parking apps like above.
Connected cars with built-in Parkopedia information and algorithms, show where there is a better chance to find street parking. If by some chance, the parking lot near a destination fills while on route, the connected car navigation system will suggest alternative parking options.
If you don't have an advanced connected car, Garmin navigation devices with Smartphone Link Bluetooth data connections show dynamic parking from Parkopedia.
"Navigation should include parking," said Alex Israel co-founder of ParkMe, a parking app, and also vice president and general manager at INRIX, a traffic, navigation and parking analytics company. "Very soon you will be able to pay for parking directly from your car."
ParkMe currently lets drivers find rates, and locate parking spaces at garages. In some cities, the Android and iPhone app even shows available street parking. ParkMe's payment feature is expected to launch in autos that use INRIX for parking information as well as Parkopedia data in the coming months.
Remember though: Although it may be tempting to whip out your phone when you are close to your destination to find parking—resist while you are driving.
"When you are looking for parking, that is the time the driver needs to pay attention the most, when there could be pedestrians coming between the cars," says Daniel McGehee, director of transportation and vehicle safety program at the University of Iowa and architect of My Car Does What, an online site that explains new car technologies to consumers. "We tested parking apps and found them too difficult and distracting to use while in the process of finding a parking space."
Parkopedia's Martinez also believes that having an open app in your lap while driving is not the best way to find parking. She recommends using a voice activated feature in connected cars to find parking, as the tool is less distracting and easier to use.
Parallel parking perk

Automatic parallel and perpendicular parking are great features to look for in your next car, especially if you don't like to park. These features were added to mainstream cars a few years ago, including ParkSense Parallel Park Assist from Fiat Chrysler Autos.
"If you are used to parallel parking all the time, ParkSense Parallel parking doesn't make a big difference," Adam Chiappetta, senior manager driver assistance at Fiat Chrysler Autos (FCA). "However, if you are not used to parking, it can save time and reduce stress."
FCA's ParkSense Parallel/Perpendicular Park Assist and ParkSense rear park assist with work in select Chrysler, Jeep, Dodge and Fiat models.
Chrysler is even promoting the advanced parking features with comedian Jim Gaffigan who shows just how easy hands-free automatic parking can be in the Chrysler Pacifica. (Note that these features may have different names on cars from different automakers.)
With parallel parking assistance, the car is outfitted with ultrasonic sensors, says Chiappetta. The driver pushes a button when looking for a spot on the street. As the car is driven by the spot, the tech measures to make sure that there is enough room in the space, and then notifies the driver. The driver, then, uses the brakes and the gas as the car steers hands-free into the spot.
A new feature, recently added to the Chrysler Pacifica is rear automatic braking that uses an audible warning if the car is too close to a vehicle or an obstacle. If the driver doesn't apply the brakes, the car will automatically brake, says Chiappetta.
Another kind of parking that drivers find stressful is backing into perpendicular spots. But automatic perpendicular parking measures the spot when the driver passes the space. Then the driver engages the feature by applying the brakes and accelerator to back into the spot.
McGehee warns that although assistive parking technology is very helpful, the driver still has to pay attention and check parking spaces for things like broken glass or nails that may not be detected by the ultrasonic sensors.
"You are in charge, the car can't see everything," he says.
Chiappetta adds that when buying a car, ask to try out the automatic parking features or have the dealer demonstrate them. McGehee even suggests reading the car manual and testing the parking features in a safe place before hitting the road.
The next phase in cars parking technology is when the driver controls the car remotely. With Tesla's Summon Feature or the Mercedes- Benz Remote Parking Pilot feature, the owner stays close to the car using a key fob or smartphone app, but then the car drives itself into a space. Of course, these kinds of features from Tesla and Mercedes-Benz are currently only a small percentage of the market says McGehee.
Self-parking future

How will cars park in the future? Bosch, a major supplier to automakers, recently demonstrated its Home zone park assist which will let cars park in garages or parking space autonomously.
The Home zone park assist system requires a car be trained first, using 12 ultrasonic sensors and a posterior facing camera to learn how to park the car in a usual parking place, such as a garage or parking spaces that are less than 300 meters (984 feet) away. Its expected to be available in cars by 2019.
"After learning the route, the driver uses a key fob press/hold or smartphone app to park the car," says Frank Sgambati, director of marketing and product innovation for Chassis Systems Control in North America, Robert Bosch LLC.
Home zone park assist will also pull out of the parking space autonomously.
Finally, no more tipping the valet, as automated valet parking is also in the agenda in the future.
"We're looking forward to automated valet parking where there are sensors in the parking lot and the person gets out of the car and the car parks itself," says Sgambati, who sees autonomous parking as one the first gradual steps toward fully autonomous driving.
But at least we can enjoy technology today where nicks and scratches from poor parking attempts is almost a thing of the past.
Like GearBrain on Facebook