Like GearBrain on Facebook
Pros: Scary enough to get heart racing, works for both iOS and Android, and Sisters is free

Cons: The experience is short, scary only the first time, app drops you into a teaser without warning which is disorienting
Sisters is a VR ghost story, developed by Otherworld Interactive, that's puts you on a couch in a mysterious Victorian mansion.
"Be careful where you look, because something doesn't want you here," the description reads. In terms of scariness, Sisters delivers in atmosphere but relies largely on abrupt sounds and sudden images flashing at you. It's a story, but the way you "progress" is to look at certain places so the environment can respond. Don't go into Sisters expecting an unsettling and compelling narrative that sticks with you—this experience is pure sensation. As a result, it's really only scary once.

A painting of two sisters is unsettling.
Eerie portraits hang and watch you, a mysterious object is obscured by a sheet. Is it a statue? A piece of furniture? It's unclear. However, you're not in the 19th century as a flickering television sits in front of you emitting mostly white noise,and a fuzzy broadcast.
There's a lot of tropes at play, and the scariest parts were when I wasn't sure where to look—was something going to appear on the television, or in the window? Was the portrait moving? Every time I looked in one direction, I felt the danger of something lurking behind (virtual) me.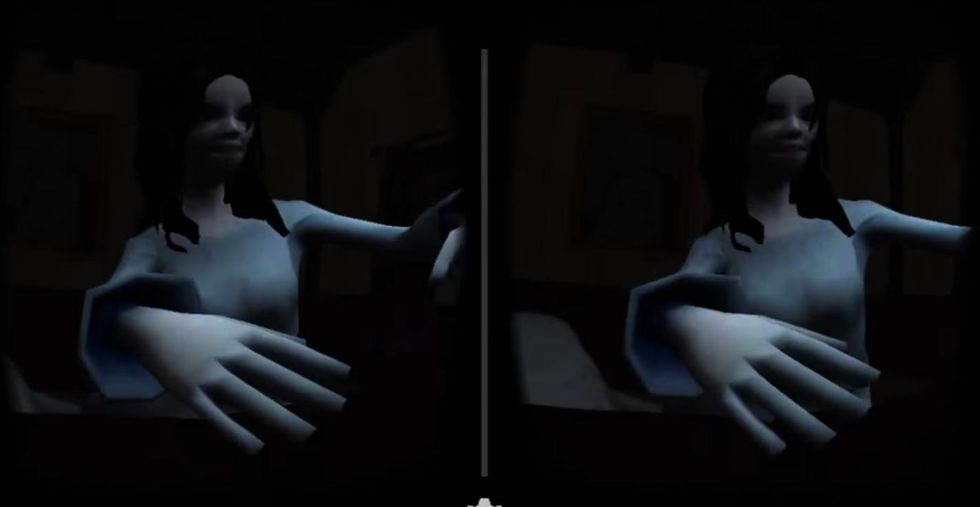 Don't blink while experiencing Sisters
Sisters, which is available for both iOS and Android devices, plays off the eeriness of a Gothic horror story with the suspense of a modern day horror movie. The VR experience also includes jump scares that will get your heart facing. The binaural and directional audio really adds to the immersive experience, so be sure to wear your headphones. While there's nothing too explicit, Sisters recommends the game for teenagers and older. Seriously, don't scar your children by putting them in this scary room alone.
For those looking for a budget VR app, Sisters is free, and matched with an official Blair Witch VR Teaser which is a perfect nightmarish cabin experience to go with your freakish mansion story. Although the teaser is appropriately creepy and somewhat fun, I wasn't a huge fan of how the app just drops you into this experience and looking at other reviews I wasn't the only one who felt a little confused. Some users had challenges even getting past the teaser, which you have to do by staring at the proper command.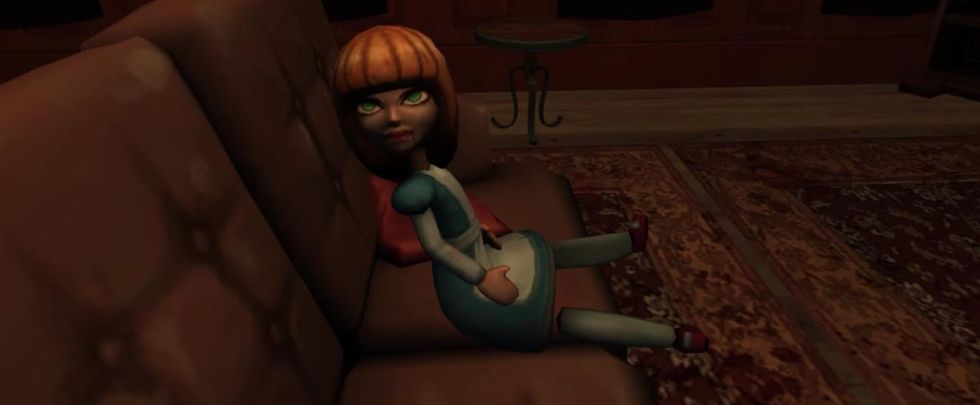 This doll turns slowly, looking right at you, unfortunately.
As a whole, Sisters is a pretty short experience, so I'd recommend it if only to make your friends participate. There were moments midway when I was almost creeped out enough to rip my Google Cardboard off my face, and my immediate reaction afterwards was to make my friends sit through Sisters so I could watch them suffer similarly.
-Charline Jao is a a freelance writer who is passionate about VR and all its applications. She is particularly interested in how VR is changing the idea of narrative and filmmaking.
Related Articles Around the Web
Like GearBrain on Facebook