Like GearBrain on Facebook
Nano drones are a competitive space—there is a lot in this category and many of these multicopters are good enough for beginners to have some fun. Finding one that is also decent at tricks, like flipping, is a bonus. Sky Viper's Nano Drone m200 fills the bill.

Unpacking the review copy, I charged the drone, installed the transmitter batteries and started to fly. Under three-inches in length, with alternating chartreuse and black rotors and some nice LED lights, the quadcopter flew nicely, and fast. I found the drone simple to control, very easy to use, and while the transmitted was very small, it felt also very manageable. The motors also are powerful enough to make you feel the drone is flying fast, particularly in small areas.
I love doing stunts with drones, and the m200 didn't disappoint. The stunt button worked well—you just tap and the quadcopter flips backwards, forwards, left or right in the middle of a flight. That, plus the self-leveling option, makes this a drone that's ideal for beginners. I personally would prefer a mode where self-leveling could be taken off, as I think that adjustment would take the drone to the next level for intermediate users. But I don't think most consumers buying this would be ready to fly without self-leveling on, which it is.

Taking the drone outside, I put the device through its paces, flying for eight minutes straight. The non-removable battery, however, felt really warm. So I would recommend keeping flight time to just about four minutes between charges to not prematurely kill the batteries life. I personally don't like to charge a drone more than three to four times a day, so the fact I couldn't switch out the batteries proved a downside.
Like the drone, the transmitter is also quite small and ideal for small hands, like kids, but is a little more tricky for adults. The drone too is almost so small, I couldn't find it outside once it got more than 10 to 15 feet away: You can barely see the quadcopter. That makes it a drone that best, in my opinion, for small, indoor areas, even though the 2.4 GHz transmitter gives the device a nice range. The size and light weight, though, means you don't have to register the drone with the FAA. (Bonus.)
At just $40, (and we've seen the m200 listed for far less) Sky Viper's Nano Drone is perfectly priced as a starter drone for beginners. While there isn't much new here in terms of features—there's no camera or video on the device, nor a return to home option—its size makes the drone a keeper, ideal for anyone looking for an ultra portable micro drone for their home or for a gift. We'll likely keep this quadcopter around the office for some indoor fun.
Pros:
• Flips nicely
• LEDs help for orientation
• Motors are pretty fast
Cons:
• Small non removable battery
• Had to be trimmed each time I turned it on, even on level surface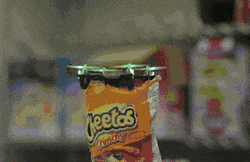 -Jeremy Wyckoff is GearBrain's drone review and an expert FPV and freestyle drone flyer, builder and racer. Wyckoff's spends 4 to 6 hours a week flying drones, including five that he built on his own. Riding motorcycles for the past 16 years, Wyckoff started stunting in 2004 after a crash left him with 70 staples in his leg. He still pushes the limits, but in "..closed areas like parking lots, where there are no cars, obstacles or other distractions." Although bikes of all kinds are his passion, you'll also likely find him on a skateboard, snowboard, unicycle or rollerblades. Check out his YouTube page here.
Like GearBrain on Facebook