Like GearBrain on Facebook
Like the underachieving child out-shined by a successful sister or brother, the under-TV speaker base lives in the shadows of its sound bar sibling, never having reached its expected potential.
Sonos, however, hopes to change that perception with the launch of its first under-TV speaker base, the $699 Playbase. It's available in the U.S. and globally starting April 4th.
Sonos believes Playbase will succeed where others have failed in large part because of its design and diminutive 2.28-inch (50mm) height. Because of Playbase's slim height, a Playbase-TV combo is more streamlined, which Sonos executives said will keep a pedestal-mounted TV from looking clunky or top-heavy when placed on top of the speaker base. And because of its 28.4-inch width and 14.2-inch depth, Playbase fits between the feet and underneath the screens of the growing number of TVs that use separate left and right feet, instead of a single pedestal, to stand up on furniture, the executives said.
Playbase's dimensions were carefully selected to ensure Playbase fits on almost any piece of furniture, they added.
Playbase has a few other things going for it that competing models didn't have, Sonos contended, including simplicity of setup, high-performance music playback, and the company's built-in proprietary wireless multiroom-audio technology.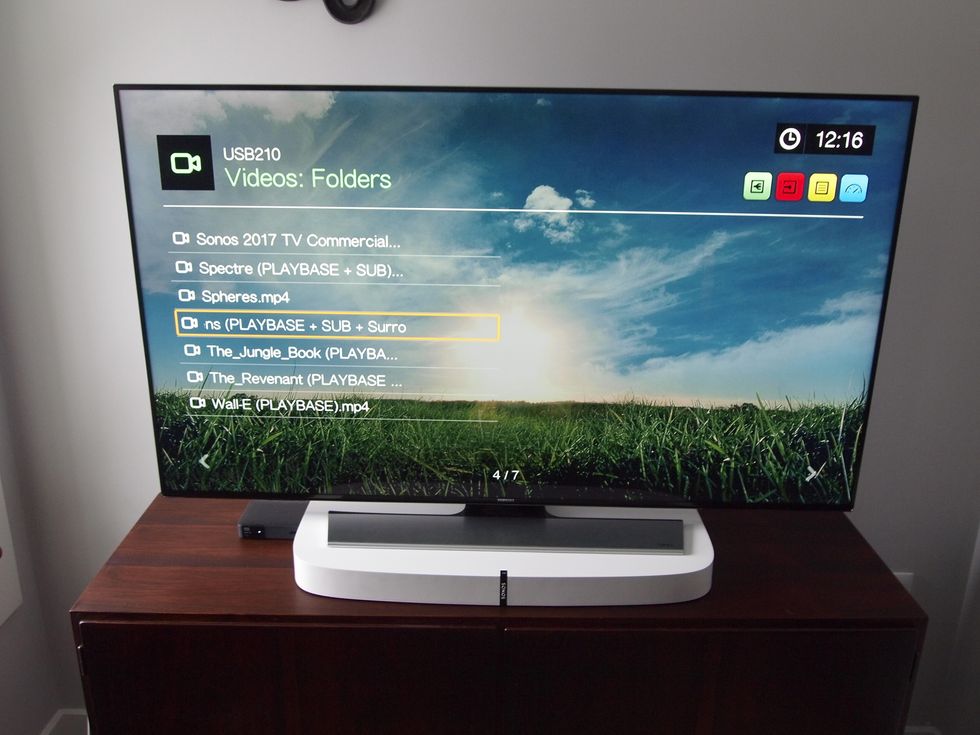 Sonos's $699 2.28-inch-tall Playbase was designed to fit unobtrusively beneath most top-selling TVs and on top of most pieces of furniture.
Base vs bar: Under-TV speaker bases incorporate amplifiers, front-firing speakers and, in many cases, virtual surround processing, which creates a reasonable facsimile of surround sound without cluttering up a room with two or more surround-sound speakers. A flat-screen TV sits on top of the speaker base so the base doesn't block any part of the TV screen.
Sound bars, on the other hand, sit in front of a TV, not under it, and they can be mounted to a wall below a wall-mounted TV.
History lesson: The first speaker bases were launched as far back as 2008 with great fanfare, but now sales are falling, says Futuresource Consulting, and many consumer electronics suppliers are deemphasizing the product.

Sales of sound bars, on the other hand, continue to explode, with U.S. wholesale sales rising in 2016 by an estimated 20% in units and 19% in dollars, Consumer Technology Association (CTA) statistics show.
Sound base sales began to shrink in recent years when TV manufacturers introduced more and more TVs with separate left and right feet instead of a single pedestal, retailers and suppliers told GearBrain. Many sound bases available at the time were too tall to fit under the TVs' screens between the TVs' feet, they said.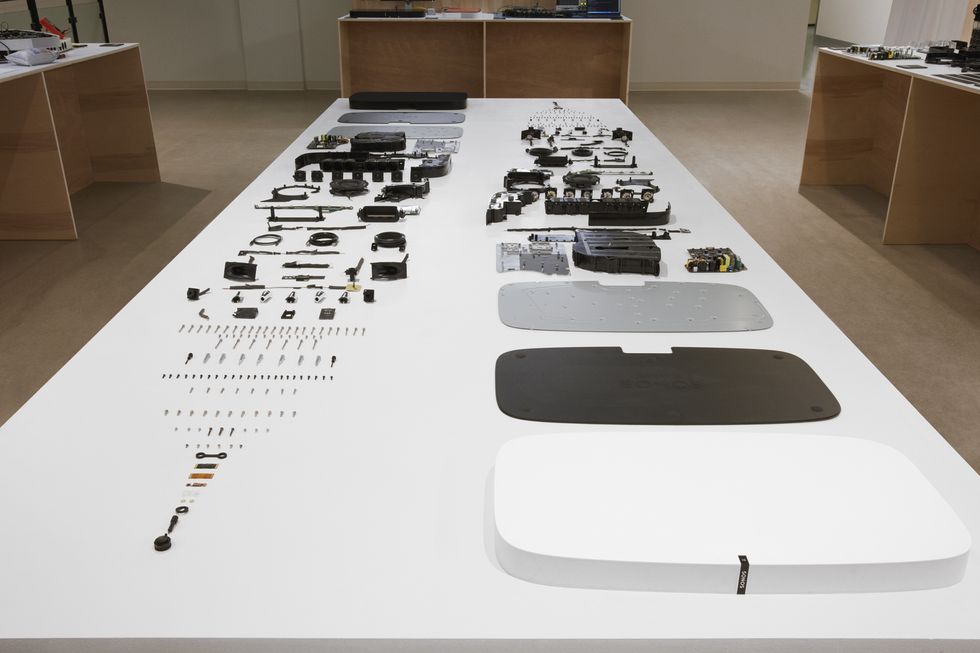 What it took to make the Playbase.
Design appeal: Playbase, on the other hand, gets along with split-feet TVs, and its understated rounded-off design (in a choice of black or white) looks good and fits well on almost any piece of furniture, Sonos executives said.
"It doesn't look like a consumer electronics product but looks like an object that you would not mind having in the home like a fine piece of furniture," said Tad Toulis, Sonos design VP.
Playbase becomes an "extension of your furniture," and it's low enough so it doesn't look like a pedestal TV will fall over if placed on top, added Chris Kallai, head of product management.
Many consumers "shore horn in speaker bases that don't fit," Kallai said. But Sonos researched the top-selling TVs as well as the top furniture sizes to choose Playbase's dimensions, then "designed the electronics and acoustics to fit," he said. "Our shape fits 95 percent of the top 70 TVs."
Playbase's dimensions are "wide enough for TVs but not too big for the furniture that you have," added Michael Papish, Sonos's director of global platform marketing. "It took more than three years to create the form factor so it would disappear and deliver great sound." He described Playbase's look as a "monolithic slab without seams," thanks to a glass-filled polycarbonate exterior that minimizes vibration and is strong enough to withstand the weight of a TV.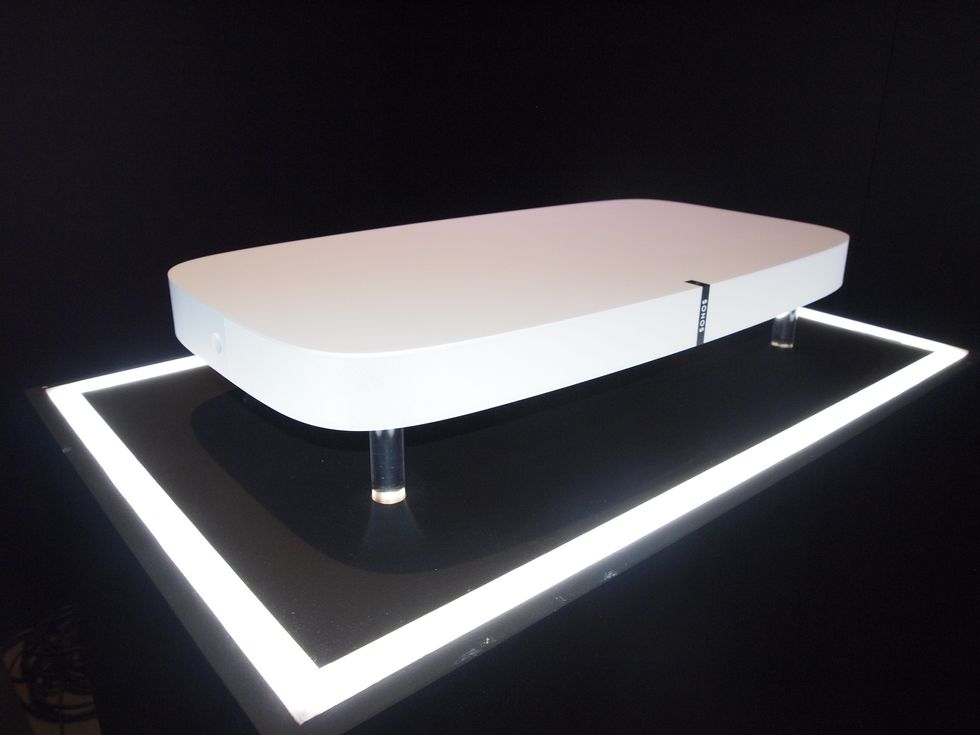 Sound bar alternative: Playbase is intended for locations in which "sound bars would be a precarious fit," Papish said. Many sound bar owners "cram sound in places where it doesn't fit." In fact, although 70 percent of TVs sit on furniture, "the majority of sound solutions sold are sound bars intended to be on the wall," he claimed.
Because Playbar and Playbase deliver "similar performance" and are priced the same, "consumers will choose one based on how they will use it," Toulis noted.
Product features: Like the company's $699 Playbar sound bar, Playbase combines proprietary audio processing and a pair of side tweeters firing out at an angle to deliver a wide sound stage and reproduce discrete surround-sound effects. It also features six low-mid drivers and one tweeter in front plus an internal active 5.25-inch woofer, which fires through an S-shaped port to deepen bass.
Playbase delivers deeper bass than the Playbar, and anyone who wants deeper and louder bass from either product can connect Sonos's optional $699 wireless subwoofer, said Ian Popkin, product creation leader.
With proprietary surround virtualization technology and built-in Dolby Digital 5.1 decoding, the Playbar and Playbase deliver discrete sound effects that sound as if they're originating from your left and right when a TV sends a 5.1 signal through its digital optical output.
A pair of Sonos's wireless multiroom speakers, however, can be pressed into service as wireless surround speakers to deliver a more compelling surround experience, with sound seemingly emanating from behind, not just to the left and right.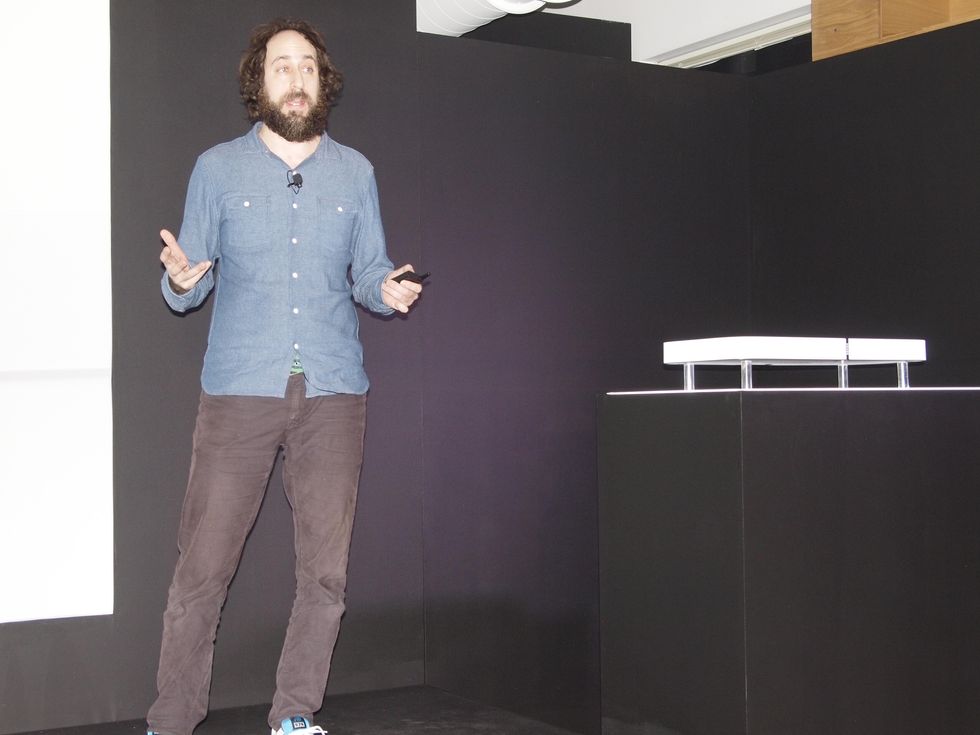 Playbase is designed "to match the way you want to live," not force people to "change their homes to accommodate sound" with a roomful of speakers, said Michael Papish, Sonos director of global platform marketing.
Simplified set up: Like the Playbar, Playbase features one optical input, which connects to a TV's optical output. Both speakers eschew source-selection controls and HDMI connections, leaving HDMI video switching to the TV.
"Options equal confusion," said Kallai, and optical cables are thinner and lighter than HDMI cables, he explained.
A direct connection to a TV's optical output does somewhat limit your surround-sound playback options, but Sonos contends the vast majority of consumers would be happy with the performance delivered by optical.
For one thing, smart TVs send Dolby Digital 5.1 from built-in video-streaming services through their optical outputs for decoding by Playbase. Many but not all TVs also pass through Dolby Digital 5.1 from their HDMI inputs through their optical outputs to Playbase and Playbar, the executives added. These TVs include all Vizio TVs, most Sony TVs, and a growing number of Samsung and LG TVs, they said.
If a TV doesn't pass through Dolby Digital from an HDMI input, the TV sends out two-channel PCM though its optical output. Playbase then processes the stereo signal to deliver surround-like effects, Sonos said.
Sonos's home theater solutions exclude DTS surround, but Popkin noted that DTS is not used as much as Dolby Digital in streaming. Sonos, however, could add DTS via a firmware upgrade to Playbar and Playbase if needed, he said.
Both home-theater solutions, like all other Sonos speakers, will get a firmware update sometime this year to network with Amazon's voice-controlled Echo, Tap and Dot smart Wi-Fi speakers. The Amazon speakers will be able to stream their music content through Sonos speakers scattered throughout the house. And consumers will be able to use the Amazon speakers' microphones to control the play, pause and skip functions of Amazon services playing through the Sonos speakers.
The speaker works with existing TV remotes and sends TV sound wirelessly to Sonos speakers in other rooms.
Playbase will be the first under-TV speaker base that integrates with Amazon's voice-controlled digital-assistant speakers, and Sonos believes that feature and other differentiating factors will lead to success.
We'll find out in a year or so.
Like GearBrain on Facebook