Updated October 17, 2018: Almost two years ago, GearBrain introduced our readers to a new alternative smart home system called Amazon Echo. Many consumers were wondering about this little device, how it worked and who was Alexa. GearBrain editors didn't wonder; we recognized the power of this new connected device and how it would help simplify smart home systems. We saw the power of Amazon Echo and how it was making voice the new app in our new smart home ecosystem. We also saw how Amazon made the setup for this new smart speaker assistant so easy for consumers. However, we never actually did a thorough review of the Amazon Echo—so we finally did.
Setup

After testing several smart home systems and products, we must say this is the easiest new connected device to set up. Amazon Echo comes with the Echo, a power adapter and cable (6 ft.) and a quick start user guide. That's all. You just plug in the Echo, download the Amazon Alexa app onto our smartphone and you are ready to go.
Amazon Echo connects directly to your home Wi-Fi. After downloading the Alexa App, which is free and works with Android, iOS and desktop browsers, you follow the app instructions. You are connected within minutes and ready to start asking Alexa questions.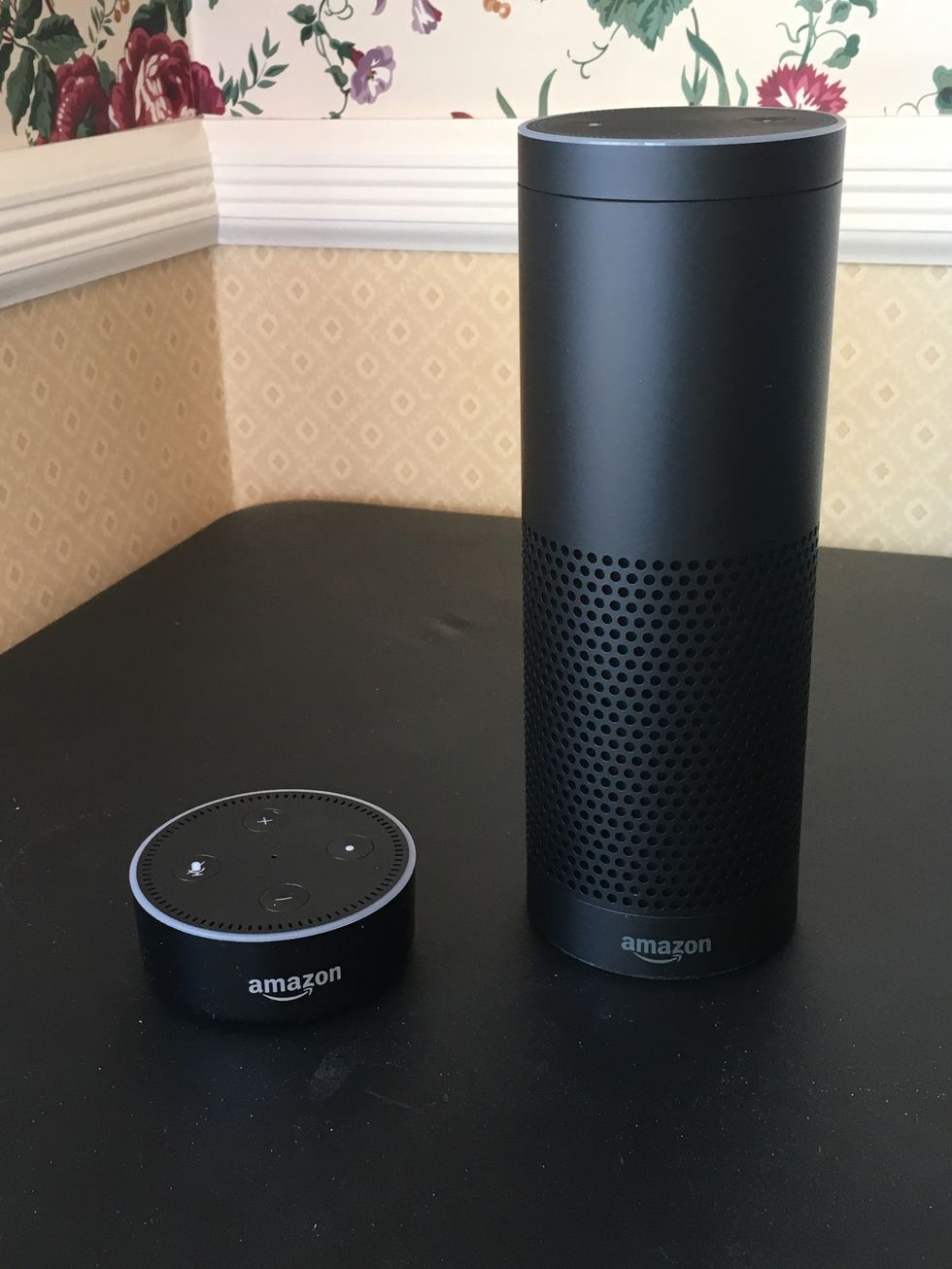 Amazon Echo and DotGearbrain
Echo

There are three types of Amazon Echos for you to chose from: Echo, Tap and Echo Dot. The Echo Tap is a portable Bluetooth and Wi-Fi enabled speaker. Echo Dot is a hands-free, voice controlled device that is the same as Amazon Echo but it just doesn't have a speaker.
Amazon Echo comes with a hands-free speaker you control through your voice. It connects to Alexa voice service to play music, provide information like news, sports scores and more instantly. The device has a microphone off button, a light ring which tells you about the Echo's status, a volume ring which you turn clockwise to increase volume and counterclockwise to decrease. There is also an action button which turns off the timer or alarm. If you hold it for five seconds, it will enable Wi-Fi setup. There is a Power LED which shows current Wi-Fi status (solid white light means device is connected to Wi-Fi, solid orange light means no Wi-Fi and blinking orange light means you have Wi-Fi but no Alexa Service.)
How to Use Amazon Alexa Enabled Devices www.youtube.com
Here are Echo specifications:

9.3" x 3.3" x 3.3." (235mm x 84 mm x 84mm)
37.5 oz. (1064 grams)
Wi-Fi Connectivity – dual-band, dual-antenna Wi-Fi (MIMO). Supports 802.22 a/b/g/n Wi-Fi networks. Does not support connecting to ad-hoc (peer-to-peer) Wi-Fi networks.
Bluetooth – Advanced Audio Distribution Profile (A2RCP) supports audio streaming from smartphone/tablet to Amazon Echo and Audio/Video Remote Control Profile (AVRCP) for voice control of connected mobile devices. Note: hands-free voice control is not supported for Mac OS X devices.
Speaker: 2.5" woofer and 2.0" tweeter
System Requirements: Connects to Wi-Fi network. Alexa App is compatible with Fire OX, Android, and iOS devices. Accessible via your web browser.
1 year limited warranty and service. Optional 1-year, 2-year and 3-year extended warranty available for US customers sold separately.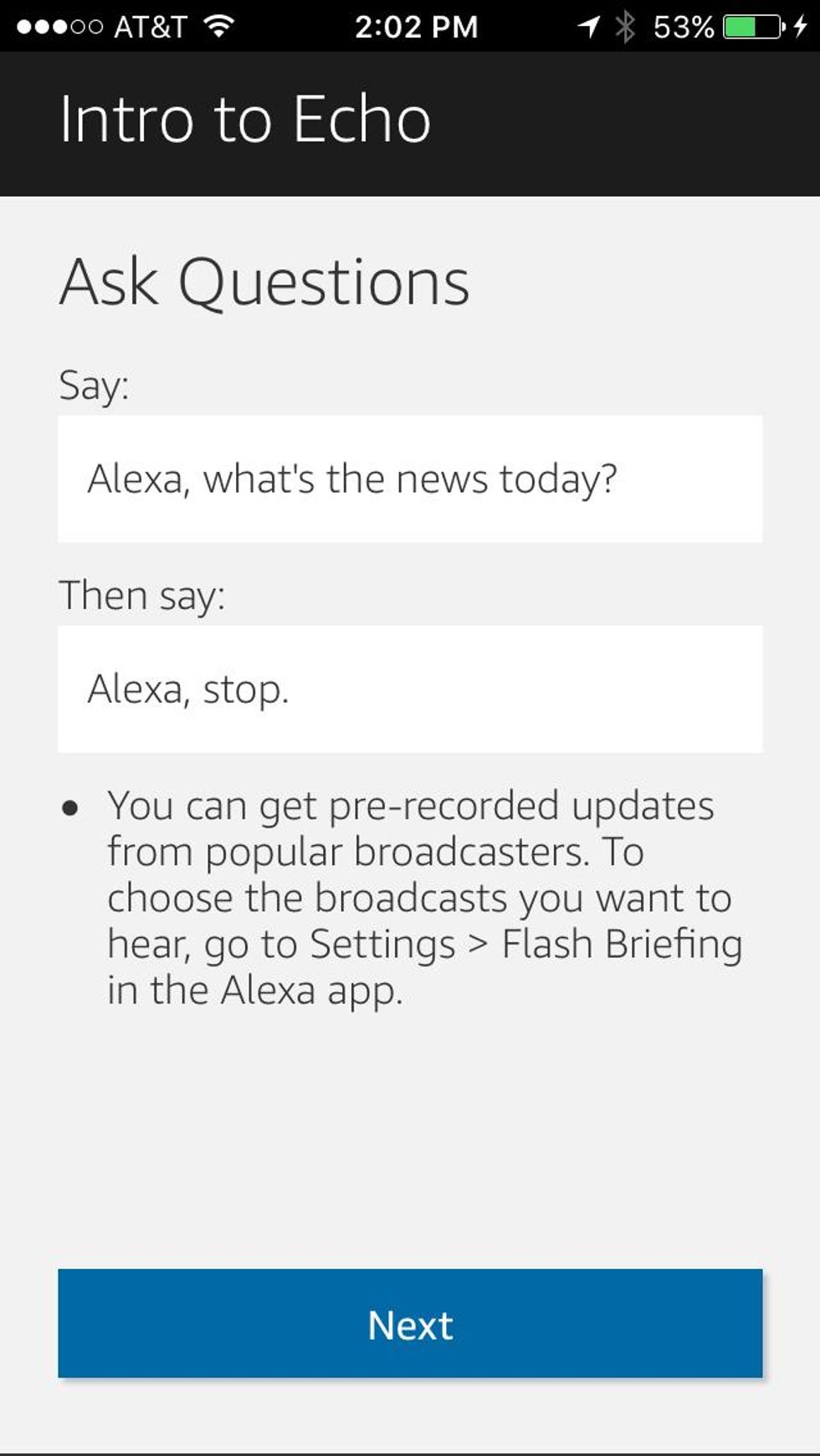 Amazon Alexa App GearBrain
Alexa App - Asking Questions

Now that your Amazon Echo is set up and ready to go, you need to keep a few things in mind. First, Amazon Echo is a voice-enabled assistant which is also a A.I. system that can operate your smart home system or products. It can be also a digital assistant that runs your calendar, find restaurants, check local weather and even help with homework.
Buyers also need to be aware that Amazon Echo is a device that is always listening. Once it hears the magic word or trigger "Alexa", it is ready to respond to whatever is asked. Though we like this simplification, it would be better if there was more security built into the product. For instance, we would recommend Amazon Echo respond based on voice activation and recognition. This way, more control is with the owner and not with anyone who can say "Alexa."
Regarding questions to ask Alexa, it's all based on how you want to use your Amazon Echo. Alexa can be used to control your music and media or be used as a timer or alarm. It can manage your lists or link to a third-party list service (i.e. any.do or to do list) to help you better manage your tasks or help you remember something. You can ask Alexa to add things to your calendar and even send content to Amazon Fire Tablet (running Fire OS 4.5.1 or above). Alexa can answer questions about traffic and help you go shopping.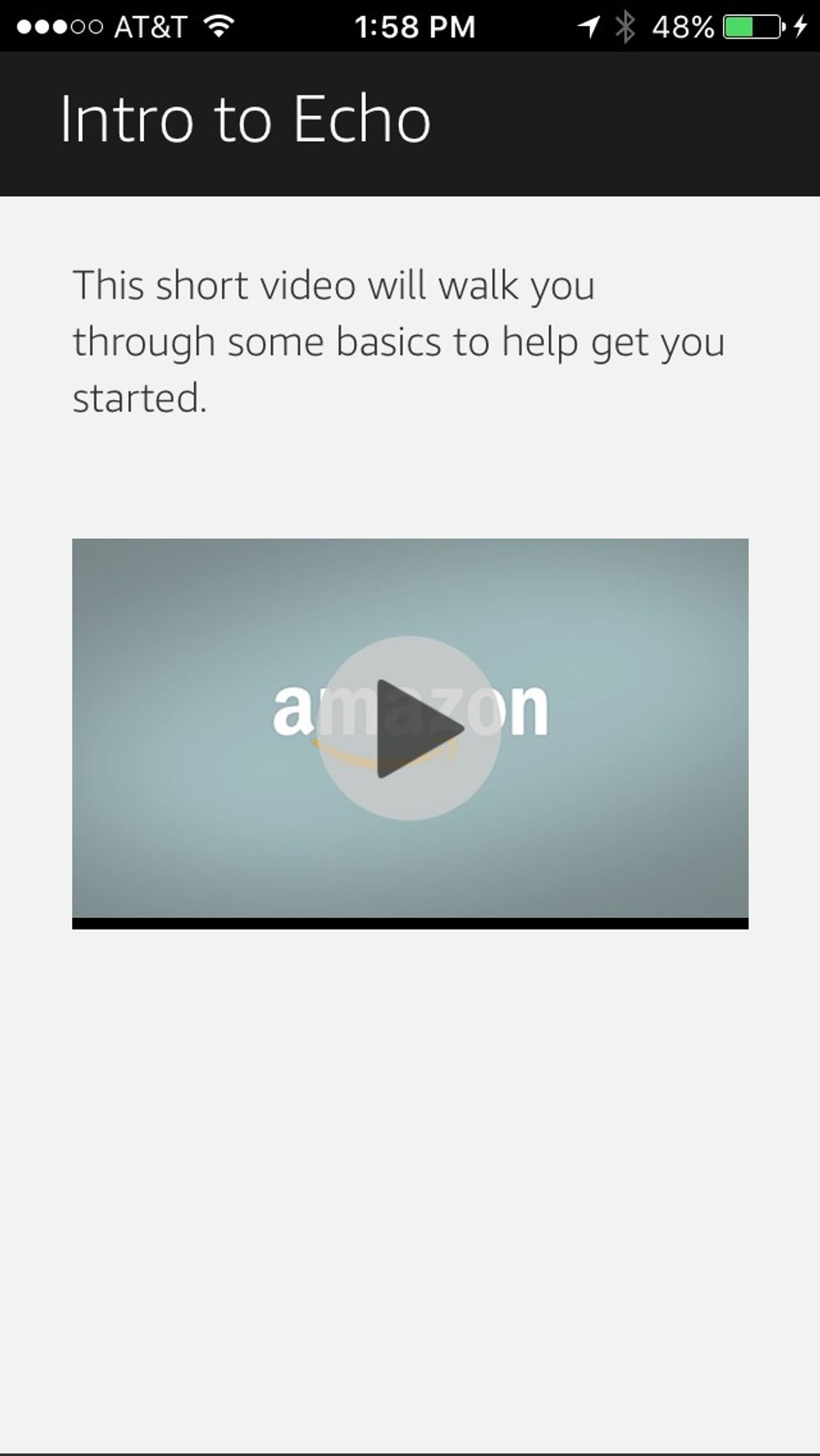 Alexa App has helpful setup videoGearBrain
Amazon Echo also has skills. These are more than just questions, they are capabilities like ordering a pizza from Domino's or requesting an Uber. GearBrain likes the smart home skills and how Alexa supports and connects to smart home devices. You will find a full list of skills (especially the smart home) in the Alexa app. But keep in mind that before you enable smart home skills or any skill you need to read Safety Information for Using Smart Home Devices with Alexa. It will provide guidelines when using Alexa with any of the smart home devices it can control.

In addition for the smart home skills, you need to make sure you say, "Alexa, open (skill name)" before making your request. This way Alexa will understand what you want done. If you have any problems, just go to the Alexa app. There you will find all the answers to any questions that might come up during the setup of Amazon Echo, when using Alexa, using skills to connect to devices. We found the app to be very informative and easy to use.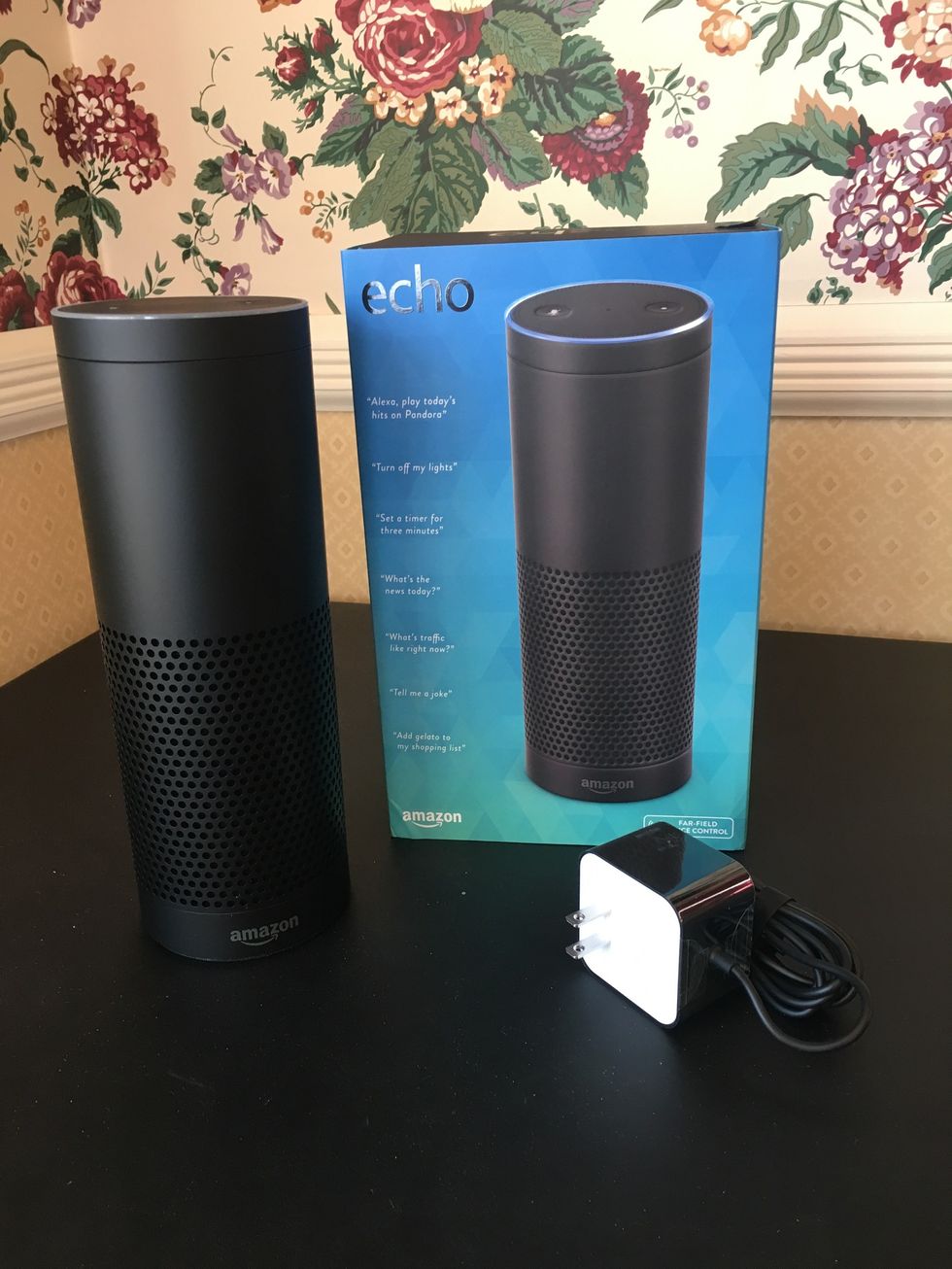 Amazon Echo 1st Gen smart speaker unboxedGearBrain
Smart Home Connectivity

Amazon Echo brings voice control to your connected devices by speaking to Alexa. There are many companies who are now integrating with Amazon's Alexa Voice Services to have their devices work with Alexa. Over the coming weeks, GearBrain will be providing you with a list of all the products that can be controlled by Alexa. You can also go to Amazon to see if your connected smart home device is Alexa enabled. (Check out The GearBrain, our smart home compatibility checker to see the other compatible products that work with Amazon Alexa.)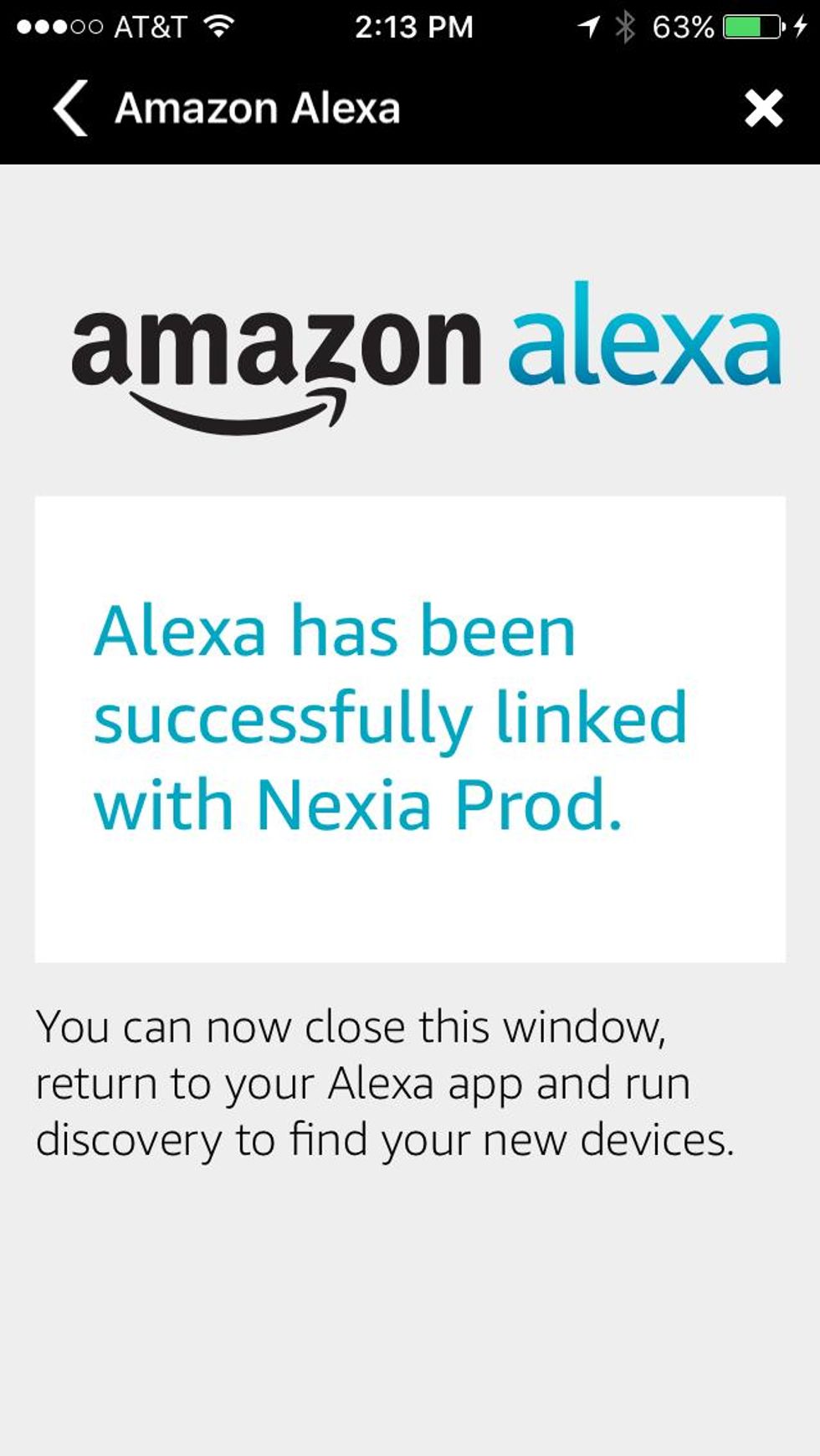 Alexa app GearBrain
Summary

Home automation is moving forward and at some point, GearBrain believes every home will have its own Operating System (OS). Amazon Echo can be one of the leaders in developing a new smart home OS. It is simplifying the building and connectivity of smart home system for consumers. The device is easy to use and connects seamlessly with your smart devices. If you are looking for a A.I. digital assistant that can help you run your life more efficiently, make your home smarter and be a voice to talk with when you need a friend, Amazon Echo is the perfect solution. It's also one of the best-connected devices to start with when building your smart home.
Pro: Easy installation, skills, AI, Alexa Voice Services, long list of compatible smart home products/systems
Cons: Only voice activation, always listening
(You can learn more about Amazon's new Echo products by visiting GearBrain's Amazon unveils a new $99 Echo plus other Alexa goodies at surprise event.)