Spotify is getting even more serious about producing its own hardware, as the music streaming service has now registered with the FCC.
The Swedish company was on Tuesday (June 5) given a grantee code by the FCC, which is evidence of it signalling its intention to test wireless devices intended for sale in the US. This is something all companies have to do before they can test and then sell wireless devices here.
For those who are interested, the grantee code - as discovered by Variety - is 2AP3D. When searched for on this FCC web page, the site says the grantee code belongs to Spotify Inc. and is associated with Daniel Bromand, an engineering manager at the music company.
The next step will be for Spotify to have its mystery product tested and then approved for sale by the FCC, a step which must be completed before it can be sold to the US public.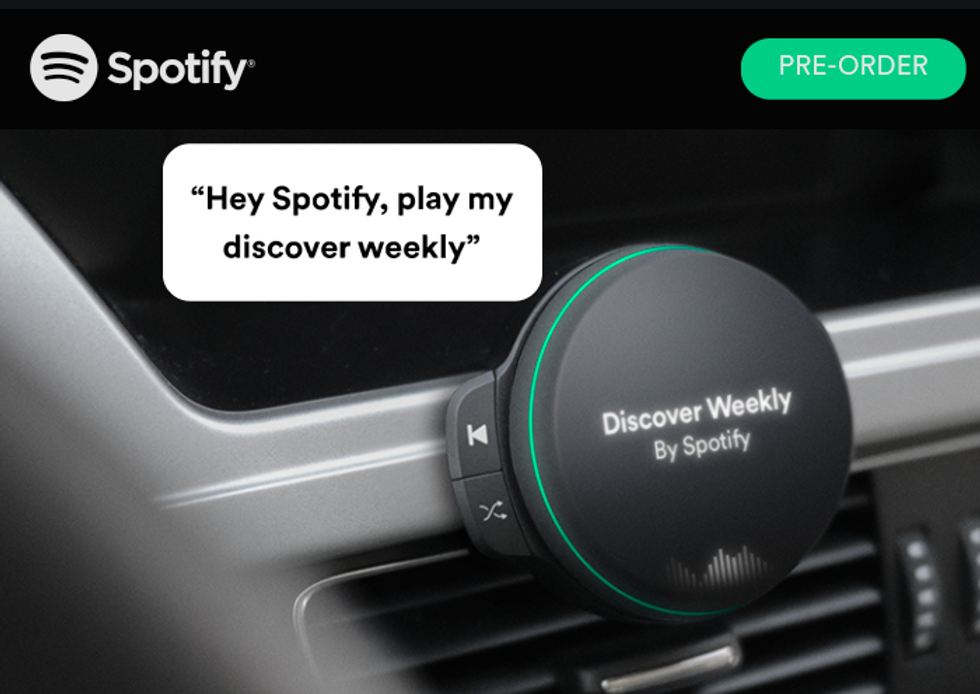 This image was mistakenly sent to some Spotify users in February 2018Reddit (FlexinFiesta)
It has been rumored for some time that Spotify is getting into the hardware game, as back in April 2017 job adverts for roles like "Senior Product Manager - Hardware" appeared on the company's website. The vacancy was described as "leading an initiative to deliver hardware directly from Spotify".
Then, in February 2018, more job vacancies appeared. This time, they described roles for producing hardware, not just designing it. Roles included "Senior Project Manager - hardware production".
In the same month, some Spotify users posted on Reddit to say thy were shown an offer for a device that would bring Spotify music streaming to cars lacking the technology as standard. An image, above, showed a circular device fitted to a car's dashboard air vent with a simple display on the front and buttons for music playback.
Spotify has not commented on any stage of this story, but interestingly has deleted a tweet sent from its customer support account claiming the product image was an accidental "test message".