Like GearBrain on Facebook
It looks as if Spotify is ramping up plans to build its own speakers, as the music streaming company is currently advertising several roles in hardware production.
With Amazon, Google and Apple all producing their own speakers - along with industry veterans like Sonos - it is no surprise that Spotify is looking for a slice of the action.
Although the streaming company can be used on devices by all of those manufacturers, this is clearly an incentive to build its own instead of relying on customers to access its services through third-party devices.
One job listed on Spotify's website is looking for a project manager to take control of the company's hardware production and engineering division. The advert describes someone who will "contribute in the creation of innovative Spotify experiences via connected hardware" and says the successful candidate will work with "a team of world-class Spotify engineers and designers, contractors, manufacturing suppliers etc."
Three jobs currently being advertised by Spotify include:
First spotted by Music Ally, the job descriptions make no secret of Spotify's plans to design and produce its own hardware. They talk of employees working with suppliers, designers and manufacturers to deliver hardware; they are all based at Spotify's headquarters in Stockholm, Sweden.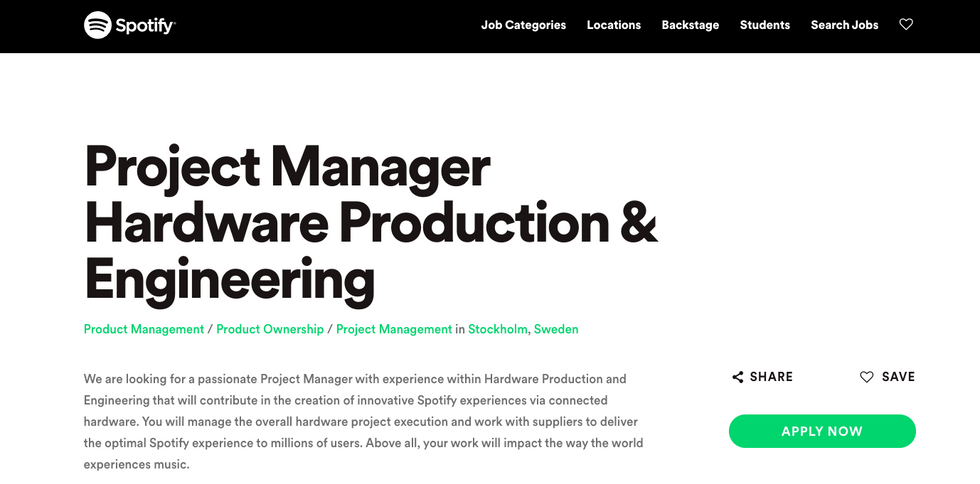 Job advert suggests Spotify is working on hardwareScreenshot
A smart speaker is the obvious suggestion for what hardware Spotify is working on, capitalizing on the success of the Google Home and Amazon Echo ranges, which span from $50 to $400 and all feature an artificial intelligence in the form of Google Assistant and Amazon Alexa.
It will be interesting to see what Spotify's plans are here, if it does indeed produce a smart speaker. Will it use Alexa and Google Assistant, as with the Sonos One? Or will it go down the longer and more expensive route of creating its own virtual assistant? We hope these questions will be answered later in 2018.
While these rivals all offer streaming service of their own, Spotify is the world's largest with over 140 million active users. Although Apple Music is tipped to overtake it in June, that is only for paying subscribers in the US. In the rest of the world, Spotify will remain the market leader.
From Your Site Articles
Related Articles Around the Web
Like GearBrain on Facebook