Tesla Round 2 The National Highway Traffic Safety Administration (NHTSA) says it's looking into a second Tesla accident that also involved the car makers autopilot feature. This time a Tesla Model X crashed on the Pennsylvania Turnpike. But Tesla had stated that it couldn't determine whether or not Autopilot was involved during the accident because the company could not reach the driver, reported the Detroit Free Press. But the NHTSA has decided to look into the matter itself.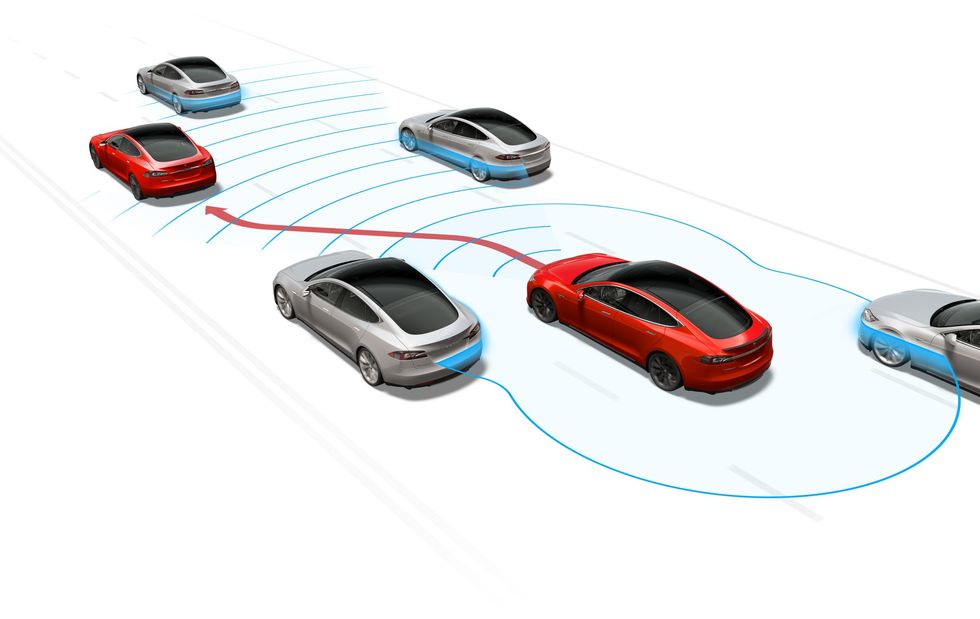 How Tesla illustrates its Autopilot feature at work.Photo courtesy of Tesla Motors
LG + Volkswagen Car maker Volkswagen and electronics manufacturer LG want you to control your smart home from your car. The two have inked an agreement to allow drivers to turn on lights, set security systems and even check in on the kids at home, all from inside their vehicle. While specifics weren't made available—such as what features would be rolled out first, or even when—the partnership is another sign of how badly car makers want to part of the Internet of Things.
SmartWatch Leaks Wearables could be leaking data—including your PIN number. Because of sensors in devices like smartwatches and fitness trackers, they could record hand gestures, determining the way someone, for example, types in a PIN number—and transmit that information, according to a new paper from researchers at the Stevens Institute of Technology. After building an algorithm (an exploit that could be used by hacker) the researchers were able to accurately pick out a PIN number 80 percent on the first try—and 90 percent on the second try.
Say 'Xfinity You can now talk to smart home devices that are linked through media company Comcast's Xfinity platform. Controlling everything from a door sensor to the company's latest release, a home camera, users will just say the word "Xfinity" and then add the name of the devices such as "Xfinity Home Camera" or "Xfinity Home Arm." Voice control is a feature consumers are clearly eager to adopt as they add more smart devices to their home.
Swim Gear Looking for the best gear to up your swim game? We've got the details on fitness trackers that will help you trim time from your laps—including how deep these waterproof devices can dive.