Tesla Travels Farther Tesla is pushing out a new battery that would push the distance its vehicles can go—up to 315 miles for its Model S, and 289 miles for the Model S on one charge. Tesla says that makes its highest end model the "longest range production electric vehicle by far." One of the drawbacks for pure-play electric cars, as opposed to hybrids are the need to recharge more frequently. Having a car battery that can help an electric vehicle go further without stopping will go, further, in sales. But honestly, you're still not getting from Mountain View to Vegas (Baby) on one charge.
Pokémon Go Stampede Okay, perhaps the calls for Pokémon Go's demise were a bit too soon. At least in Taipei, Taiwan, where a wave of players thronged the streets reportedly chasing a rare Pokémon called Snorlax this past week. If you don't play Pokémon Go (and seriously, you're in the minority, at least for now) you're don't know the endless sea of Pidgeys, Weedles and Caterpies that clog your menagerie. Rare Pokémons are exciting after a diet of the same. But a street chase for Snorlax? Hmmm....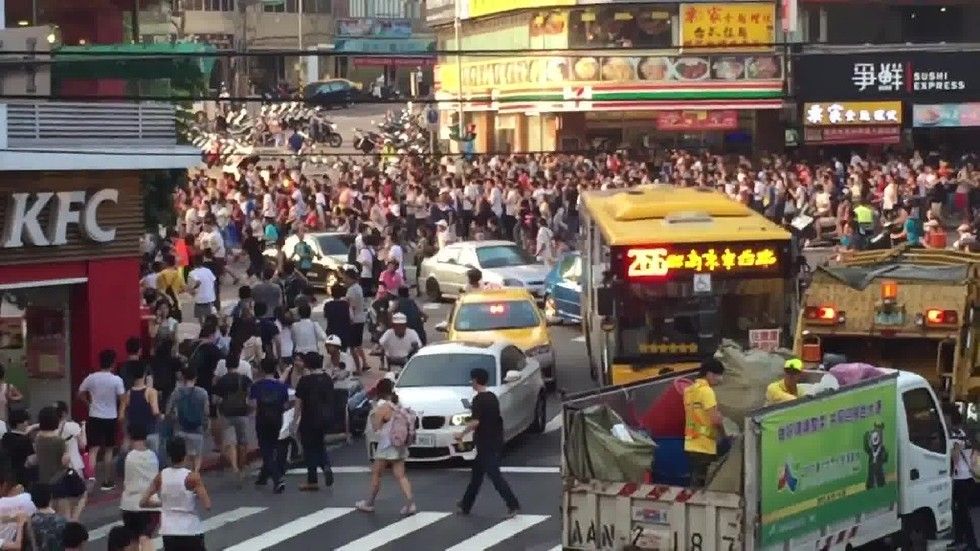 Pokémon Go stampede in Taiwan
HoloLens Secrets Revealed Microsoft gave a peek inside its augmented reality device HoloLens, explaining how the device will be able to deliver mixed reality to wearers quickly. The key appears to be its chip which is robust enough to work 200 times faster than others. HoloLens has already started shipping out to early adopters willing to pay its $3,000 sticker price. (Via PC World)
Smart Home Staging Realtor Coldwell Banker is giving its clients a chance to upgrade their homes to smart spaces—in hopes to help them attract buyers. The kit costs just under $1,000 and comes with a number of Nest, August and Lutron products including a smart thermostat, smart lock and an indoor security camera. For those who end up buying one of these homes, there are also instructions on the site to activate and get their smart home up and running.
Pokémon Go's Achilles Heel Pokémon Go's sudden rise, and beginning fall, makes sense to USC's Brad Berens who believes that this time next year the augmented reality game will be a thing of the past. His reasoning? We'll let him explain.