Like GearBrain on Facebook
Amazon's Echo smart speakers can already be used as a household intercom system. But where that only lets you speak though one Echo or compatible Sonos at a time, the Alexa Announcements feature means you can broadcast messages to an entire house at once.
Say you have an Amazon Echo in the kitchen, a Sonos in the lounge, Echo Dots in the bedrooms and even an Ecobee thermostat in the hallway. If you want to tell the whole family that dinner is ready, or that the evening's movie is about to start, you can broadcast that message through every one of these devices simultaneously.
Read More:
When Alexa Announcements launched back in 2018, it only worked with Echo products. This was expanded to include Alexa-equipped Sonos speakers, like the One and Beam, later that year. But from May 2019 this was expanded again, this time to include all Alexa-equipped devices. This means that any smart home product, with a microphone and speaker for communicating with Alexa, now works with Alexa Announcements.
How to use Alexa Announcements with a voice command:

Using the Alexa Announcements feature is very simple. Just speak to any one of your Alexa devices and say: "Alexa, announce that…" and read out your message. Instead of reading your message in her own voice, Alexa will make a chiming noise through every compatible speaker or device in your house, then repeat an audio recording of what you said.
You can also trigger this action by saying: "Alexa, tell everyone…" or "Alexa, broadcast…"
If you'd rather break the command into two utterances, you can say: "Alexa, make an announcement." The assistant then prompts you to state your message.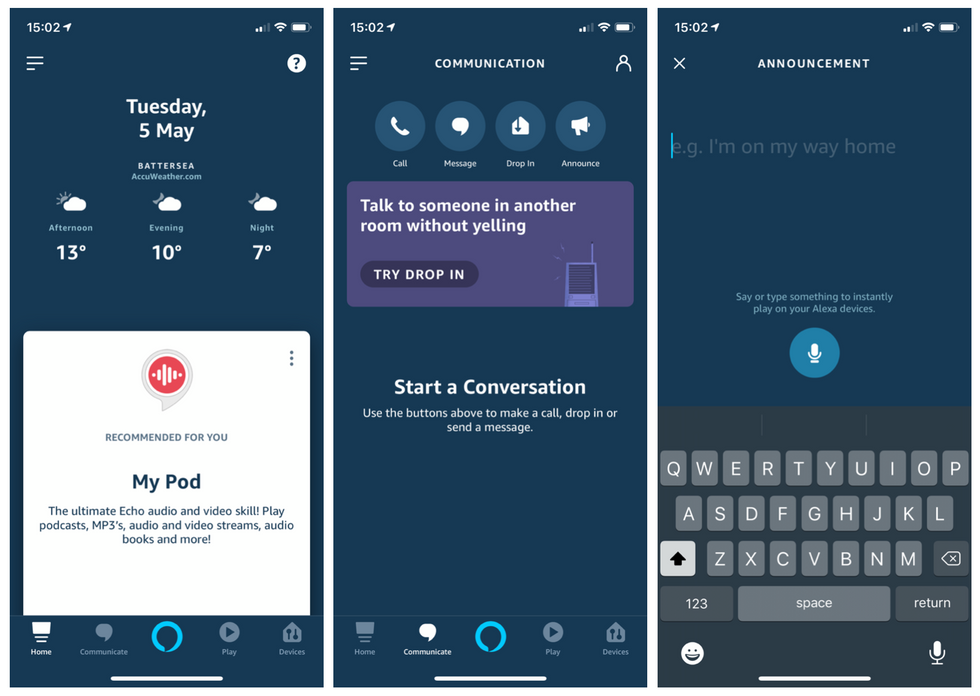 Making an announcement with the Alexa appGearBrain
How to use Alexa Announcements using the Alexa app

You can also trigger an announcement by typing it into the Alexa app, instead of speaking aloud. This could be useful if you want to broadcast a message across the home, but are out of earshot of an Alexa deice, or if you are away from home. You could quickly type "I'm on my way home" into the Alexa app as you leave the grocery store, to have the assistant inform your household.
To do this, open the Alexa app, tap on the Communicate icon in the lower-left, then tap on the Announce button at the top, and type your message. Messages typed into the app will be read out in Alexa's voice, whereas messages spoken into the app will be played directly, using your voice.
Alexa will send the announcement to every compatible device in the home, so long as they are registered to the person sending the announcement, or to a member of their Amazon Household. An announcement will not be sent to a device if it is being used for a call or drop-in, or if its Do Not Disturb mode is enabled.
How to stop a speaker from receiving Alexa Announcements
To stop any Alexa device from receiving Announcements, follow these instructions:
Open the Alexa smartphone app
Tap on Devices in the lower-right corner
Tap on Echo & Alexa
Tap on the device you want to edit
Scroll down and tap on Communication
Tap on Announcements, then tap the toggle switch to disable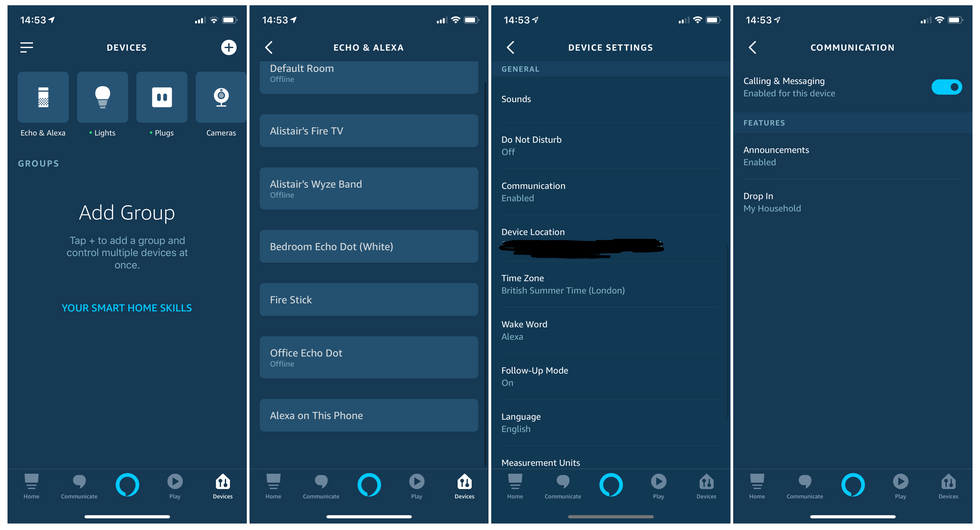 How to stop receiving Alexa AnnouncementsGearBrain
Google Home can also do announcements - but with its own voice

Since 2017, Google Home users have been able to make household-wide announcements by speaking to Google Assistant. But where Alexa merely plays an audio recording of what you said, Google Assistant will read out some of your more common broadcasts in her own voice.
We found that asking Google Assistant to "broadcast that dinner is ready" causes her to make a chiming noise, then say: "Dinner time, come and get it." She can also say "Time for lunch, enjoy", but if you say something more complex she will act in the same way as Alexa, repeating a recording of your message instead.
Read More:
Like GearBrain on Facebook