Just hours before it is due to formally launch its new Model S Plaid edition and make the first customer deliveries, Tesla has increased the price of its electric flagship by a considerable $10,000.
The tri-motor car is now priced from $129,990 before optional extras and savings are taken into account. The price increase comes just hours before the company is due to hold a launch event for the new Plaid edition, at its Fremont, California facility.
Read More:
The event is due to start at 7pm local time this evening (June 10), although Tesla has a habit of delaying the start of such events. It is where the first deliveries of the Model S Plaid are due to take place.
The company is expected to show off the new interiors of its Model S and Model X, while also confirming the performance of the new Model S Plaid, which boss Elon Musk claims is the quickest-accelerating production car ever made. To make that claim a reality it will have to sprint to 60mph in under the claimed 1.85 seconds of the Rimac Nevera, a new electric hypercar.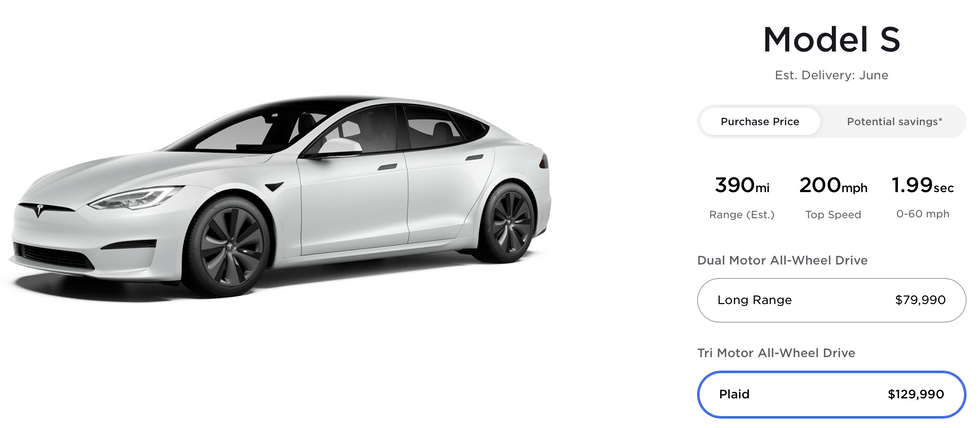 The Model S Plaid now starts at $129,990 before options and savingsTesla
Tesla's price increase, first spotted by Electrek, comes in the same week that Musk announced an even quicker (and more expensive) variant, called the Model S Plaid +, had been cancelled. Music said this was due to the regular Plaid already being so impressive, but why the company would ditch a car so close to launch isn't entirely clear.

Tesla is no stranger to price increases (and the occasional decrease, too), with the Model 3 and Model Y seeing their prices increase over time too. These small increases, usually in the region of $500 or so, can be put down to fluctuations in the supply chain, but a $10,000 jump for the Model S Plaid will need further explanation from Tesla.
Hopefully this will be clarified at the event this evening, when we finally get to see what the Plaid is capable of.