Like GearBrain on Facebook
Tesla this week hosted its Battery Day event, which included several announcements about what the company has planned for the coming few years.
Chief executive Elon Musk said the electric car maker plans to move towards eliminating cobalt from its batteries and build a cathode plant to streamline battery production. With those batteries, Musk claimed Tesla will be able to produce a car costing from $25,000, around $10,000 less than its current cheapest car, the Model 3.
Read More:
Musk first made his prediction of a $25,000 Tesla back in 2018 and said it would be possible in three years' time. It is likely that Tesla will now fail to meet that timeline, but the Battery Day comments suggest that vision is still alive, and could be possible in the coming couple of years.

Tesla also plans to create so-called 'tabless' batteries, which will be produced by the company itself instead of an outside supplier like LG or Panasonic. These batteries, which lack a tab used to connect the cell to whatever it is powering, are claimed to be a massive six times more powerful than what Tesla currently uses, and increase vehicle range by 16 percent.
Finally, Musk used the Battery Day event to announce a new version of Tesla's Model S sedan. The company's oldest vehicle, the Model S is now being offered with a flagship 'Plaid' drivetrain configuration.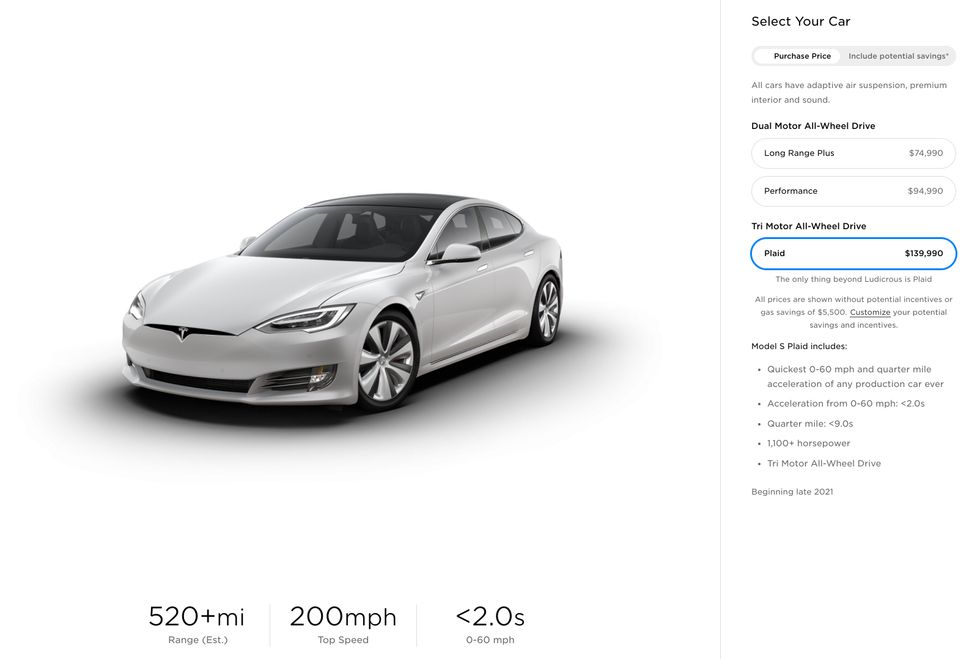 Model S Plaid listed on the Tesla websiteGearBrain
This adds a third electric motor to the car, lowers the 0-60mph time from 2.3 seconds in the Model S Performance to a Tesla Roadster rivalling sub-2.0 seconds. The Paid upgrade also increases range from 402 miles in the Model S Long Range Plus to a claimed 520-plus miles, and the top speed is a claimed 200mph, up from the previous highest of 163mph in the Model S Performance.

It's a serious upgrade for the Model S, and as such is priced at $139,990 before incentives, up from $94,990 for the Model S Performance and $64,990 for the entry-level Long Range Plus variant.
Tesla says the Plaid car has the "quickest 0-60mph and quarter mile acceleration of any production car ever," and states the quarter-mile time as being under 9.0 seconds. The total power output is claimed to be over 1,100 horsepower. If some of this sounds familiar, Tesla also claimed its second-generation Roadster was the world's quickest car back in November 2017, but that is yet to go into production.
Tesla fans wanting the ultimate Model S will also have to be patient, as the company says the car will be available "beginning late 2021".
Seven Sparta Charging Cable Holder Organizer for Tesla Model 3 Model X Model S Charger Cable Organizer Tesla Accessories Car Wall Connector
From Your Site Articles
Related Articles Around the Web
Like GearBrain on Facebook