Like GearBrain on Facebook
Cooking on your next camping trip doesn't have to be a sorrowful tale of soggy sandwiches and cold beans straight from the can. Just because you're miles from the nearest wall outlet and running water, don't think you can't cook up a great meal, in comfort and without spending a fortune. We think they'll all appeal to anyone who wants to smarten up their next camping trip.
Odoland camping set - $30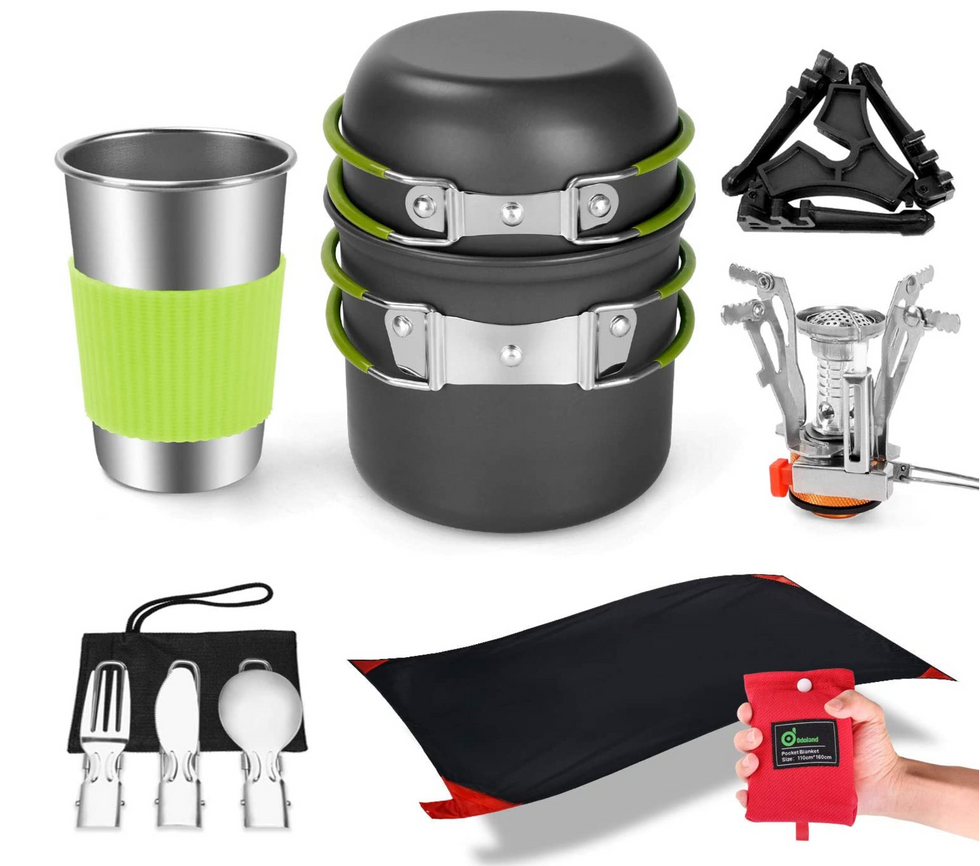 Nine-piece camping set from OdolandOdoland
Space is always at a premium when camping, so we're big fans of the design of this cooking set by Odoland. Fitting neatly into the large of the two pots, the set includes a mini stove and stand to rest your gas canister on, plus a bag full of cutlery, a blanket that folds up into a pocket-sized bag, and the two aforementioned stainless steel pans.

When everything is tucked away, the whole kit measures 5x5x6.3 inches and weighs 1.7 lbs. You'll want to add a second set of cutlery, as this has just one fork, knife and spoon, but regardless at $30 we think is a good value kit.
Meater - $69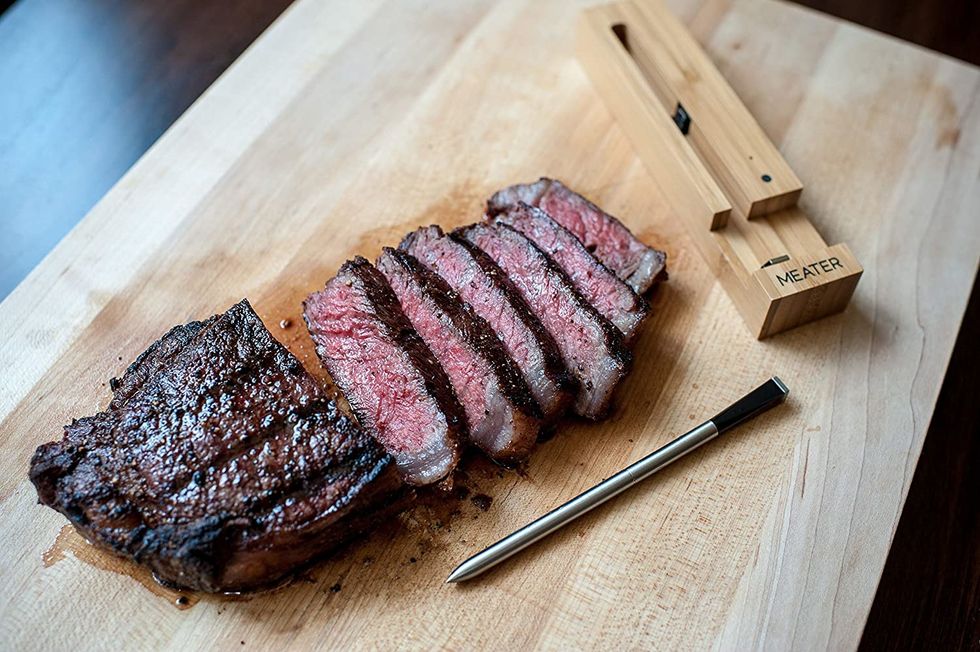 The Meater shows the temperature of your food on a phone appMeater
The aptly-named Meater is a wireless thermometer for checking the temperature of food as you cook. It links over Bluetooth to a companion smartphone app, which shows you the temperature, and can be used to time your meat cooking to perfection.

The single probe has two sensors so you can monitor the meat's internal and external temperature at the same time. The original Meater works up to 33 feet away from your phone, while the newer Meater+ extends that to 165 feet, so you can keep an eye on your food while much further away.
Dual burner grill and stove - $100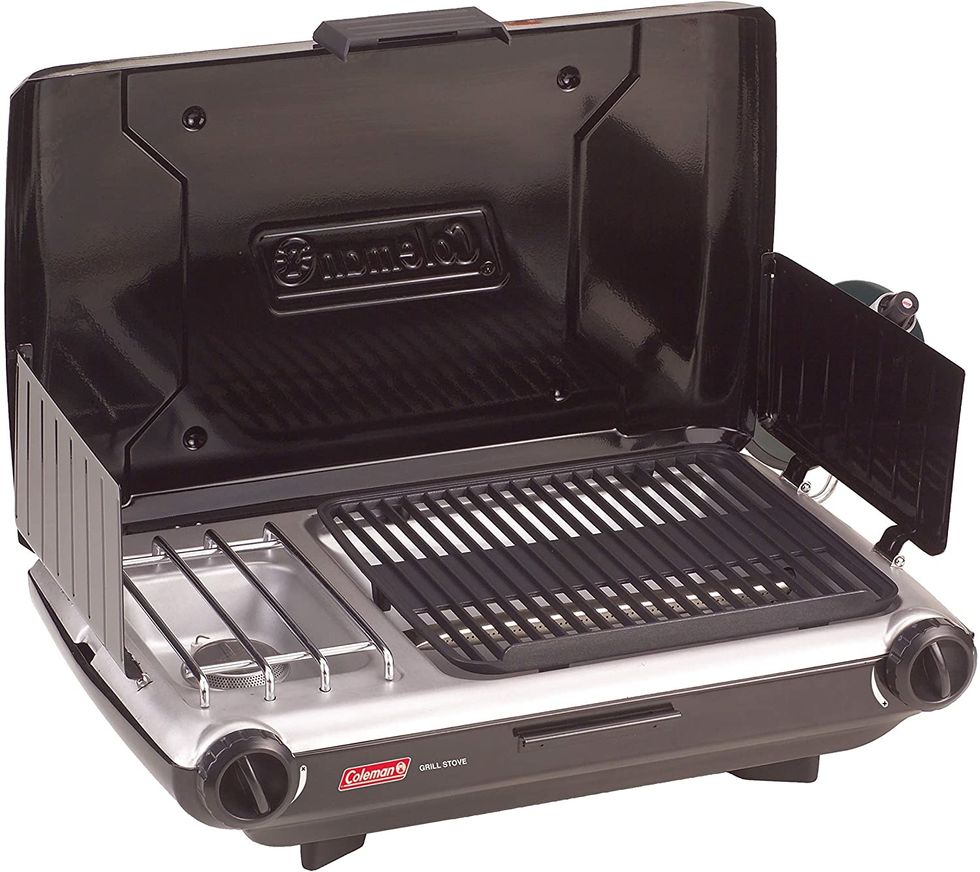 Dual burner camping stove and grillColeman
There's a huge range of camping stoves out there, but those by Coleman regularly earn great reviews. This dual burner model lets you grill food and cook a pot or pan (up to 10 inches in diameter) on the stove at the same time.

Each burner is adjustable and the total power output is 20,000 BTU. When open, a pair of side panels protect your food from any dirt kicked up by the wind, and there's a slide-out trip tray for easy cleaning.
Those on a tighter budget should check out the $44 Coleman Classic, which also has a pair of burners and 20,000 BTU output, but with a simpler design without a separate grill.
Coleman pack-away portable kitchen - $79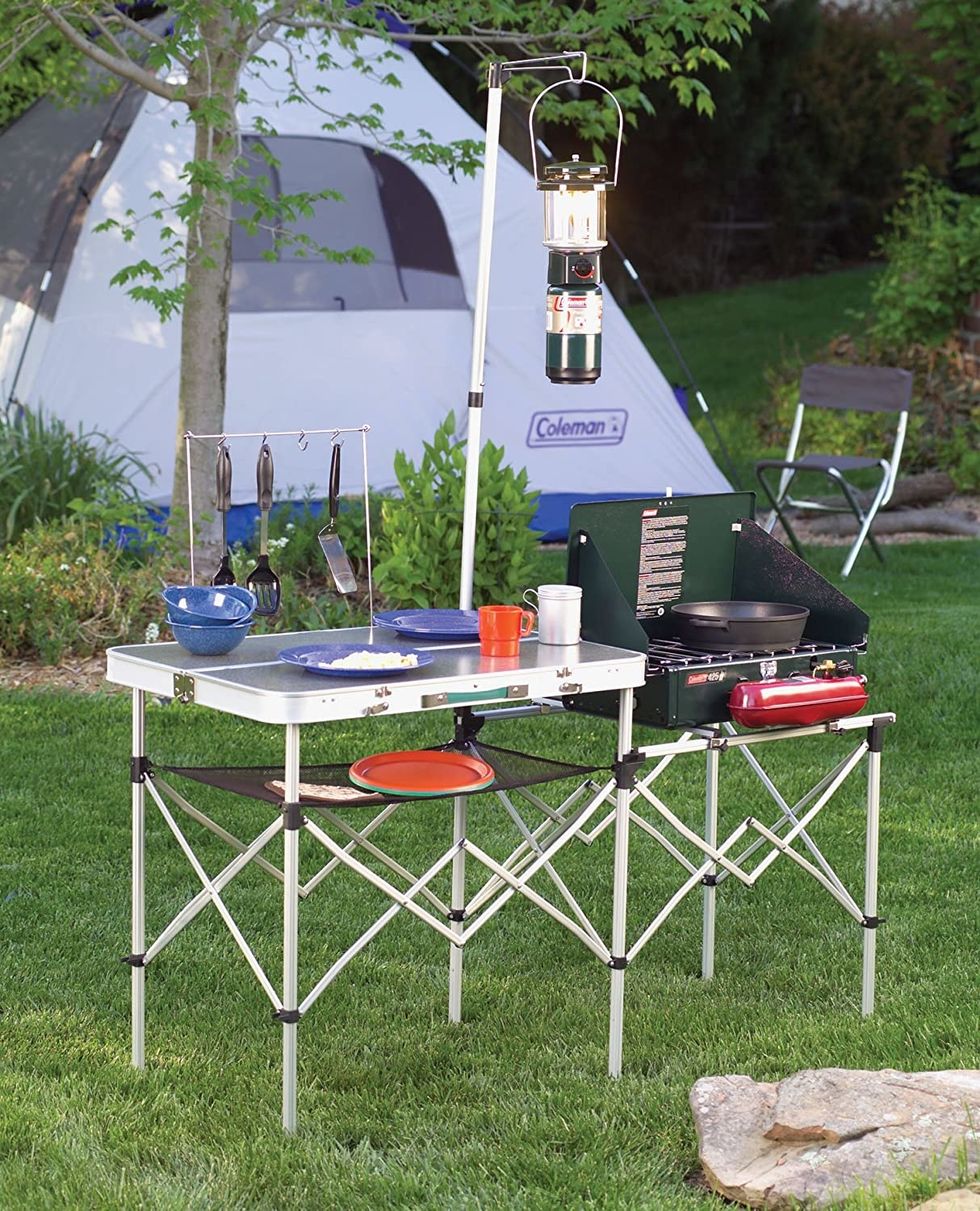 Folding camping kitchen work surfaceColeman
To save yourself from cooking on the floor, you'll want to invest in a foldaway kitchen worktop. These are actually cheaper and more portable than you might think, as this model by Coleman demonstrates. Once open, there's space to sit your camping stove on the right, and a large food prep area on the left, with a simple netter shelf underneath.

Extending upwards is a hook to hang a light from, and above the work surface there's a place to hand your utensils. Once folded up, it's the size of an elongated briefcase.
BioLite CampStove 2 - $150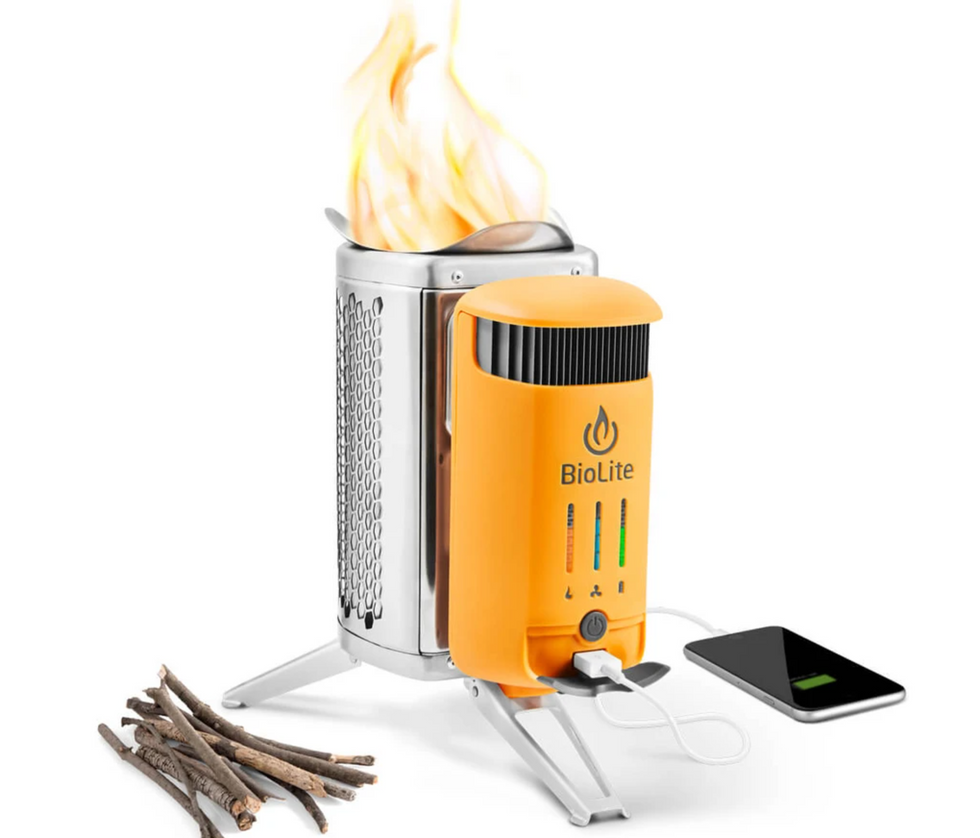 Camping stove doubles as a battery pack and phone chargerBioLite
If your camping catering only requires a single burner, for simple meals and heating up a drinks flask, for example, you could try the BioLite CampStove 2.

Instead of using a gas canister, this burner can be fed with anything you find lying around, like sticks and chopped up logs, or you can use pellets, which are priced at $24.80 for a four-pack, with each bag offering two hours of cooking time.
Once up and running, the smokeless burner can be cooked over, but also uses heat to power an integrated 2,600mAh battery pack. Plug your phone into the USB cable, and the fire will charge it back up while you cook.
Flashlight spatula - $30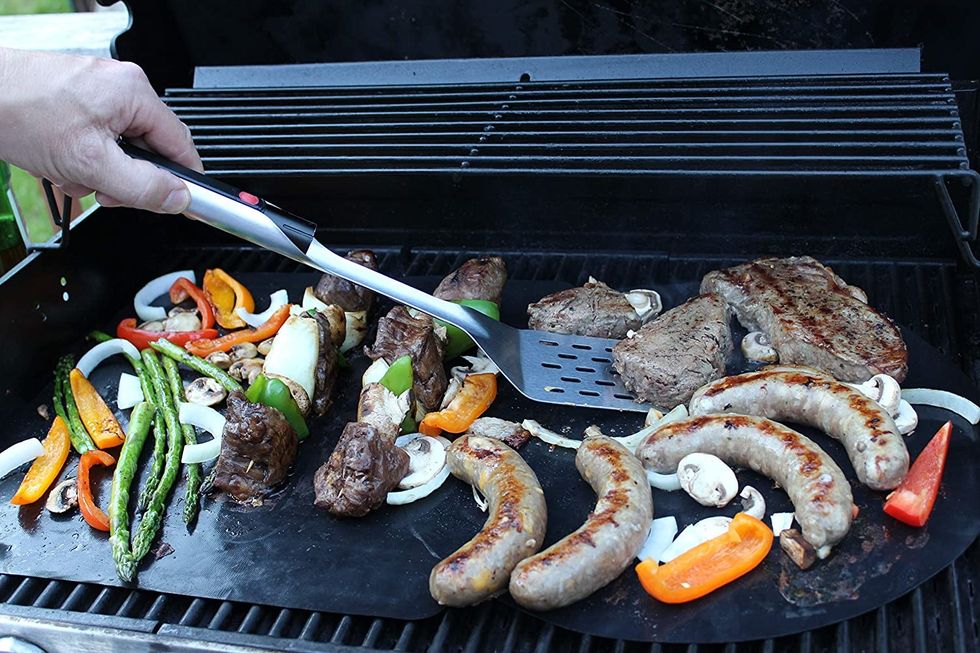 Spatula has an integrated LED flashlightGrillight
If your day of hiking has extended well into the evening and light is beginning to fade as you cook, you'll want a spatula with an integrated LED flashlight. That way, you can see what you're cooking, but also keep an eye on the color of whatever meat you're cooking; no more burnt burgers or undercooked sausages.

We've included the spatula on its own here, but it can be bought from Grillight with a matching tong, fork and brush too.
MiniPressor espresso maker - $48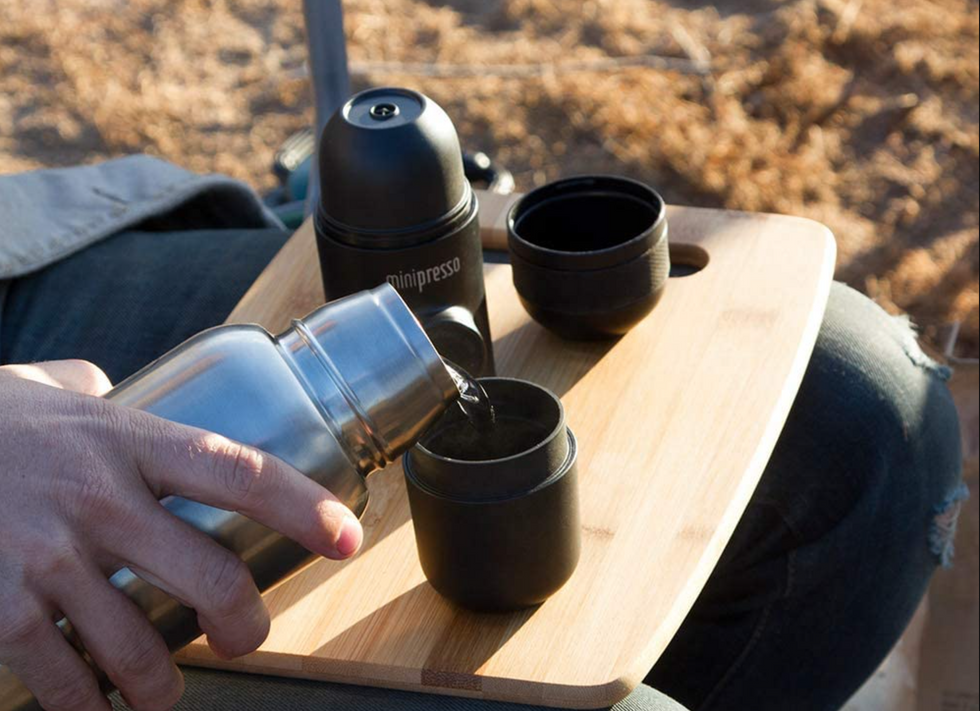 Compact, powerless espresso makerWacaco
You might be out in the wilderness, but that doesn't mean you have to miss out on your morning espresso before heading out on an adventure. The Wacaco Minipresso is here to help, working with any variety of coffee bean and requiring no battery or power supply to function. Just add your coffee and hot water, activate the piston, and you're good to go.
UCO stormproof matches - $10.99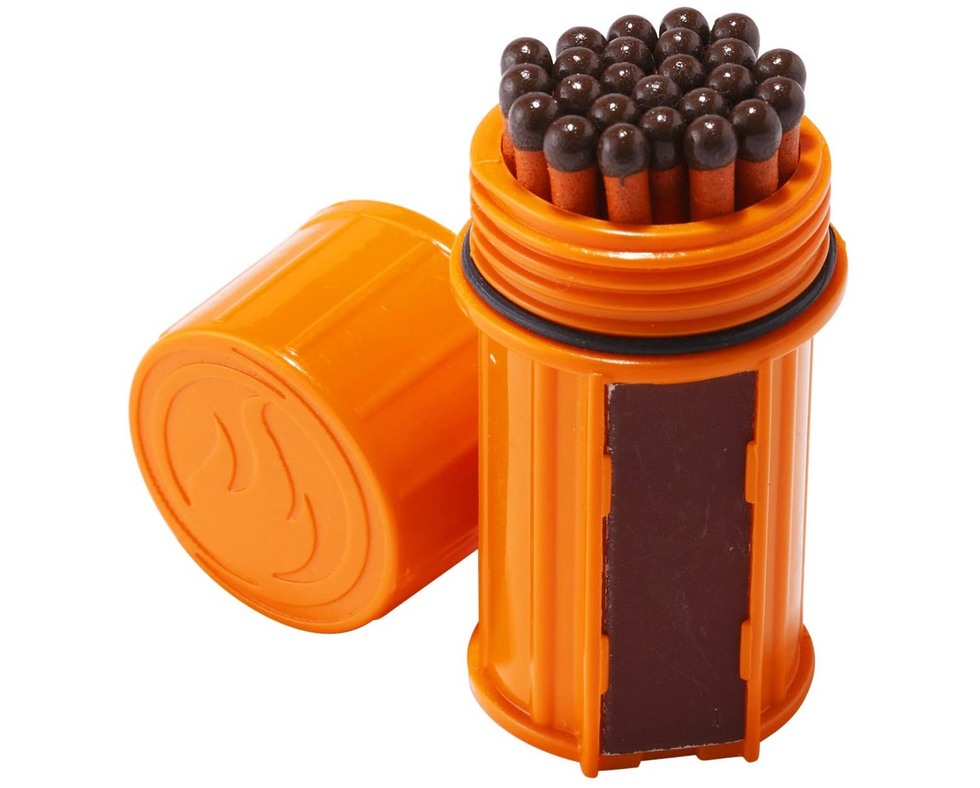 Stormproof matches can be relit after being submerged in waterUCO
If you don't have a lighter, and haven't the time to start a fire by rubbing dry sticks together, you'd better pack some stormproof matches. These from UCO come as a 25-match set in a waterproof container with three strikers on the outside.

The heavy duty matches burn for 15 seconds each, giving you plenty of time to get the campfire and stove lit. They'll even relight after being submerged in water.
Grillbot - $90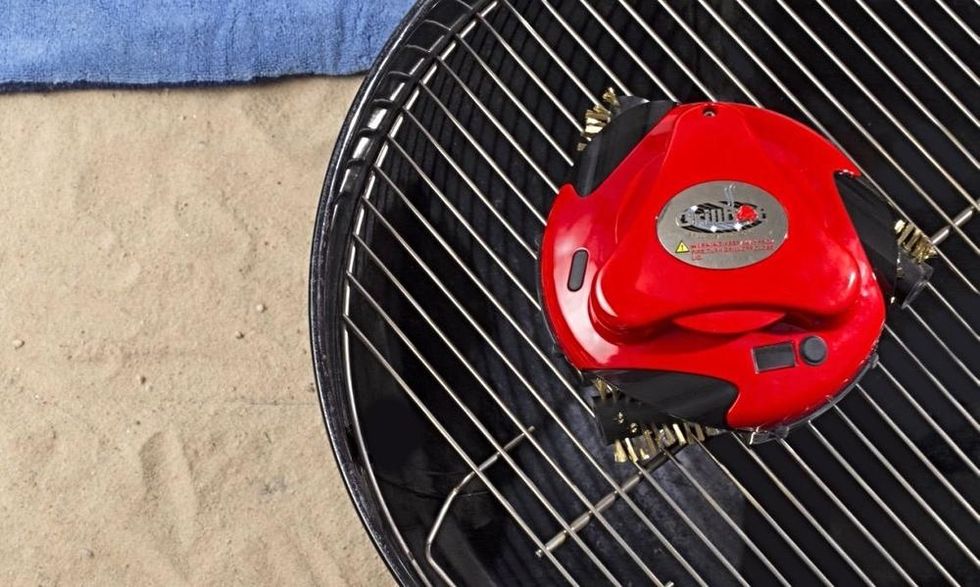 The Grillbot is like a Roomba for your barbecue grillGrillbot
The Grillbot is like a Roomba for your barbecue grill. Set it down, switch it on, and the robot spins into life, driving itself around the grill and scrubbing it clean. It's available in red, blue, black and orange, and is powered by a rechargeable battery.
Portable pizza oven - $499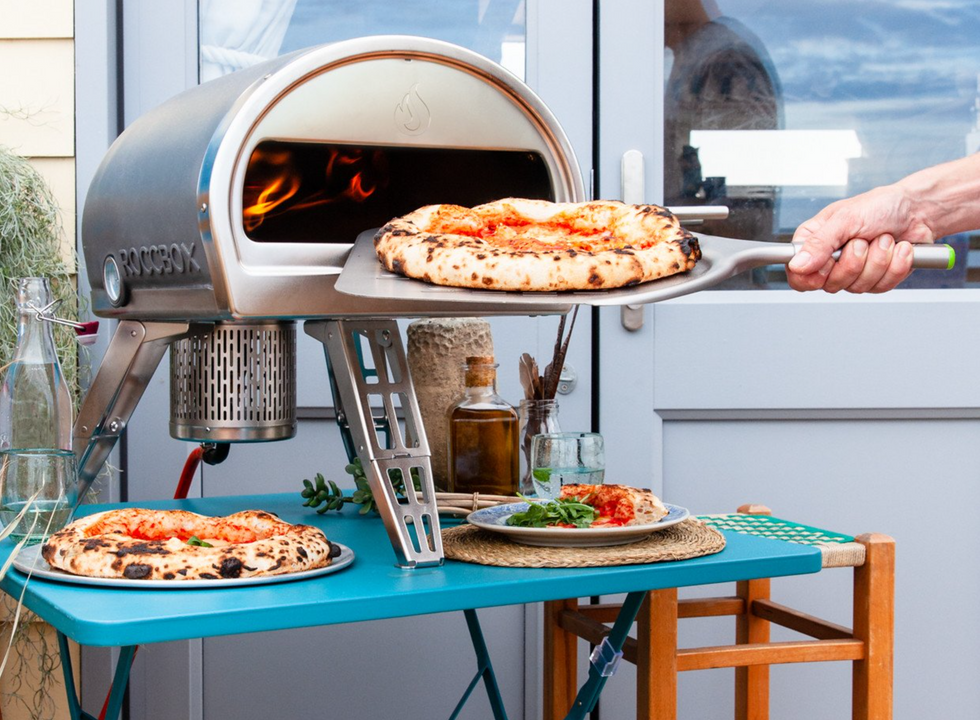 Outdoor, portable pizza oven cooks pies in 60 secondsGozney
Okay, so we admit this is a somewhat exuberant purchase for a camping trip. But if you really want to push the boat out, how about a portable outdoor pizza oven? The Gozney Roccbox can also be used at home, so while it can come camping with you, it'll all work just as well in the backyard.

Gas-powered, the oven heats up to 950F, which its makers claim is enough to cook a Neapolitan pizza in just 60 seconds. The oven measures 16.3 x 21 x 18.6 inches, has a cooking floor that is 12.4 x 13.4 inches, and weighs a total of 44 lbs. So yes, it can't be strapped to your backpack, but if there's space in the car you'll surely want to take it along.
Like GearBrain on Facebook