Like GearBrain on Facebook
Updated October 17, 2017 If you're like me, then you love camping. Backpacking, sleeping on the beach, cooking over a fire. The experience of being outdoors is really nice — when it works out. However, if you're a bit more of a pro and like to go off-trail, a compass and a good sense of direction is a must.
The Theodolite iOS app is that tool, a combination viewfinder that includes a compass, GPS, map, tracker, and a number of other features that aren't even found in a real theodolite. At $5.99 — which is 40 percent off the regular price — this app needs to be fairly hefty with the features.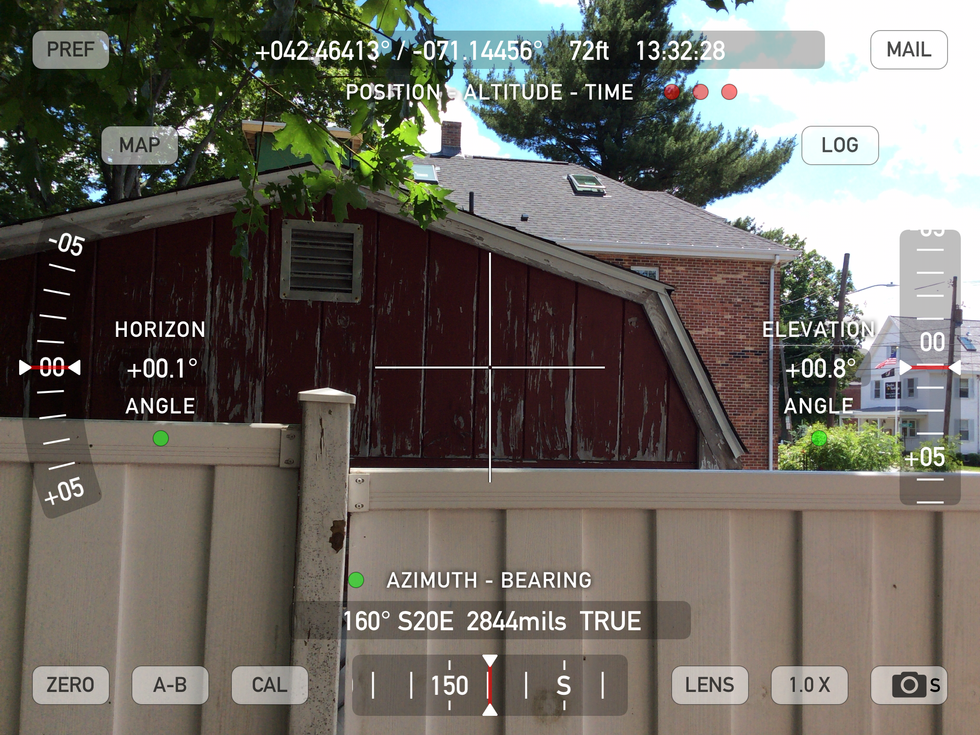 The Theodolite app is a combo GPS, tracker, map and compass rolled into one tool.Amber Wang
The app itself has a clean, uncluttered interface with minimal distractions and no advertisements. Everything is in all caps and measured in the Imperial system so if you're from outside of the US, you'll probably want to adjust this in the settings.
On top, there's a gray bar that tells you your position in coordinates, your altitude in feet and the time in hours, minutes and seconds. On the left, the app tells you your angle away from the horizon and on the right, your elevation. The bottom gray bar tells you the azimuth and bearing.
The "PREF" tab allows you to adjust the settings like length units, horizon and elevation units and true or magnetic compass north. You can also view the position format, geodetic datum and camera options.
There's also a "MAP" tab that shows you your location relative to your surroundings and has a couple more options within the map. The "MAIL" tab lets you send your information to other people — provided you have WiFi. The "LOG" tab allows you to add data and notes.
The bottom of the app also has options to zero the app, calculators, lens color changes, zoom options and a screenshot button. These tabs are placed all over the screen, but aren't overwhelming. There is also an in-app purchase in which you can share your location in team tracking.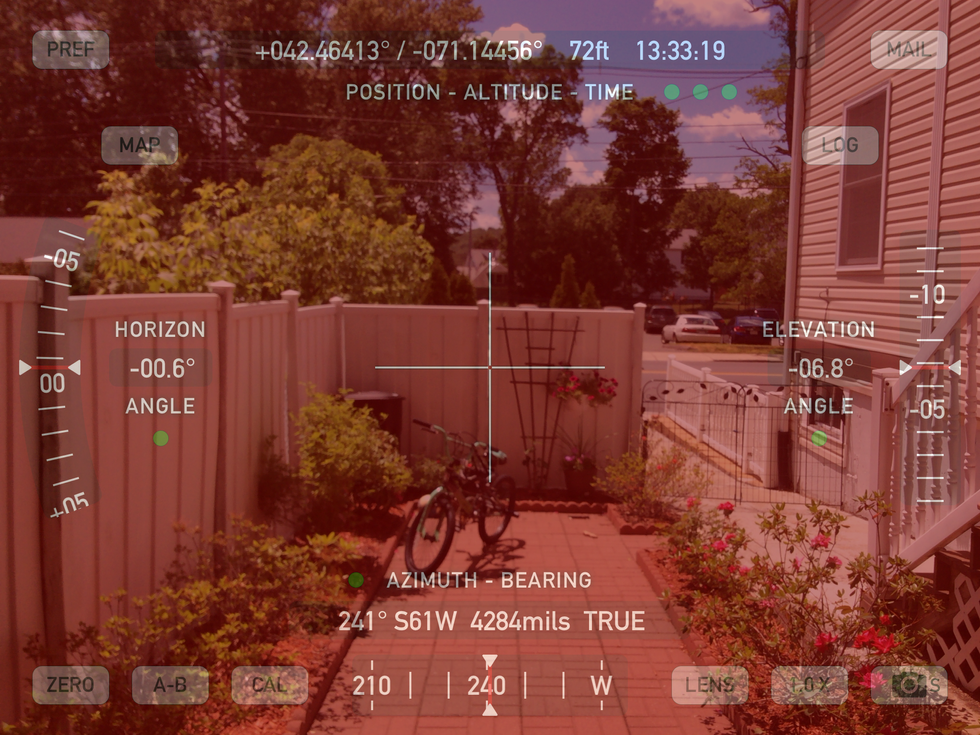 I tried the Theodolite app in my backyard to get my bearings before taking it on the hike.Amber Wang
I used this app first in my backyard to get situated and to test it out and then I took it on a backpacking trip to Mt. Kinsmen in New Hampshire. I had hiked the trail before, but I wanted to see if the app was accurate in coordination with my map and the trail markers.
The compass part was the most useful to me as I could figure out where I was going, but the elevation and altitude really allowed me to gauge how much left of the mountain I needed to climb. I had no WiFi and didn't really think a hotspot was necessary so I didn't send my results to anyone or check my map location — also because I was going straight up most of the time.
The lens modifications were also a really good addition, especially at night when the screen was too bright and hurt my eyes. The iPad eventually ran out of battery on the second day — it's pretty old — so I went back to the trail markers.
If you're an avid outdoors person and you like to carry hotspots around with you, I highly recommend this app which works with both an iPhone and an iTouch. Keeping a log of accurate information will help you keep track of your climbs and also serve as memories.
Pros: Clean, simple interface, accurate data and sharing options.
Cons: Needs to be linked to WiFi, has in-app purchases, on top of $5.99 price, super confusing for beginners.
-Amber Wang recently reviewed the SkyView Free app for GearBrain, which turns your iPhone into a virtual telescope.
From Your Site Articles
Related Articles Around the Web
Like GearBrain on Facebook