Like GearBrain on Facebook
As its transportation options increase, Uber is making its phone app smarter, recommending different types of vehicle depending on your needs and how you have previously used it.
Taking a contextual approach to providing transport, the app will, for example, offer a nearby Jump electric scooter if you are travelling on your own across a short distance. If you always go for the cheapest option, the app will stop showing you the most expensive Uber Black option.
Read More:
Another example is how the app will offer a larger vehicle like an SUV if you book a trip to the airport, assuming you'll benefit from the extra luggage space.
All of these features are a way Uber is positioning itself into a one-stop-shop for transport, the company's director of product Nundu Janakiram told TechCrunch . It's a move which scooter rivals like Bird will struggle to compete against, because if they have no scooters available nearby, they lose the customer.
For Uber, if its new Jump-branded bikes and scooters are unavailable, the app can offer you a reasonably priced Express Pool ride instead. Future options could also see Uber customers book a scooter to get them to the train station, then a car to pick them up at the other end of their journey, or even offer a car from GetAround (a partner of Uber) if the ride is going to take a long time and cost more; it could be cheaper for the customer to pick up a car for an hour and drive themselves.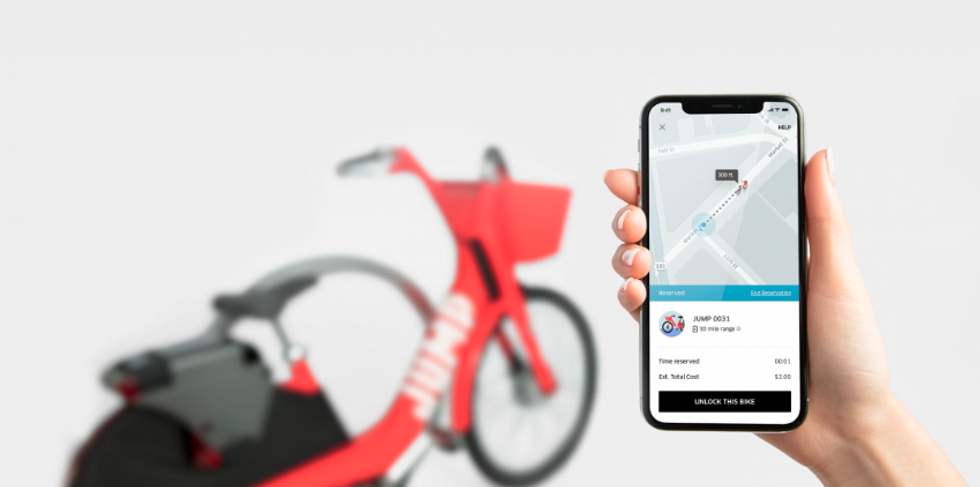 Uber now offers bikes and scooters by Jump Uber
This move will no doubt be welcomed by Uber's customers, who currently see the same selection of ride options each time they open the app. Booking a Jump scooter requires digging into a menu and enabling that option, while customers looking for a larger car, or one suitable for wheelchair users, have to swipe across to find it.

The new multimodal approach will see the Uber app make suggestions based on your destination, the current state of price surging, how many people are riding with you, how long the journey will take (on all forms of transport), and your destination.
One can easily see future versions of the Uber app checking the local weather forecast and even the landscape before suggesting a ride. Pleasant day in a flat area? Suggest a scooter for short journeys. Hilly area on a hot and humid day? A car and its cooling air-conditioning might be preferable.
Like GearBrain on Facebook