Upright is a company that makes rectangular sensors you literally stick on your back to alert you when you're slouching. Like a digital mother tapping you on the shoulder to stand up straight, Upright vibrates when someone begin to curve their back while seated.
We recently tested the Upright Go 2, itself an update from the original Upright device. And we were sent the Upright Go S to try as well. The two differ on a few areas, and we wanted to see if the Go S, which is less expensive, would work similarly to the higher price Go. Here's what we found.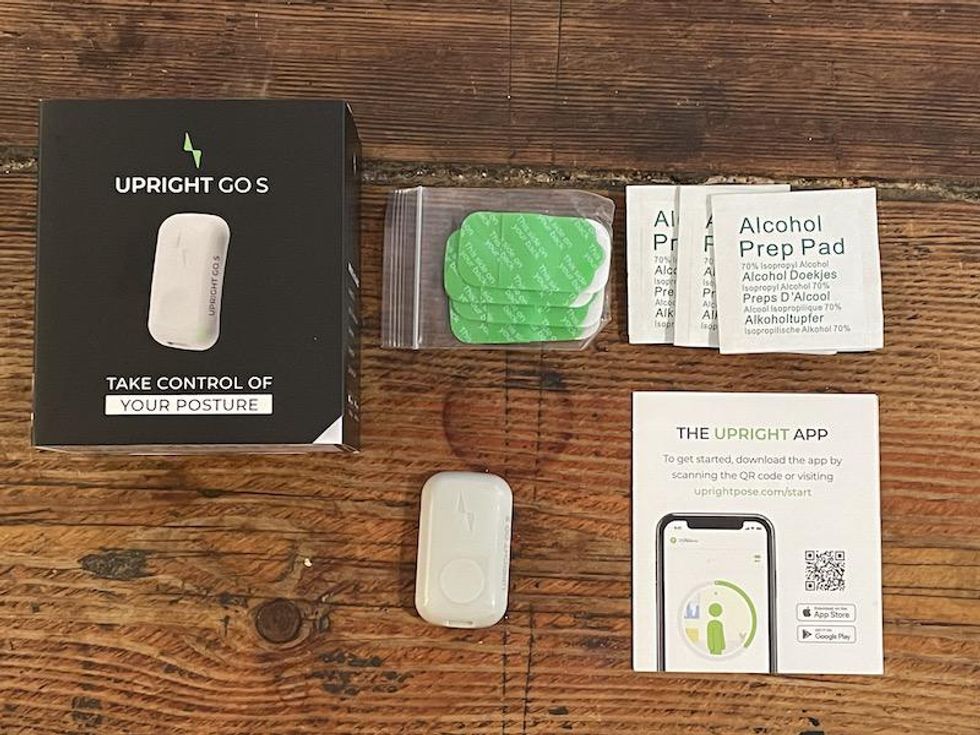 The Upright Go S comes with adhesive tabs, a small instruction book, a charger and a carrying case (both not shown.)Lauren Barack/GearBrain
Setting it up

Because I had recently tested the Go 2, I had to go into Advanced settings on the Upright app, and connect to a new device. I also found you can only connect one Upright at a time. Charging the device took about two hours, which is not bad. You get a charging cord in the case, alcohol wipes to clean off your skin, and the stickers to attach to one side of the Go S and to your back.
I opted for an Upright necklace which I like as it drapes over my neck and I feel it less. It holds the Upright Go S through the USB-C port, which is where you'll charge it as well.
If this is your first Upright device, you'll want to — and actually need to — download the Upright app from the Google Play Store or the App Store for iOS. Make sure you download the app called Upright and not Upright Go 1 which is still there for older devices — but will not work for the Go S.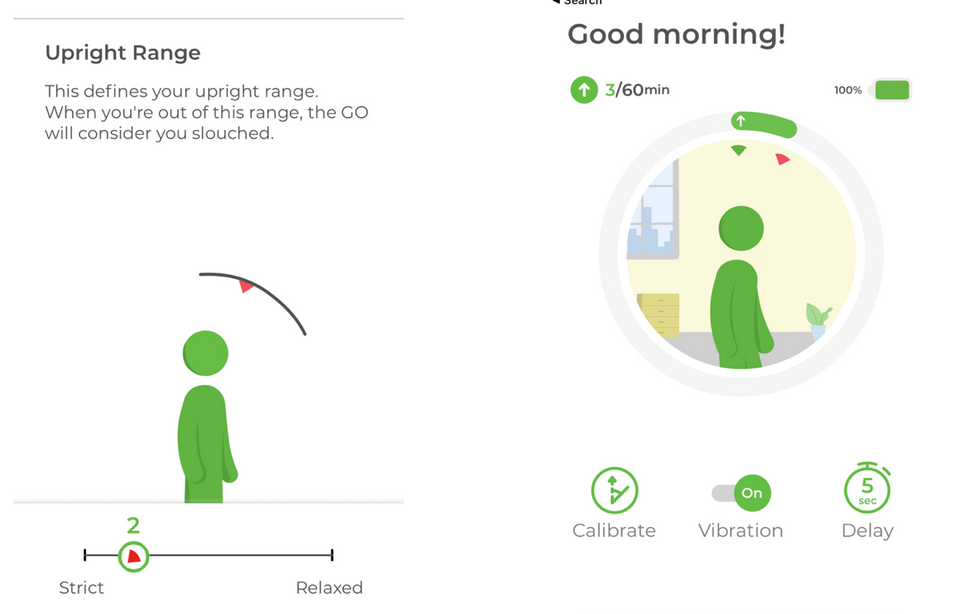 In the app, you can set the strength of the vibration and how strict you want the sensor to be about alerting youLauren Barack/GearBrain
Once the app is installed, you'll connect the device to the app, which will prompt you immediately. When the light shifts from a flashing blue to solid green, you'll know the two are linked. Next, you'll calibrate the Go S in the app so it knows your posture when you're sitting straight. When calibrating, try not to tense up or sit upright in an artificially forced position. You want the device to get a sense of your normal posture.

Your goal is not to wear the device all day, but to wear it — seated — for a set amount of time daily. The app suggests 60 minutes, but you don't have to wear it for that mount of time straight. Instead you can opt for shorter segments.
How it works

Upright works because of your ability to forget about the device. Planted via a sticker on your back, or with a necklace draped around your neck, ideally you forget the sensor is there. In that way you're not awkwardly holding your posture.
But I did find the Go S was less responsible than the Go 2. Dipping my head, for example, does not tip the Upright into alert mode — neither of them. Your back is what it's reading here, so it's the curving over and the hunching. But with Go S it took a lot of hunching to really get this to trigger a warning. I found I could be fully bent over into a letter C and the Upright didn't say anything and frankly that was alarming.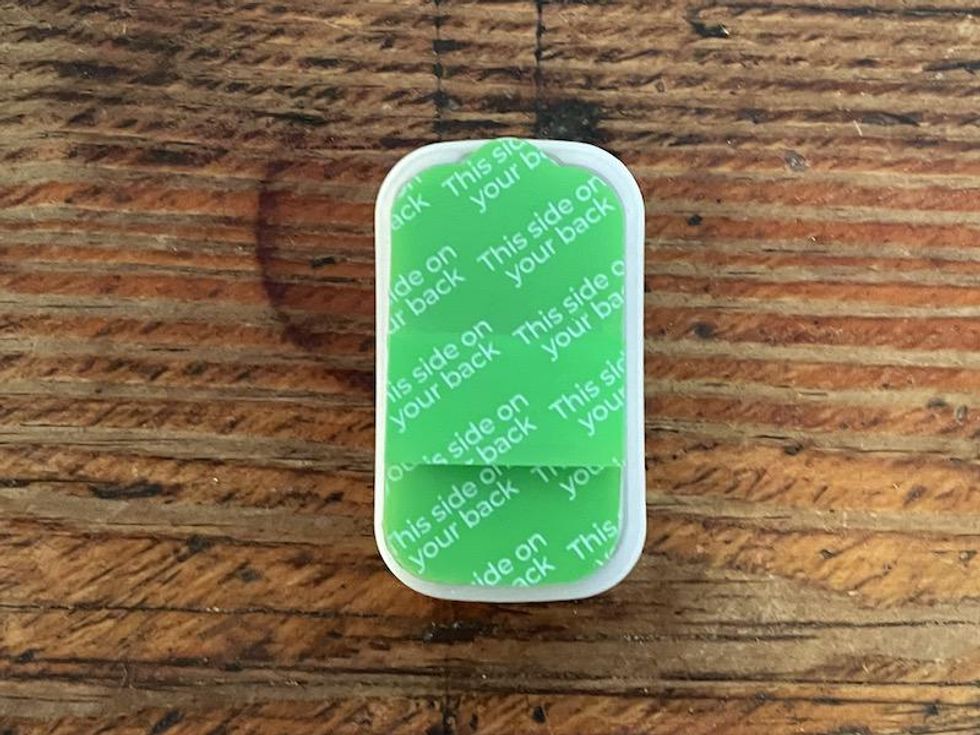 The Upright Go S comes with five adhesive pieces to attach to the back. Extras can be purchased.Lauren Barack/GearBrain
I actually went in and re-calibrated the device to see if I could make it more likely to get me sooner when I was even slightly hunched. But it never really felt as responsive. That may have to do with the one movement sensor rather than the two in the Upright Go 2.

Luckily, in the Settings, I was able to reduce the range of leeway the Upright gave me. Making it more restricting on how much I could slouch before it notified me. You can go from a 1, very strict, to a 6 for completely relaxed. I opted in for a 2. The vibration can also be increased, with a range from gentle to medium to strong, and turned off.
An hour of use (I opted to wear it for the full hour) drained the battery by 10 percent, so I factored I could get 10 hours of use from the Upright Go S, even though the company says it can work for 2.5 days.
Price
The Upright Go S is $59.95 and it can be attached for free to the back with stickers. The necklace which I used is another $19.95, and come sin six colors including black, grey, white, turquoise, pink and teal blue.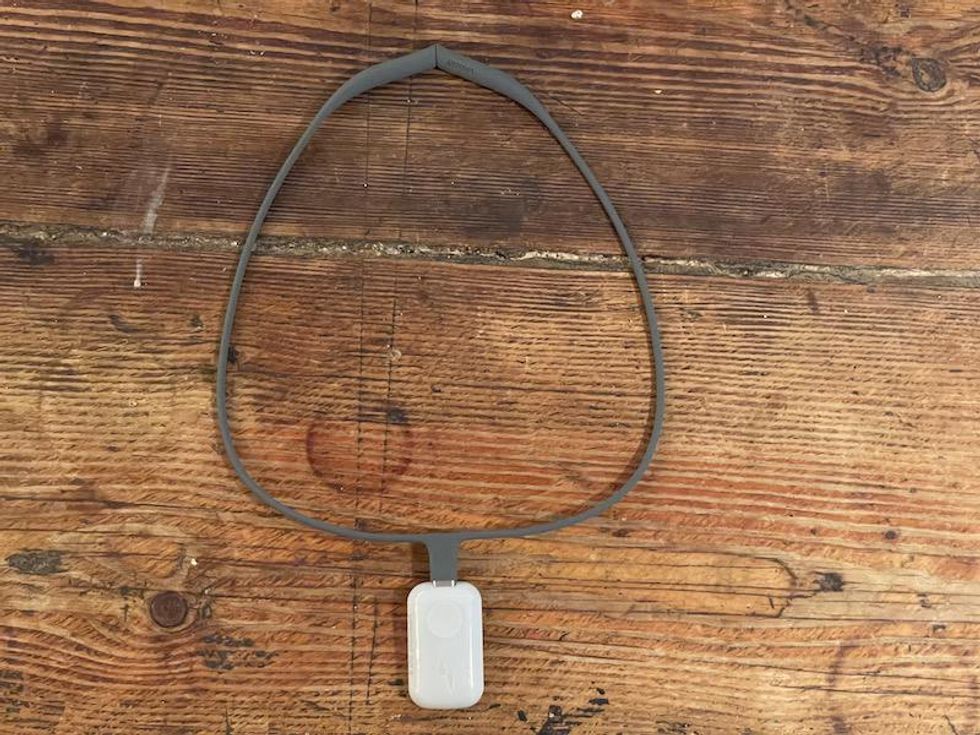 The Go S can be worn as a necklace, with the sensor actually draped along the backLauren Barack/GearBrain
Worth buying?

The Upright devices are designed as sensors, objects that can alert us to some detail — here, our posture. The Upright Go S is the less expensive of the two on the market from the brand — able to send a vibration to your skin when your body begins to slouch. It's a neat ability.
That notification is designed to help you become more aware of how you hold your body, and potentially change that over time through muscle memory.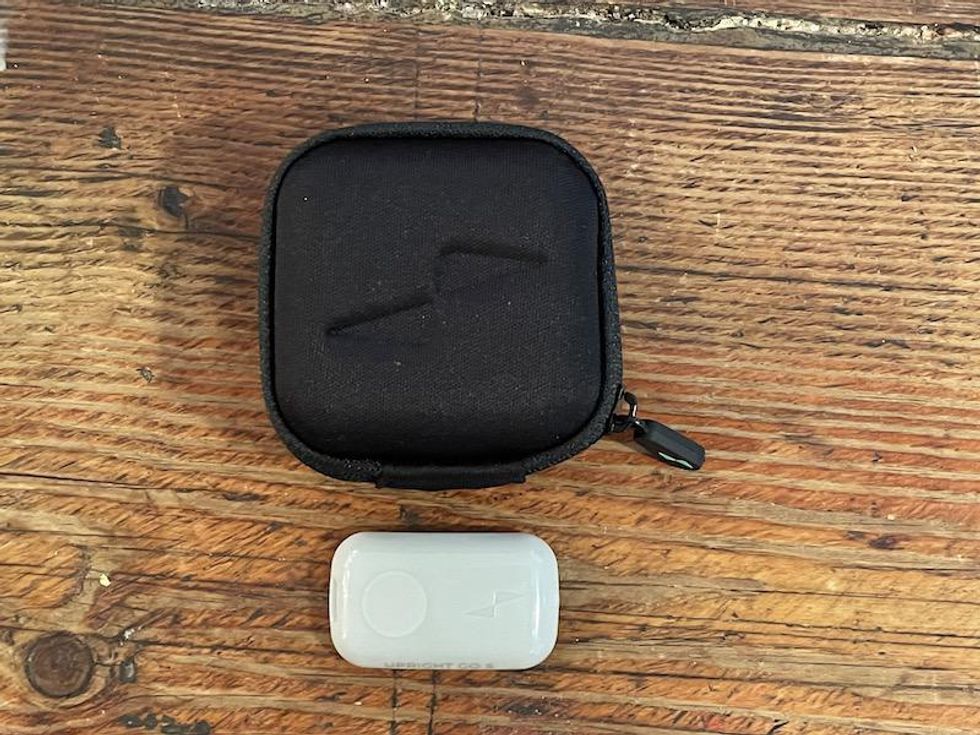 The Upright Go S comes with a soft-sided caseLauren Barack/GearBrain
I found the Upright Go S worked fine, but in comparison to its cousin, the Go 2, it was noticeable that the sensor was less sensitive. The design, weight, ease of use with the Upright Go S all scored high marks. And I do think there is some value to wearing a sensor that helps correct posture. I just wish the Go S had a bit more sensitivity to when I was slouching compared to its cousin.

When it picked up on my movement, it worked very well. So given the lower price point, I would say it's worth considering the Go S if you're looking for something to help you sit up straighter. You will need to buy extra adhesive stickers after the enclosed five run out, or pay another $19.95 for a necklace holder. And do bear in mind, that since the app can only support one device at a time, you're going to want to choose only one.
Pros:
Allows you to select a range of sensitivity and vibration settings
A variety of color options
Price
Cons:
Not as sensitive as its cousin, the Go 2
Have to spend more on extra stickers or a necklace
Battery life not as long as claimed