A sensor you wear on your back is designed to straighten your posture while giving cues and feedback to help train your muscles. It is the latest from Upright, a company that launched the original Upright Go, which GearBrain reviewed in 2018, a device that has since been updated as well.
The new sensor in the Go S links up to an app, so it's not just delivering haptic feedback but also metrics that can viewed on an iOS and Android smartphone via Bluetooth. It's basically the same size as the Upright Go, but has fewer custom views and has just one sensor.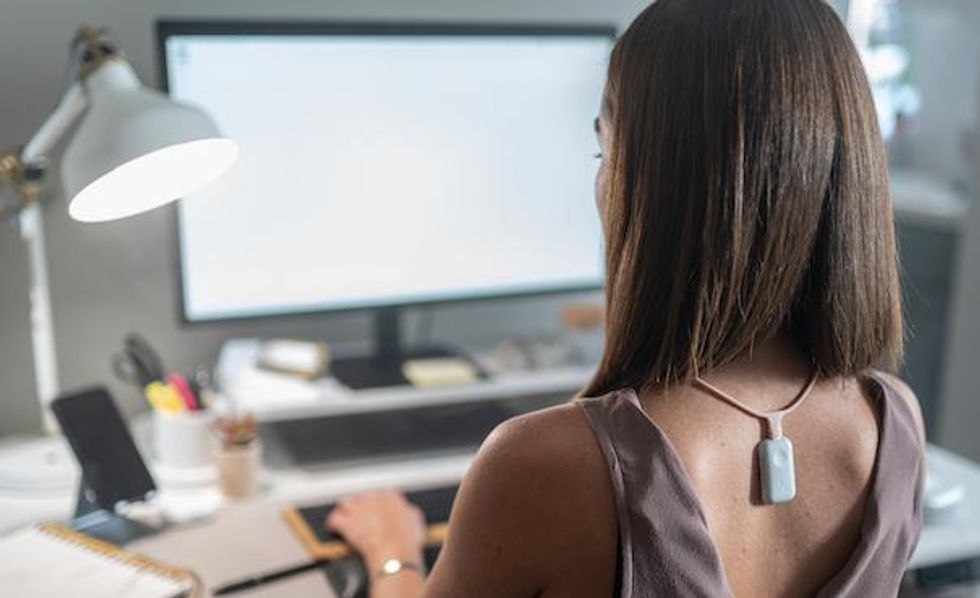 The Upright Go S can be worn as a necklace tooUpright
Yes, vibrations are the primary way people will learn they may be slouching, but the details can also help people see how often they kept their posture based on the time of the day — and even the percentage of the day. Through the app, people can also start training sessions, set up goals. And vibrations can be turned off as well.

The goal is to train the body to start remembering to how to sit and stand, increasing muscle memory. And the device will store seven days of offline training.
The sensor can be connected to the back through reusable adhesive, but also can be worn as a necklace. The device comes with five adhesive pieces along with a charging cable, carrying case and a guide. Battery life is about 20 hours, meaning most people will need to recharge this at night.
The new Upright Go S, which GearBrain is testing, can be picked up for $59.99 on Amazon, Best Buy and on the company's web site. The necklace attachment comes in five colors and is $19.95.