Like GearBrain on Facebook
If you have purchased a laptop in the last few years, and especially if you own an Apple laptop (or even a Mac Mini desktop), you will likely need a USB-C dock or dongle.
While slowly becoming the new standard for computer accessory connections, USB-C isn't yet supported by every single device you might want to connect to your laptop. And, for as long as you own older accessories, you're going to need an adaptor.
Read More:
Such adaptors also come in handy when you need to connect several things to your laptop at once, as in the case of some MacBooks there are only two USB-C ports available – and one of those is often needed for the charger.
Additionally, if you are a keen photographer then you'll want an SD card slot (or a micro SD card slot for transferring data from something like a GoPro). Again, these are becoming rarer on new laptops and are missing entirely from the current MacBook Air, MacBook Pro and even the Mac Mini desktop, both in its Apple M1 and Intel configurations.
Thankfully, there is a huge market for third-party USB-C docks and dongles. And because a USB-C connection can carry power as well as video, audio and data, they can turn a single USB-C port into a way to plug a huge range of accessories in, all at once.
Prices range from under $50 for a simple dock or dongle with fewer ports, up to $100 or even $150 for a docking station with over a dozen connections. Some of these docks take up a single USB-C port, others are designed to plug into two ports next to each other. They then have a USB-C port of their own so you can still connect a charger if the dock takes up your laptop's only two ports.
This guide will hopefully give you an overview of some options on the market today, and what to look out for when buying a USB-C dock or dongle of your own.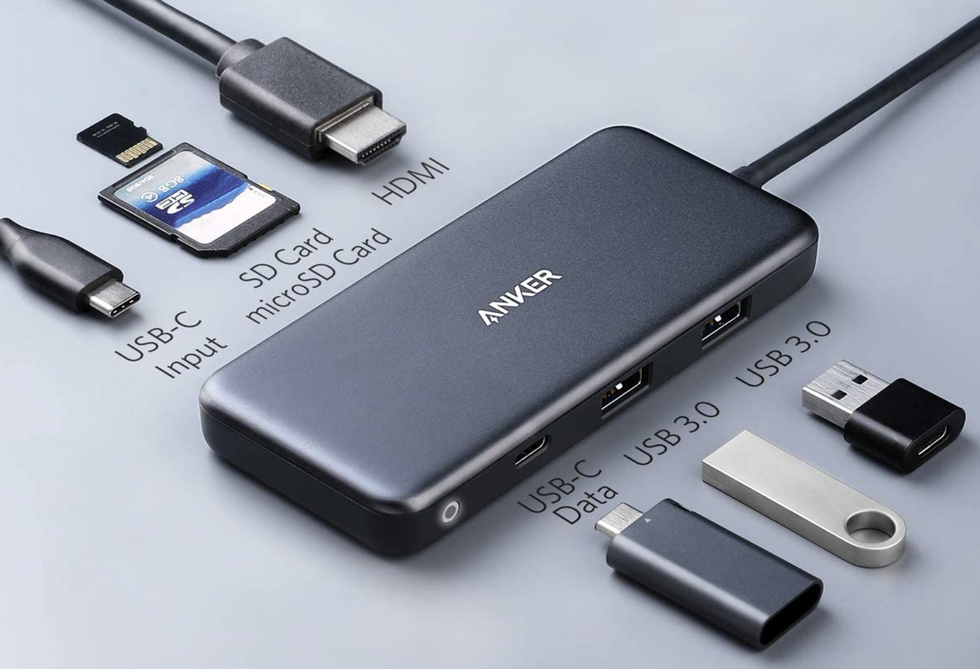 Anker USB-C dockAnker
At the sub-$30 end of the market we have this option from Anker. Costing just $28 and coming from a popular computer accessory maker, the PowerExpand+ is a seven-in-one hub with a 4K HDMI port, 100W power delivery, two USB-A ports, plus SD and micro SD card slots. It also have a short cable, making it a dongle rather than a dock, meaning it won't obstruct any of your laptop's other connections.

With this attached, your MacBook can be attached to an HDMI monitor, two USB devices, and a pair of memory cards, all while receiving power through the dongle's own USB-C input.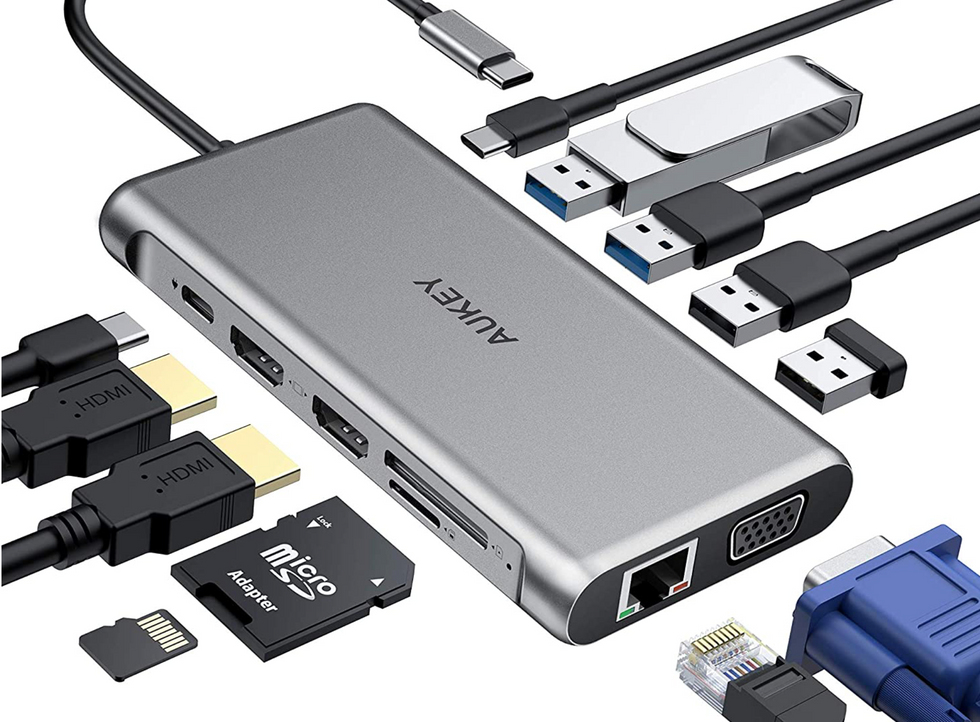 Aukey USB-C dockAukey
Upping the budget to $60 gets this 12-in-one dock from Aukey. Here we have an Ethernet port for high-speed networking, plus two HDMI, one VGA for connecting to older monitors and projectors, two USB 3.0 and two USB 2.0 ports, slots for SD and micro SD. This is specifically designed for Macs with Thunderbolt 3 USB-C ports.

Next we have a dock that is designed so that it sits underneath the rear of your laptop, where it can be tucked neatly out of the way while also propping up your keyboard slightly to a more comfortable typing angle.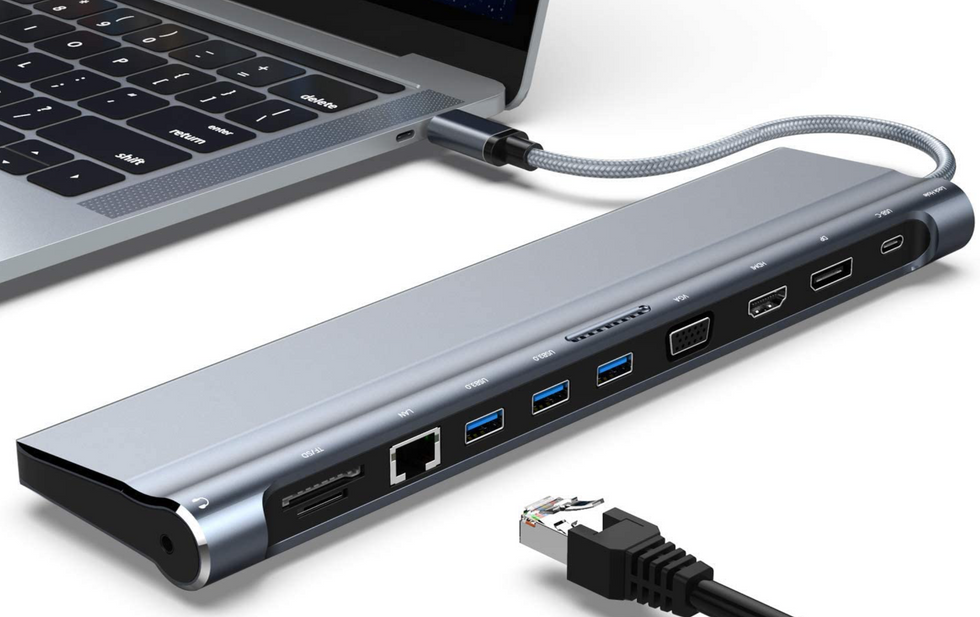 MagBag USB-C dockMagBag
From MagBag, the dock costs $80, connects with an integrated USB-C cable, and includes SD and micro SD card slots, Ethernet, three USB 3.0 ports, VGA, HDMI, DisplayPort and a USB-C input of its own. There's also a 3.5mm audio jack on the side for connecting speakers or headphones.

Its makers note how the HDMI and DisplayPort connections can handle 1080p Full HD at 60Hz, but 4K at only 30Hz.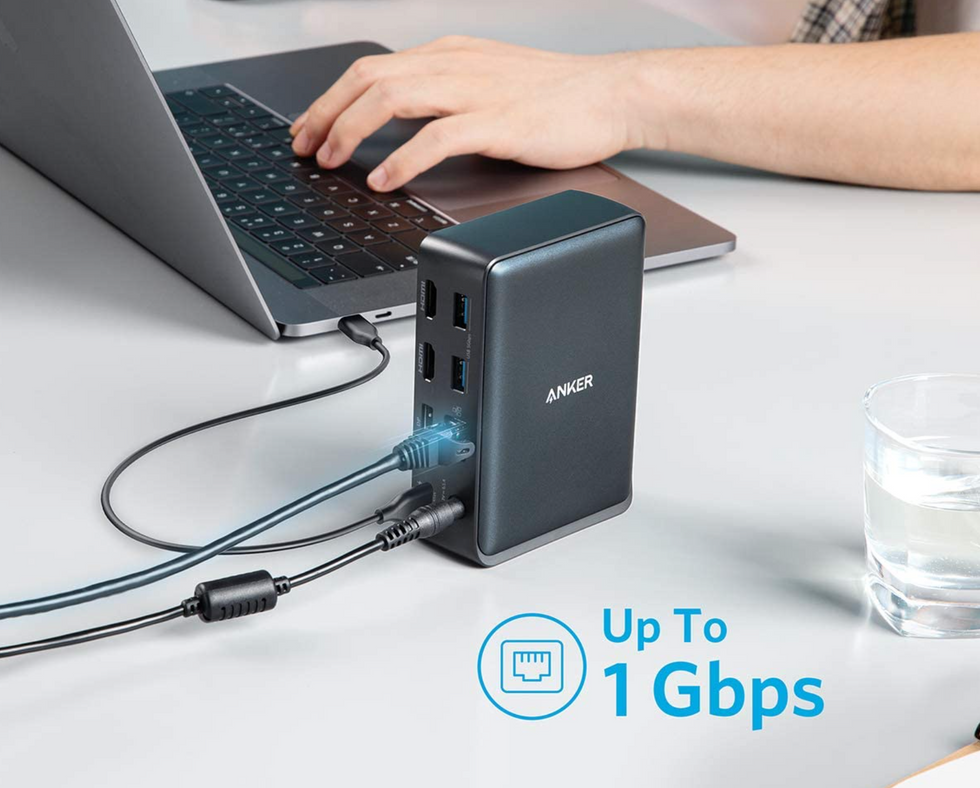 Anker USB-C Docking StationAnker
Lastly, we have the money-no-object, space-not-a-concern option. Costing $180, the Anker Docking Station is a 13-in-one dock that has the usual wide range of connectivity options, but can also connect your computer to three external displays. It can also handle simultaneous high-speed charging, filling your MacBook pro battery in 1 hour 50 minutes, while also filling an iPhone in 1 hour 45 minutes, via one charger.

There are also four USb-A ports, two HDMI connections and a DisplayPort connection (all with 1080p Full HD at 60Hz), Ethernet, SD and micro SD card slots, a 3.5mm audio jack and DC power input. Such a dock promises to power everything at once, while also keeping your desk tidier and giving you access to all manner of ports without reaching behind your laptop or swapping cables. Data can be transferred through the dock at 10Gbps using a USB-C cable, or 5GBps over USB-A.
From Your Site Articles
Related Articles Around the Web
Like GearBrain on Facebook