Lights that can turn on at set times? Blinds that rise on command? A refrigerator that opens with a wave of your foot? Magic tricks—at least to Vivint. To the smart home service provider, a real smart home is a system that learns from your behavior, and can adjust to the time you enjoy going to bed, even pre-setting the ambient temperature in your bedroom: without you turning the dials.
"The home responding to you and doing things for you using AI and machine learning, making suggestions and interacting with you, is what we call a smart home," says Matt Eyring, chief strategy and innovation officer at Vivint Smart Home. "No one has done that yet."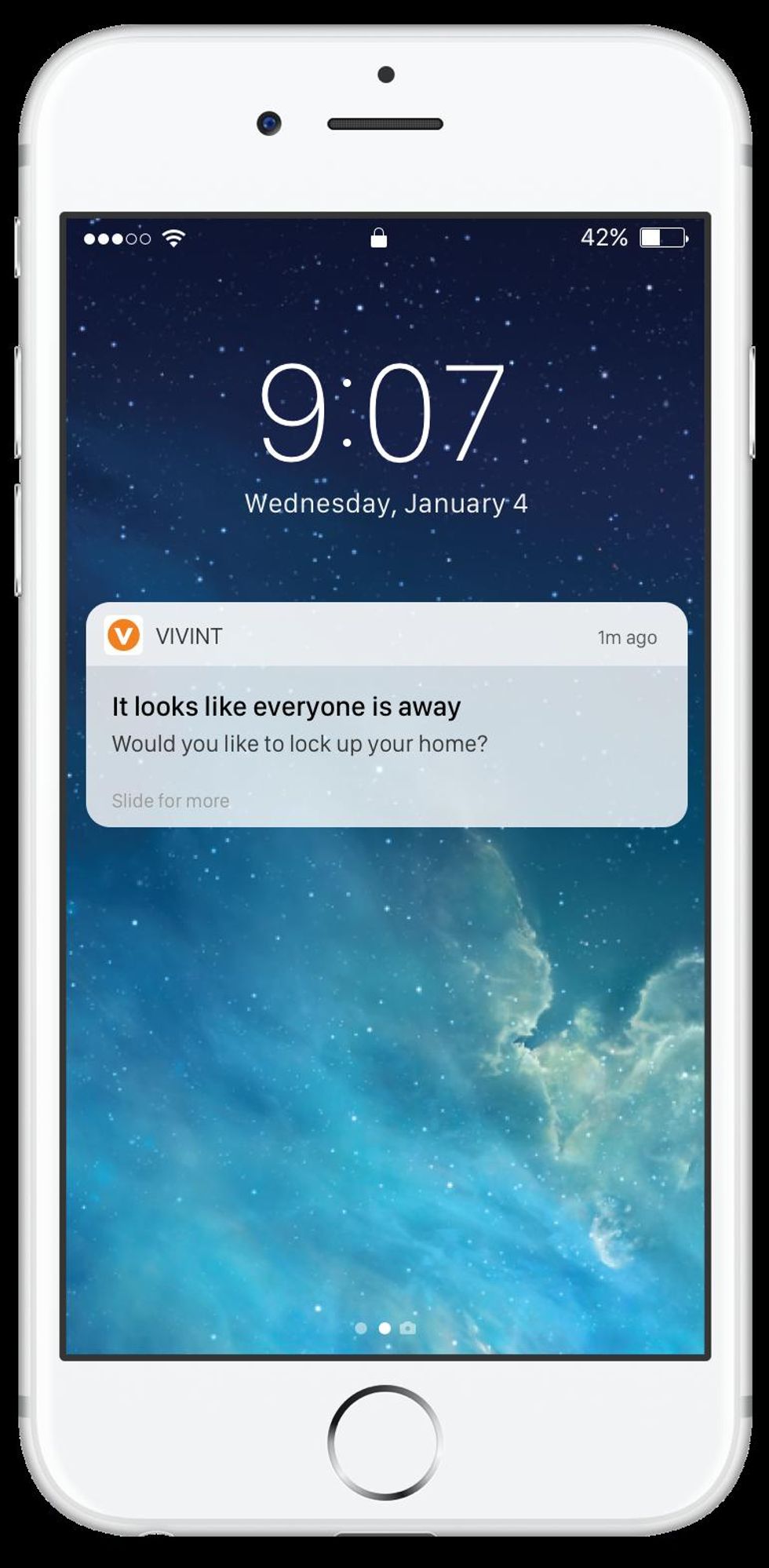 Sky can learn your preferences and take actions on its own.
Yet is the operative word here, as Vivint has launched what it considers the "first true smart home assistant," says the company. Called Sky, the system runs your devices—from locks to lights, thermostats to security systems—by reading information coming from 10 sensors in a Vivint-run home.
Vivint is a smart home service provider—customers sign up to get all the devices installed, and run, by the company for a fee. This is not a do-it-yourself situation. But in Vivint's case, they believe service comes with perks. And one of those, says the company, is Sky.
How will Sky work differently than pre-set instructions or the ability to log-in remotely from an app and take actions? For one, you don't have to do anything, says Vivint. If you leave the house, Sky will note based on sensors in the home, that no one is there. The system will ping you and ask if it should arm the doors and security devices—or just do that for you, and alert you that it's done. Maybe it's cheaper to run an air conditioner during the pre-evening hours, before you're even back from work. Sky can make that happen too.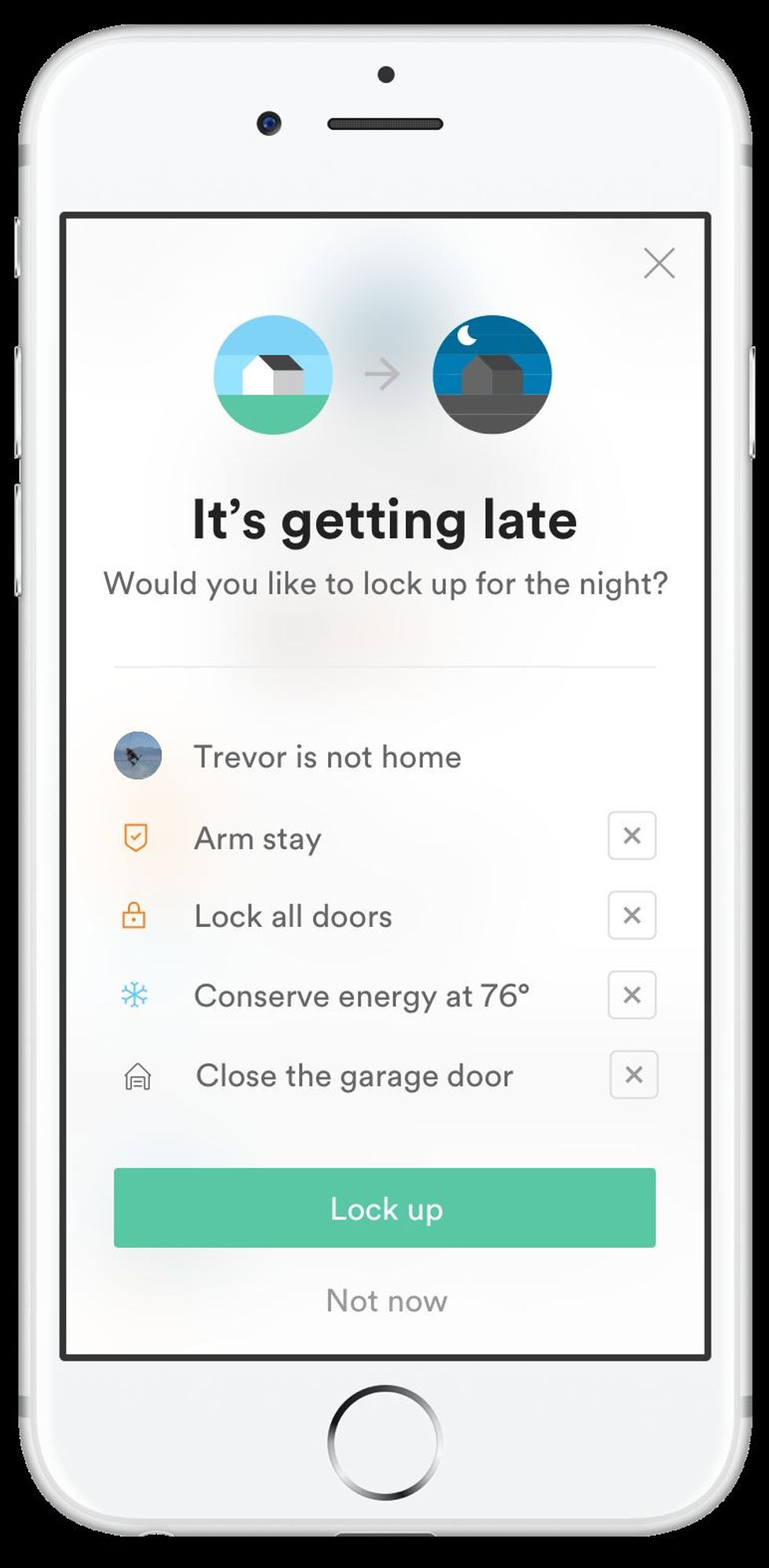 Sky sends you alerts through your Vivint app.
"Sky will say, 'Hey I know you're gone, would you like to arm system?'" says Eyring. "If you answer same way over time, Sky may take action and confirm for you that it's done."
Sky will also link via Alexa and Google Home—allowing you to voice your requests, which will then route into Sky. While Sky itself is not controlled through voice, nor does Sky have a voice of its own, Vivint enabled the voice control to address the growing segment of the population eager to add voice to their smart home solutions.
Vivint also announced a new add-on for customers who also have Airbnb accounts. They'll be able to link that account to their Vivint system, and create unique PIN codes for renters, and even visually see those people coming into a space through a Vivint Doorbell Camera.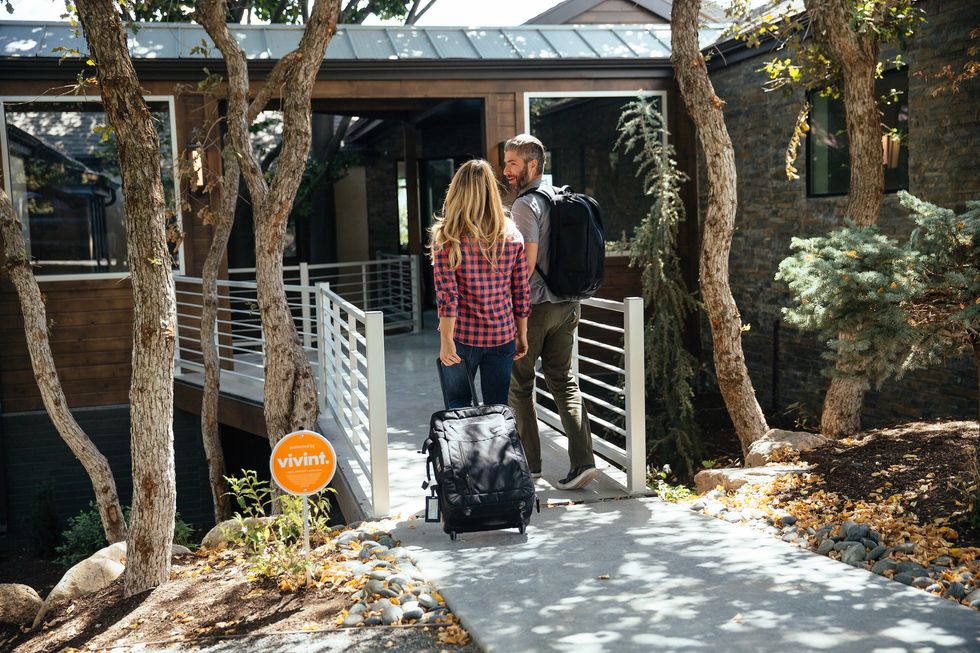 Vivint customers can now link through system to Airbnb
Finally, Vivint's solar energy arm—which we've written about before—will weave Sky into its segment by making decisions on when to more intelligently run devices based on energy costs. Vivint Solar customers will now be given access to Sky, a Vivint Element Thermostat and home sensors as part of their pre-existing package. This way, Vivint says they'll have more insight into the energy they're producing via solar, and what they're using as well. That element should be available later this year, but Sky launches now.
"Sky doesn't know everything about your first day, but it gets instructions and learns," says Eyring. "The paradigm now is you're doing all the work for your home, and you home should do all the things for you."
If interested in learning more about Vivint and Sky, visit Vivint's website and tell them GearBrain sent you.