Like GearBrain on Facebook
Volkswagen's scandal around its diesel vehicles intentionally cheating emissions tests —and emitting far more nitrogen oxide than U.S. laws allowed — engulfed the entire VW Group, after the U.S. Environmental Protection Agency (EPA) made the discovery in September 2015.
The situation only escalated when the numbers grew to 11 million vehicles worldwide, with 500,000 cars on U.S. roads emitting up to 40 times the legal levels of nitrogen oxide. VW chief executive Martin Winterkorn resigned, and the company braced itself for billions of dollars of fines, threatening the very existence of the world's biggest automaker.
Read more EV news from GearBrain:
Although more economical for drivers, diesel was already a tough sell in the U.S., where gasoline prices are far lower than in Europe, and as the scandal grew into a corporate catastrophe, sales of cleaner hybrid and electric vehicles started rising. Sales of plug-in vehicles in the U.S. grew by 36 percent in 2016 and 27 percent in 2017, as the likes of Tesla and Nissan tapped into a market looking for a cleaner solution to diesel. Meanwhile, Volkswagen's own EV plans remained years away.
That changed when, as part of its settlement with U.S. authorities over the emissions cheating scandal, VW agreed to invest $2 billion in a new electric vehicle charging network starting in 2017. Called Electrify America, the first phase — installing over 2,000 chargers at 484 stations — will be completed by 2027, and $800 million of that investment will be spent in California alone, which is getting more of the money than any other state. The remaining $1.2 billion will spread across the rest of the country.

For context, Tesla currently operates around 2,600 of its Superchargers, at more than 370 stations in the US, Canada and Mexico. Unlike Electrify America's universal chargers, they are for the exclusive use of Tesla drivers.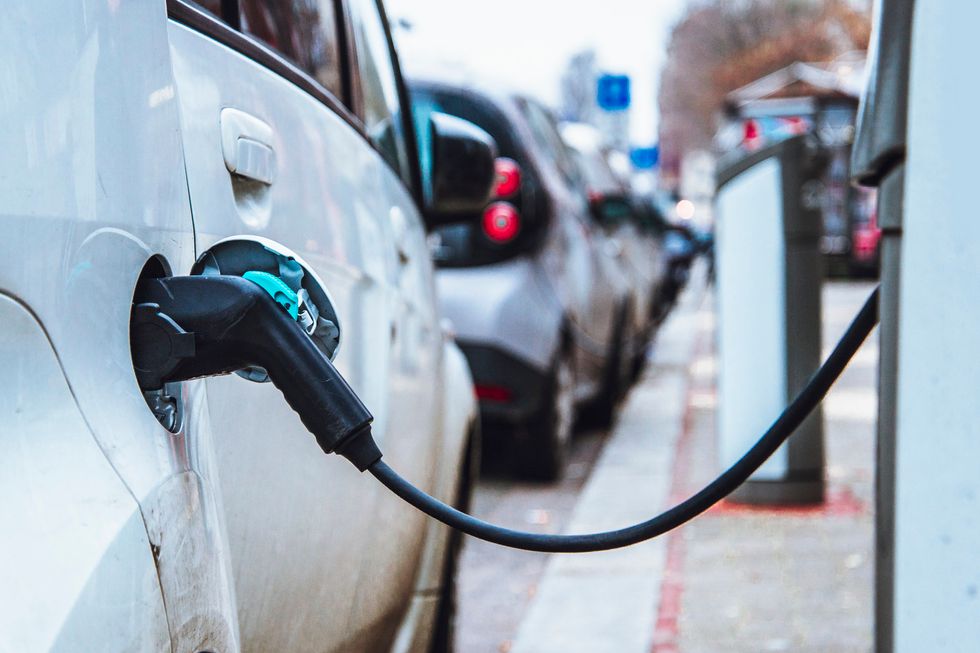 Some of the chargers will be installed on the roadside in metro areasiStock
Electrify America's chargers will vary by manufacturer, design and location, but they will all be fast. The company says they will be capable of charging at 50kW, 150kW and 350kW. For comparison, Tesla's Supercharger network works at 120kW.
The chargers will be installed in various types of location and to serve the differing needs of EV owners. Chargers will be installed at 484 stations across 17 metropolitan areas, where they will appear at apartment complexes, workplaces, shopping malls and hotel parking lots, plus existing fuel stations and on the street side in some areas. On top of this, there will be a cross-country network of over 200 chargers to cater for long-distance EV driving.
The following cities are getting Electrify America charging stations:
Boston
Chicago
Denver
Fresno
Houston
Los Angeles
Miami
New York City
Philadelphia
Portland
Raleigh
Sacramento
San Diego
San Francisco
San Jose
Seattle
Washington D.C.
Electrify America claims its chargers add up to 20 miles of range to a car's battery every minute, four times faster than what Tesla's Supercharger can manage today. However, this charging speed — 350kW — will not be available to every EV driver at launch; in fact, only Porsche (owned by VW) has committed to building cars capable of charging at 350kW for now. But, by installing chargers capable of such high speeds, Electrify America's network will be future-proofed for years to come.
The chargers will each have a 15-inch touch screen for customers to operate the charger and pay, and they can opt to receive a text message when charging is complete. Integrated credit card readers will make payment easy. Construction of these chargers will begin this spring and be completed by the end of 2019, the company said.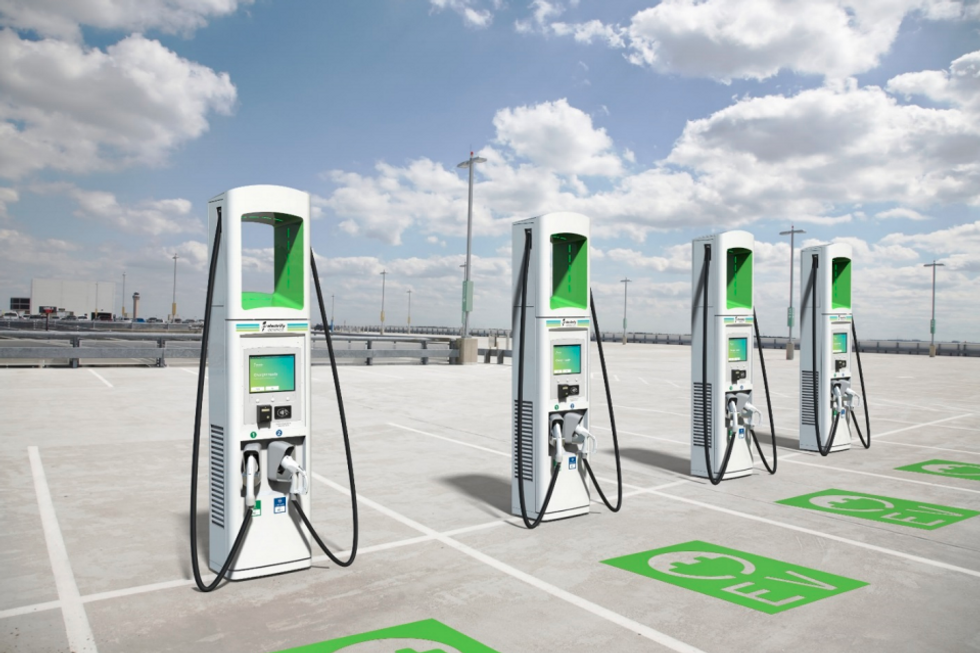 These chargers will deliver up to 20 miles of range per minute, seven times faster than today's public chargersElectrify America
"Two of the key issues impacting EV sales today are convenient charging locations and charging speeds that are not fast enough," said Mark McNabb, Electrify America's chief executive on April 17. "By placing our ultra-fast charging systems in locations drivers enjoy stopping at, we help reduce charging anxiety and increase the public acceptance of electric vehicles."
Charging stations will also be installed at over 100 Walmart stores across 34 states by mid-2019, Electrify America said the next day, on April 18. Each station will have between four and 10 chargers, in a bid to show consumers that owning an electric vehicle is a more realistic proposition than they may currently realize.
Volkswagen's $84 billion electric vehicle plan
Of course, VW also has plans in place to spend tens of billions of dollars on building new electric vehicles. As part of its Roadmap E initiative, the VW Group plans to build 16 new construction sites which will start manufacturing electric vehicles by 2022.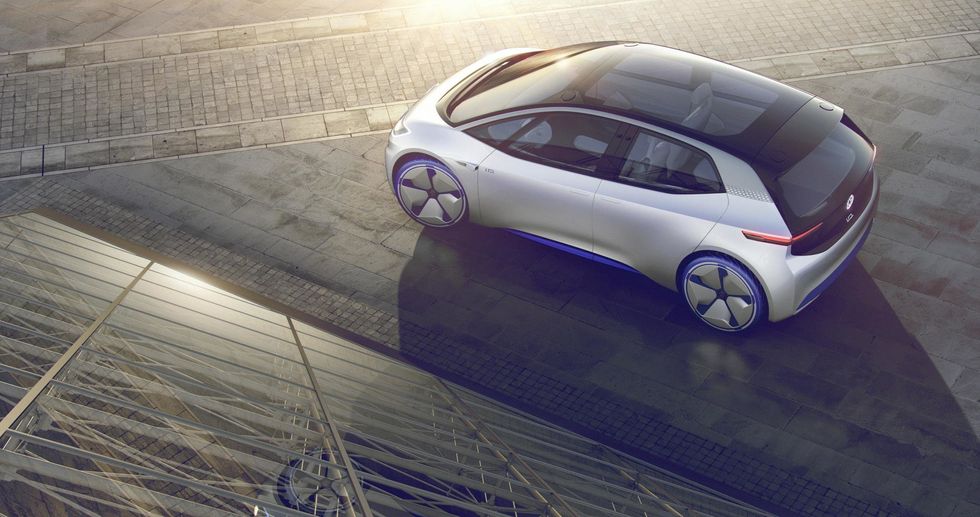 A production version of this ID hatchback concept will arrive in late-2019Volkswagen
Between now and then, VW will bring 80 new models of plug-in vehicles to market, with nine arriving before the end of 2018, three of which will be fully electric as opposed to hybrids. By 2025 — and with those new factories online — VW plans to build three million electric vehicles annually, and by 2030 it hopes to offer an electric version of all 300 vehicles it currently produces. In all, Volkswagen will invest $84 billion in the electrification of every vehicle built by its various brands. These include:
Audi
Bentley
Bugatti
Cupra
Italdesign
Lamborghini
MAN
Porsche
Scania
SEAT
Skoda
Volkswagen
Volkswagen Commercial Vehicles
VW's first purely electric vehicle (with no petrol, diesel or hybrid relatives) will be a production version of the concept known for now as the ID hatchback, pictured above. ID is the family name used by VW's recent electric concepts, and the names of the production models are not yet known.
The ID hatchback will enter the pre-production prototype stage of development this month (April 2018) and the first customer cars are due to enter mass-production by November 2019. Similar in size to the Tesla Model 3, the ID hatchback is expected to have a range of between 250 and 370 miles.
Volkswagen is late to the EV party compared to Tesla, Nissan, BMW and General Motors. But with billions of dollars in the bank, a surprisingly fast revival after the diesel scandal that could have killed it, and a public image to restore, one shouldn't bet against VW becoming as successful with EV as it was with internal combustion. Only this time it will have to play by the rules.
Like GearBrain on Facebook