Like GearBrain on Facebook
Blockchain, artificial intelligence, on-demand services and over-the-air software updates probably aren't words you would expect to hear at a press conference hosted by one of the world's most established sports car makers.
But for its 70th anniversary, Porsche and its Porsche Digital initiative want to focus more than ever on how a traditional car maker — and a small, specialist one at that — can play a leading role in the ongoing revolution of the motorcar.
Read More:
As Oliver Blume, chairman of the executive board at Porsche, told journalists at the company's annual press conference in Stuttgart, Germany: "The automotive industry is undergoing a period of transformation. In the coming years it will change more than in the last 50 years combined."
This change is split across several aspects of the industry. First, the shift from internal combustion to electric power, but also autonomous driving systems, demand from consumers for their cars to be as high-tech as their smartphones, and a desire to pay for monthly, on-demand access to a range of cars like one pays for Spotify and Netflix today.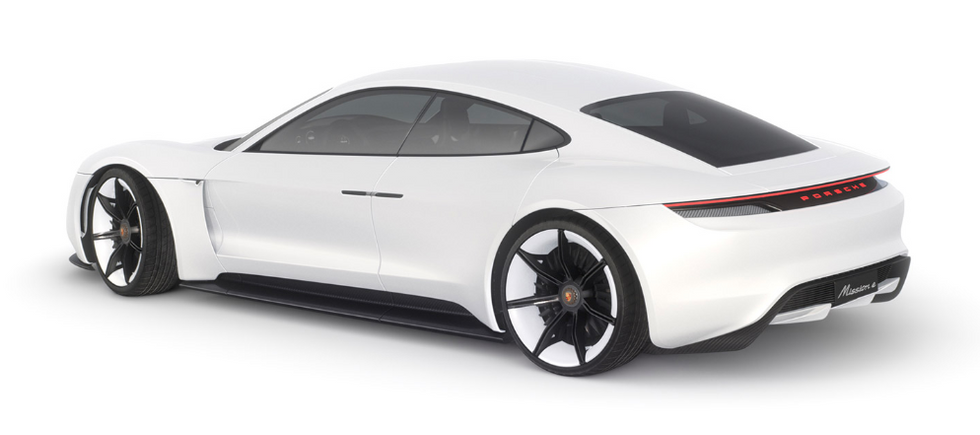 The Mission will soon get its real name, before hitting mass production in late-2019Porsche
The biggest talking point — and where Porsche is investing €6 billion ($7.37 billion) — is in electrification. Inroads have already been made, as the company offers hybrid versions of its Cayenne SUV and Panamera luxury sedan — and hybrids account for 60 percent of European Panamera sales last year.

But now a bigger shift is on the horizon for Porsche, as its all-electric Mission E project gets up to speed.
Announced back in 2015, Mission E refers to a pair of upcoming electric Porsches due to go into mass production (at a rate of 20,000 cars per year) by the end of 2019. For comparison, Porsche delivered 32,200 of its 911 sports car in 2017.
There will be a four-seat electric sports car which fits between the 911 and Panamera, alongside a taller model (for now called the Cross Turismo) to satisfy the booming crossover market. Neither have been given their real names just yet, although Porsche insiders say the first car's name has been finalized behind closed doors.
GearBrain was invited to attend the annual press conference, followed by a tour of Porsche's facilities and a look at the enormous effort required to start producing an all-new electric car from scratch. Far from a case of merely fitting electric motors instead of engines, Porsche is gearing up to produce the Mission E cars by constructing a new five-storey factory at its Zuffenhausen facility, where the 911, Boxster and Cayman sports cars are made.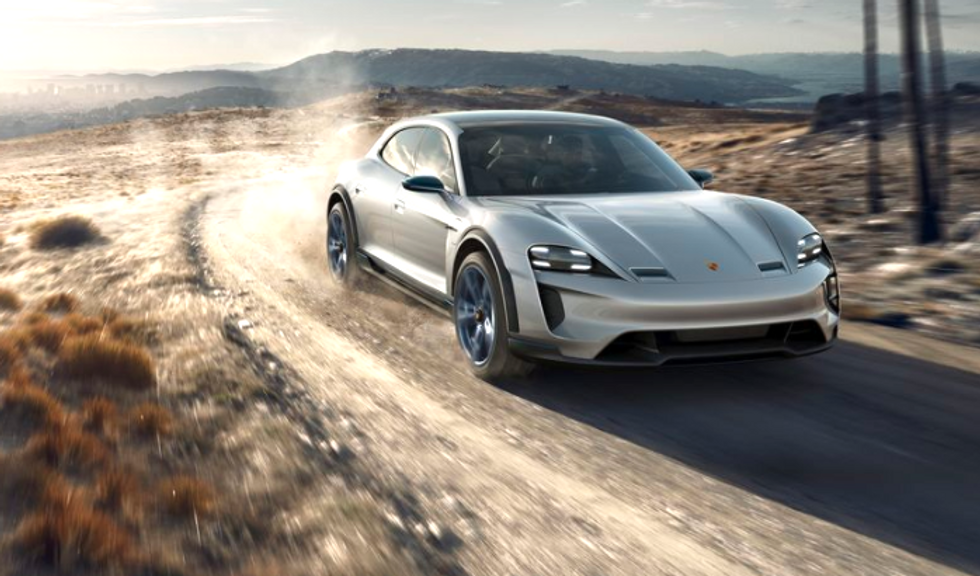 Sharing the same Mission E platform, the Cross Turismo is an off-roading 'lifestyle' electric carPorsche
Purely electric, the Mission E sports car, Porsche says, will produce 600 horsepower, have a 155mph top speed, hit 62mph (100km/h) in less than 3.5 seconds, and charge from zero to a range of 250 miles in 15 minutes. These figures raise an obvious observation - that Porsche is aiming its car directly at Tesla and the Model S.

However, Blume quickly dismisses this comparison, saying during a Q&A session: "We have big respect for Tesla and [chief executive] Elon Musk, but they are not a target for us...We don't really look towards Tesla…[several] brands will be able to live peacefully side-by-side."
Echoing features first popularized by Tesla are Porsche's plans to give its cars over-the-air software updates. But where Tesla uses this to add useful features and tweak settings, Porsche will take a more drastic approach, and one which fits closer to its racing heritage.
Lutz Meschke, deputy chairman of the executive board, said: "In the future, it will be possible to temporarily fine-tune the chassis and the engine [or electric motor] to deliver a particularly sporty performance if a Porsche driver is planning a weekend at the race track."
Taking this a step further, Meschke continued: "The vehicle will then autonomously take the driver around the course, finding the ideal line, as a training exercise." Use of these features would be charged to the owner's pre-existing Porsche ID, Meschke said.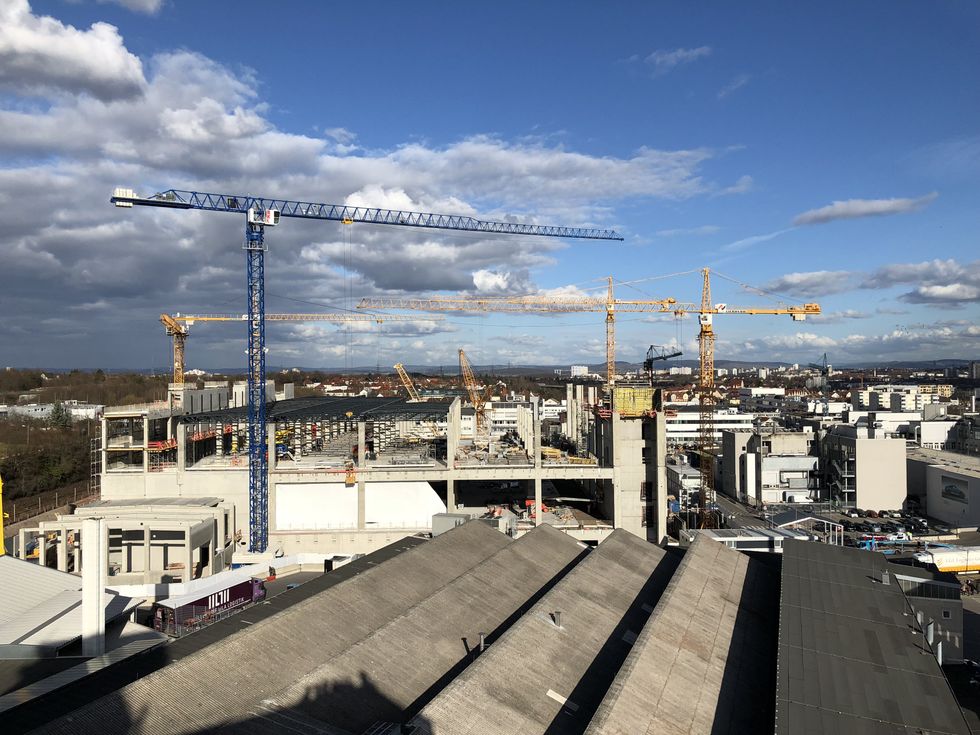 Porsche is constructing a whole new factory for its electric vehiclesGearBrain
Ideas like these come from Porsche Digital, a division set up in 2016 to bring a 70-year-old sports car maker into the 21st century. The company is experimenting with the Internet of Things and even blockchain, the digital authentication technology best known for validating bitcoin transactions, but which can be modified for a wide range of uses.

Together with Berlin startup Xain, Porsche wants to use blockchain technology to keep its customers' data safe. The automaker is also exploring how blockchain can be used to grant temporary access to vehicles, how it can work with autonomous driving systems, and how it could authenticate electric cars when they use a charger.
On the topic of granting temporary access to vehicles, this could fit in with Passport, a trial carried out by Porsche in Atlanta where customers are invited to pay a monthly fee to have access to several vehicles from the company's portfolio — a Cayenne SUV during the week then a 911 at weekends, for example. The service currently offers access to eight different vehicles for $2,000 per month, or 22 different Porsches for $3,000, plus a $500 joining fee and credit check.
While that remains a small trial for now — and autonomous race track tuition is unlikely for a few years yet — Mission E is very real and the amount of construction going on at Zuffenhausen is vast. Porsche says it has excavated 28,000 trucks' worth of land to make space for new factory buildings, and it is using the shift to electric to install an all-new design of production line which is more flexible and efficient than before.
On the issue of charging infrastructure, Porsche has several answers. It will install fast chargers at its dealerships which will initially deliver a Tesla Supercharger-matching 400 volts of power, before being upped to 800 volts. The German company is also a part of the Ionity charger project in Europe to build 400 stations by 2020. Members of Ionity also include BMW, Ford, Volkswagen, Rolls-Royce, Mini and Mercedes parent Daimler. In the US, Porsche is working with Electrify America to install over 650 fast charging sites, and it also plans to sell home chargers for overnight battery filling.
Witnessing all of this first-hand makes you appreciate just how much effort is required to switch from decades of internal combustion to electric power. But once Porsche has Mission E production up to speed in late 2019 - and once giants like Volkswagen, Ford and General Motors do the same — Tesla's early lead will surely vanish.
Like GearBrain on Facebook