Like GearBrain on Facebook
Pros: Water resistant, decent value for your buck, serviceable fitness/sleep tracking

Cons: No altimeter or GPS tracking, mobile app is slow to sync, and not the most attractive fitness tracker out there
Tech wearables are everywhere these days, with fitness trackers some of the most practical devices out there today. Micromanaging your fitness routines can give you a powerful sense of control over your lifestyle, and being able to quantify everything—from the steps you take to the hours you sleep—can assist in that endeavor.
Enter the Withings Go, an affordable wearable that professes to offer that lifestyle control you may be seeking.
Get up and Go
So, what does it do? Even if you're unfamiliar with such devices, you'll easily be able to jump into the Go's features without too much fuss. Like other similar devices, the Go is a small disc that can be put into a wristband, to wear like a watch, or attached to a clothing clip, to wear anywhere you prefer. While Go is certainly not the most stylish fitness tracker on the market, it's not the ugliest either.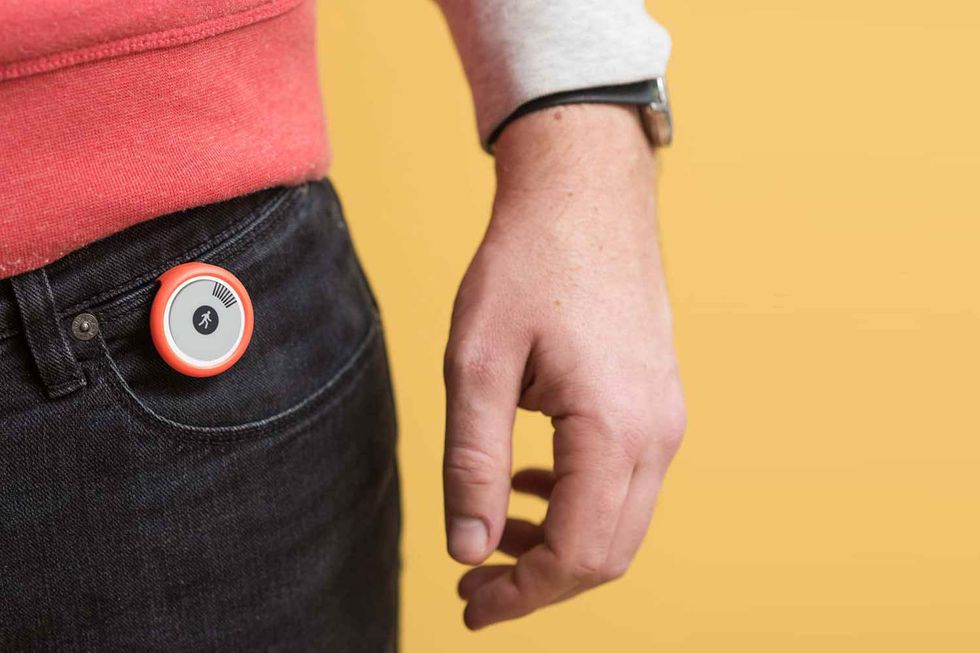 Clip Withings Go to your clothes if you'd rather not wrap around your wrist.
The device itself is a bit bulky, compared to similar trackers, and the watch strap wasn't as flexible as I would have liked. Nevertheless, Go is an unassuming enough device that, even if not winning any fashion awards, shouldn't bring you any ridicule, either. The little disc comes equipped with the ability to track your step count, sleep quality, and running, or swimming, duration coupled with their calorie burn.
The face of the disc uses an E Ink screen, a simple display technology that brings high brightness and contrast, plus low power consumption, to display your current step goal progress. Long pressing on the display allows you to switch to a Watch mode which, as you'd expect, tells the time. Once you've reached your step goal the Walking icon switches to a star to denote your success. The device itself only displays the most basic of information, while the Go's companion app offers a much more robust experience.
Competitive angle
The Withings Go companion app, which can be downloaded to your iPhone or Android device (No Window's phone support, currently), is where the bulk of your tracked information is stored. When you first open the app you'll have to follow a few simple onscreen instructions to pair your Go with the app, as well as set up a Withings' account. This process took me about 10 minutes, but most of that was waiting on the device to pair to my phone. (More on that later).
The app syncs to your Go via Bluetooth, and will display your step count, daily goal, and position on the app's leaderboard. If you have friends who use the Go, you can use the leaderboard to see each other's progress and enjoy a little friendly competition, if you so choose. The app itself is easy to navigate and comes with the ability to also sync with MyFitnessPal, if you use both services.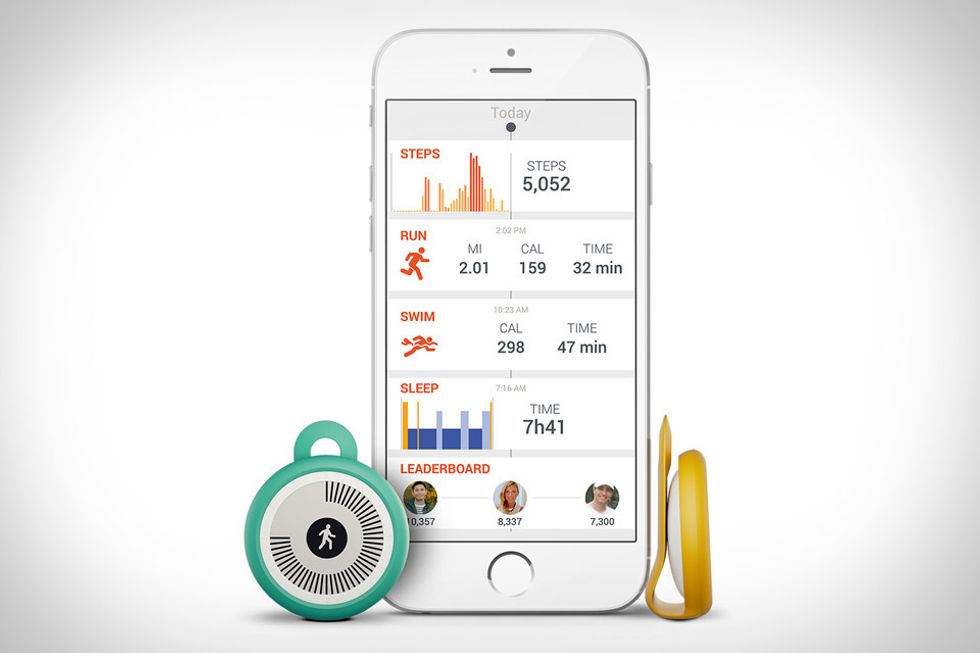 Withings Go lets you keep track of your progress—and your friends too.
Pressing the Blue circle plus icon on the Timeline screen allows you to edit your weight, blood pressure, heart rate, and food diary. The food section, and subsequent weight loss goals options, do require the use of MyFitnessPal, and for those who use both services, you'll find a nice set of options to share data between the apps.
All-in-all, the Withings Go is a very serviceable fitness tracker with the kind of performance you'd expect. When compared to other applications, such as Noom Pedometer and Google Fit, the step counter was always within 2-4 steps of the other's step count. However, there are some aspects of the Go you may want to be aware of before dropping your cash.
Best for casual workouts
When it comes to exercise tracking, the Go can only really act as a step counter for walking and running. While the Go does track the duration and calorie burn of runs and swimming sessions, that's really about all it does. For those of you that exercise casually a few times a week, this may be the perfect wearable for you. However, if you're someone who spends a good amount of time at the gym, or someone who likes to micromanage a large number of exercises, then the Withings Go will probably not meet your needs.
The Go lacks an altimeter, tracking for cycling, heart-rate monitor, and GPS functionality. From a practical standpoint this means that the Go is ineffective for tracking any stair climbing, and the lack of GPS functionality means that tracking accurate running or biking distances will be not so great. The ability to alter step count manually does, somewhat, offset the lack of an altimeter, but only if you're counting those stairs.
Similarly, the sleep tracking feature, while novel, is fairly useless. The Go uses an accelerometer to track your sleep movements and then correlates that data into deep and light sleep cycles. Like many similar products which do the same thing, it can be interesting to see your sleep quality, but ultimately the feature provides no real actionable information.
A final, and possibly nitpicky, detail to add would be the aforementioned pairing/syncing issues. In order for the Go's mobile app to recognize my wearable, the two had to be right next to each other. A distance of even two feet was enough to disrupt the pairing and syncing processes. Even after the app found the device, which Go has to do each time you sync, the actual syncing process always took a minute, or more, to start up and complete. While rather cumbersome and annoying, the syncing process never actually failed, this simply took a bit longer than I would have preferred.
All that said, considering the Go's price tag these missing features and small issues make sense. The Go offers users a very basic fitness tracking experience at an affordable price and does so reasonably well. If you're looking for a fitness tracker that will provide tracking on a large range of exercise activities—such as CrossFit programs, then you may want to invest money into a more robust wearable. However, if your fitness routines are more casual and you're interested in dipping your toes into the fitness wearable market, the basic functionality and easy to use Withings Go may be just the device for you.
Like GearBrain on Facebook