A Taiwanese hacker has pledged to delete the Facebook page of Mark Zuckerberg, co-founder and chief executive of the social network, this Sunday.
Zhang Qiyuan a self-confessed bug bounty-hunter who earns money from exposing flaws in company's software in return for a cash reward, says he will broadcast the hack on Facebook Live.
Read More:
The hacker has over 26,000 followers on his Facebook page and says he will delete Zuckerberg's account at 6pm local time (3am PST, 6am EST). The post, first spotted by Bloomberg, had been liked 168 times and received 26 comments and 13 shares at the time of writing.

Bug bounties are commonly used by websites as a way to encourage so-called ethical 'white hat' hackers to find vulnerabilities and let the companies know. However, the hacker is generally expected to let the company know in advance and demonstrate the hack to them in private, thus keeping the vulnerability away from malicious hackers.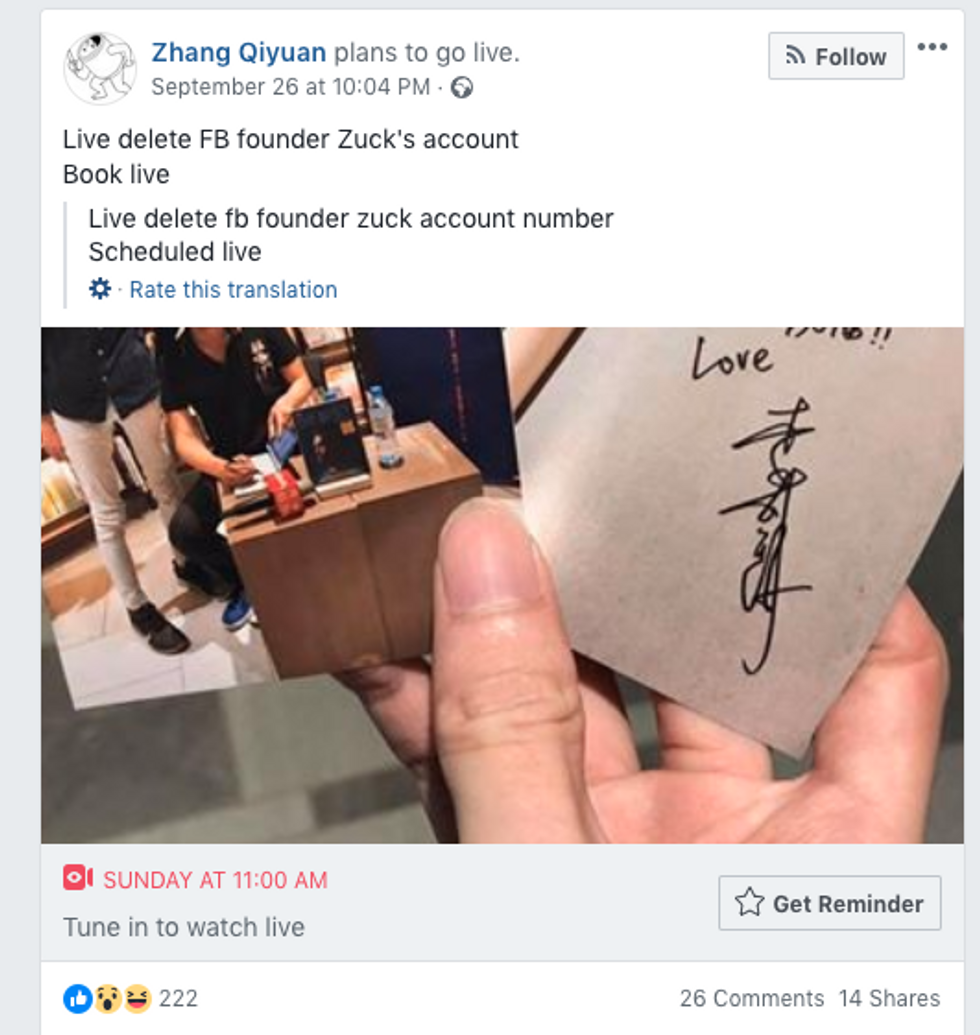 The hack will be broadcast live on September 30GearBrain
Qiyuan's stunt seems to fall somewhere between these two stances. It's unlikely that he will show the world how the hack works - as, presumably, it could allow anyone to delete any Facebook profile - but taking down Zuckerberg's page in public is unlikely to amuse Facebook and its bug bounty division.
Facebook's white hat hacker page states that hackers must follow the site's Responsible Disclosure Policy before taking any action. Failing to comply with this policy, Facebook says, could lead to a lawsuit or law enforcement investigation.

One rule of this policy states: "You do not interact with an individual account (which includes modifying or accessing data from the account) if the account owner has not consented to such actions." Of course, it is unlikely that Zuckerberg would have given Qiyuan permission to delete his account, which is used regularly to communicate with his 118 million followers.
If the rules are followed, Facebook pledges to pay out a minimum of $500, although one would suspect a flaw where profile pages - not least Zuckerberg's - can be deleted would earn a significantly larger sum.
Qiyuan describes himself as "not a genius or an expert...please note that the front page of the news should be left to the real master."