Like GearBrain on Facebook
One of the most hotly-anticipated cars of 2020 might not seem particularly smart on the surface. The new Land Rover Defender is the follow-up act to a car that traces its ancestry back to the 1940s, and is primarily designed to climb every mountain, and ford every stream. Yet it is also packed full of cutting-edge technology.
Starting at $49,900, the new Defender is available in two sizes, known as the 90 and the 110. Both offer the same features and petrol or diesel drive trains, but the former has a short wheelbase with two doors, while the latter is a longer-wheelbase four-door.
Read More:
But, as ever with GearBrain, we're going to jump straight into the car's technology.
The 2020 Defender is the first vehicle from Jaguar Land Rover to feature the company's all-new Privi Pro infotainment system. This runs on a 10-inch touchscreen display in the middle of the dashboard, and on an all-digital instrument cluster behind the steering wheel.
Pivi Pro has a flatter, simpler menu system than its predecessor, meaning fewer taps and swipes are required to access and control the system's core functions. Everything has also been sped up, so it responds more quickly to touch inputs than before. There is also Apple CarPlay and Android Auto as standard, a wireless charging pad for your phone, plus a USB-C port and numerous USB-A ports and 12-volt sockets spread throughout the cabin.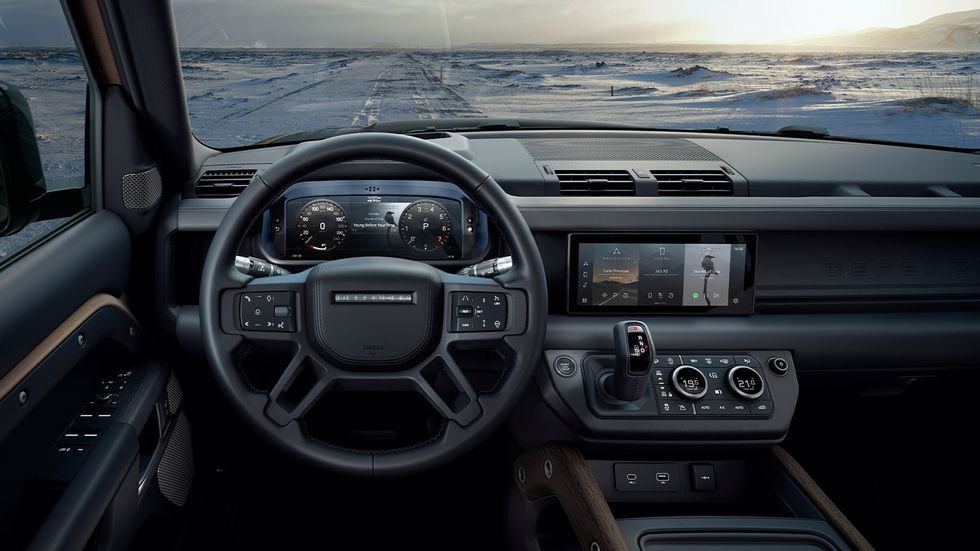 The Defender debuts Land Rover's new Pivi Pro infotainment systemLand Rover
Despite the large touch screen, the Defender's climate controls are still mostly physical, thanks to a pair of large rotating dials surrounded by conventional buttons. This is the right move for Land Rover to make; not only does it better-suit the Defender's back-to-basics DNA and purposeful design, but it also feels safer than tapping at a touchscreen.

The Defender driver also gets a web-connected navigation system with live traffic data, and some truly remarkable camera trickery.
Augmented reality
The main camera feature is called ClearSight Ground View, and also features on other current models of Land Rover. It uses cameras at the front and back (those that you'd normally use for parking) plus downwards-facing cameras on the wing mirrors. These create an augmented view of what the ground looks like under the front of the car, as if looking through the engine bay.
Although the footage displayed isn't quite live — there's a small delay for the feed to be stitched together — the view it offers, as if the engine and hood simply aren't there, is remarkable. The idea is you use this view to help during a tricky bit of off-road, or when approaching a particularly large curb in the shopping mall parking lot, of course.
The exterior cameras also work together to create what Land Rover calls the 3D Surround Camera, which shows a complete 360-degree view of what your car looks like, as if viewed outside from several feet away, shown in the image below. It's a mightily impressive computer trick, and makes the driver feel like they are looking at their car from a hovering drone, or in a computer game. Again, this helps with spotting obstacles while off-roading, parking, or towing a trailer.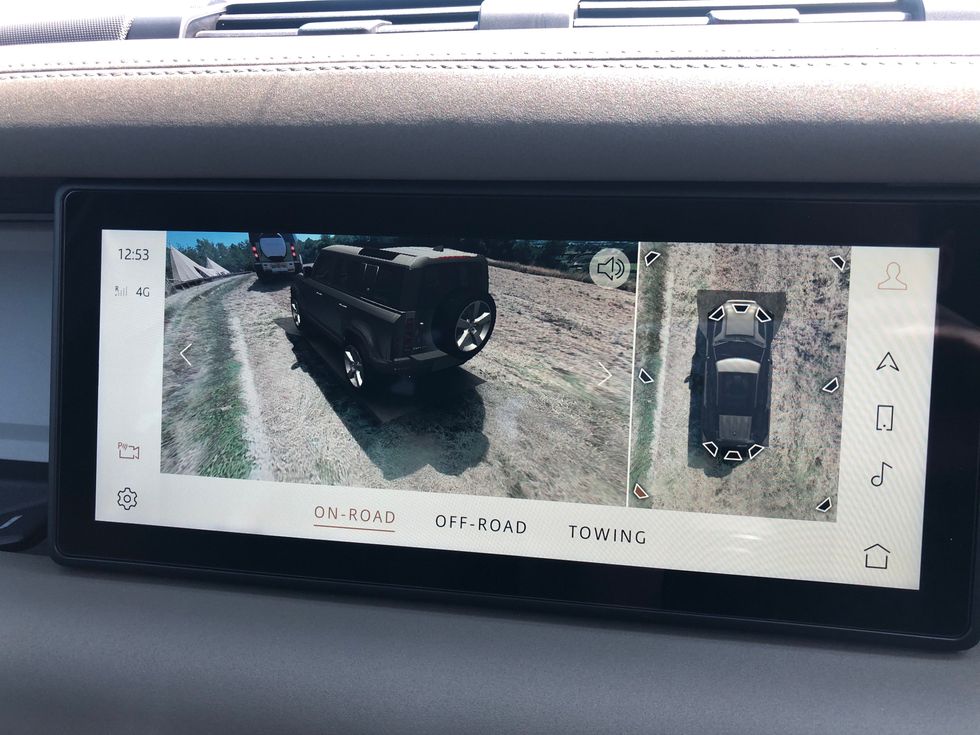 Cameras created an augmented, exterior view of the carGearBrain
Yet more camera smarts can be accessed while driving in the Defender's off-road mode, which is called Terrain Response and is selected with a press of a button. Now, the 10-inch display can show a view ahead and behind, but also a view from those downward-facing cameras, helping you see precisely where the wheels are. We found this really helpful while tackling an off-road driving course, as part of the new Defender's UK launch event.

Speaking of Terrain Response, the system can be manually adjusted to off-roading presets like snow, sand and rock crawl. But it can also be left to automatically adjust the car depending on what it senses from the surface below.
A particularly smart feature of Terrain Response is Hill Descent Control, which acts like cruise control for driving slowly up or down steep inclines. The system automatically engages, at which point you can take your foot off the brake and leave the car to lower itself, at a constant speed, down the hill. A toggle switch on the steering wheel lets you increase or decrease the speed.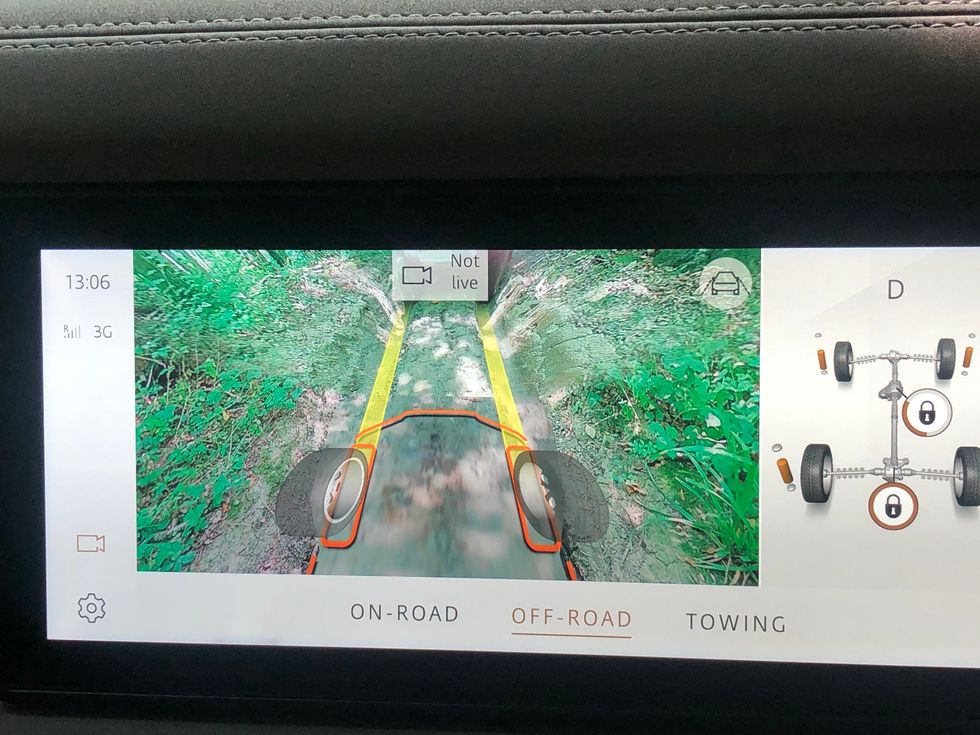 Cameras show an augmented view under the front of the carGearBrain
When encountering deep water, the main display can be switched to show a visual representation of how deep the water is compared to the car. The Defender can wade in water up to 900mm (35.4 inches) deep.

All of this technology adds up to make serious off-roading feel like child's play. The car we used was fitted with an optional tire better-suited to off-road conditions, but this didn't appear to hinder the Defender's on-road behavior, or cause excessive road noise. Other than that, it was simply a case of pressing one or two buttons and driving as normal, on- or off-road.
Die-hard fans of the old Defender may feel short-changed here, wishing for more involvement and the opportunity to use skill and judgement instead of relying on computer algorithms. But for an off-roading amateur, it was impossible not to be impressed by how effortlessly the car handles tough terrain, and even gives you a 360-degree view of the surroundings as you go.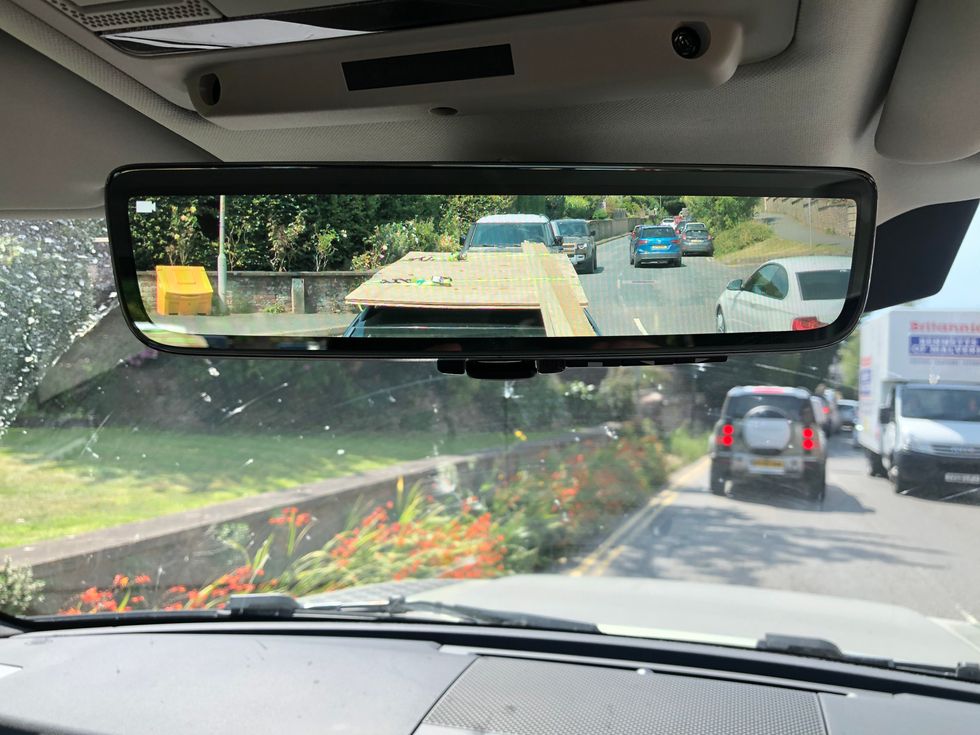 The rear view can be provided by a mirror or a cameraGearBrain
More camera technology is found in the central rear-view mirror. It can be used as normal, but with a flick of a switch underneath, the reflection is replaced by a high-resolution display showing a live feed from a rear-facing camera. This camera is positioned above the rear windshield, giving you an enhanced view of the road behind, over the roofs of lower vehicles, and means you can see clearly when you have rear-seat passengers or a full trunk.

Some drivers told me they're not keen on this, but I loved it. The display's refresh rate can very occasionally look like a flicker in the corner of your eye, but after a day behind the wheel I got used to it, and much preferred the wide, pin-sharp view from the camera over the normal mirror.
Verdict
As you can no doubt see by now, the new Land Rover Defender is packed with far more technology than its utilitarian looks might suggest.
Land Rover has smartly used existing technology (like reserving cameras) to help with driving the Defender both on and off road, while giving buyers a refined infotainment system, lots of USB charging options, and the modern comforts the SUV sector is known for. It has also done this while retaining some of the old Defender's beloved charm.
It is of course true that very few Defender buyers will ever actually push their car to the limit off-road, but the same can be said of a Rolex wearers who never dives to 1,000 meters. In both cases, while these capabilities may never be required, it's still reassuring to know the option is there.
Pros:
Camera-generated augmented reality views
Automated hill descent
Video rear-view mirror
Cons:
Land Rover fans have a new infotainment system to learn
Off-road enthusiasts may miss more manual controls
Slight, occasionally flickers from rear-view mirror screen
Netgear Nighthawk MR1100 4G LTE Mobile Hotspot Router (AT&T GSM Unlocked)(Steel Gray) (Renewed)
From Your Site Articles
Related Articles Around the Web
Like GearBrain on Facebook