Cadillac has revealed its first all-electric car, called the Lyriq and featuring a massive 33-inch curved touchscreen infotainment display.
Although the Lyriq comes three years after General Motors said it planned to launch 20 new electric vehicles by 2023, it is still some way off being ready for production.
Read More:
Cadillac says the Lyriq revealed this week is around 80 to 85 percent representative of the final mass-production model, and that car won't arrive in showrooms until late-2022, providing there are no delays.
The automaker is keeping quiet on the Lyriq's exact specifications for now, instead referring to a "beyond 300 mile" range from a battery pack that will offer "approximately 100 kWh of energy."
What we do know is that the Lyriq is built on GM's new Ultium scalable battery system, which is essentially a skateboard chassis (as used by many other electric car companies) that can be adjusted to fit a wide range of vehicles across its brands. The platform can scale between electric vehicles with batteries of 50kWh, up to 200kWh, which is larger than anything the EV market has yet seen, aside from the as-yet-unreleased Tesla Roadster.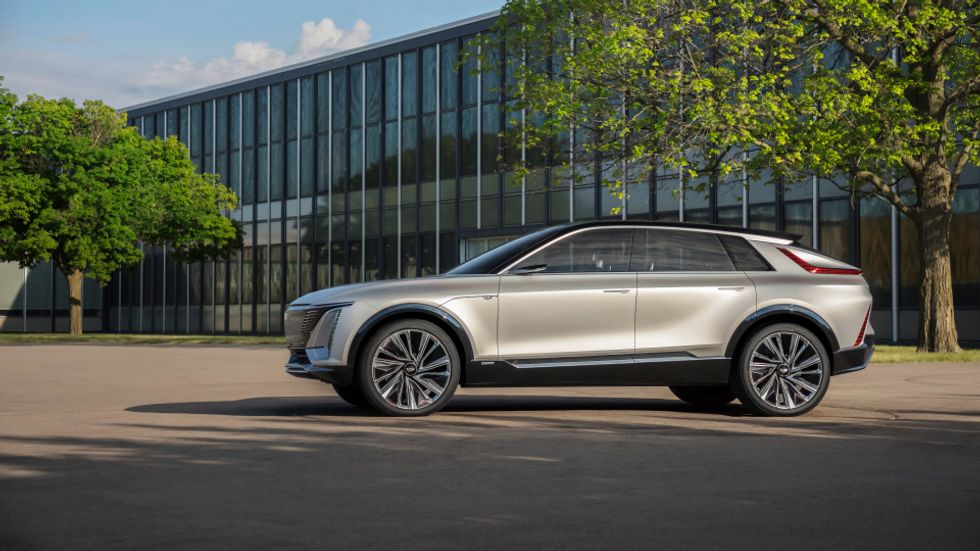 Cadillac's first EV, the Lyriq, has a huge 33-inch touchscreen Cadillac
Cadillac says the Lyriq will be offered with both rear-wheel-drive and all-wheel-drive configurations, meaning a motor on the rear axle for the former, and motors on both axles for the latter.

Cadillac has not said what the Lyriq might cost, but its imposing size, luxurious styling and huge infotainment system all suggest the company is aiming for the top end of the EV market. This is a well-trodden path previously taken by Tesla, Audi, Mercedes Jaguar and others, pricing their first EVs high in a bid to reclaim the vast R&D costs that go into producing electric vehicles for the first time.
As for charging, Cadillac said the Lyriq will offer 19kW level two home charging, and a charge rate of up to 150kW using a DC public charger. The latter puts the car roughly on par with what Teslas are capable of today.
The interior is dominated by a huge, curved 33-inch display that Cadillac claims has the "highest pixel density available in the automotive industry today and can display over one billion colors, 64 times more than any other vehicle in the automotive industry."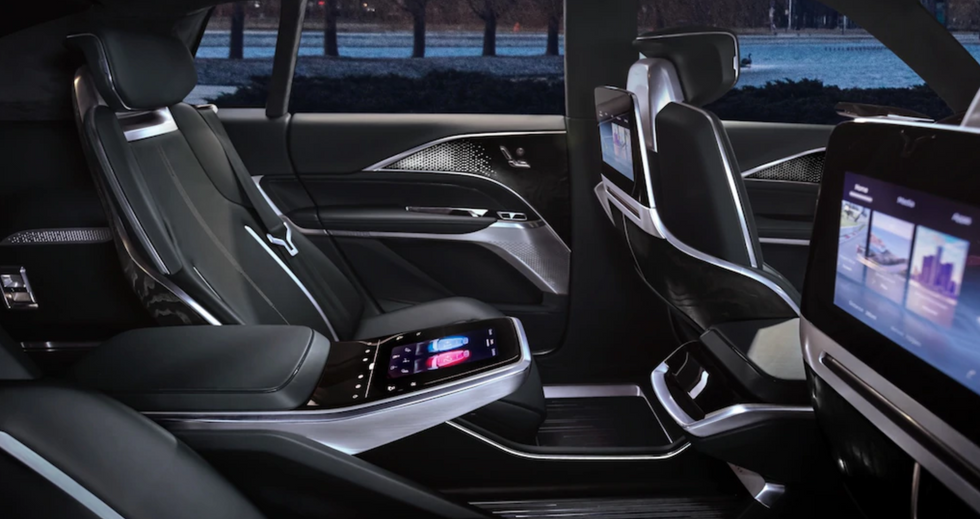 Rear seat passengers also get a central touch screenCadillac
Bold claims – and ones which Byton and its 48-inch display will be watching closely – but, again, Cadillac isn't yet committing itself to actual numbers when it comes to resolution or display functions, features and performance.

As well as the display, the Lyriq's infotainment system will be controlled using a rotational dial sat on a cantilevered control panel between the front seats. We suspect this will work in a similar way to the dial used by BMW's iDrive system. The Lyriq's system also features a 19-speaker stereo by Samsung-owned AKG, an augmented reality head-up display, and GM's Super Cruise driver assistance system with automated parking.
Rear-seat passengers get an entertainment display each, fixed to the back of the front seats, and between them sits a central touchscreen for controlling their seats and climate settings.
The Lyriq is a bold new look from Cadillac, and certainly ticks a lot of the features luxury EV buyers want. In a way it reminds us of the Faraday Future FF91, with its spacious, four-seat interior and multiple touchscreens.
But this car comes three years after GM laid out its EV road map, and at least a couple of years before it will actually go on sale. A lot is likely to have changed between now and then, so while Cadillac might be smart to keep its performance cards close to its chest for now, we'd like to have seen more — and sooner — from Cadillac's first step into electrification.
Yootech Wireless Charger,Qi-Certified 10W Max Fast Wireless Charging Pad Compatible with iPhone SE 2020/11/11 Pro/11 Pro Max/XR/XS/X/8,Samsung Galaxy S20/Note 10/S10/S9,AirPods Pro(No AC Adapter)