Getting outdoors into nature and falling asleep under the stars, especially after months inside, is restorative. Now add a favorite pet to the excursion and a camping outing turns into an adventure. But before you pack your pup into the car and head off for a camping trip, make sure you have basics that not only help him enjoy the time outside, but keep him safe too.
There are lots of smart pet devices you can use at home. Out camping? You need to think a bit smaller and more mobile. These devices below are recommended by veterinarians and other experts, products that can make your dog — and in some cases, cats — much more comfortable. But by keeping your pet safe, these can also help you to relax as well, which is why you packed up and headed outdoors in the first place.
Favorite Toy or camping bed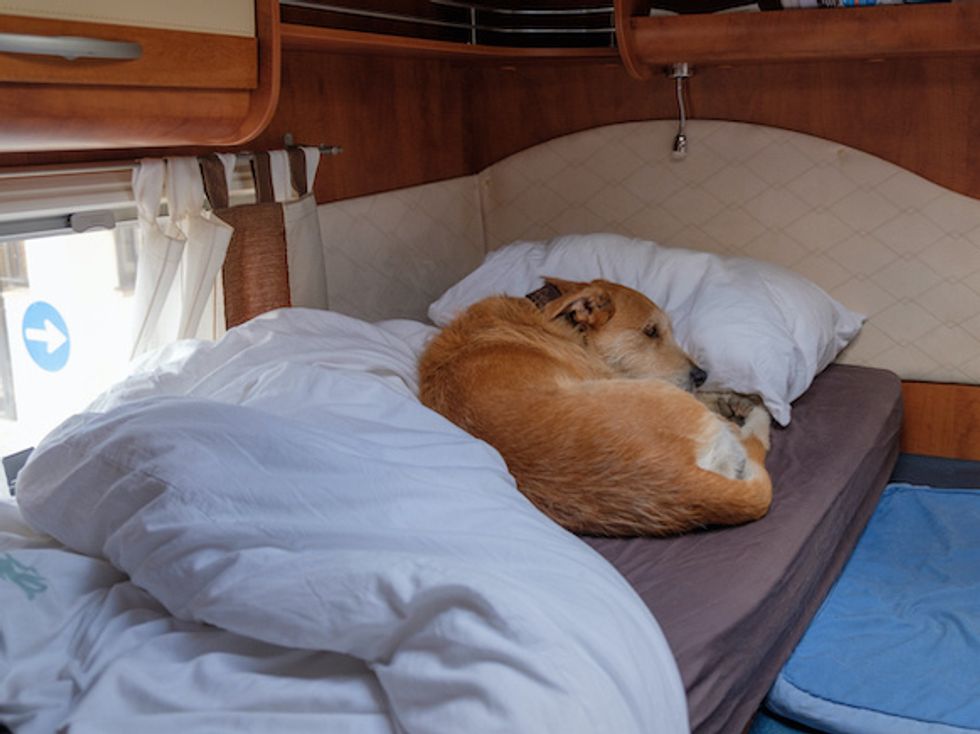 Bringing your dog his own bed, can ensure you have space in yours Getty Images/iStockphoto
You may want to help you pet get comfortable in the tent by bringing along a favorite toy, giving them something familiar in their new surrounding notes KOA, a private campground network. Wickedbone looks like a chew toy, but the $80 device connects to an app on your mobile phone which lets you activate it to have it roll around on the ground and even bounce. Fully charged, it can work for up to four hours, and give you some downtime while your dog plays on his own.

You can also consider giving them their own bed, as pets may prefer to cosy up at night next to you, a better option as well than having them sleep outside.
Another option could be a self-inflating bed, both LL Bean and Lightspeed make these kinds of mats, which are filled with air automatically by just turning a nozzle on them, and can be picked up for about $60. They can help a pet stay warmer at night, and gives them their own space to call their own, even if they — almost assuredly — will still try to sneak a few winks on your bed too.
Portable Water Bowl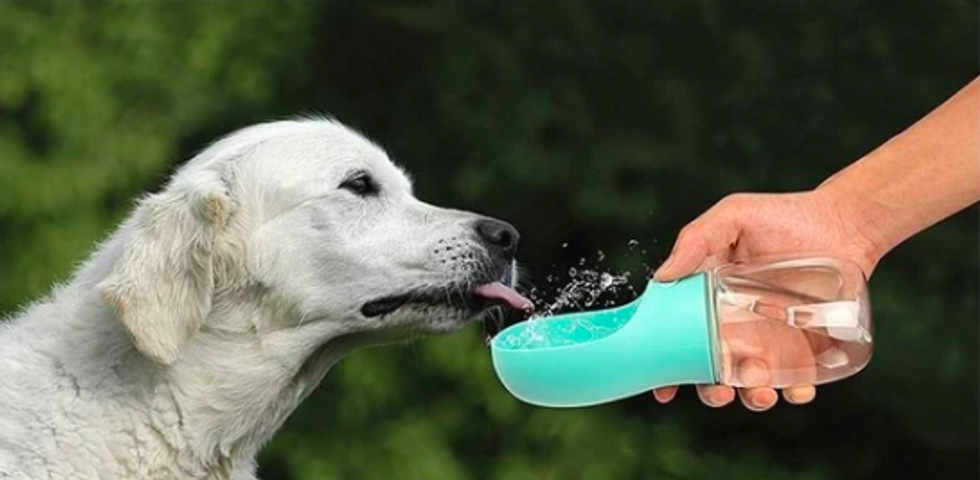 A portable water bowl ensure your pet stays hydrated on hikesHello Vigo
Fresh water is a necessity for your pet, no matter where they are, whether out in nature or at home. So when you're planning a camping trip with your dog or pet, you must make sure you have food and water — and ideally a way to keep chow and treats secure and away from wild animals, notes PetMD.

If you're looking to take some hikes on your camping trip, packing water for a pet can be a challenge. But we like the option from Hello Vigo, a $19 water bottle with a small bowl at one end. Water can be poured into the small scooped area, and then when your pet has had enough, you can actually tip the water back into the bottle, which holds 12 ounces, can be hooked on to a belt or pack, and also locked. It looks a little small for larger breeds, but may be a good choice for smaller-sized pets.
Collar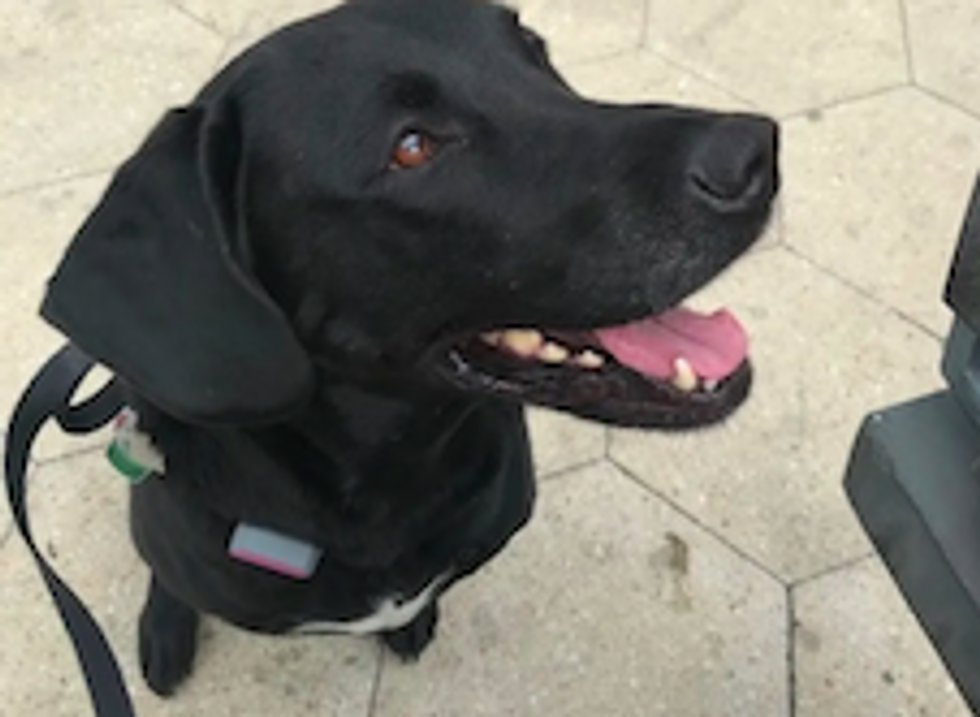 A collar can help track your pet should he go missing and help locate him at a dark camp siteGearBrain
A collar, ID and leash are essential so you can keep your pet safely with you, and you can also show they have their vaccines up to date for when you enter the campground if needed, notes Banning Veterinary Hospital, in California. Some collars and tags can do more than hold IDs too. There are those that can light up in the dark with LEDs, excellent for late night stargazing. Others can help track your pet should something happen and they get lost.

One, Whistle, is a $80 tag that works on GPS and a cell network to track a pet should they disappear. It even has a night-light built in, which can turn on through the app. You do need to be somewhere near a cellular network — and will need to pay a monthly fee for Whistle to work. So, if you're heading a bit more off grid consider something like the $12 Nite Dawg LED Collar Cover which can slip over what you're dog currently wears, and has a switch that lets you turn on and off an LED light and at least provides some illumination around your pup.
Extra cell batteries, backup charger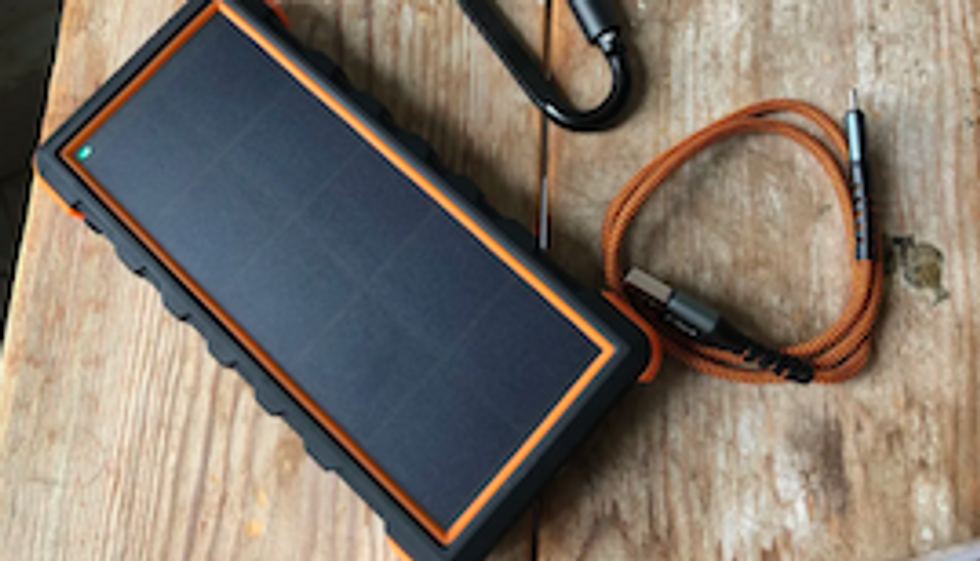 When you're outdoors, a backup battery means you can bring up first aid apps and also locate emergency care for your petGearBrain
Want to make sure your pet is healthy and ready to be outside? Getting proper vaccines, and having flea and tick medication up to date is important. But if something does happen, the Red Cross First Aid Kit app is an option recommended by the American Animal Hospital Association, which can be opened even if you're not within a cell signal. What you will need to have, however, if a charged phone. So do bring along an extra cell battery for your mobile device or a backup charger.

ToughTested makes some great power banks, some start at just $25, that are perfect for spending time outside, with options that include solar-charging. Many of the banks are also weatherproofed, with a IP65-rating meaning they can stand up to being submerged in water.
8000mAh Solar Portable Charger Powerbank with LED Flashlight - IP54 Dustproof/Shockproof/Rainproof - 180mAh high Efficiency Solar Panel
Tether and stake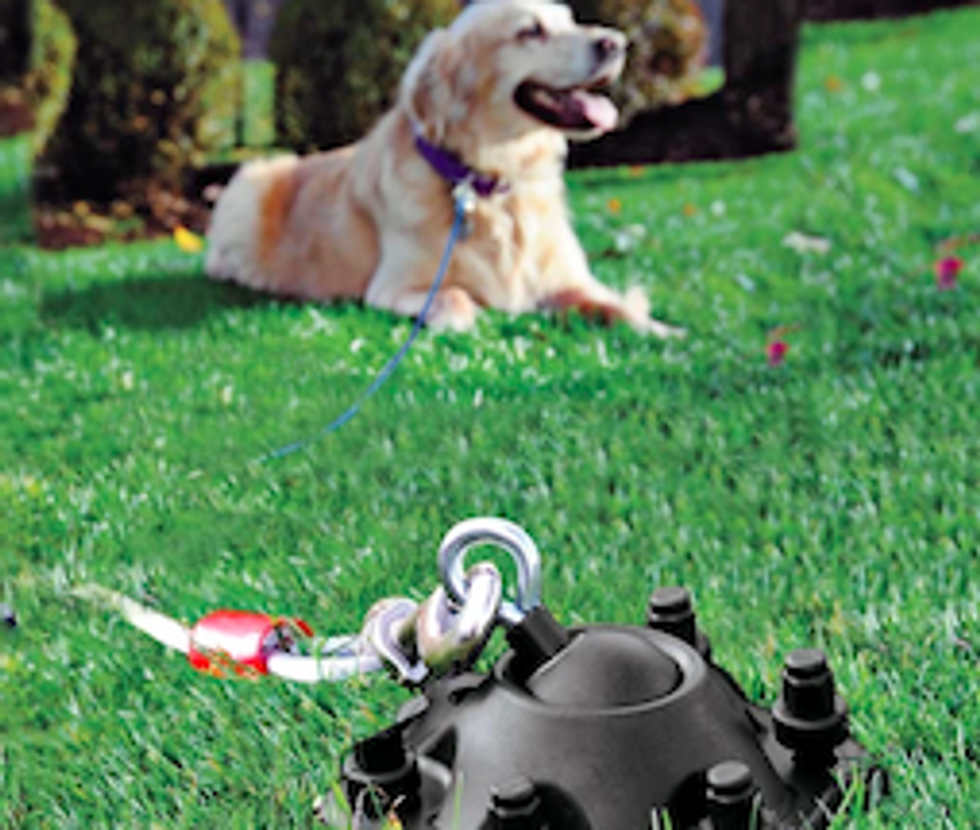 A 360-degree swivel can allow your pet room to move aroundSureswivel
Consider microchipping so your pet can be responsibly returned to you, something that can be quickly at your vet's office, recommends Blue Pearl. But also, prevent something like that from happening in the first place with a tether and stake. One option is made by Sureswivel which has a 360-degree range of motion, is $45, and once it's staked into the ground at your camp site. Not every camping location will allow you to attach your dog or cat to a leash and then a tree. That's also not the safest option as your pet can get wound up in a long leash and potentially hurt. So a tether that gives them more range of motion is not only more fun, as your pet can be with you across your site, but probably safer too.