Radio frequency identification (RFID) tags for your dog or cat are fairly common — my dog has one, for example — a reason why I've never invested much thought into location trackers that can locate my Labrador Retriever. I also live in a high-rise apartment: until my pet learns how to call for the elevator, and sneak out on his own, I've assumes I'm good. But Whistle Go Explore is the first device that's made me consider adopting a live monitor, as it keeps track not just his whereabout, but his physical well-being.
Read More:
The Whistle Go Explore, which the company sent us to try, is a thick postage-sized device that attaches on your dog's collar. There aren't many color options, just pink, lime green and black. My dog is not a fashion plate, but we went with pink — it popped against his black fur and looked pretty snazzy.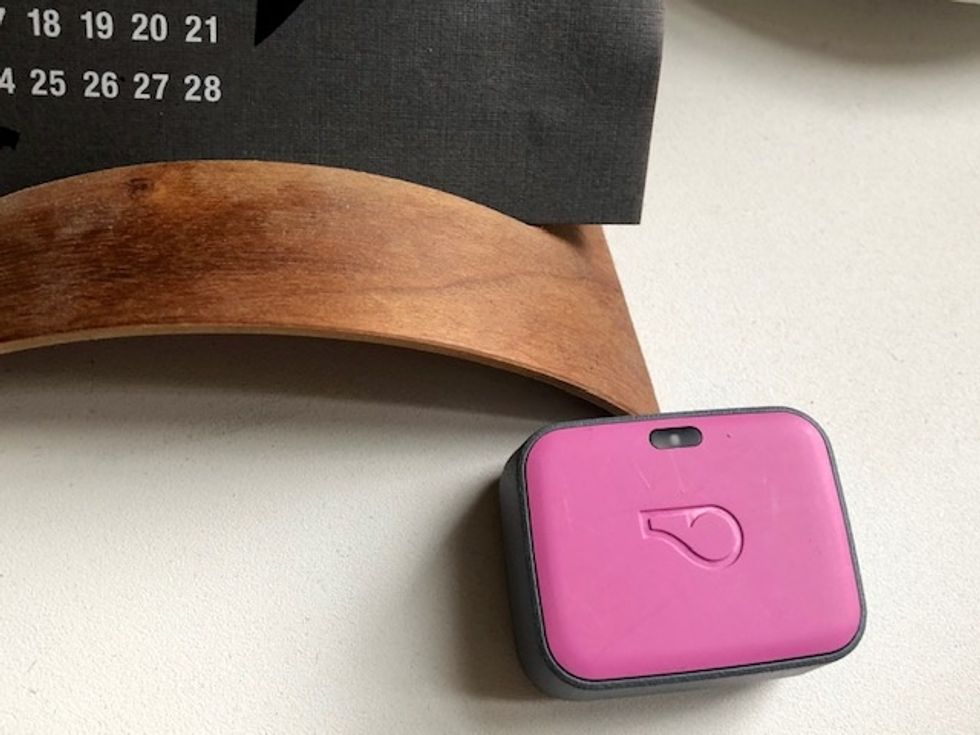 Whistle is small, and attaches to any pet's collarGearBrain
Installation
Installing the device was extremely simple. You charge Whistle Go Explore in advance — I used a USB-C charger, and it was ready overnight. I then linked the device to the Whistle app, which works with iOS and Android devices, and walks you through installation. The entire installation, aside from charging, took about 10 minutes.

Note that the Whistle itself snaps on to a piece that sits on the dog or cat's collar. Removing that second piece is tricky, as I found when I decided to wash my dog's collar after a run at the park. I would suggest adding the holder to an end of the collar where you can easily slip it on or off.
Tracker features
Tracking features are key here. A lot of pet owners worry about their dogs or cats getting free outside, and Whistle can keep tabs on them, live. Even more helpful, you can set up a virtual fencing area in the app for home, and whenever your pet leaves, you get an alert, as well as one when they're back.
For every pet owner who has a runner (you know who you are) you can also request a live update, showing exactly where your pet is, updating every few seconds. Be aware, this feature will drain the battery quickly. But if your pet is out and lost, that live update is invaluable. On a recent 90-minute walk across the Manhattan bridge in New York to Brooklyn, the tracker gave me his location with feet (yes, feet)— not miles — updating every few seconds.
Whistle works on both Wi-Fi and also off cellular data. Whistle defaults to Wi-Fi, typically your home, but taps into AT&T's cellular network when it's outside for live GPS locations. (And yes, you'll pay for this.)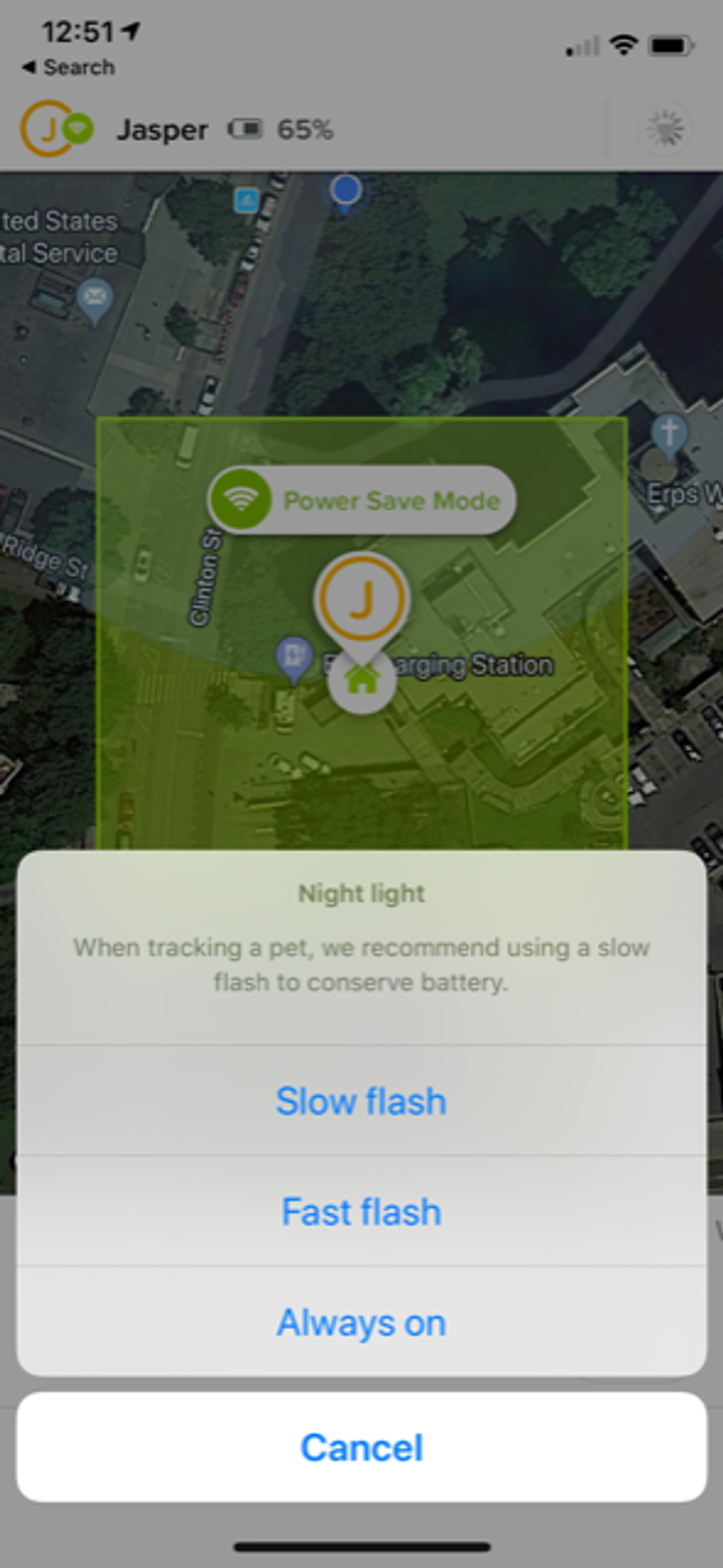 The Whistle Go Explore comes with a night light, which can be controlled through the Whistle appGearBrain
One thing to note: Whistle is not embedded like an RFID tag. Anyone who wants to take Whistle off your pet, can. It's only attached to a color, is fairly large, and blinks occasionally. If a pet is taken by someone who doesn't want that animal tracked, Whistle isn't going to work. That's why Whistle should never be used in place of an RFID chip, which responsible pet owners should be using with their animals.
Fitness tracker

My dog is a svelte 92-pounds. (Yes, really.) But he's had some major surgery and getting him out for a walk everyday, a long walk, is crucial to keeping him limber and trim. The Whistle app, based on your pet's age and breed, will calculate goals for a pet's exercise needs including minutes and distance. Our dog needs about 55 minutes of exercise every day, which he gets most of the time. But this feature helped me monitor that, turning his walks into a game, helping me work another 10 or 15 minutes in when needed.
The app awards badges too, such as when your pet has gone out for seven days, or traveled for 25 miles. That gamification is enjoyable, but not necessary.
Adding more people
You can share your Whistle account — without incurring extra costs — with other people. The account is actually tied to the single device, and to the one pet. But having other people connected means they can also track your pet if it's lost. If you have a dog walker or a pet sitter this is a great option as well, and it's nice that each person isn't charged to be included.
Battery life
Over 11 days, I never had to re-charge the battery, even when I activated live tracking twice over a 30-minute period. Whistle's tracker held its charge extremely well, which is a plus given that having another device that needs a charge frequently is the last thing anyone needs today.
The Whistle Go Explore, which I tested, is said to have a 20-day battery life. And at 11 days, the battery was still at 65 percent.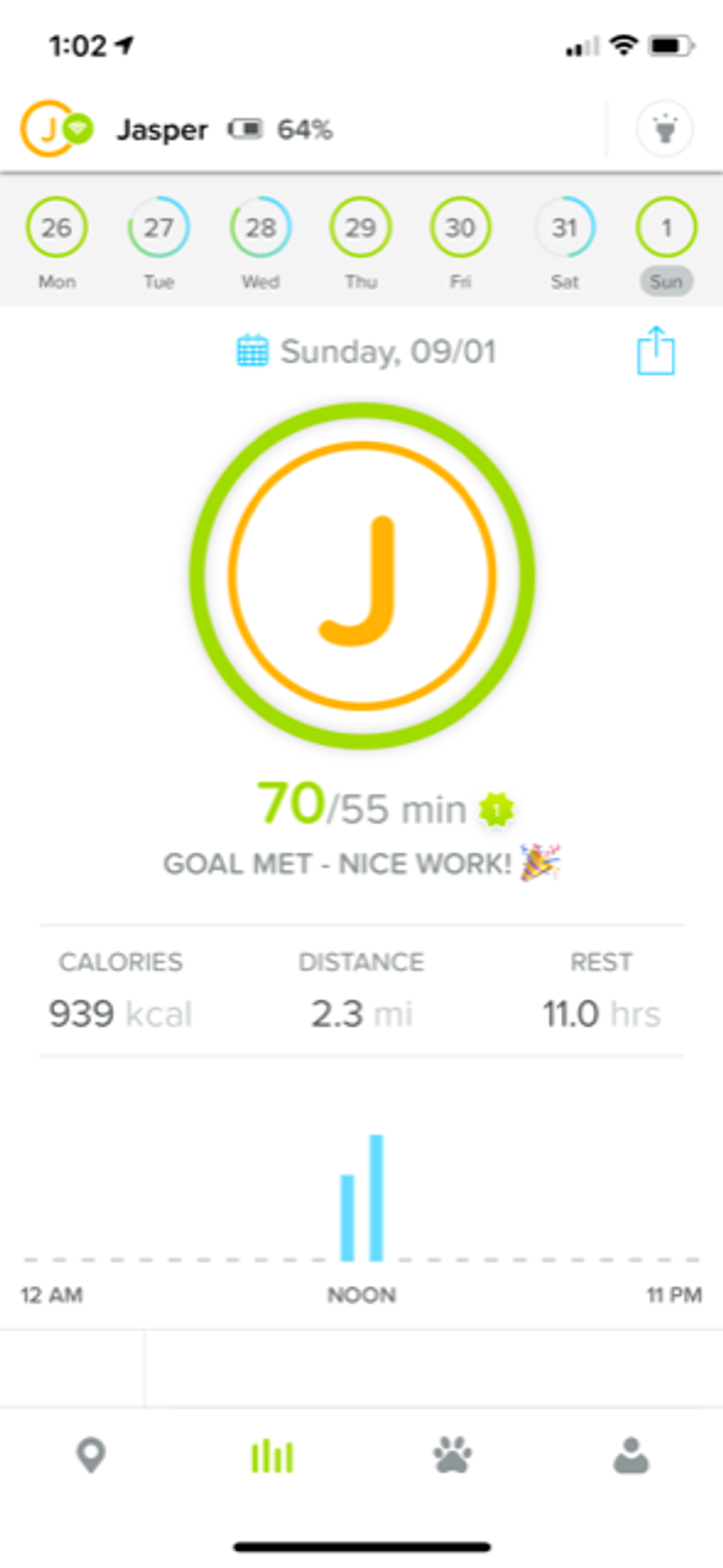 The Whistle app can show GearBrain
Night Light
The Whistle Go Explore comes with a night light built in, while the lower priced $99.95 Whistle Go, does not. To turn the light on, you go into the app, and click on the light icon on the front of the screen, then choose one of three settings: fast flash, slow flash or always on. While we tested the settings and found they worked well, we never had a need for them.
Cost + subscription plan
The subscription cost is the only ding to Whistle Go Explore. And it's big. While the tracker itself costs $129.95 — and has a 90 day return guarantee — to work the device you must have a monthly subscription. All Whistle devices do, including the lower-priced Whistle Go, and all plans are priced the same.
The subscription comes in three options: $9.95 a month, for a 12-month commitment, $7.95 for a one-year plan and $6.95 for a two-year plan. If you can cancel any time after the first 90 days, you will face an onerous early termination fee.
If you've taken the 12-month commitment, you will be charged half the $9.95 monthly fee for each remaining month on your contract. For example if you cancel after one month, you're charged the remaining 9 months at half the fee — or about $45 in total. The one- and two-year plans have no refund options at all after 90 days. You're stuck.

We think that's over the top.
We understand IoT companies need to be looking for ways to pay for the data storage they incur through devices. And Whistle sets this plan up through AT&T, hence the draconian cancellation fees.

Still, penalizing customers who change their mind is problematic. It brings up instances of annual contracts with cable companies and telecom carriers — and we all know how unpopular those have been. This is a policy Whistle should consider changing.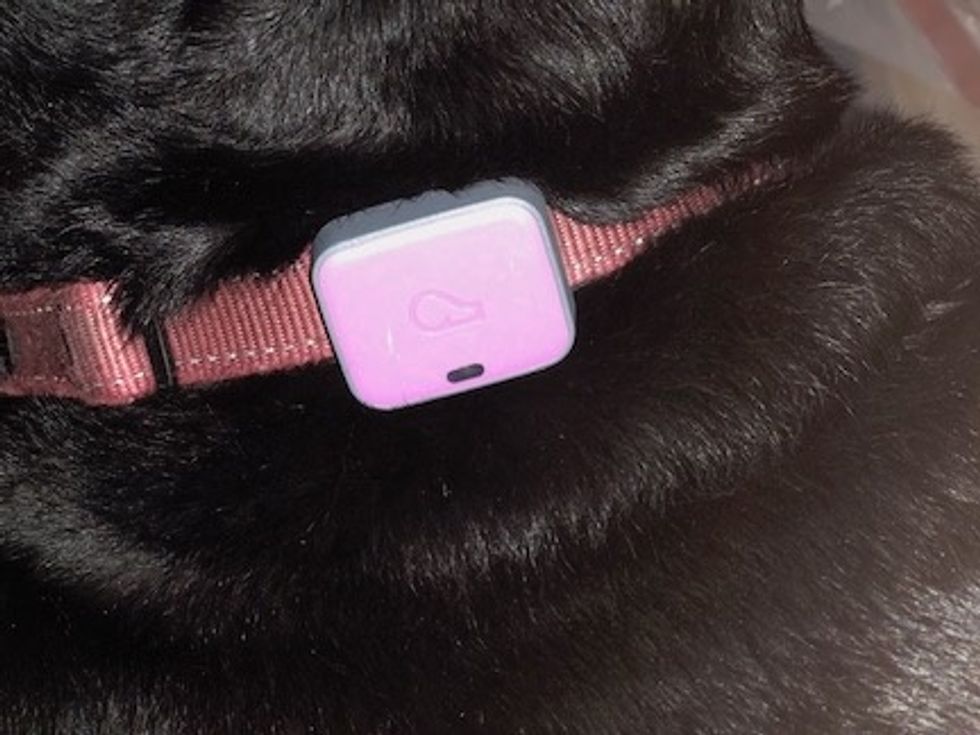 The Whistle Go Explore snaps into a holder which attaches to your dog or cat's collar and can be snapped offGearBrain
Summary

Whistle is a solid pet tracker that really delivers on what it promises. You get up to date fitness stats on your pet, and a very accurate live tracker in case a pet runs missing. Aside from a chip tracker, it's one of the best we've seen.
The price of Whistle is fair, and so is the monthly fee. But because of the onerous cancellation policy, customers should be thoughtful before buying Whistle, and decide first if they're willing to commit to a year, or if they're comfortable paying the steep cancellation fees if they don't like the device.
Should people buy Whistle? Pet owners who have an animal they want to track, because they're concerned about it running away, or have frequent pet sitters, should consider Whistle. The extra fee is worth that peace of mind, especially since you can get that live tracking on a smartphone, no matter where you are.
Pros:
Extremely accurate live GPS tracker
Has a built in night light, excellent for evening walks
Long battery life
Cons:
Onerous cancellation policy
Limited colors
Can be easily removed if someone doesn't want your pet found