Like GearBrain on Facebook
Summer time means hitting the beach, camp grounds or road trips — basically anywhere you can get outside and recharge your Vitamin D deficit. Unfortunately few of us are also willing to leave our devices back home, despite the fact we really could use some digital detoxing. But sometimes work just won't leave us alone. When out for a mini-escape, having a back up battery that does some heavy (heavy) lifting is an option to consider. With the days heating up, we put ToughTested's Bigfoot solar battery pack, which the company sent to us, to the test.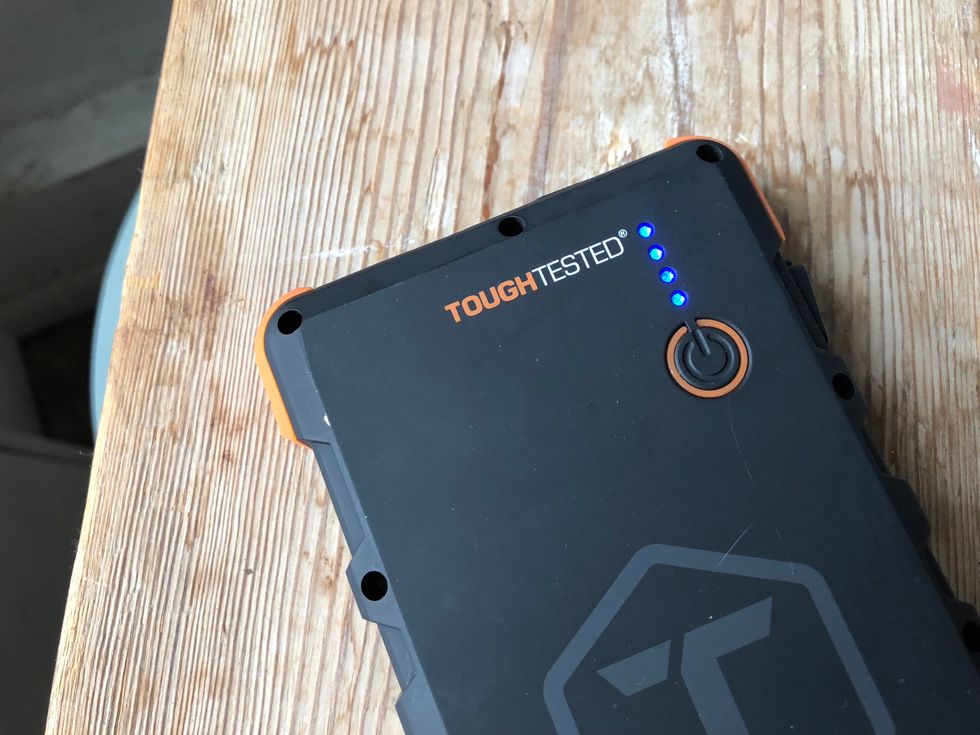 ToughTested Bigfoot uses four lights to show you how much juice is left in the battery.GearBrain
How it works
The Bigfoot looks like a thin orange and black brick — and at almost 4 pounds weighs about half as much. The battery is heavy: you're not going to carry this around as your backup during the day. Think of this as a backup for a camping trip, or for a short-term power outage. You're talking about a 24,000 mAh battery that has more than enough power to charge up a laptop (more on this later, however), tablet and a phone — and has up to 10 charges at a time.
I was able to charge up the battery with an included charging cord. But Bigfoot is a solar battery, so you're meant to recharge the device just from the sun. How many days that may take is not something we tested. A battery this large would likely take at least a day or two. Just something to consider.
Getting the battery to work — after it's fully juiced up itself — is as simple as plugging in a charging cord and then into a device. There is a power button, but the battery started working just by attaching power cards, blue lights visible.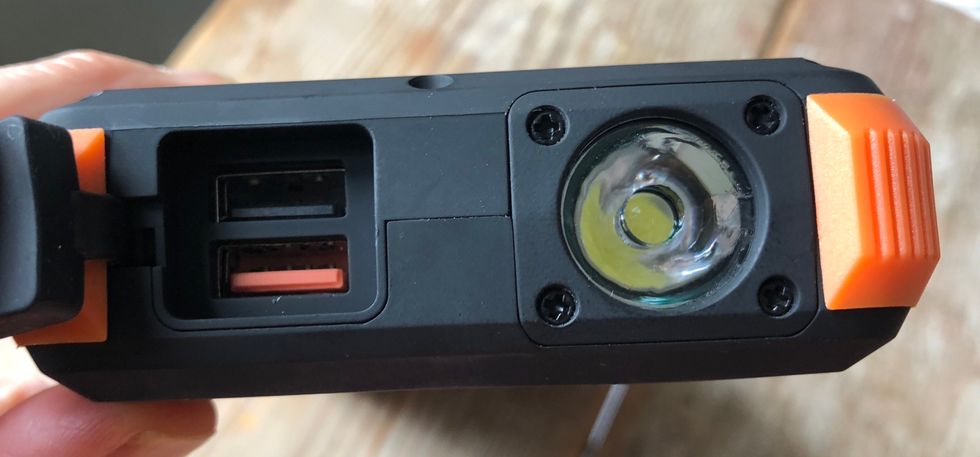 The ToughTested Bigfoot light has three modes, including one that flashes SOS.GearBrain
There are several charging ports — a USB port, a quick charge port, a USB-C port and a micro USB port— which makes it pretty easy to find a way to recharge a device, or multiple items, even at once.
However, it didn't have a port that let me charge my MacBook Air, which charges through Apple's MagSafe port. While there is a USB port in the MacBook Air, it's not where the laptop charges. The Bigfoot top light started blinking rapidly, letting me know this was not going to work. You can use the battery to charge other laptops, including the MacBook which uses a USB-C port. But MacBook Air users, take note.
The lights actually let you know when the battery is draining. When all four are lit, the battery is completely charged. One blinking light, and three solid lights, means that the battery is up to one quarter drained, a blinking light and two solid lights means it's half drained, and so forth until you have just one light, blinking which means the battery is about to turn into a real brick.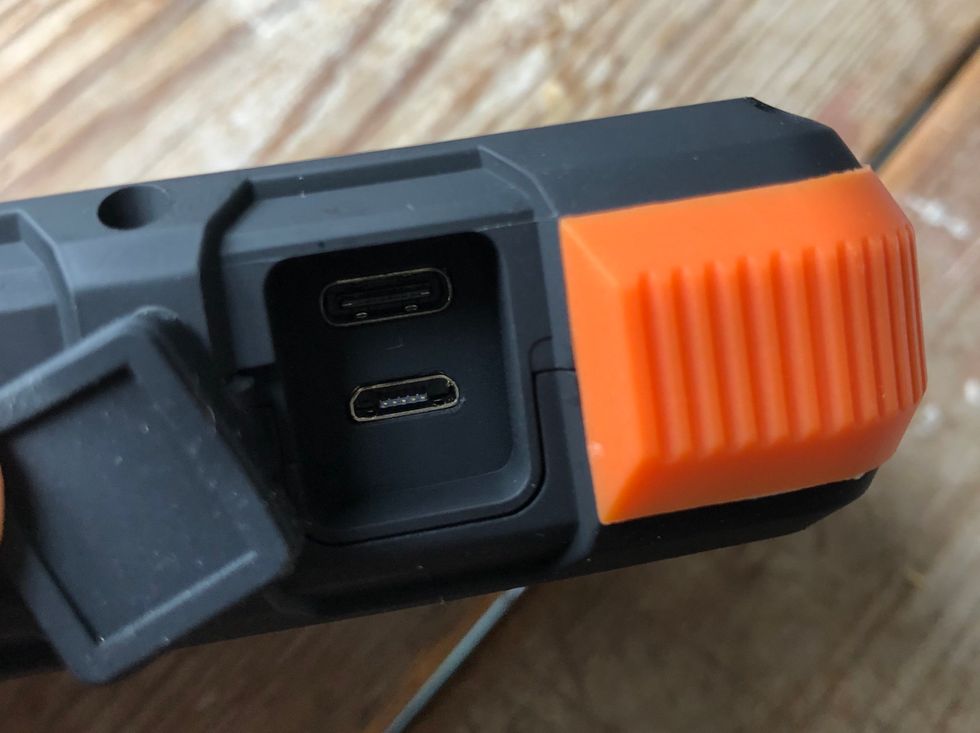 There are three ports that can be used to charge devices on the ToughTested Bigfoot solar charger bank.GearBrain
Lights too
As with any device you might need on a camping trip or during a power outage, there's a flashlight in the Bigfoot, an LED light that operates by pushing and holding the power button. The light isn't going to give you enough to lantern up a camp site — but it's definitely a solid enough beam to find something on a dark night.
But one of its best features happens when you press the power button again. Press once after the light turn on, and the light blinks. Press it lightly a second time and the light blinks out an SOS pattern — three slow blinks, three rapid, and three slow. This is a great feature, something to consider if you're storing the battery in a car in case of a break down
Buy or not to buy
This is a hardy battery. It's waterproof — up to 1 meter for 30 minutes — and pretty hard to break. I have to admit I didn't drop it from a multi-story building, or run a car over the battery. But dropping it several times on a concrete floor, the battery stood up well: there were no visible cracks, the lights still turned on, and it still powered up my devices. Dropping this on a hike, on rocks — you're likely going to be fine.
The Bigfoot also comes with a carabiner and a metal hook on the top so you can attach it to a backpack as you hike. I think it's a bit heavy for a day hike — but for bringing to a remote camp ground, this is a handy way to carry the battery.
Few would think of a $130, 24,000 mAh solar powered battery as necessary camping equipment, or even something to have in an emergency kit. The price alone makes this a device that requires a pause to decide. The fact it couldn't charge up my MacBook Air is also problem. But if you're looking for a solid battery that doubles as an emergency device, Bigfoot is a good choice, at a bit of a chewy price.
Pros:
Has a light that flashes multiple patterns including an SOS message
Water proof
Can charge up to three devices at once
Cons:
Price
Can't charge Apple laptop
Heavy and not ideal for carrying on a daily basis
Like GearBrain on Facebook